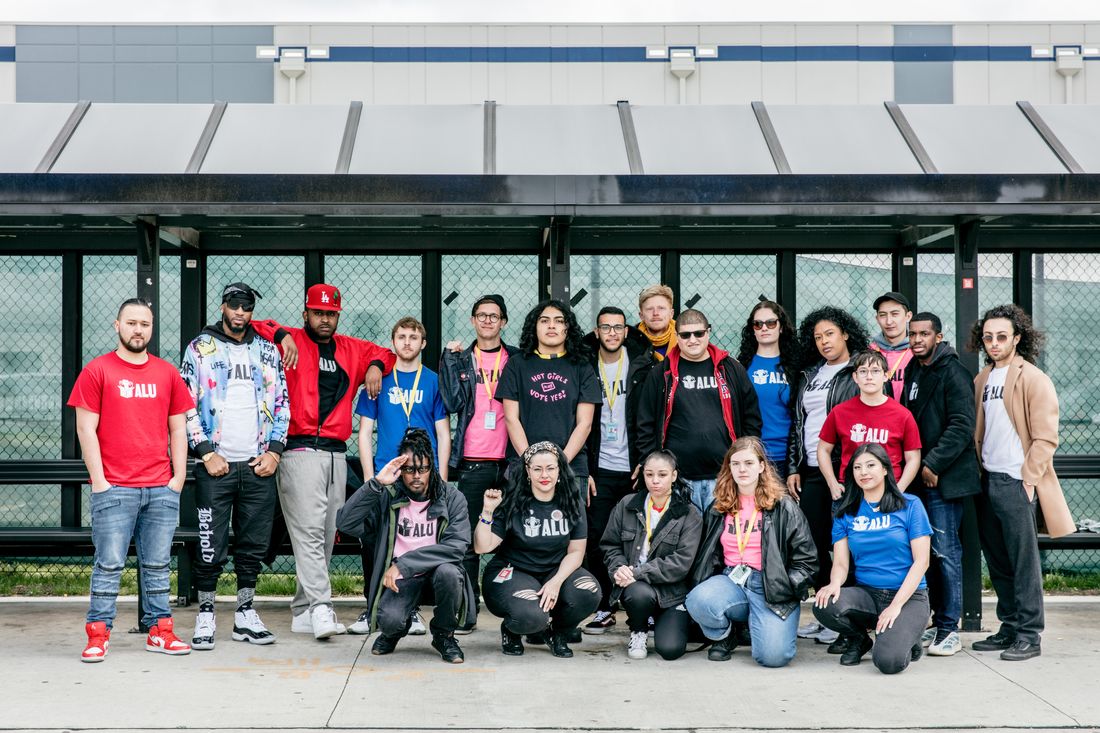 Front row, from left:
Tristan "Lion" Duchin, Michelle Valentin Nieves, Enlly Taveras, Madeline "Maddie" Wesley, and Karen Ponce.
Back row, from left:
Tristian Martinez, Chris Smalls, Jordan "Jay" Flowers, Connor Spence, Michel "Mat" Cusick, Michael Aguilar, Mark Saber, Brett Daniels, Jason Anthony, Kathleen "Kat" Cole, Angelika "Angie" Maldonado, Justine Medina, Will Weiss, Derrick Palmer, and Julian "Mitch" Mitchell-Israel.
Photo: Stefan Ruiz
The value of the windswept bus stop across the street from Amazon's sprawling JFK8 fulfillment center on Staten Island, and around the corner from its smaller LDJ5 sorting facility, is that it's public property. Amazon does not control it, which means the organizers of Amazon Labor Union, fresh off their successful drive to unionize the 8,000 workers at JFK8, can use it as a hub to prepare for a union vote at LDJ5 that began April 25. The bus stop is festooned with flyers in four languages explaining the dues process to prospective members. It's a statement that Amazon doesn't control its workers, no matter how hard the retail giant may try.
ALU's president, Chris Smalls, knows how ruthless Amazon can be. Smeared as "not smart or articulate" by Amazon's chief counsel and arrested, along with two others, for bringing free food to a break room (the charge was trespassing), Smalls and ALU prevailed, inaugurating the first unionized Amazon warehouse — a chilling precedent for the country's second-largest private employer, which is intent on keeping its hundreds of facilities unorganized. Now, its sights are set on LDJ5, which has 1,600 workers, many of them part-timers. "With the momentum from JFK8, and the way we're organizing from the inside out, we're hoping that this would be another historical moment," Smalls says.
Organizers are determined to prove that their first victory over Amazon was no fluke. LDJ5 is thus a crucial early test. When ballots are counted in May, the results could signal an organizing wave on the horizon. Smalls has said he has been contacted by workers at dozens of other Amazon facilities who are interested in organizing with ALU.
Volunteers are phone-banking for the union. Organizers who work for Amazon have effectively taken on a second job. The company underestimated ALU once, but the group says it is bringing its full might to bear this time around. ALU treasurer Madeline Wesley, who has worked at the LDJ5 facility for about nine months, says Amazon is "fighting us really dirty." Anti-union flyers are everywhere, and Wesley says she has been written up twice for union-related activities. The anti-union narrative can be effective, she adds: People have asked if dues will hurt their pocketbook and whether they can be fired if they don't honor a strike. "They're just spreading lies," she says.
Still, spirits are high. "I'm feeling good," says Mark Saber, who works at LDJ5. "In the last couple of days, we've had great success with flipping nos to yeses. A lot of people are really with us right now."