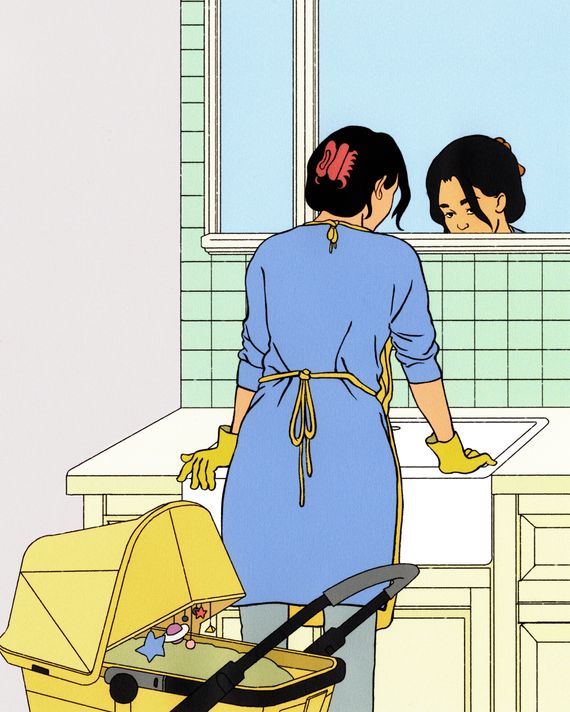 Asians and Pacific Islanders belong to the most economically divided racial group in America, and the need for child care often brings together members from the top and bottom of the ladder. White-collar Chinese Americans might employ care workers from the Philippines or China; Indian American families, among the wealthiest ethnic groups in the country, might hire domestic workers from Nepal, one the poorest countries in South Asia. Perhaps nowhere is the tension between the diverse experiences of being Asian American more evident than in these households. We spoke to five Asian immigrant nannies and au pairs (all of whom requested that we use pseudonyms) living in the New York area to find out how — if at all — their relationships with their employers changed over the past two years.
Nova, 48, nanny
When I interviewed with the family and learned the mom was a Taiwanese fashion designer, I said, "Oh my God, that's good. We can relate to each other because we are both Asian," and she agreed. It's funny to me now — I found out her true colors.
A few weeks after I started, she said she wanted to know more about me. I told her that I came from the Philippines and that I was a teacher there until I decided to work abroad. When I told her I felt lucky because my parents provided an education for me, she said, "If you were lucky, you shouldn't be working as a nanny right now."
I said, "Why? Is there something wrong with being a nanny?" She wanted to emphasize something, but she just couldn't say it. Her husband said she had been like that since he met her: She doesn't want to talk to other Asian people that do not fit her criteria of how she wants to look here. She just wants to meet other rich people. One day, she asked me if I had heard about an Asian woman who had been pushed in the subway. She said something like, "She's just so stupid. She let that man push her. That's the reason they should not be using a cell phone while they're in the subway. They should be paying attention." But if she's going out, she can just use Uber or Lyft.
I feel this sense of sadness. She's been blinded by what she has. I always say, "Well, you cannot bring that when you die. We will all be in the same size place when we die."
Chen, 30, nanny
I started my current job in 2021. The father is a pilot, and the mother doesn't work. She stays home and never worries about money. The parents will always be very respectful on the surface, full of courtesy, but sometimes they say small things that are revealing. Once, they got a few boxes of this really fancy water and told me, "Do not open these" — that was their water. I Googled the brand, and it was a couple dozen dollars per bottle. It would've been half of my day's salary.
My own Chinese family is quite conservative, but my parents didn't treat me how these parents treat their children. They're so much better off than other children of a similar age, yet they still experience fear: fear of not being perfect and fear of making their parents unhappy. The family holds them to a very high standard. They're perfectionists. I can respect them, but I really can't identify with them.
A couple months ago, we were talking in their kitchen about a man who pushed a senior in Chinatown, and the senior ended up in the hospital. We were just talking about the man who attacked him: How could someone do something like that? It's finally one thing, one feeling, we both share: rage and disappointment. We come to this country and we respect the culture and we pay taxes and we're not violent. We have been, if I may, good citizens. Maybe the city is indifferent.
Thapa, 45, nanny
I've been a domestic worker since I first came to the U.S. in 2010. In our Nepali-speaking community, we work with mostly South Asian families because many of us do not speak English well and have limited literacy. The Nepali language and Hindi are similar, so we are able to understand Hindi as well. Before the onset of the pandemic, I was working for a family where one parent was Indian and the other was white. One day, when I got to work at 8 a.m., my employer got the email saying school was closed. A few hours later, they sent me home. They told me, "Let's wait for another two weeks and then we'll figure things out." But as the pandemic advanced past those two weeks, I did not hear back. I was very hopeful that they would at least call me. I didn't hear back from them for over two months.
The first question that came to my mind was, How am I going to survive? I don't have any family here. All of the job agencies were closed. Slowly, I heard about unemployment benefits. A lot of my friends' employers were discouraging them from applying, but my employers told me I could. It took a very long time to get approved. During that time, I wasn't getting any support.
The parents treated me really nice, but I'm still trying to grasp how they could just leave me without a job. I was working for them for eight years, and they didn't offer to give me even a week or two of pay. During that time, I would often sleep all day. While sleeping, I would get these random thoughts like, I survived and I'm here. There was no work; there was no money. Even to this day, when I think about it, it brings me to tears.
Zhang, 26, au pair
My first host family was originally from China or Taiwan. They studied here for university, then worked here and stayed — so it seemed to me like they thought everybody from China would want to stay. Once, in our WhatsApp group, they sent me a news story about the Shanghai lockdown, where one person was beaten by some health-care workers. It was insane and shocking. But this is not common in China. For me, it didn't make sense — why did they send me this? So what, you want me to appreciate how good I am right now, in the United States? Maybe I'm overthinking it. I don't know. I don't want people to remind me of how bad things are back in China and how good things are here. After a month and a half, I asked to be matched with a new family.
Jane, 24, au pair
I chose a Chinese family because I felt like we are all Chinese — we probably can take care of each other a little bit. When I told my family that my host mom was Chinese, they didn't worry as much about me being alone. But other au pairs told me, "Don't choose a Chinese family. You came here for a cultural exchange, so it's better for you to choose American families, so you can learn about American culture." I didn't believe them.
But the host mom couldn't control her temper. She would get mad at me when I made a little mistake. One night she kicked me out, and my friend had to help me call an Uber to a hostel. It was around Thanksgiving, which is really cold. I had only been with the family for two months. I didn't have a SIM card. Then my bank card wasn't working. I was really mad, and all my friends said, "Oh, you can beg her. See if she can have you for just one more night."
I'm not the only Chinese au pair who has decided to rematch after working for a Chinese family. I've heard of so many bad experiences. I don't know why — maybe it's because of traditional Chinese culture or something, but they try to use you, squeeze you. I'm still trying to find a full-time job. I prefer to work with American families. Just not Asian families. Now I'm giving other au pairs the advice: "Don't do it."