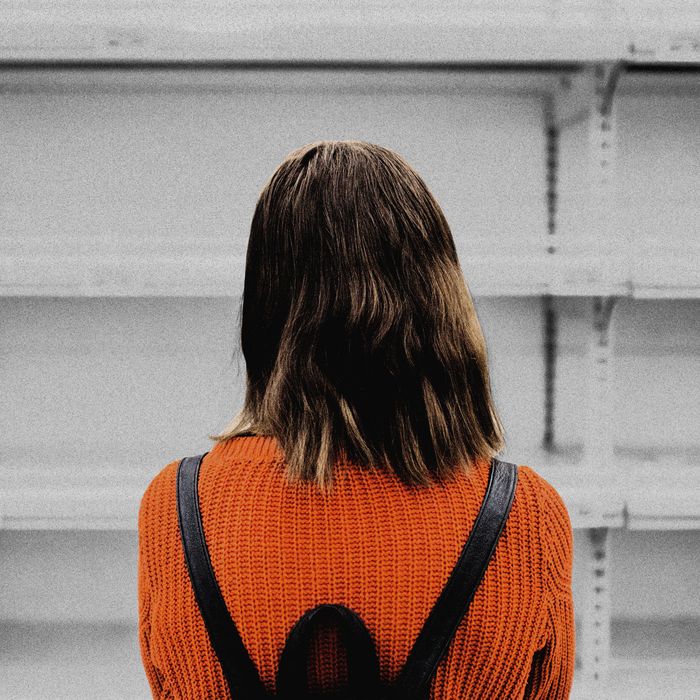 Photo-Illustration: Intelligencer; Photo: Getty Images
On February 21, the Washington Post published a story titled, "A fast, at-home coronavirus test will be available to Americans this year." At the time, public-health officials had been calling for fast, widely available at-home COVID-19 tests for months, saying that allowing people to determine whether they're infected without lining up at a clinic or waiting days for lab results could help turn the tide in the pandemic. As the Post reported, the White House was finally making that a reality, awarding a nearly $232 million contract to Ellume, which would allow the Australian company to eventually produce 19 million test kits per month.
But as we approach the end of 2021, pharmacy shelves in the U.S. still aren't fully stocked with COVID tests, even though President Biden announced in a televised September 9 address that he was making at-home testing a major element of his plan to manage the pandemic and using the Defense Production Act to increase test availability.
So why are these at-home COVID tests still so hard to come by — even if you're willing to pay the full retail price? And when, if ever, will we Americans know the joy of jabbing a swab up our own noses on a regular basis? Below is what you need to know.
Why are at-home tests in short supply?
In many Asian and European countries, at-home COVID-19 tests are cheap and easy to find in stores. CBS News reported this month that home antigen tests are now used routinely in the U.K., where they are free and "readily available at pretty much every pharmacy in the country."
The situation is drastically different here because U.S. health officials focused on getting people vaccinated against COVID-19 and never leaned into asymptomatic testing as a strategy to fight the pandemic. While some foreign governments moved quickly to encourage screening and subsidize the cost of at-home tests, the Food and Drug Administration's approval process moved much more slowly. The agency issued its first approval for a fully at-home antigen test, Ellume's, in December 2020, and it took some time for it to become available to the public.
The FDA said it needed to ensure that the tests were accurate, but many scientists countered that the agency was letting the perfect be the enemy of the good. Rapid tests can quickly identify around 98 percent of infectious COVID cases; they're not as sensitive as PCR tests, which can catch even noninfectious cases but need to be sent to a lab for processing. (More on the different types of COVID tests below.) Harvard epidemiologist Michael Mina, who has been one of the most vocal proponents for mass testing throughout the pandemic, argued that U.S. officials focused too much on the accuracy of rapid antigen tests versus PCR tests, which obscured the former's tremendous value.
"If the target is infectious people — which is really the most important public-health target — then these [rapid antigen] tests become extremely accurate," Mina told Intelligencer in December 2020. "And that's the issue — we shouldn't be using a medical target, we should be using a public-health target. If they are being used for medical diagnostic purposes, they might not be as accurate as you would like, but as a public-health tool, they're very accurate."
Due to these regulatory and messaging hurdles, the market for at-home antigen tests has been slow to develop in the U.S. For much of the last year, Americans couldn't obtain the pricey tests, and their diagnostic value wasn't clear to the public. Demand for the tests dropped even further in the spring of 2021, when COVID cases plummeted and the CDC said vaccinated people did not need to get tested if they were asymptomatic, even if they'd been exposed to someone who was COVID-positive. This summer, there was so little interest in rapid antigen tests that Abbott Laboratories, by then the nation's biggest producer of the tests, shut down one of its factories, laid off workers, and destroyed testing components, according to a New York Times report. (The company claimed the materials had a limited shelf life and couldn't be donated overseas.)
Thus, when the Delta variant, breakthrough cases, and people returning to work and school drove up demand for at-home testing in recent weeks, the U.S. was unprepared, and stores couldn't keep the tests in stock.
Which tests has the FDA approved for at-home use?
The FDA has issued emergency-use authorization for a variety of COVID-19 tests that allow people to collect a sample themselves at home (typically via nasal swab, but a few use saliva), then mail it back to a lab, which will report results within a few days.
There are three types of COVID-19 tests:
Antigen tests, which test for an active infection by detecting specific virus proteins.
Molecular tests, also known as polymerase chain reaction or PCR tests, which test for an active infection by amplifying genetic material from the virus. These tests are mostly done in a lab and are considered the "gold standard" for diagnosing COVID, as they are more accurate than rapid tests.
Antibody tests, which are blood tests that determine if the body has had an immune response to the virus. These tests are not used for diagnosing an active infection.
At-home collection kits are available for each type of test, but when people lament the lack of at-home testing, they're usually talking about rapid antigen tests that allow users to swab themselves and get a result in 15 minutes, without any lab processing and without a prescription. There are currently three tests on the market that meet this criteria:
Abbott BinaxNOW
Cost: $14 to $23.99 for two tests
Accuracy: The test correctly gave a positive result 84.6 percent of the time, compared to a PCR test, and correctly gave a negative result 98.5 percent of the time, according to data submitted to the FDA.
Sold at: Abbott's website sells the tests directly, and online at CVS, Walmart, Rite Aid, Sam's Club, and Walgreens. However, as of this writing they were only in stock for shipping at the following stores: CVS ($23.99), Rite Aid ($23.99), Sam's Club ($14), and Walgreens ($23.99). Some pharmacies that were sold out of the tests online said they were available for in-store purchase at multiple locations.
How to perform the test: Abbott says, "The tests should be administered twice over three days with at least 36 hours between tests." Below is the instruction video.
Ellume COVID-19 Home Test
Cost: $38.99
Accuracy: The company says that the data it submitted to the FDA "demonstrated 96 percent accuracy, with an overall sensitivity of 95 percent (positive percent agreement) and specificity of 97 percent (negative percent agreement) when compared to an emergency use-authorized RT-PCR laboratory test." On October 5, the company recalled hundreds of thousands of its test kits after finding that there was a higher-than-expected potential for false positives due to a manufacturing issue.
Where to purchase: Ellume's website says the test is sold at Amazon, CVS, Everlywell, Target, and Walmart (and Azova, if you need to take the test under video observation for travel purposes). As of this writing, it was not available for online purchase at any of those locations.
How to perform the test: Below is the instruction video.
Quidel QuickVue At-Home COVID-19 Test
Cost: $23.99 for two tests
Accuracy: For people with symptoms, the test gave an accurate positive result 83.5 percent of the time and an accurate negative result 99.2 percent of the time, compared to PCR, according to data submitted to the FDA.
Where to purchase: Amazon, CVS, HEB Pharmacy, Hy-Vee, Optum, Pharmacy and Wellness Center, Simply Medical, Tops, Walmart, Walgreens. As of this writing, tests were in stock online at Amazon, CVS, Simply Medical, Walgreens, and Walmart.
How to perform the test: Below is the instruction video.
What is the Biden administration doing about the at-home COVID-test shortage?
On his first full day in office, President Biden signed an executive order instructing government agencies to use the Defense Production Act to increase the availability of various items needed to fight the pandemic. Materials for rapid antigen tests were among the many items on the list — along with N95 masks, surgical gowns, gloves, needles, and syringes — but at the time, lab testing delays were a more pressing concern.
By late August, PCR testing was widely available with nearly 2 million tests being performed daily in the U.S. But with the emergence of the Delta variant and schools and workplaces looking to make regular screening part of their reopening plans, attention turned to the lack of at-home antigen tests. In September, the Biden administration responded with a new push toward making rapid tests more accessible and affordable, saying it would invoke the Defense Production Act and spend another $2 billion on about 280 million rapid tests, which would be distributed to places like community health centers, food banks, and schools.
However, the tests remained in short supply over the coming weeks, prompting the White House to announce on October 1 that it would invest an additional $1.2 billion to obtain millions more rapid tests from Abbott and Celltrion. In addition to ramping up production of tests already on the market, the government is also working to speed up the approval process. On October 4, the FDA authorized Flowflex, an at-home antigen test produced by ACON Laboratories that is expected to retail for around $10 per test. And on October 25, the Department of Health and Human Services announced that the FDA will streamline its authorization process, and the National Institutes of Health will spend $70 million on a new program to "establish an accelerated pathway" to aid test makers seeking approval for their products. These moves by the Biden administration should help stabilize the supply of at-home tests and lower costs.
When will more tests be available?
White House COVID-19 response coordinator Jeffrey Zients said the Biden administration's latest $1.2 billion investment would quadruple the number of rapid tests available in the U.S. in the coming weeks. That means that starting in December, American consumers should have access to 200 million rapid at-home tests per month.
"The manufacturing is scaling up significantly," Zients said at an October 6 press briefing. "And we're just going to keep at it to encourage those manufacturers to increase capacity and to drive down the cost of those tests. So, we will continue to pull every lever we can to increase the convenience of rapid at-home testing."
Still, in the U.S., at-home COVID testing may never be as cheap or as widespread as it is in places like the U.K. Dr. Michael Mina told NPR in October that while he's happy to see the Biden administration devoting more resources toward rapid testing, "it's not enough, and it's not fast enough. America is so far behind our peer nations."
Despite that improved availability, experts are concerned that a winter surge could easily overwhelm supplies, especially ahead of the holidays. But scaled-up manufacturing and distribution of tests mean supply might be able to meet demand. "Ahead of the holiday season, tests are much more readily available at retailers across the country and online thanks to these actions," a Biden spokesperson told Axios.
In terms of when you should get tested ahead of Thanksgiving, experts say it should be immediately before you get together for the turkey. "Rapid tests are a measure of contagiousness, and so you want to test as close as you can of getting together with people," Dr. Ashish Jha, dean of the Brown University School of Public Health in Rhode Island, said. "The ideal situation would be to test on Thursday morning."
This post has been updated.