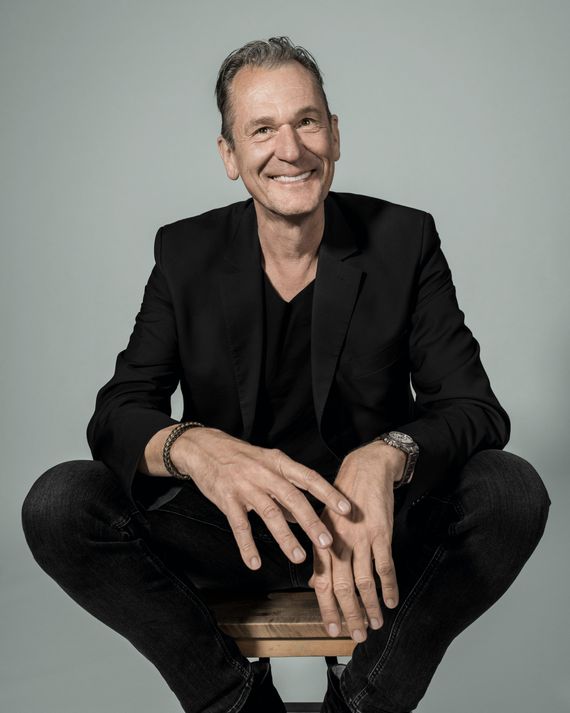 This article was featured in One Great Story, New York's reading recommendation newsletter. Sign up here to get it nightly.
We are living through the twilight of the press baron. Once, there were conquerors of newspapers, magazines, and television stations who thought as much about shaping public opinion and their own place in history as they did the bottom line. Some barons were terrible people, but at least they weren't dull. There was William Randolph Hearst, the warmongering inspiration for Citizen Kane, and Lord Beaverbrook, the Canadian British owner of the Daily Express, which a century ago was the ​​largest-circulation newspaper in the world and beat the drum for "Empire isolationism" in foreign policy. There was Henry Luce, whose Time magazine narrated the American Century (that would be last century) and Ted Turner, inventor of the 24-hour news cycle. More recently, there was Jeff Zucker, who didn't own CNN but acted a bit like he did, getting in the arena with Rupert Murdoch, backer of decades of right-wing crusades around the world. But at 91, Murdoch's not pulling the strings for much longer.
The more swashbuckling type of news boss just doesn't seem to last long these days. Zucker got the boot, and his replacement (what's his name again?) is focused on retrenchment. The New York Times is not run by anybody who seeks the spotlight, and Jeff Bezos doesn't seem all that excited about owning, much less wielding, the Washington Post. Maybe Elon Musk is the most powerful person in the media these days, but his trolling tirades seem less like a coherent worldview than an applause-hungry form of japery. The people who control the news now are servants to metrics like "scale" and "engagement" and are about as big picture as the bullet points and briefing items they traffic in.
And then there is Mathias Döpfner, a six-foot-seven former music journalist turned billionaire CEO of the media conglomerate founded by, and named after, Germany's preeminent postwar press baron, Axel Springer. Springer's widow took a shine to Döpfner — she felt he saved the company and kept it true to its mission — and gifted him controlling shares.
For the past decade, Döpfner has been transforming Springer into a digital player worldwide. He is already the most muscular publisher on the Continent with Germany's populist Bild and the upmarket broadsheet Die Welt. Leveraging that influence, he's helped choose who runs the European Union and helped create regulatory and privacy policies in Europe that have kept American tech giants somewhat in their place. Last fall, he paid a billion dollars for Politico, the indefatigable scoop factory that, thanks to its various tiers of paying subscribers, is a highly profitable walled garden of premium-priced wonkery.
I've been meeting and speaking with Döpfner since the spring, trying to understand the nature of his ambitions. Döpfner told me that after 20 years spent studying the American media and the possibilities of digital transformation, "now is the moment. I'm more excited than ever in my career." Springer is on a hiring spree to build what, in the words he uses with potential recruits, will be "a global quality journalism brand and that we count on for nonpartisan, open-ended curious journalism that is not in a political camp." He wants to take on the New York Times and the BBC both in reach and influence. And there is something almost without shame about his ambitions. Earlier this fall, he was caught back-channeling ideas to his friend Musk on how to improve Twitter. ("We run it for you," Döpfner spitballed over text, "and establish a true platform of free speech. Would be a real contribution to democracy.")
Nothing about Döpfner is small. He's got a big ego, big appetites, big plans, big hands, and a big mouth. He speaks with supreme self-confidence, but there's something boyish about him, energetic and a touch mischievous. "He's a controversial person, not everyone likes him, but there's nobody who would say he's not an agenda setter," says John Harris, a co-founder of Politico. "I think his arrival here at this moment is a very encouraging thing not just for Politico but for the broader profession. I really think we need these capacious figures in American media again. The profession seems somewhat adrift without them."
Until recently, Döpfner has always run Springer the way he's seen fit. He was initially supportive of, and slow to fire, his protégé Julian Reichelt, the brass-knuckled editor of Bild, after he was revealed to be allegedly promoting people he was romantically entangled with. In September, the Financial Times revealed how Döpfner directed Bild to go after Adidas for pausing some of its retail-space rent payments during the pandemic without disclosing that he was, personally, one of Adidas's landlords. (He had no regrets about that: "I mean, I think it would've only been a scandal if I would not have shared that relevant information, which became a global scoop thereafter.")
But what really worried American journalists about his purchase of Politico was the idea that he might be some sort of red-pilled crank. Washington Post's Sarah Ellison reported on messages Döpfner sent to his inner circle in which he was kinda-sorta joking about how great Trump's positions were (challenging China and big tech; needling NATO allies to pay up) and how they should probably all be praying for Trump's reelection. Trump posted on his Truth Social platform, "Thank you to the very brilliant Mathias Döfpner." Democratic representative Ted Lieu tweeted that Döpfner was "pathetic" and wrote, "If you are going to be a Trump supporter, at least have the courage to admit it." One Politico reporter, Natalie Fertig, tweeted a plea to her would-be sources: "I'm not a perfect journalist, but new ownership hasn't changed my reporting."
To people already familiar with his idiosyncratic politics and gadfly proclivities, this was vintage Döpfner. But nobody here is all that familiar with him. After the Post piece came out, I asked Josef Joffe, the German academic and former publisher and editor of Die Zeit, to interpret. "Döpfner may not fully understand the American market," Joffe observes. "Compared to Germany, the U.S. is hardball politics." Watching his attempt to rebrand for American sensibilities has annoyed Döpfner's old allies on the right back home, who think he's become a sellout, and on the left, who find it disingenuous, to say the least.
What Americans are trying to figure out, as I put it to Döpfner directly, is if he's a sub-rosa right-winger. "I don't need to be 'secretly conservative,'" he told me, sounding simultaneously annoyed and amused by the idea. "I'm, in the best sense, hopefully, unpredictable. That's what I try to be and that can lead to sometimes provocative statements."
In some sense, the moment he truly arrived here was in late April, the weekend of the White House Correspondents' Dinner. He finally had acquired Politico, and this was his victory lap around our capital. At the dinner, he sat next to Snap CEO Evan Spiegel, and he hit all the right parties that weekend. He had a private audience with Secretary of State Antony Blinken. (He won't say what they discussed.) That same weekend, Döpfner met with two top New York Times reporters and former Politico staffers, Jonathan Martin and Alexander Burns, in a back room at the Italian restaurant Centrolina.
For years, the Times had made a habit of picking off Politico's most promising and productive talent — including, notably, Maggie Haberman — promising them a prestige platform and, if not riches, at least stability. And now Döpfner was making the case to Martin and Burns why they should return: that this would not be the second-tier Politico they once knew — an idea that was as important to Döpfner as it was to the news veterans.
"It was striking to me how passionate he was about the importance of good writing and reporting that challenges the reader," says Burns. "He was very direct about how central Politico is to Axel Springer's larger vision, that this wasn't just a neat acquisition in the United States, that it was a major, major strategic bet." It worked. Both reporters left the Times. Politico has also recently poached reporters from The Wall Street Journal, the Washington Post, and the Los Angeles Times.
"I do that occasionally, meeting with important reporters, writers, and journalists that we want to hire, and I do that with great pleasure," said Döpfner.
Before Döpfner was a mogul, he says, he was the kid picked last in gym class, and for all his success, he seems driven by some of that underdog energy. "I was always the last guy sitting on the bench," he said to me one afternoon in July when we met up in Sun Valley, Idaho, "and the teacher would say, 'You have to take Mathias,' and the captain would say, 'No, we'll play with one less.'" Freakishly tall from the time he was 14, he was treated like a teenage Grendel. "There was no basketball in German schools" back then, he said with a sigh.
In Sun Valley, Döpfner was attending the secretive conference for moguls thrown each year by the investment firm Allen & Company. He'd been going since 2010 as part of his strategy to avoid German parochialism and explore how the broader digital world works. (He sits on the boards of Netflix and Warner Music Group.) He led me on a hike while wearing beat-up Tom Ford sneakers, white jeans, and a T-shirt with a plunging V-neck. I panted a half-step behind as he gesticulated with big swings of his arms while discussing everything from Ukraine to Detroit house music. ("I just spent the last week together with Juan Atkins, who I think is one of the most influential DJs of electronic music …")
Döpfner was born in January 1963 and grew up in Offenbach am Main, just outside Frankfurt. "It's the most boring place," he said over a slice of pizza the day before our hike. "I wanted to get out as soon as possible, which I did when I was 18." He's an only child. "I was always asking my mother, 'Why couldn't I have a brother or sister?' They said that I was too exhausting for them. Always asking questions. It must have been very tiring," he said before adding that probably the real reason "was simply because they couldn't afford it." In his telling, his father was an "unsuccessful but brilliant" architect.
It was a time when West Germany valued social and economic stability above all and American pop culture was revered. To this day, he loves America, exuberantly. He learned to play bass guitar, studied musicology in Frankfurt, then ran off to America, where he studied at the Berklee College of Music in Boston. "I discovered that I would never become a bass guitarist like Marcus Miller or Stanley Clarke or Jaco Pastorious, so I decided to focus more on writing about music," he said. That led to journalism as a career.
He first moved to Berlin in 1994, when he was 30, to be the editor of Wochenpost. The Berlin Wall had come down, and the newspaper was staffed equally by East and West Germans. It was a very politicized time. "The discussions that we had, it was always as if tomorrow is the last day and this headline matters more than anything else," he said. "We were fighting for reforms and innovating everything. There was an incredible hunger for change and modernization, a high degree of idealism, and a lot of intellectual fights."
He refereed the fights well enough that four years later he was hired as editor of Die Welt, Springer's stodgy Establishment newspaper.
There, Döpfner, dashing in the conservative dark-suit-and-tie uniform he's recently abandoned for a more casual look, fit right in. Some would note his similarity to its founder, Axel Caesar Springer, who was tall, a bit of a playboy, and, in certain ways, quite lucky. Springer's father had owned a paper in Hamburg, and his printing press somehow survived the firebombing of the city in 1943. Springer stayed out of the war by claiming diabetes and a respiratory ailment and used the printing press — and his reputation as never having been a Nazi — to build his company in its aftermath.
In 1952, Springer launched Bild in the model of the populist British tabloids. It would become, and remains to this day, the most influential paper in Germany, ventriloquizing the voice of the people. Axel Springer the company, like the man, "was anti-Communist, pro-America, anti-Soviet, pro-Israel, pro-armament," says Joffe. "Springer's tabloids fought passionately against the student revolt of the '68-ers and championed reunification. The enemy was Moscow and East Berlin; the friend was the mighty U.S." In 1966, Springer opened its new headquarters, a 19-story glass tower, right up against the Wall. It was a beacon of capitalism and the West that peered down imposingly into what Bild would refer to for years as the "Soviet Occupied Zone."
Today, Springer operates out of a Rem Koolhaas–designed radically futuristic building that Döpfner commissioned. But the papers' politics remain solidly center-right for Germany, which, as Joffe explains, "likes redistribution, regulation, government intervention, European integration, international institutions, and cooperation in international affairs." (Döpfner's papers stirred the pot about fear of crime brought on by the Syrian refugee crisis.)
Old man Springer married five times. After his death in 1985, his last wife, Friede Springer — she had been a nanny — surprised many by taking charge of the company. Döpfner arrived to run Welt 13 years later. He and Friede quickly hit it off, and by 2002 he had been named CEO.
At least as he recounts it, Döpfner was an early believer in digital, facing "so much hubris and resistance" on the part of the board. The late 1990s were, it turns out, the final glory days of print newspapers. Craigslist had begun devouring classified-ad revenue, and Google, founded in 1998, the same year Döpfner took over Welt, was just starting its journey toward advertising hegemony.
Seeing change as inevitable, he set about what he calls "the most brutal restructuring in the history of the company." Friede Springer backed him all the way. "When we said we want to sell all our regional newspapers and magazines," including the ones Springer founded, Döpfner recalled, "I thought this is definitely the moment when she would stop me and say, 'Sorry, this is the legacy of the company. That's what my husband has personally created and launched, and that's the soul and heart of the company. You can't do that.' Honestly, it was a one-hour conversation with her and then we had approval to do so. It turned out to be one of the smartest transactions because it was fundamental for having investments into digital. And those businesses have deteriorated since then significantly." The sell-off and restructuring gave Springer over a billion dollars to play with.
His strategy to transform the company was enough of a success in Friede Springer's eyes that she forked over most of her shares to him two years ago. Now, she and Döpfner each hold about 22 percent as the two main individual shareholders — though she transferred the voting rights of her own shares to Döpfner. Axel Springer's own children and grandchildren were not candidates for succession. (One died, and the others sold their shares long ago.) Several people told me that Friede Springer saw her husband in Döpfner — another tall Zionist, anti-Communist playboy and also a music fan. Döpfner said that doesn't give her enough credit. "People say she was charmed by me. And I think it is deeply disrespectful because that portrays her as a kind of naïf woman that can only be influenced by charm. I think she has a very special form of a very sharp, analytical sense based on good instincts and intuition."
Friede Springer wouldn't give me an interview. I called one of her closest friends, Gahl Burt, who was married to the former U.S. ambassador in Berlin and attended Axel Springer's funeral. "She feels that Mathias saved Springer," said Burt. "He has stayed true to the company's conservative values, but he has done it in a way that has embraced the new world, the digital world. Germans, by their nature, are slow to change. They like things the way they are."
In 2013, Döpfner sent his executives on pilgrimages to Palo Alto. One digital media CEO who met with the Springer squad in those years laughs while remembering how "they rented a house in a residential area very far away from where people actually do business there because they said they wanted to be physically close to the house Steve Jobs lived in, so they could be as close as possible to the innovation."
This was around the time that venture capitalists, among others, were making big bets on digital newsrooms like BuzzFeed, Vice, and Vox Media (which now owns this magazine). Springer began making smaller bets, chipping in on companies including Insider (then called Business Insider) and Group Nine Media (publisher of Thrillist and NowThis and now a part of Vox Media). One Springer executive referred to that time as Döpfner's "pay-to-play period," which was about building relationships and seeing how digital media worked — or didn't work, as Döpfner learned after investing in click-quacksters including Ozy Media, whose traffic numbers turned out to be a sham. "Fortunately for us, it was a relatively small investment, but it turned out to be the wrong thing," Döpfner said when I brought it up. "I was also in Mic.com. You have to try things. If you don't try things, you are paralyzed and stagnating." And he didn't want to be left behind in Berlin. By 2016, he was even inviting Silicon Valley power brokers like Musk and Mark Zuckerberg over to receive the Axel Springer Award, which entailed being interviewed by Döpfner.
In 2014, he made another bet, teaming up with Politico's owner, Robert Allbritton, to create Politico Europe in Brussels, which is the seat of the European Union. It was a true joint venture, operated equally by Allbritton and Döpfner. But right off the bat, certain things got lost in translation. One early employee recalls how Döpfner flew to Brussels to be presented with a mock-up of the launch issue. "He just blurted out, 'This is grotesque!' All the editors were like, 'Is he mad?' We later learned that in German, grotesk just means sans serif. I think we did change the font, though."
The publication's fast-paced, insidery argot shook up bureaucratic Brussels. As one founding staffer put it, "Axel Springer gains market-share size and reach, and Mathias builds his Rolodex and really his access to the upper echelons of global power."
When Döpfner spoke, both Brussels and Berlin listened. After all, that same year, he was credited by many with helping name the president of the European Commission, Jean-Claude Juncker (whose term ended in 2019). Döpfner had published an editorial in Bild that appeared to back Juncker, after which Angela Merkel reversed course and backed Juncker, too. Döpfner's relationship with Merkel was closely scrutinized during her entire time in office. "I met her 22 years ago for the first time," he told me. "We constantly had meetings one-on-one or in smaller circles. I think it was a professional relationship. In the later phase of 16 years, it got a bit more distant, I would say." Bild was often critical of her migrant policies, among other disagreements.
Döpfner also used that power to try to fight Google, which had stripped away newspapers' ability to control what its readers got to see and virtually cornered the market on digital advertising. He published a 2014 open letter slamming Eric Schmidt for Google's high-handedness: "We — and many others — are dependent on Google … the statement 'if you don't like Google, you can remove yourself from their listings and go elsewhere' is about as realistic as recommending to an opponent of nuclear power that he just stop using electricity. He simply cannot do this in real life — unless he wants to join the Amish." The E.U. has certainly had a more aggressive regulatory stance against the tech giants than the U.S. has.
After the Politico investment, Döpfner decided to buy one of the world's most influential publications, the Financial Times. In 2015, he offered £800 million to Pearson Publishing for it. But at the very last minute, he was outbid by the Japanese publisher Nikkei. "It wasn't quite the propellers whirling out in Casablanca, but everything was ready to go," recalls Lionel Barber, the longtime former editor of the FT. He says Döpfner "had been pipped, and he took it hard." Jan Bayer, Döpfner's No. 2 at Springer, says he canceled his family holiday and went to his boss's house to reassess. "We decided then," says Bayer, "'Okay, we go for Business Insider.'"
Döpfner had already gotten under the hood of Insider, thanks to his minority investment. Post FT, Springer bought a controlling stake in the company for $343 million. This put the website at a valuation of $442 million, and many media executives regarded the Germans as rubes for paying such a high price. Döpfner said he feels vindicated by its traffic and revenue growth. Still, while Insider is lively, it's a long way from the prestige of the FT. He wanted more.
In 2016, Döpfner talked to Allbritton about buying Politico outright. But he wasn't ready to sell. Two of Politicos top journalists, executive editor Jim VandeHei and reporter Mike Allen, had been excited by the possibility of a bigger owner like Springer, and when no deal materialized, they got impatient and left, starting Axios. Their split with Allbritton was acrimonious. As the years wore on, Döpfner grew restless, wanting a bigger stake in the U.S. than Insider. He looked at buying Axios. Allbritton then decided to sell Politico to him.
That's when things got messy. Ben Smith later reported in the New York Times that Döpfner had floated the idea of buying both outlets to combine them while keeping Allbritton in the dark about certain aspects of that master plan. This turned off the Axios camp, and Döpfner was described as "sneaky" in Smith's column. This version of events rankles Döpfner still. "It's just not correct," said Döpfner. "We've been very transparent to Robert in all phases. Yes, there was a short consideration of 'Could be both,' but it turned out to be too complicated from an antitrust point of view. It also was, I think, emotionally complicated. Then we decided to go for Politico only."
He rejects any characterization of his dealmaking style as untoward. "If you cheat somebody, you only cheat once," he said to me. "You will never do business with that person again. If you cheat several people, nobody will trust you. And that's the end of it." But he does have a reputation as being a bit dangerous in the boardroom. "You could imagine him as a German aristocrat from the mid-19th century who might have had the occasional duel, with a scar running down his right cheek," says Barber, who speaks German and jousted with Döpfner when he nearly bought the FT. "He's incredibly tall and lanky, he's got a winning smile. Very charming. But look, he's no pussycat." One media CEO who negotiated directly with Döpfner for many years tells me, "You're not going to get him off message, you're not going to get him off target, and you're not going to catch him in a weak moment at the bar."
The Axios drama wasn't the only hiccup in Döpfner's quest for Politico. Back in Berlin, the Julian Reichelt Me Too scandal at Bild was engulfing Springer. In lefty Berlin, Reichelt is a controversial figure. That made Döpfner — who has always relished thumbing his nose at the clubby consensus — like him all the more. He considered Reichelt and the paper he ran a check against overzealous COVID dogma and political correctness run amok. An internal investigation had been ordered up, and it all began burbling in the German media but didn't reach peak velocity until Smith exploded it in that same October 2021 column in the Times.
Döpfner was initially dismissive, defending Reichelt and insisting the affairs were consensual and the matter complicated. The scandal metastasized, becoming international news, and Döpfner's judgment was called into question. Politico brass watching it all go down began to wonder if he got how America now works. "It shook him deeply," says Barber, "because I think he didn't realize — he understood the problem intellectually, but he didn't quite get it politically because he felt he'd done the right thing and therefore there wasn't an issue."
In the end, Döpfner fired Reichelt. Now, many believe Reichelt is the one behind some of the damaging press reports in recent months — some guess he leaked the Trump messages to the Washington Post as well as the FT Adidas scoop. But Reichelt denies to me that he was the leaker: "It's not true and I don't think it's a sound business strategy to blame everything that is not going well on me."
Döpfner is a man in full in an almost retro way. He has a child with a girlfriend but remains married to the mother of his other three children (one of whom is Peter Thiel's chief of staff). He also has a notable collection of artwork depicting female nudes. He name-drops techno DJs and goes dancing at Berlin's notorious club Berghain ("It's not that wild," he insists).
Döpfner likes to play pranks and has shown up to parties dressed in drag, as he did at his own 50th birthday. "In the first part of the evening, I was dressed like a woman and my wife was dressed like a man," he said. "In the second part of the evening, we switched roles. The first part of the evening, I was so successful in covering my identity that even close friends that did not recognize me — in the second part they said, 'Where were you in the last two hours? We didn't see you.' I said, 'Well, I was this tall blonde woman.' They said, 'This is impossible.'" (Says one eyewitness, "Whatever he's doing, he's trying to do the utmost. But because this drag queen was so huge, you knew it had to be him.")
It must be fun being a billionaire, I told him. "I'm not; I'm a debt billionaire," he said, since his net worth is tied up in his ownership stake in Springer. Which makes him not quite as cash rich as some of the press barons of yore. "I will own no boats and no planes," he said. "I'm not playing golf. I have no sports cars."
Still, he is a baller. He is friends with Henry Kissinger, whom he has known for 25 years, and who tells me about Döpfner, "We see each other when we are in each other's country or when we have issues of a foreign-policy nature that we need to clarify our thinking about," and he is currently readying a manuscript for Simon & Schuster that explains his personal foreign-policy doctrine. He says the book will be "for an American-European audience about the decline of democracies and how a new value-based transatlantic trade alliance could reverse that trend. I have been thinking about it for almost a decade. And the predictable war in Ukraine was the final push."
In some ways, he is more forceful in his politics than Kissinger. He has made it a policy to not do business in "non-democracies" or even "half-democracies." Springer operated in Russia for over a decade but backed out in 2015 after Putin implemented a new media law. Turkey proved unfriendly as well. He's vocally anti-China. "We have had some painful experiences in half-democracies," said Döpfner.
He even supported the U.S. in the run-up to Iraq, when most of Europe saw that abominable farce for what it was. He didn't like that we executed Saddam, though. "I have a very fundamentalist position against the death penalty, even for dictators," he told me. "I would have kept him the rest of his life in the worst prison of the world."
Döpfner is in many ways a political and spiritual successor to Axel Springer, who built his company around a set of core principles that included support for a "united Europe," the "transatlantic alliance" and "the Jewish people and the right of existence of the State of Israel." Support for Israel was a particularly resonant position for obvious reasons in postwar Germany.
In 1988, Döpfner met the man who would become the most influential figure in his life, the prolific publisher and lifelong Zionist George Weidenfeld. Döpfner was a young journalist sent to interview him. Weidenfeld fled the Nazis at 18 and worked at the BBC during the war, doing parodies of Hitler's voice and interviewing Charles de Gaulle, then became the first chief of staff to the first president of Israel, Chaim Weizmann. As a publisher, Weidenfeld was a fascinating mixture of highbrow and high society, known for his closeness to the Israeli Labor Party and his support for anti-Communist dissidents and for his controversial decision to publish Vladimir Nabokov's Lolita in the U.K. Döpfner said he was "probably my closest friend" until his death in 2016 at the age of 96, a champion of free expression above all else.
Out of one side of his mouth, Döpfner preaches free-speech absolutism and against big-tech censorship; he also says his life's work is fighting against antisemitism and for democracy. There's a values-clash on display here: Take the Musk exchange.
Text messages that were published as part of Twitter's lawsuit against Elon Musk show how Döpfner wrote to encourage his fellow billionaire to buy the social-media company. Musk replied that it was an "interesting idea" and Döpfner wrote, "I'm serious. It's doable. Will be fun." He suggested that there could be separate algorithmic experiences; for example, "if you're a snowflake and don't want content that offends you pick another algorithms." Now Musk is in control and may let back on America's most visible antisemite, Kanye West, and nondemocratic actor, Trump. I tried to pin Döpfner down on these contradictory issues, but he wouldn't answer directly.
His dialogue with Musk about helping run Twitter "was more kind of a general thought and kind of a funny idea that we could play a role. I think it's not going to be a realistic option." But should his buddy let Trump log in again or not? "Honestly, that is something that I would not like to comment on. I'm not here to give Elon public advice on what he should do or not do." Döpfner said he was "very upset" by West's antisemitic outburst, and he was glad to see Adidas drop him. In the name of free speech, should Holocaust deniers be free to tweet with impunity? He thought for a moment and then said, "I cannot be so concrete to tell you what should be banned or what should not be banned."
As for his true feelings about Trump, Döpfner points to an editorial he published on Insider after the Capitol riot slamming Trump as a threat to democracy everywhere. Still, he thinks the left got carried away during the Trump years with the Nazi comparisons. "It minimizes the Holocaust," he said. "I actually find that dangerous."
In Germany, Springer employees must sign a pledge in support of these core principles. I told Döpfner that those principles, and the mandated pledge, could, from the American viewpoint, be construed as activism.
He said he would never ask employees in America to sign the pledge but explained that, for "a German company, being driven by the German past and German guilt," the right of existence of Israel is a "fundamental value." He clarified that, from a journalistic perspective, he would never want his reporters to go easy on covering the Israeli government or what happens inside the country. "We are not here to support Israel; that's not the idea. We are just saying the right of existence of that country matters particularly, because it has been threatened."
He still thinks of himself as a reporter and insists he would never let his relationships with his fellow moguls get in the way of his newsrooms. Insider, for example, has published several scoops about Musk — one involved a horse and an alleged payoff to a flight attendant; another had to do with Musk fathering secret twins with an employee — and Musk has lashed out, tweeting that Insider is not "a real publication." What does Döpfner think of the Elon reporting? "First of all, it doesn't matter what I think," he said. "For me, the only question was 'Does that story fit the journalistic standards of Axel Springer and Insider?' It did, then it has to be published and that's it." Nicholas Carlson, the editor of Insider, says that "Mathias and other Axel Springer executives who have a lot of stake in this, all I ever hear from them is, like, 'Great work. Thank you, and more, please.'" Carlson's predecessor, Alyson Shontell, now the editor of Fortune, concurred: "They were very hands-off for me on edit."
Those at Politico whom I spoke to seem mostly optimistic about their new owner and the expansionist direction he's taking their organization in.
Back in March, Döpfner hired Dafna Linzer, who had been at NBC News, to be Politico's executive editor. "He asks questions that only another journalist would ask, not a news executive," says Linzer. "He asks about the quality of writers and editors and structure inside the newsroom to enable great journalism." Linzer thinks of this as an adolescence-into-adulthood moment for Politico, which is 15 years old. The company's new CEO, Goli Sheikholeslami (another Döpfner appointee; she was the president of New York Public Radio), is weeks away from announcing its biggest growth spurt yet. Backed by Springer's deep pockets, it has plans to add 100 to 150 new employees over the next year to staff up in foreign and domestic capitals and power centers, the sorts of places where Politico can do its hyperniche coverage of policymakers.
The new hires will fan out across Los Angeles, Sacramento, New York, London, and Berlin. Sheikholeslami is also bringing the European arm of Politico, which has always functioned as a separate business, under the same operational roof as the rest of the company. "A lot of our focus now is truly on building a one-of-a-kind transatlantic newsroom," she told me, "then leveraging the unique assets of the two newsrooms in helping connect the dots between what is happening in the United States and power centers across the U.S. and what is happening in power centers across Europe." Döpfner recently dispatched Bayer, his deputy, to live in Washington, D.C., where he will function as Döpfner's eyes and ears. "I have everyday contact with Mathias," says Bayer. "When you are in Berlin, you're really far away, and I would like to work with the CEOs very closely."
But there are concerns about how Döpfner is going to pay for all this. In 2020, the investment firm KKR (in partnership with the Canadian Pension Plan Investment Board) bought a 48.5 percent stake in Springer for $3.2 billion, taking the company private. That allowed Döpfner the freedom to strike deals without having to justify his every move to shareholders, who might not have been onboard with his big plans in America. Aside from Springer's media properties, the core of its business is a collection of digital classified-ad services. Döpfner's idea was always to spin them off sometime in the next two years and then buy back KKR's stake. That would leave what remains — a company composed purely of media assets, split equally between Europe and the U.S. — totally in Döpfner's grip.
But as the global economy sputters, the value of the classified-ad businesses is depreciating. This could throw a wrench in Döpfner's plan. He doesn't seem too concerned, arguing that these assets are still strong and can be sold once things stabilize. "Strategy on that has not changed, despite a kind of difficult market environment," he told me in late October.
In September, Henry Blodget, Insider's co-founder and CEO, explained the broader strategy to me like this: "Now, we're in this period where everybody's online, and the last great growth engine, which was mobile, has peaked. Everybody's on mobile all day, there's no more time that we can spend online, and now it is just hand-to-hand combat to see who is going to survive. But the good news is the demand for the product is there — the business models that support it are there. Subscriptions work. Advertising works. So you just need to be a company that creates enough unique value for your audience and your clients, and put yourself in a defensible position, and you can survive."
Of course, with an advertising recession likely upon us, adjustments must be made. Things are looking grim for everybody in the media. Insider, which went on a Springer-funded hiring spree and set up a very tight paywall, is now making some of its content free to nonsubscribers, and insiders tell me layoffs are coming. And prestige alone won't keep anybody afloat. On our hike, Döpfner boasted about the Pulitzer that Insider won this year — its first — for an illustrated report on Chinese internment camps. I noted that BuzzFeed won a Pulitzer, but that didn't save its newsroom from being gutted. "Point taken," said Döpfner, suddenly becoming quite serious. "Pride is a stupid feeling. Pride is very close to too much self-confidence, and that's very close to complacency, and complacency is the beginning of the end."