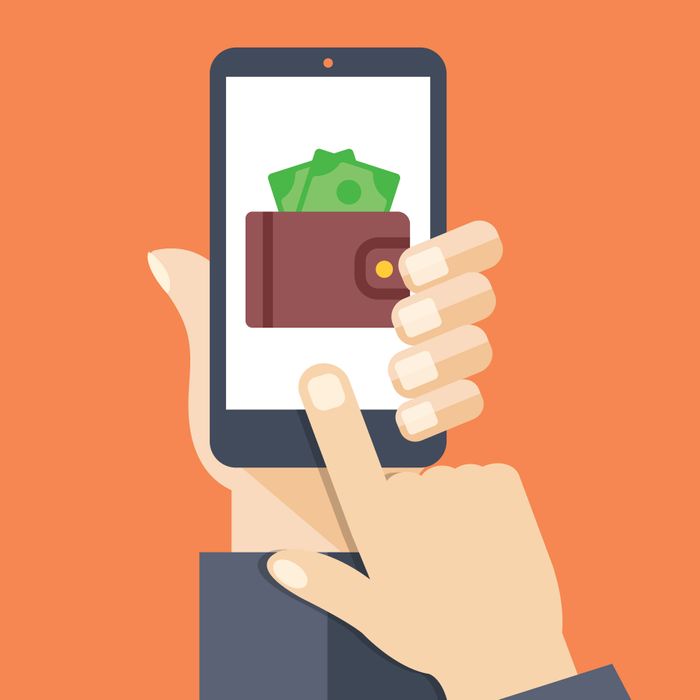 Finding cheap cell-phone plans appeals to me in the same way some people get into extreme couponing. I've been pretty happy using Project Fi, Google's cell-phone-service plan that piggybacks on T-Mobile, Sprint, and U.S. Cellular. Project Fi starts at $20 for unlimited talk and text, and then charges a penny per megabyte (or $10 per gigabyte) for cellular data you use. While you sign up for a "plan," in effect you just pay as you go for data. For me, that's meant that my cell-phone bill now averages around $46 a month — a significant savings for service that isn't noticeably any worse (and in some cases better) than what I'd get by going to one of the four major carriers.
Still, there are downsides. You can only use Project Fi with three phones: The Nexus 5X, the Nexus 6P, and the Google Pixel. No iPhone (or Galaxy) users need apply. I like the Pixel quite a bit, but don't like the feeling of not being able to move to a different phone if I wanted to.
And I was still wondering: Could I get that price even cheaper? Project Fi is a mobile virtual network operator (MVNO), a type of cell-phone-service provider that's seen rapid growth in the past decade. MVNO's typically lease usage from larger carriers and resell it to customers. Because they don't spend on retail stores, infrastructure upgrades, or massive marketing campaigns (getting that one dude from Verizon to defect to Sprint can't have been cheap), every MVNO I've looked at is cheaper than signing up for service directly with the Big Four carriers: Verizon, AT&T, T-Mobile, and Sprint.
Relatively new entrant Mint SIM may now be the cheap MVNO to beat — if you're willing to put down some money upfront. An offshoot of Ultra Mobile, which specializes in selling prepaid SIM cards to make international calls, Mint SIM is aimed at the domestic market, leasing time off the (very good!) T-Mobile network. Not only are the prices pretty unreal, but you can put the SIM card they send you into any unlocked phone on the market, from an iPhone 7 to a Galaxy S8 to a budget Motorola G5. You can port over your existing phone number, and Mint SIM also offers tethering on any Android phone, which allows you to use your phone as a mobile Wi-Fi hot spot.
But really, how cheap are we talking?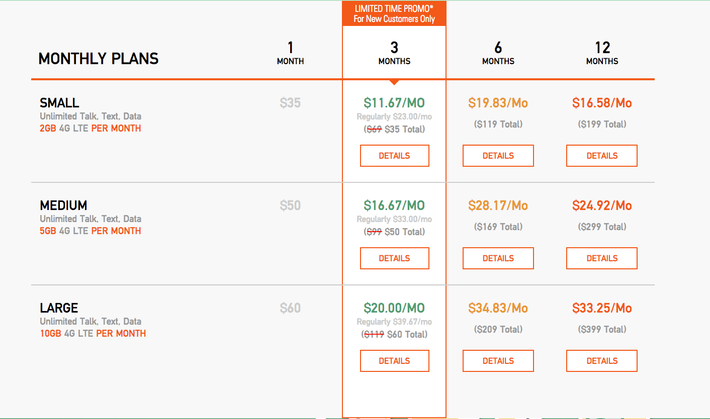 To get you in the door, Mint SIM is offering a prepaid three-month deal that's crazy cheap. You can get 2 GB of LTE (you'll get throttled if you go over) plus unlimited talk and text for $11.67 a month — or $35 for three months of service. Five GB of data is just $16.67 a month, and 10 GB is just $20. There's a shipping fee for the SIM card and $1.75 per month in regulatory fees. I've spent a lot of time looking at MVNO pricing plans, and there really aren't any other plans like this at anywhere near this price point.
But if this was just about saving some cash on a three-month trial program, I wouldn't be quite as excited about Mint SIM as I am. Take a look at the regular pricing outside the introductory promo, and you'll still see prices that far outpace any other MVNO on the market. The big catch? You'll need to pay upfront for all that service — and you can't switch up between tiers once you do so.
So, how to figure out which tier is right for you? If you've been bopping along on your regular carrier network, you may not even know — and may be overpaying for more data than you need. So first, check out how much data you actually use in a month. On Android, go to Settings > Wireless & Networks > Data Usage, and you'll get an accurate rundown of how much data you've used in the past month — and which apps are using up all that data. On iPhone, go to Settings > Cellular Data, and then scroll to the bottom, where it will give you a breakdown of how much data you've used and, again, which apps are using it. (Streaming Netflix or Spotify can chew up your data plan quite quickly, but so can heavy Twitter or Facebook usage, now that video has started to take over both platforms.)
I use between 2 to 4 GB of data per month, so I'd likely go with the medium plan with Mint SIM. While I'd have to shell out $299 upfront for the full year, I'd effectively bring my cell-phone bill down to $26 a month with fees — saving me $20 a month (or $240 a year) from my already-cheap cell-phone plan. Even Mint SIM's highest tier, at 10 GB per month, is about $20 less per month than anything comparable out there.
There's something to be said for caution in buying a prepaid plan. Mint SIM's network coverage is good in cities, but if you're planning a trip to Wyoming or some of the more unpopulated corners of upstate New York, you may be out of luck (or forced to shell out for a month of Verizon coverage, which still has the best overall coverage out of any of the Big Four carriers). And one of the ways that cell-phone plans have improved significantly is the lack of locked-in contracts for most plans, even the standard plans offered by the Big Four. The idea of paying upfront for 12 months of service is less than appealing when seen in that light.
But it's hard to ignore prices this cheap. My advice, if you're looking to cut down on your cell-phone bill: Try out the promo deal. For the price of what you're likely paying for one month of cell-phone service, you'll be able to try out three months of what Mint SIM is offering. If it works for you after three months, take the plunge. The satisfaction of suddenly having extra money each month to spend or save will be worth it.