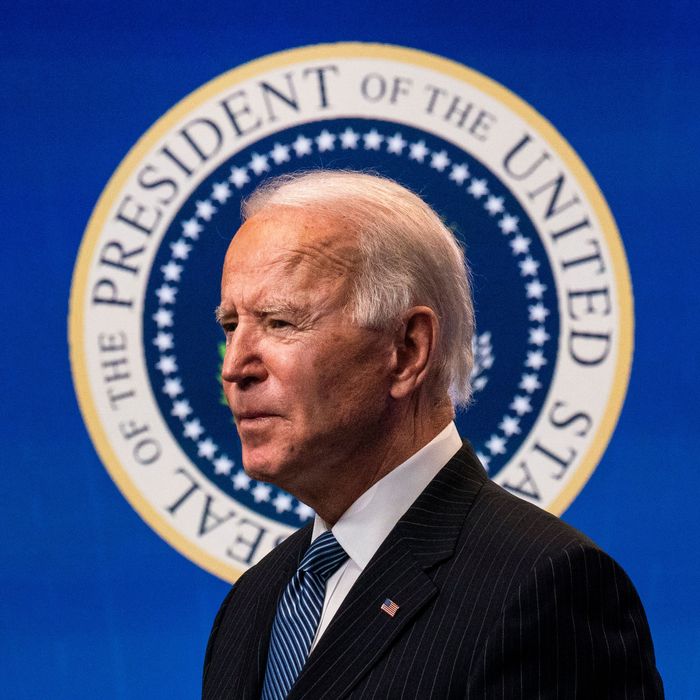 President Joe Biden speaks on American manufacturing before signing an executive order at the Eisenhower Executive Office Building on January 25, 2021.
Photo: Shutterstock
President Biden got to work hours after he was sworn in last week, signing a flurry of executive orders, memorandums, and requests, many of which reversed Trump administration policies. Below are the latest updates on the transition during Biden's first full week in office.
Updates will appear in reverse-chronological order.
Biden takes executive action on health care
On Thursday, President Biden turns his attention to health care, signing a series of executive actions that will expand health care access amid the pandemic, and begin to roll back some Trump-era health policies.
One executive order will reopen HealthCare.gov, the federal health insurance marketplace from February 15 to May 15. Roughly 28 million Americans did not have health insurance before the pandemic, and that number has swelled as people lost jobs and suffered other economic hardships in the last year.
Biden will initiate reviews of several Trump administration decisions, including regulations that bar federally funded family planning clinics from referring women for abortions, policies that allowed states to impose Medicaid work requirements, and rules that permitted short-term health plans and association health plans.
Biden will also reverse the Mexico City Policy, also known as the global gag rules, which bars taxpayer funding for international non-governmental organizations that provide abortions or referrals. The policy regularly switches on and off when the party in control of the White House changes.
Biden spent his first week cleaning house
While the focus has been on the fresh batch of executive orders President Biden has been rolling out on a daily basis, behind the scenes his team has been ridding the government of Trump appointees, as the New York Times reports:
If there has been a single defining feature of the first week of the Biden administration, it has been the blistering pace at which the new president has put his mark on what President Donald J. Trump dismissed as the hostile "Deep State" and tried so hard to dismantle.




From the Pentagon, where 20 senior officials were ready to move in days before the Senate confirmed Lloyd J. Austin III as defense secretary, to the Voice of America, where the Trump-appointed leadership was replaced hours after the inauguration, the Biden team arrived in Washington not only with plans for each department and agency, but the spreadsheets detailing who would carry them out.
Biden to sign ambitious executive orders on climate change
On Wednesday afternoon, President Biden signed a package of executive orders that aim to deliver on his campaign promise to be the most aggressive president ever on climate change.
"In my view, we've already waited too long to deal with this climate crisis. We can't wait any longer," Biden said during a signing ceremony at the White House. "We see it with our own eyes. We feel it. We know it in our bones. And it's time to act."
The executive actions make climate change a national security priority, set the goal of conserving 30 percent of all federal land and water by 2030, and cancel new oil and natural gas leases on public lands and offshore waters "to the extent possible," according to a White House summary. Addressing racial and economic disparities is a central part of Biden's climate actions, as the Washington Post notes.
Axios has a run down of the various orders:
• Setting a target of conserving 30% of the nation's lands and oceans by 2030.

• Scheduling an April 22 (Earth Day) summit with world leaders aimed at toughening emissions-cutting efforts.

• Elevating climate's role in foreign and security policy, such as requesting a national intelligence estimate on the security implications of climate change.

• Creating a new task force of 21 agencies and departments to "enable a whole-of-government" approach to climate.

• Directing agencies to "coordinate investments and other efforts to assist coal, oil and natural gas, and power plant communities."

• Requiring agencies to procure carbon-free power and zero-emissions vehicles.

• Taking steps to address the higher pollution exposure among the poor and communities of color. This includes a "Justice40 Initiative" aimed at "delivering 40 percent of the overall benefits of relevant federal investments to disadvantaged communities."
On his first day in office, Biden recommitted the U.S. to the Paris climate agreement, rescinded the construction permit for the Keystone XL pipeline, and ordered the federal government to review and reinstate more than 100 environmental regulations scrapped by the Trump administration. But today's moves go beyond reversing the climate damage done by his predecessor or simply re-embracing Obama-era climate initiatives. "This is the single biggest day for climate action in more than a decade," said Gene Karpinski, president of the League of Conservation Voters.
Senate confirms Antony Blinken as secretary of State
The Senate confirmed Antony Blinken, Biden's pick for secretary of State, on Tuesday by a vote of 78 to 22. Blinken is the fourth member of Biden's Cabinet to be confirmed, following Avril Haines as director of national intelligence, Lloyd Austin as Defense secretary, and Janet Yellen as Treasury secretary.
Janet Yellen sworn in as Treasury secretary
Biden to reopen Obamacare insurance marketplaces
Later this week, President Biden is expected to take executive actions to help Americans gain access to health insurance amid the pandemic, according to the Washington Post. Under one order, federal marketplaces selling Affordable Care Act health plans, which are usually only open for six weeks at the end of the year, would reopen for at least several months. As the Post explains, another order would focus on increasing access to Medicaid:
Another part of Biden's scheduled actions, the individuals said, is intended to reverse Trump-era changes to Medicaid that critics say damaged Americans' access to the safety-net insurance. It is unclear whether Biden's order will undo a Trump-era rule allowing states to impose work requirements, or simply direct federal health officials to review rules to make sure they expand coverage to the program that insures about 70 million low-income people in the United States.



Two anonymous HHS officials said they expect these actions to be unveiled at an event on Thursday, but they have yet to be announced by the White House.
Biden increases vaccination target
Biden raised the bar for vaccinations on Monday afternoon, telling reporters that he expects the U.S. to soon be vaccinating 1.5 million people a day, up from his original target of 1 million per day in his first 100 days in office.
"I'm quite confident that we will be in a position within the next three weeks or so to be vaccinating people at the range of 1 million a day or in excess of that," he told reporters, per CNN. Biden clarified that he meant 100 million shots per day, not people vaccinated, as some vaccinations require more than one shot.
The country is already close to the million-a-day target, as the Washington Post notes; the current average is about 1.2 million over the past six days. Biden had faced some criticism for setting the goal too low, but when he first made the pledge it seemed that number might be harder to hit.
Nevertheless, a White House official told CNN that the official goal remains 100 million vaccine shots in 100 days.
Harriet Tubman may appear on the $20 sooner than expected
The Biden administration is "exploring ways to speed up" efforts to put Harriet Tubman on the $20 bill, White House press secretary Jen Psaki told reporters Monday. Psaki referred specific question about the timeline for a new design to the Treasury Department.
At one point Trump Treasury Secretary Steven Mnuchin said the redesigned bill wouldn't appear until 2028 due to unspecified "technical issues," but the New York Times reported that the design "was completed in late 2016."
Biden reverses Trump's transgender military ban
President Biden signed an executive order on Monday repealing the ban on transgender people serving openly in the military. In a statement, the White House said that the order "sets the policy that all Americans who are qualified to serve in the Armed Forces of the United States should be able to serve."
The order "immediately prohibits involuntary separations, discharges, and denials of reenlistment or continuation of service on the basis of gender identity or under circumstances relating to gender identity."
As USA Today explains, this move reverses a Trump administration policy that prevented transgender troops from serving openly:
In 2016, the Pentagon under former President Barack Obama repealed a longstanding policy that had prohibited transgender troops from serving openly and allowed for them to receive counseling and medical treatment, including surgery. A study commissioned by the Pentagon found that overturning the ban would have minimal costs and effects on the readiness of troops to fight. 




Trump had announced in July 2017 his intent to ban transgender troops by tweet, a move that surprised Pentagon brass. Amid court challenges, the Pentagon implemented a policy developed under then-Defense Secretary Jim Mattis that banned troops who required treatment for gender dysphoria.
The White House announced the policy shift as Biden met in the Oval Office with Defense Secretary Lloyd Austin and General Mark Milley, the chairman of the Joint Chiefs of Staff. The move follows an announcement from Austin over the weekend that he is ordering top Pentagon leadership to send him reports on their efforts to prevent sexual assault and harassment in the military.
South Africa travel ban coming Monday over new COVID variant, CDC will finalize mask mandate on public transportation
Reuters reports that President Biden will bar most non-U.S. citizens who have recently traveled to South Africa within 14 days from entering the U.S., in an effort to stave off the arrival of the worrisome B.1.135 COVID variant which is spreading across the country. The Biden administration is also reinstating the entry ban on non-U.S. citizens who have been to other countries battling dangerous new variants, including Brazil where the P.1 variant has taken hold, and the U.K. and E.U., where the B.1.1.7 variant has been rapidly spreading. So far, only the B.1.1.7 strain has been detected in the U.S.
The Biden administration plan rescinds the Trump administration's plan to end the travel restrictions in light of the new requirement, effective Tuesday, that international travelers need to show a negative test result taken within three days of their departure to be allowed to enter the U.S.
The CDC will also announce on Monday a mask mandate for anyone using public transportation in the U.S. — a move the Trump administration had blocked.
Dick Durbin floats ending filibuster
The number-two Democrat in the Senate at least posed as someone willing to end the filibuster while appearing on Meet the Press on Sunday:
I think it gets down to the bottom line here, the American people want us to take action. Action on this pandemic, action on this economy and on a host of other issues. And if this filibuster has now become so common in the Senate that we can't act, that we just sit there helpless, shame on us. Of course we should consider a change in rule under those circumstances, but let's see. Let's see if we can initiate a real bipartisan dialogue and get something done.
Thus far, Senate Democratic leaders have balked at Mitch McConnell's demand that they commit to preserving the filibuster as part of a power-sharing deal. The only other way to pass legislation in the Senate with a simply majority is via the budget reconciliation process, which, as the Washington Post noted Sunday, isn't an universal solution:
[T]here are nonbudgetary matters that reconciliation simply cannot be used for — including key Democratic agenda items such as climate-change legislation, expansions of civil rights and voting access, gun restrictions and more items that have little, if any, GOP buy-in. That stands to only compound the already immense pressure to ditch the rule — a campaign that is already being pushed by former senators and Senate aides, opinion journalists with considerable influence inside the Democratic caucus and by a legion of activists that emerged as a potent force during the Trump administration.
New CDC director says she can't tell "how much vaccine we have"
Dr. Rochelle Walensky, the new director of the CDC under Biden, appeared on Fox News Sunday, where host Chris Wallace asked her about the mess Biden administration officials have said they inherited from the Trump administration:
WALLACE: The new White House COVID coordinator says what you inherited from the – the Trump administration is much worse than any of you could have imagined. What is the distribution problem and how do you fix it? 




WALENSKY: You know, I would say one of the biggest problems right now is, I can't tell you how much vaccine we have. And if I can't tell it to you, then I can't tell it to the governors and I can't tell it to the state health officials. If they don't know how much vaccine they're getting, not just this week but next week and the week after, they can't plan. They can't figure out how many sites to roll out, they can't figure out how many vaccinators that they need and they can't figure out how many appointments to make for the public. So if they overshoot it, then we have vaccine on the shelf. If they undershoot it, we have these queues and queues of people, people whose appointments are canceled. And, either way, we have challenges. So the fact that we don't know today, five days into this administration, and weeks into planning, how much vaccine we have just gives you a sense of the challenges we've been left with. 
National Guard troops are sticking around D.C. for Trump's impeachment trial
As many as 5,000 National Guard members will remain in the capital through mid-March due to "impeachment security concerns," Politico reported Sunday. Former president Trump's Senate impeachment trial is currently set to begin on February 8, and Politico notes that there "is also some concern over potential unrest surrounding March 4, the date some QAnon conspiracy theorists believe Trump will be inaugurated for the second time."
ABC/Ipsos poll finds public approves of Biden's first moves
The public-opinion honeymoon is underway for Biden, according to a new poll from ABC News/Ipsos (provided you still have faith in polls):
President Joe Biden is held in high regard by most Americans, according to a new ABC News/Ipsos poll released Sunday, as he takes the reins of a divided country in the midst of a once-in-a-century pandemic and economic crisis.




In his first week in the Oval Office, Biden yielded high approval ratings for his response to the coronavirus (69%) and confidence in his ability to unify the country (57%). The new poll was conducted by Ipsos in partnership with ABC News using Ipsos' Knowledge Panel. …




The more than two-thirds of Americans who approve of his leadership on the coronavirus includes 40% of Republicans – a notably high level of support from across the aisle a year into the pandemic. An overwhelming 97% of Democrats and 70% of independents also back Biden's management of the crisis in his early days in office.
The same poll finds the stark partisan divide on all issues related to immigration remains, however.
At least 38 Capitol Police officers have tested positive for COVID-19 since responding to riot
The head of the USCP union announced the count on Saturday, pointing to difficulties maintaining pandemic precautions while trying to defend the Capitol from an estimated 800 largely maskless rioters on January 6. The Washington Post reports that cases among D.C. National Guard troops are also on the rise:
A Defense Department official, speaking on the condition of anonymity because of the sensitivity of the issue, said Friday that coronavirus cases among the thousands of National Guard members who have been stationed at the Capitol in the past two weeks continue to climb, pushing some of them into isolation in hotel rooms in the region. The D.C. National Guard was aware of at least 170 cases as of Friday, with more positive results expected.
More than 80 D.C. Metro Police officers have also tested positive since January 6.
Releasing the Fauci
Washington Monument remaining closed due to pandemic
There may be a new president, but the pandemic rages on in Washington, D.C. The National Park Service announced Saturday that it was closing the Washington Monument to the public until further notice. It had already been closed since January 11 for security reasons ahead of the inauguration. Now it will remain so to prevent the spread of COVID-19 to visitors and staff. The Monument had also been closed from March through October due to the pandemic, and briefly again in December, but otherwise remained open amid the ongoing latest wave of coronavirus cases.
Long odds for a bipartisan COVID stimulus
The GOP is unifying in opposition to Biden's $1.9 trillion COVID-relief stimulus package. Here's NBC News' Sahil Kapur with an overview:
Key moderate Republicans in the Senate dismissed quick action on President Joe Biden's top priority of a $1.9 trillion economic package, indicating that the $1,400 stimulus payments he requested could take months, or never arrive … Biden's team appears ready to mount an aggressive campaign to get Congress to act, a departure from the previous administration that largely failed to engage lawmakers on legislative priorities and did not spend political capital on getting bills passed.




Republicans who would be critical to get to the finish line said they're open to additional money to speed up distribution of the COVID-19 vaccine, but balked at Biden's overall price tag. Some called on Biden to pare back the plan while others suggested waiting a few months to see if the economic need persists.
The Washington Post has more on the coming fight in Congress:
Biden's relief package is being declared dead on arrival by senior Senate Republicans, some of whom say there has been little, if any, outreach from the Biden team to get their support. Liberals are demanding the president abandon attempts to make a bipartisan deal altogether and instead ram the massive legislation through without GOP votes. And outside groups are turning up the pressure for Biden and the Democrats who control Congress to enact economic relief quickly, even if it means cutting Republicans out of the deal.




In the face of these competing pressures, Biden may discover he can get a big coronavirus stimulus bill or a bipartisan deal — but not both. The path Biden chooses with his first major piece of legislation could set the tone for the remainder of his term, revealing whether he can make good on his promise to unify Congress and the country.
One strategy the Democrats may pursue to avoid needing 60 votes in the Senate is via the budget reconciliation process, which only requires a simple majority and is how the Obama administration ultimately had to maneuver to get the Affordable Care Act passed. But as the Post points out, that path is hardly clear:
The Senate is split 50-50 between Democrats and Republicans, giving Democrats control only because Vice President Harris can cast tie-breaking votes. That means any individual Democratic senator could hold the legislation up with an array of demands …




Democrats in Congress and within the White House are split on how much time to devote to trying to strike a bipartisan deal before turning to budget reconciliation and leaving Republicans behind … [With the history of previous bipartisan outreach failures] in mind, budget reconciliation has emerged as the clear preference for many liberal Democrats, especially in the House, where Speaker Nancy Pelosi (D-Calif.) suggested in a conversation with donors Thursday evening that she was open to advancing Biden's proposal via the reconciliation process in coming weeks, according to a person familiar with her remarks.
Biden's Department of Education prepares to cut off fraud-marred college accreditor
As expected, the Biden administration's post-Trump house-cleaning operation has begun taking aim at Acics, the shady accreditor which the Obama administration stripped of its powers — only to have Trump Education Secretary Betsy DeVos reinstate them. Per the New York Times:
The department said late Friday that it recommended terminating federal recognition of the Accrediting Council for Independent Colleges and Schools, or Acics. The organization is infamous for having overseen the collapse of two for-profit university chains, Corinthian Colleges and ITT Tech, whose bankruptcies left tens of thousands of students with worthless degrees and mountains of debt.




The decision to end the group's federal recognition would be based on a review by the National Advisory Committee on Institutional Quality and Integrity, an independent panel that advises the secretary of Education. The group is scheduled to meet next month to deliberate the accrediting body's future. A senior department official will ultimately decide its fate.
More Trump appointees fired at government-funded international broadcasters
NPR's David Folkenflik catches us up:
The acting CEO of the U.S. Agency for Global Media continued her sweep of federally funded international broadcasters to remove leaders linked to former President Donald Trump. On Friday evening, Kelu Chao fired the recently appointed presidents and boards of Radio Free Europe/Radio Liberty, Radio Free Asia and the Middle East Broadcasting Networks named by her predecessor, Trump loyalist Michael Pack. Over his seven months there, Pack had embarked on a scorched-earth assault on the agency's networks, telling conservative media outlets he needed to "drain the swamp" and that its newsrooms were overrun with anti-Trump journalists.
Four GOP governors announce they are pulling National Guard troops from D.C. — following Capitol ouster incident
Politico reports:
Republican governors Chris Sununu of New Hampshire, Ron DeSantis of Florida, Greg Abbott of Texas and Greg Gianforte of Montana all now have said they're calling Guard members from their states home. More than 20,000 National Guardsmen were in D.C. ahead of President Joe Biden's inauguration Wednesday for enhanced security after the deadly riots at the Capitol Jan. 6.
Several thousand troops are set to stick around the capital for the next few weeks:
Roughly 7,000 troops will remain in D.C. until Feb. 6 to continue to help federal law enforcement agencies with post-inauguration riot security, Guard spokesperson Maj. Matthew Murphy said in a statement. Of those, 5,000 will will stay until mid-March. The troops will provide security, communications, medical evacuation, logistics and safety support to local and federal agencies, he said.




The majority of the troops staying in D.C. will be on a volunteer basis, but several groups have been involuntarily extended through Feb. 6, according to two Guard members, who spoke on condition of anonymity because they were not authorized to discuss the topic.
Biden DOJ revokes Trump administration's attempt to limit Supreme Court expansion of LGBTQ rights
Sumarizes Politico:
The Justice Department has taken its first major step under President Joe Biden to reverse the Trump administration's resistance to expansion of rights accorded to LGBTQ Americans.




Greg Friel, the lawyer just named to oversee the Justice Department's civil rights division on a temporary basis, issued a directive Friday revoking a 22-page memorandum a Trump appointee released earlier this week taking a cramped view of a major Supreme Court decision last year that longstanding federal law protects LGBTQ individuals from discrimination at work.
Trump's impeachment trial delayed to February 8
Senate Majority Leader Chuck Schumer agreed to push the start of the trial to February 8 on Friday, which means the Senate will focus on confirming Biden's cabinet and more COVID relief, first. Minority Leader Mitch McConnell had also asked for the two-week delay so that Trump could have more time to put together a legal team for his defense.
For a likely timeline of the process, head here.
Democrats aim to give parents more money, at least $3,000 per year
The Washington Post reported Friday that Democratic leaders in Congress working on legislation that both includes and expands President Biden's pledge to expand the child tax credit:
[The legislation] would direct the IRS to send recurring monthly payments to tens of millions of American families, according to officials who spoke on the condition of anonymity to share knowledge of the internal discussion. Under one draft of the plan being discussed, the IRS would be tasked with depositing checks worth $300 every month per child younger than 6, as well as $250 every month per child age 6 to 17. That would amount to $3,600 over the course of the year for young children, as well as $3,000 a year for older children, the officials said.




Unlike with the stimulus checks, the Biden administration and Democratic lawmakers are hoping to make these child benefits a permanent government program that would continue in future years, according to three senior Democratic officials who spoke on the condition of anonymity to discuss internal planning. The current proposal calls only for the expanded benefit to be enacted for one year, after which Democrats widely hope political pressure will force Congress to extend them. The benefit would be phased out for affluent Americans, though the precise income level has not been determined.
Canada's Trudeau gets the traditional first call with Biden, Mexico's Obrador gets the traditional second
President Biden spoke with Canadian prime minister Justin Trudeau on Friday, his first call with a foreign head of state as president. Trudeau reportedly aired his disappointment with Biden's decision to halt work on the Keystone XL pipeline, per the CBC:
According to a readout of the call from the Prime Minister's Office, the two leaders found common ground on such issues as the COVID-19 response, economic recovery, climate change, continental security, working with Indigenous peoples and international relations. The two leaders agreed to meet again next month, the readout said, although it didn't specify whether that meant in-person, by phone, or virtually.




Trudeau expressed his disappointment with Biden's early move to effectively cancel the Keystone XL pipeline by revoking its permit. The official said Biden acknowledged the hardship the decision would create in Canada — but defended his decision by saying he was making good on a campaign promise and restoring a decision made by the former Obama administration.
The Associated Press reports that the two leaders "also discussed the prospects of Canada being supplied with the COVID-19 vaccine from pharmaceutical giant Pfizer's facility in Kalamazoo, Michigan":
Canada has been getting all its Pfizer doses from a Pfizer facility in Puurs, Belgium, but Pfizer has informed Canada it won't get any doses next week and will get 50 percent less than expected over the next three weeks. Ontario Premier Doug Ford has publicly asked Biden to share a million doses made at Pfizer's Michigan facility.
As is tradition, Biden spoke with the leader of America's other neighbor next. Among the topics that came up with Mexican president Andrés Manuel López Obrador: reversing Trump's "draconian immigration policies."
How Biden handles communication with foreign leaders is going to be way more normal than how his predecessor did, as CNN points out:
Long a proponent of developing personal relationships with his interlocutors — be it Republicans, business leaders, or foreign heads of state — Biden enters office already knowing many of the figures he will be dealing with at global summits, in bilateral meetings and over the telephone. His stated goal is to reestablish the United States as a global arbiter of the international order and, as he said during his inaugural speech Wednesday, "repair our alliances and engage with the world once again."




That is starkly different from how Trump began his career in foreign diplomacy. As president-elect in 2016, he answered whichever leader happened to have found his cell-phone number rather than arranging calls through the State Department. That led to embarrassing moments for leaders such as then-British Prime Minister Theresa May, whose ambassador in Washington scrambled to reach someone close enough to Trump who could get him on the phone with America's top ally.
Adios "alien"?
NBC News notes that one of the things Biden wants in his new immigration reform bill is to banish the term "alien" from U.S. immigration laws and communications — a measure long sought my immigration reformers, who justifiably argue that the term dehumanizes immigrants. Biden's bill wants to replace the term with "noncitizen," instead.
Biden apologizes to National Guard about troops being kicked out of Capitol building
Intelligencer's Charlotte Klein explains:
Biden apologized to the chief of the National Guard Bureau in a phone call on Friday, a day after thousands of troops were abruptly kicked out of the U.S. Capitol complex they had spent the past two weeks protecting. Soldiers were ordered to vacate the facilities and told to take their rest breaks outdoors, where nighttime temperatures were in the low 40s, or in nearby parking garages. Troops were also instructed to set up mobile command centers outside or in hotels.
Lloyd Austin confirmed, becomes first Black defense secretary
The Senate confirmed Austin, a retired four-star Army general who served for more than four decades, with a 93-2 vote on Friday.
White House announces plan to assess and combat domestic extremism
The plan, announced by White House press secretary Jen Psaki on Friday, will have three parts, per CNN:
First, she announced President Joe Biden tasked the Office of the Director of National Intelligence to compile a "comprehensive threat assessment, coordinated with the FBI and DHS on domestic violent extremism," adding that the analysis will come from across government and non-governmental agencies.




She also said the administration will build the National Security Council's capability to focus on combating domestic extremism.




"As a part of this the NSC will undertake a policy review effort to determine how the government can share information better about this threat, support efforts to prevent radicalization, disrupt violent extremist networks and more," Psaki said.




Finally, Psaki said the administration will be "coordinating relevant parts of the federal government to enhance and accelerate efforts to address [domestic violent extremism]."
Biden to sign orders on food stamps, stimulus checks
Continuing with his flurry of executive orders, President Biden on Friday plans to sign directives boosting food stamps and streamlining the delivery of a second round of stimulus checks to those who have not yet received them.
In one order, the president will direct the Department of Agriculture to let states increase food stamp benefits by 15 percent, which the White House says would mean more benefits for 12 million people if the guidance became reality. The order will also provide a roughly 15 percent funding boost to Pandemic EBT, a program that issues debit cards to students who would have qualified for in-person school lunch in normal times. And, in a significant move, the Biden will order that the USDA reassess the Thrifty Food Plan, the program that determines food-stamp benefits in America. In a fact sheet accompanying the executive orders, the White House says the program "is out of date with the economic realities most struggling households face when trying to buy and prepare healthy food."
Biden will also ask the Treasury Department to streamline delivery of $600 stimulus checks to Americans who haven't gotten the money yet.
In a second order, the president will tell the Office of Personnel Management to develop a plan to implement a $15 minimum wage for federal contractors, along with paid leave. It will also bring back collective bargaining power for federal workers by rolling back orders put into place by President Trump.
National Guard Members feel 'betrayed' after being forced to leave Capitol
Days after their presence was captured in jarring pictures of uniformed troops sleeping in the halls of the Capitol, National Guard members have now been asked to vacate the premise, according to Politico:
One unit, which had been resting in the Dirksen Senate Office building, was abruptly told to vacate the facility on Thursday, according to one Guardsman. The group was forced to rest in a nearby parking garage without internet reception, with just one electrical outlet, and one bathroom with two stalls for 5,000 troops, the person said.




"Yesterday dozens of senators and congressmen walked down our lines taking photos, shaking our hands and thanking us for our service. Within 24 hours, they had no further use for us and banished us to the corner of a parking garage. We feel incredibly betrayed," the Guardsman said …




The troops are particularly concerned about being packed in tight quarters with limited bathroom access during a pandemic. At least 100 Guardsmen have tested positive for COVID, according to two Guardsmen. Some are quarantining in hotels.
Shortly after the report was published, lawmakers responded, including New Mexico senator Martin Heinrich, who said that "the troops will be back in the [Capitol Visitor Center] or Capitol buildings tonight."
A clear change in Dr. Fauci
The NIAID director holds the same role in the Biden administration that he did under Trump, but his expression couldn't be more different:
"The idea that you can get up here and talk about what you know, what the evidence, what the science is — let the science speak," he said at the new administration's second press briefing. "It is somewhat of a liberating feeling."
Fighting the pandemic is Biden's focus on Day Two
On Wednesday afternoon Biden issued several executive orders aimed at tackling COVID-19, including a national mandate requiring masks and distancing on federal grounds and canceling Trump's attempt to withdraw from the World Health Organization. On Thursday, Biden will continue enacting a federal pandemic response strategy, a plan outlined in a 21-page document. He's set to sign another ten executive orders, including one directing agencies to use the Defense Production Act to make companies prioritize manufacturing items necessary for the pandemic response, such as masks and supplies needed for vaccinations and testing. NPR has a rundown of some of the other actions expected today:
• Require masks on planes and buses and in airports, and require travelers to show a negative COVID-19 test before flying to the United States.

• Direct more studies and trials of COVID-19 treatments.

• Mandate more public data on cases and vaccinations.

• Offer more guidance to schools on reopening.

• Direct the Occupational Safety and Health Administration to provide guidance for workplaces.

• Establish a COVID-19 Health Equity Task Force to make recommendations on ensuring underserved communities hurt worst by the pandemic are treated more fairly.
Some advice from those who have been there
Among the many segments of the virtual inauguration celebration was a gathering of former presidents Bill Clinton, George W. Bush, and Barack Obama. "It's a new beginning," Clinton advised. "Everybody needs to get off their high horse and reach out to their friends and neighbors and try to make it possible."
Biden addresses the nation from the Lincoln Memorial
"It's humbling to stand here in this place in front of these sacred words," Biden said, speaking inside the monument. "Humbling out of respect to President Lincoln and the office we now share and humbling because of you, the American people." After the short address, the inauguration programming shifted to an alarmingly dressed Tom Hanks:
Press Secretary Jen Psaki promises "truth and transparency"
In the first White House press briefing of the new administration, press secretary Jen Psaki vowed to return to regular announcements after the procedure was dropped for months at a time under Trump. "There will be times when we see things differently in this room, among us all, and that's okay," Psaki said, adding that this relationship between the White House and its press corps is "part of democracy."
"I'd love to take your questions," Psaki said, a far tonal cry from the first press briefing in the Trump administration, when Sean Spicer yelled about inaugural crowd size.
A surreal moment for the new vice-president
Biden's first Senate confirmation
Some of the less glamorous tasks of staffing an administration are underway
Biden rolls back Trump's orders, says ex-president left "generous note"
Biden took his seat behind the Resolute desk in the Oval Office, where he signed a series of executive orders before the press. The U.S. reentered the Paris Climate Accords with a stroke of the new president's pen, after Trump pulled the country out following Obama's effort to get America behind the global effort to curb climate change. Biden also rescinded Trump's travel ban on many majority-Muslim countries and mandated people wear masks on federal property.
Trump apparently left Biden a note, as is customary for outgoing presidents to do for their successors. "The president wrote a very generous letter," Biden said. "Because it was private, I won't talk about it until I talk to him. But it was generous."
Harris swears in Ossoff, Warnock, Padilla
Hours after she was sworn in as the first Black, female, and South Asian vice-president, Kamala Harris swore in a trio of men also making history as senators. Jon Ossoff is the first Jewish senator from Georgia and Raphael Warnock the first Black senator from the state. Both were elected on January 5 during runoff elections that ousted two Republican incumbents. (Ossoff is also the first millennial senator.) Alex Padilla has become California's first Latino senator, appointed by the state's governor to fill Harris's senate seat that she vacated to be vice-president. Georgia's Democratic senators mean the chamber is evenly split between the parties, leaving Harris (who is also president of the Senate) to cast potential tie-breaking votes. It's also officially the end of Mitch McConnell's reign as majority leader.
Biden is back at the White House
The Senate awaits its new majority
An interesting signature in the freshman congressional class
A tough day in the QAnon world
Shortly after noon, when it became clear that the latest Q prophecy — that mass arrests of Democratic lawmakers would occur on the Capitol steps — would not be coming true, there appeared to be a crisis of faith among some of the more active QAnon circles. Most importantly, one of the primary boosters of the conspiracy, Ron Watkins, threw in the towel on the years-long affair, promoting "a new project" he's "fleshing out" and saying that part of the importance of Q was "the friends and happy memories we made together over the past few years."
The new Biden administration is already getting work done
Shortly after Biden went off-camera, the White House page for the 1776 Commission went blank. Published on Martin Luther King Day, the "patriotic education" effort justifies the three-fifths compromise and states that "the Civil Rights Movement was almost immediately turned to programs that ran counter to the lofty ideals of the founders."
Later on Wednesday, the new president is expected to issue over a dozen executive orders canceling out many of the signature early policies and walkbacks of the Trump administration, including the end of the Muslim travel ban, the halting of the construction of the border wall, and a return to the Paris climate agreement.
And the GOP's austerity talk has already begun
The pardon — and Pence — speculation is over
ED KILGORE: So with Biden's inauguration as the 46th president, we can finally lay to rest the possibility that he might have become the 47th in the event of a Trump resignation followed by a very brief Pence administration as part of a deal including a pardon for the 45th president. It's never been clear that was Trump's plan, although a self-pardon was on the table until his final week in the White House. Certainly the breakdown in the Trump-Pence relationship when the normally subservient veep refused to help Trump steal a reelection on January 6 may have made a pardon deal impossible on both ends.
Reverend Silvester Beaman delivers a benediction
Amanda Gorman, the first National Youth Poet Laureate, delivers soaring poem
Garth Brooks with a stirring rendition of "Amazing Grace"
Biden's speech strikes a hopeful note and outlines challenges ahead as he officially becomes president
Joe Biden sworn in as President of the United States
Kamala Harris sworn in as Vice President
Justice Sonia Sotomayor administered the oath of office.
Lady Gaga belts out the National Anthem
Several Supreme Court justices are skipping the inauguration
The three oldest justices, Clarence Thomas, Stephen Breyer, and Samuel Alito, have opted to skip the inauguration, citing COVID concerns. "Several of the Justices elected not to attend the inauguration ceremony in light of the public health risks posed by the COVID pandemic," said Supreme Court spokeswoman Kathleen Arberg. This is the first time since 2001 that some justices have not been present for the event.
Roy Blunt gives a paean to American democracy
The Missouri senator, who questioned the 2020 election results back in November, was all about comity and tradition today.
Amy Klobuchar speaks first
Weather update
Lawmakers are taking their places for the inauguration
Capitol riot hero Eugene Goodman will escort Kamala Harris
Goodman drew the mob of Trump supporters away from the Senate chamber during the attack, protecting lawmakers who were only about 100 feet away.
A disturbing reminder
The nuclear football is on the move
Biden and Harris have arrived at the Capitol
How White House staffers handled another awkward transition
ED KILGORE: Trump and Pence following the tradition of leaving a note for their successors got some attention today. And while we don't know what the notes said, it did provide a reminder of the Bill Clinton-George W. Bush transition where some Clinton staffers expressed their displeasure at the circumstances whereby the 43d president was given a victory over Al Gore by deleting the "W" keys on the keyboards they left behind. Years ago, Bruce Reed, director of the White House Domestic Policy Council under Clinton (and about to become Biden's deputy chief of staff), told me he had not tampered with his keyboard, but did leave his successor a bottle of scotch with a note reading: "You'll need it."
Biden attends church with bipartisan group of lawmakers
After spending the night at Blair House, President-election Joe Biden attended a service at Washington's Cathedral of St. Matthew the Apostle along with his wife, Dr. Jill Biden, Vice President-elect Kamala Harris, and her husband, Doug Emhoff. At Biden's invitation, they were joined by a group of lawmakers from both parties, including Senate leaders Mitch McConnell and Chuck Schumer, and House leaders Nancy Pelosi and Kevin McCarthy.
Biden's plans for day one
Amid all the pomp, Biden will start getting to work.
Biden's pre-inauguration "honeymoon"
According to a new Politico/Morning Consult poll, Biden's favorability numbers are higher now than they were during the campaign. Per Politico:
Since winning the election, Biden's favorable rating in POLITICO/Morning Consult polls has ranged between 54 percent and 57 percent, his standing in the latest poll released on the eve of his swearing-in.




Biden's bounce is still smaller than most other recent presidents, including Barack Obama, whose initial approval ratings were above 60 percent. But he is still easily outpacing Trump, whose poll numbers increased only slightly after winning the 2016 election and tumbled soon after taking office as a result of his combative style and unpopular policies.




Views of Biden, while positive overall, break sharply along partisan lines. Roughly nine in 10 Democratic voters, 91 percent, have a favorable opinion of the president-elect, but only 16 percent of Republicans view him favorably. Among independents, 52 percent view Biden favorably, while 41 percent have an unfavorable opinion.
Trump left Biden a letter
Though Trump refused to attend Biden's inauguration – and wouldn't concede defeat until after an attack on the Capitol that he instigated – he did leave his successor a note, as is tradition. Though Trump proudly showed off his letter from Obama to journalists shortly after he took office, Biden will probably keep the contents of Trump's note to himself for now.
Trump speaks at Joint Base Andrews
Trump, speaking without a teleprompter, delivered brief remarks at Joint Base Andrews before boarding a flight headed to Florida.
After thanking his family and staffers, Trump began running down a list of his dubious achievements. "As the athletes would say, we've left it all on the field … you can't work harder," said the president, who golfed more than any previous president and spent much of his time at the White House engaged in "executive time."
Trump referred to the pandemic in the past tense at one point, then said he wanted to give "great love" to all of the people who have suffered due to the "China virus."
Trump never mentioned Biden by name, but he wished the new administration luck and predicted they will have "great success" – thanks in part to him. "They have the foundation to do something very spectacular," Trump said. "We've put [the country] in a position like it's never been before."
After some weak chants of "Thank you Trump," from the crowd, Trump wrapped up by thanking Mike Pence and some members of Congress. "We really worked well with Congress, at least certain elements of Congress," he said.
"So have a good life, we will see you soon. Thank you very much," Trump concluded.
Then Trump stepped away from the lectern and "YMCA" started blaring over the speakers.
The scouring of the White House is underway
The White House always gets a cleaning when one president exits and another moves in, but as the New York Times explains, this year the process was made even more complicated by COVID-19 and Trump's refusal to accept the election results:
It's the awkward pas de deux performed every four or eight years when one family moves in and another moves out, an undertaking carried out by the 90-person White House residence staff in about five hours. A complicated, highly choreographed process is done on a tight schedule that often requires boxing up whatever has been left unpacked — some outgoing presidents are more prepared to leave the executive mansion than others.




This year, people involved in the process said, moving day also involves additional cleaning and safety precautions because of the coronavirus.




"The staff is sleeping on cots, in stairwells," said Anita McBride, who served as chief of staff to the first lady Laura Bush, including during the 2009 handoff to the Obamas. No matter how prepared they are, she said, "it's always chaotic."
Trump leaves the White House for the last time as president
President Trump squeezes in one last rally
Jennifer Jacobs of Bloomberg News reports that Trump plans to speak for about 15 minutes, starting around 8:20, before he departs Joint Base Andrews in Maryland for Mar-a-Lago this morning.
Biden's Wednesday schedule has been released
And it's a lot more detailed than the "many calls and many meetings" that have populated the work calendar of Trump's final days in office.
Biden memorializes the 400,000 COVID dead
In a speech at the Lincoln Memorial Reflecting Pool on Tuesday night, the president-elect commemorated those lost to the pandemic and gave thanks to the health-care workers who have put their lives on the line. "To heal we must remember," Biden said. "It's hard sometimes to remember. But that's how we heal. It's important to do that as a nation."
Pence won't be at Trump's farewell ceremony
And it seems he wants everyone to know it.
Axios reported shortly after the Pence announcement that House GOP leader Kevin McCarthy and Senate Majority Leader Mitch McConnell won't be at Trump's going-away ceremony either, choosing instead to attend morning mass with the incoming president.
President Trump's farewell video
Trump on the incoming Biden administration: "We want them to have luck — a very important word."
12 National Guard members removed from Biden inauguration
Twelve National Guard members have been removed from inauguration duty after it was discovered that they have ties to right-wing militia groups or posted inappropriate comments online, according to the AP. The FBI has been screening all 25,000 troops guarding the inauguration amid heightened security concerns. Two of those troops were removed for "making inappropriate comments or texts," Pentagon spokesperson Jonathan Hoffman told NBC News. Officials said there was no threat to President-elect Biden.
Biden leaves Delaware for Washington
President-elect Biden got emotional while thanking Delawareans as he set out for D.C. from the Delaware National Guard headquarters, which is named for his late son, Beau.
Biden also reflected on making a similar trip 12 years ago with Barack Obama, and what it means to have Kamala Harris as his VP.
QAnon followers reportedly considered posing as National Guard at the inauguration
On Monday, the FBI reportedly warned law-enforcement agencies that adherents of the QAnon conspiracy theory — many of whom were at the January 6 Trump rally — have discussed posing as National Guard members in order to breach the heavy security at the inauguration. According to the Washington Post, "the FBI also said it had observed people downloading and sharing maps of sensitive locations in Washington and discussing how those facilities could be used to interfere in security during the inauguration."
Concerns over an empty going-away party
Trump's newfound status as a pariah to almost everyone but the Republican base has put him in a pickle come Wednesday. Ex-White House director of communications Anthony Scaramucci — who was booted from Trump's sphere of influence following his brief time in the administration — said that he had been invited, perhaps as a way to boost attendance. "Trust me, that had to be a mass email if one of them got sent to me," he told Inside Edition. Backing up that possibility, the Wall Street Journal's Rebecca Ballhaus reports that "some recipients have been surprised the invite offered them five guests."
It's time for a literal White House deep clean
Once the Trumps have departed the residence on Wednesday — without ceremonially greeting the incoming president and First Lady on the White House North Portico — staff and outside contractors will scrub the building, as is standard during transitions, pandemic or otherwise. According to a source familiar with the process who spoke with CNN, that will include "moving furniture and vacuuming, cleaning baseboards, vacuuming drapes, wiping down shades, cleaning chandeliers, washing windows, high dusting."
Passing the nuclear football
Marc Ambinder has written a fascinating Twitter thread about the very complicated process of passing control of America's nuclear arsenal from Trump to Biden on Wednesday, including how everyone involved might respond if Trump does something crazy:
What if Trump orders something deranged between now and noon ET on 1/6? Technically, if the order is lawful, it will be carried out. Practically, because there are so many humans in the way, unless there is unambiguous warning of an incoming attack — a "spasm" scenario — it will be extraordinarily difficult to assume that the officers and NCOs will respond to an unfamiliar or unexpected order without consulting with lawyers, higher-ups, civilians, and others.
Moving trucks unload at Mar-a-Lago
West Palm Beach's WPTV caught sight of them on Monday:
Several large moving trucks arrived at President Donald Trump's Mar-a-Lago club on Palm Beach Monday morning, sparking speculation that he'll move to South Florida once he leaves office. WPTV Chopper 5 flew above Mar-a-Lago around 9:30 a.m. and spotted at least two trucks from JK Moving Services stationed in front of the club, along with workers carting large moving boxes into the property.
In December, some of Trump's soon-to-be permanent neighbors made it clear they were not thrilled about his relocation.
Kamala Harris has resigned from the Senate
The now-former California senator formally submitted her resignation letter to Governor Gavin Newsom on Monday. Newsom has already announced that he will name California secretary of State Alex Padilla to replace Harris in the U.S. Senate. Padilla will be sworn in in the coming days.
Harris also wrote a San Francisco Chronicle op-ed to mark her resignation and promise Californians she'll continue to look out for them as VP.
Trump adds a ton of names to his National Garden of American Heroes
The new D.C. monument, which Trump announced over the summer, will contain statues of 244 people. The president named them in an executive order on Monday, and the list is contains both obvious and seemingly random selections:
For instance:
CityLab's Kriston Capps, who criticized Trump's plan on several grounds after it was announced in July, has posted a Twitter thread pointing out the fraught politics of the hero garden in light of Trump's obsession with monuments and his attempts to defend statues of Confederate figures. He likens Trump's garden to a "Social Studies Hall of Fame."
It's still not clear where the hero garden will be built, or when — or whether or not Biden will support or modify the plan.
Biden and Harris spend MLK Day doing a service project in Philly
The incoming president and vice-president worked a food-bank assembly line for the organization Philabundance on Monday, joined by several members of Biden's family:
Small fire prompts brief shutdown at Capitol
A fire at a nearby homeless encampment led the Secret Service to briefly shut down and partially evacuate the U.S. Capitol on Monday morning. There was a brief scare after an announcement went out about a possible external security threat — but it was a false alarm. There will likely be more of those in the coming days amid the high tensions in the city.
Biden hopes his speech will unify the country, if that's possible
The president-elect has been working on his speech for the inauguration ever since winning the election, and will lean on the central theme of his campaign, the Washington Post reports:
While Biden will nod to the violence and to the unprecedented security that has locked down the capital city, he plans to make a broader case for national healing and to make government work again. What might be most remarkable about the inaugural address he plans to deliver this week is just how similar the core message and themes are to what he said when he kicked off his third bid for the presidency in April 2019 – long before the coronavirus, the recession and so much else.




"What you'll hear from President-elect Biden on Wednesday will be a reflection of a lot of what you heard from him on the campaign trail, which is that he believes we can bring this country together," incoming White House communications director Kate Bedingfield said on Sunday. "He believes that we have to bring this country together and that a unified America is the only way that we're going to be able to tackle the massive crises that we're grappling with. … This will be a moment where President-elect Biden will really work to try to turn the page on the divisiveness and the hatred over the last four years and really lay out a positive, optimistic vision for the country."




Two key aides helping Biden formulate his inaugural address are longtime adviser Mike Donilon, who helps with every major speech, and Vinay Reddy, the director of Biden's speechwriting operation and a veteran of Biden's vice presidential office.
This post will be continuously updated to include new reporting and commentary.