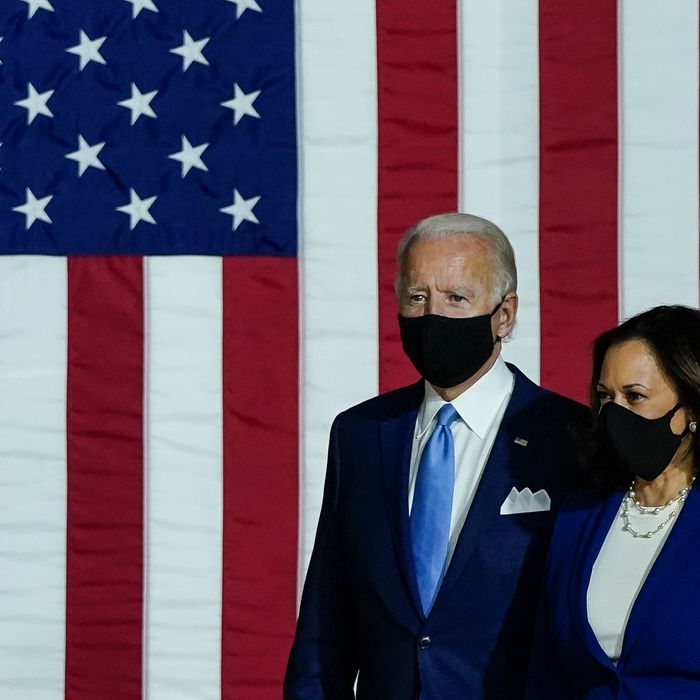 Though the front-runner for Joe Biden's running mate ultimately won the nomination, the post-mortem reports on the selection process show an extensive vetting system, in which the nomination of California Senator Kamala Harris was not a guarantee. As the campaign enters its final stages with the Democratic National Convention just days away, a look back at Biden's VP search offers some insight into how the Democratic campaign operates. Here's is everything we know about the process, as reported by the Washington Post, the New York Times, the Associated Press, USA Today, NBC News, and Politico.
Eleven women made it to the final round
A total of 11 politicians made it to the final round of the selection process, with Biden doing a one-on-one interview with each candidate. The finalists reportedly included Kamala Harris, Val Demings, Tammy Duckworth, Elizabeth Warren, Gretchen Whitmer, Karen Bass, Keisha Lance Bottoms, Michelle Lujan Grisham, Stacey Abrams, Susan Rice, and Tammy Baldwin.
About half a dozen candidates remained in the last week. The Biden campaign reportedly prepped announcement strategies for each candidate, including logos. The initial list was even longer, featuring over 20 names.
The vetting was extensive
In addition to questions regarding their agenda and potential nicknames President Trump would hurl their way, the candidates had to submit extensive records to a panel of as many as 15 lawyers to determine if there were any incidents in their history that could mar the campaign. According to the Washington Post, the attorneys "scraped every part of their pasts" in an accounting that "typically involves questions about everything from personal finances to drug use and romantic affairs." Ultimately, the final group was whittled down to Warren, Whitmer, Rice, and Harris.
Biden's family was heavily involved
Throughout the process, the former vice-president consistently relied on those closest to him, in addition to his official selection committee Senator Chris Dodd, Rep. Lisa Blunt Rochester, Los Angeles Mayor Eric Garcetti and longtime Biden aide Cynthia Hogan. After the attorneys had scoured each candidate's background, Biden consulted with his wife, Jill Biden, and sister, Valerie Biden Owens. One of the deciding factors for Harris was her connection with the family through the former veep's son, Beau Biden, with whom she worked when they were both state attorneys general. (Some of the criticism of Harris also came from the family, concerned about her debate-stage takedown of Biden's record.)
Gretchen Whitmer attempted to withdraw from the process
While Minnesota Senator Amy Klobuchar publicly announced in June that she would drop out of the running for the VP slot, Gretchen Whitmer's attempt to exit the candidate pool was only reported on Wednesday, by the Associated Press:
The Michigan governor had caught the interest of Joe Biden and his vice presidential vetting committee, who were drawn to her prominence in a crucial battleground state and her aggressive response to the coronavirus outbreak there. But by late spring, the nation was in the midst of a reckoning over race and inequality following the death of George Floyd, a Black man who died after a white police officer pressed his knee into his neck for several minutes.




Whitmer sent word to Biden's team that while she was flattered, she no longer wanted to be considered for the running-mate slot, according to a high-ranking Democrat familiar with the process. She recommended Biden pick a Black woman.




But Biden still wanted Whitmer in the mix, and he personally called her in mid-June to ask if she would continue on to the second, more intensive round of vetting, according to the official. Whitmer agreed.



Warren impressed Biden's team, and was in the final four
Toward the end of the process, Biden reportedly narrowed his choices down to Harris and three other women: Susan Rice, Gretchen Whitmer, and Elizabeth Warren. According to the Times, the progressive Massachusetts senator impressed Biden and the moderates on his team:
Ms. Warren, too, was persuasive and compelling to the search committee in her interviews, pleasantly surprising a largely moderate panel, including several members who had looked askance at some of the policies and language she adopted in her own presidential campaign. But Ms. Warren told the committee she fully appreciated that the role of the vice president was different, and that the agenda of a Biden administration would be Mr. Biden's.




"He won; I lost," Ms. Warren said in one interview, according to people briefed on her comments.




What's more, Ms. Warren noted that she was past her 70th birthday, and would not be looking to advance a long-range political career in the vice presidency, leaving some members of the search team convinced she did not aim to run for president again. The search team told Mr. Biden they believed they could rely on Ms. Warren as a cooperative governing partner — an assessment Mr. Biden shared.
Though Biden has come to rely on Warren's advice on economic matters, there were two significant strikes against her for VP: "she represented neither generational nor racial diversity," as the Times put it.
The campaign saw potential for a new round of birtherism in Tammy Duckworth
During the vetting of Senator Tammy Duckworth, the Biden team considered the possibility that her selection could revive one of the racist conspiracy theories that dogged Barack Obama: that he wasn't really born in the U.S. Duckworth was born in Bangkok to a father who was a Defense employee and a U.S. citizen, yet, "they worried that Republicans would try to use that to stoke doubts about the legitimacy of the VP pick," Politico reported. It's unclear if that was a deciding factor in the search. In addition to xenophobic attacks by the opposition party, the campaign reportedly feared "that it would take just one partisan judge in one swing state to throw the whole Democratic ticket off the ballot" if they ruled Duckworth was ineligible, according to the Times.
Rice's inexperience as a politician may have limited her
While Rice's experience working alongside Biden in the Obama administration as national security adviser was a boon to her VP prospects, the fact that she has not held elected office may have precluded her from selection. "Mr. Biden was more familiar than most with how much of a vice president's time is typically spent on political errands," reported the New York Times. "He concluded it would be too risky to pick a running mate who had never been on the ballot."
Harris's criticism of Biden in the primary was both an appeal and a drawback
It had previously been reported that the California senator's questioning of Biden's record on busing in the 1970s during the first primary debate was a concern for former senator Chris Dodd, a key member of Biden's vetting team. Dodd was reportedly upset that Harris had since shown "no remorse" for the debate moment. But a friend of Biden who spoke with Politico said that the comments — which briefly dented Biden's polling — were also considered a draw for the contentious election ahead. "Joe wants someone who has been on the big stage under the bright lights who can gut someone like a fish, and Kamala more than proved she could do that," they said. "Now it's Pence's turn and she's gonna cut him up."
Harris played it cool – for the most part
While some – most notably Stacey Abrams – publicly campaigned for the VP slot, Harris went with a more subtle approach. "He knows who I am," one of her supporters, California Lieutenant Governor Eleni Kounalakis, recalled the senator saying. "I don't want to put pressure on him. He'll make the right call."
But, according to Politico, some of Harris's surrogates broke this rule amid new criticism of the senator, including Dodd's complaint.
Harris' staunchest allies in California mobilized. Kounalakis reached out to more than a dozen current and former California officials, mayors, and labor union and business leaders to demand a conference call with Biden campaign brass. No other vice presidential candidate was afforded such a meeting.




"We went rogue," Kounalakis said. "There's no question about it."
Harris only found out she was the pick hours before it was made public
In an apparent effort to limit the time for leaks, Biden only informed the candidates of his choice hours before his campaign texted supporters that Harris was the one. According to USA Today, Biden called the California senator on Zoom around 2:45 p.m., while the decision was made public at 4:14 p.m.
"You ready to go to work?" Biden asked Harris.
"Oh my God. I am so ready to go to work," she replied.