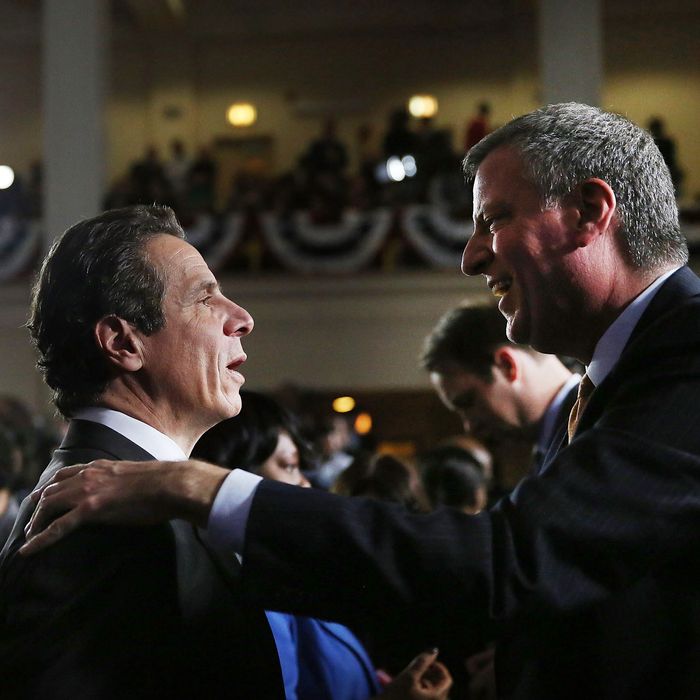 Photo: Spencer Platt/Getty Images
Shortly after New York governor Andrew Cuomo's long-winded resignation announcement on August 10, a spokesperson for New York City mayor Bill de Blasio offered this response to a request for comment: "The summer of Bill rolls on." Outsiders may see this as a bizarrely chipper response to allegations of rampant sexual harassment ending a governor's career — and they're probably right. But the remark isn't surprising for anyone who's been following the petty, yearslong feud between the two New York politicians.
Since 2014, public sparring between de Blasio and Cuomo has been one of the most consistent and least productive dynamics in New York state politics, as the two figures jockeyed for influence, traded insults, and timed their press conferences to scoop each other's announcements. Now that Cuomo's impending exit is bringing their epic power struggle to an end — for now, at least — here's a look back at some of the most memorable, and most lamentable, episodes from their conflict.
A fight over pre-K takes a childish turn
Like many great feuds, de Blasio and Cuomo's hatred sprung from friendship. Their professional relationship dates back to the late 1990s, when Cuomo, the Housing and Urban Development secretary under President Clinton, hired de Blasio to oversee the New York region. The honeymoon continued over the next decade, with de Blasio advising Cuomo on how to bail gracefully from his first failed gubernatorial bid in 2002 and Cuomo endorsing de Blasio for city public advocate in 2009. "I don't have a better political friend than Bill de Blasio," Cuomo said on New Year's Day in 2014, shortly after de Blasio was inaugurated as mayor.
But it wasn't long into de Blasio's first term as mayor when things soured. In March 2014, Cuomo rejected de Blasio's effort to raise income taxes on millionaires living in New York City in order to pay for universal pre-K and after-school programs, which was a major promise during his campaign. On the same day, the two politicians held dueling rallies in Albany, with de Blasio lobbying for his education plan, as Cuomo addressed charter-school advocates who were at odds with the mayor. (It would be the first of many notable double bookings over the years.) Ultimately, Cuomo secured funding to provide universal pre-K in the city, just not through the millionaire's tax.
An exchange of last-minute notifications
In 2015, the de Blasio–Cuomo relationship fell apart. It began in January, when an incoming blizzard prompted the governor to shut down the subways for the first time since they were opened in 1904. Cuomo gave de Blasio a heads-up just 15 minutes before the public announcement; the storm was ultimately a bust.
Soon after, de Blasio tried giving Cuomo a taste of his own medicine: In February, the mayor's office told the governor's aides that the city would rehab a Sunnyside rail depot to create 11,000 units of affordable housing on the night before the official announcement. But due to Cuomo's notorious control-freak tendencies — and, more importantly, the power imbalance between the mayor and the governor on many matters in the five boroughs — the governor vetoed the plan.
An anonymous dig
Intraparty negotiations between the men in the governor's mansion and Gracie have long been tense (see Nelson Rockefeller versus John Lindsay in the '60s or Mario Cuomo versus Ed Koch in the '80s). But Andrew Cuomo brought his dispute with the city's mayor into the public sphere in annoying and innovative ways. In June 2015, an "anonymous top official" in the Cuomo administration told the New York Daily News that de Blasio "is more politically oriented in terms of his approach … and then he makes it almost impossible for him to achieve success." Immediately, reporters began to question if the official was Cuomo himself, as the person quoted asked himself questions, the governor's favorite rhetorical device. When asked about the theory during a press conference, Cuomo essentially admitted that he was the mystery critic: "Sometimes we talk on the record. Sometimes we talk on background."
A fateful bullying accusation
A week after Cuomo's admission that he had anonymously roasted de Blasio— and hours before the mayor went on a trip to the Southwest — de Blasio went public with an allegation that would later haunt the governor, accusing him of bullying, being motivated by "revenge," and not acting "in the interests" of New Yorkers.
Cuomo aide Melissa DeRosa responded with a thinly veiled jab: "For those new to the process, it takes coalition-building and compromise to get things done in government. We wish the mayor well on his vacation."
A Legionnaires' outbreak turns into a proxy battle
Later that summer, an outbreak of Legionnaires in the South Bronx showed the feud was spreading to officials in both administrations, and offered a preview of the two offices' pandemic dynamic. After the bacterial pneumonia killed 10 people and infected over 100, Cuomo declared, "We're taking matters into our own hands." As the Wall Street Journal reported at the time, that didn't go over too smoothly among city officials:
Aides to the mayor, after seething over the governor's actions, didn't hide their dissatisfaction with the way [a] news conference unfolded. "We were not pleased that our health commissioner had to interrupt the state health commissioner in order to speak," said Karen Hinton, the mayor's chief spokeswoman.




A senior official for the CDC said at the news conference that New York City had responded appropriately and proactively. But Howard Zucker, the state health commissioner, demurred on two occasions when asked to evaluate the city's response. That angered city officials.




"He dodged the question not once but twice," Ms. Hinton said of Dr. Zucker. "The CDC officials say we did everything consistent with best practices. I don't know why the state health commissioner could not have said the same thing."




Asked to respond, Melissa DeRosa, a spokeswoman for the governor, said "The soap opera is over. It's time to govern."
By September, New Yorkers appeared fed up with the dysfunction: A poll published that month found that a majority of voters believed de Blasio and Cuomo were locked in a feud. Of that number, 78 percent considered their spat to be unproductive for the state and the city.
A lost deer gets caught in the middle
New Yorkers have mostly borne the burden of the de Blasio–Cuomo feud, but in December 2016, a white-tailed deer holed up in Jackie Robinson Park in Harlem found itself in the crosshairs.
Once the buck left the park and was captured on the grounds of a public-housing complex, the mayor's office said that it would be put to sleep because Department of Environmental Conservation officials determined it could not be safely relocated. An hour after the city animal shelter where the deer was held was told to euthanize it, the governor's office released a statement directing "DEC to offer assistance to the city to transport and find a new habitat for it immediately." De Blasio — notorious for killing another ground mammal elsewhere in the city — overruled the governor and stuck to the execution plan.
A full-blown war over New York's COVID response
By early 2020, the two pols' minor scraps in the press and major blows in the state budget had become routine. But the early days of the pandemic set off a new level of useless animosity between Cuomo and de Blasio. As the federal government downplayed the coronavirus threat and failed to provide resources to the states, Cuomo scooped de Blasio on March 15, 2020, announcing that schools statewide would close, just as the mayor was preparing a similar announcement. De Blasio then tried to get ahead of the state response two days laster, warning of a potential "shelter-in-place" order, which Cuomo then lambasted. "The fear is more contagious than the virus right now," he said.
The back-and-forth continued throughout the pandemic, as tens of thousands of New Yorkers died amid the power plays. In April 2020, de Blasio announced city schools would stay closed for the remainder of the school year, then Cuomo dismissed his order three hours later as a mere "opinion." In October 2020, following de Blasio's order to shut down schools and nonessential businesses in some areas of Brooklyn and Queens, Cuomo quashed the plan, opting for a less strict version. "A law doesn't work if you're too incompetent or too politically frightened to enforce it," he said. (That same month, Cuomo published a book of "leadership lessons" from the pandemic as his administration reportedly engaged in a cover-up of nursing home deaths.)
The feud continued into New York's reopening as well, with Cuomo calling de Blasio's plan for a July 2021 return to normal "irresponsible."
A conclusion, or just a new chapter?
Since December, when multiple people began coming forward with allegations of bullying and sexual harassment against Cuomo, the jabs have been largely one-sided, with de Blasio calling Cuomo a "narcissist" and urging the governor to "get the hell out of the way."
But with de Blasio refusing to "rule out anything" — including a gubernatorial run in 2022 — the feud may not be over. Asked in July if he would consider joining the Democratic gubernatorial primary, de Blasio demurred: "Dude, I don't know what I'm doing next."
As for Cuomo, on his last day as governor, aide Melissa DeRosa said he "has no interest in running for office again." Cuomo could, of course, easily change his mind, making all of this just a precursor to their gubernatorial showdown next year. But just in case this is really the end, Cuomo used the final seconds of his farewell address to take a parting shot at de Blasio.
In response, de Blasio posted something of a victory lap just after midnight on Tuesday, when Kathy Hochul was sworn in as New York's first female governor:
This post has been updated.