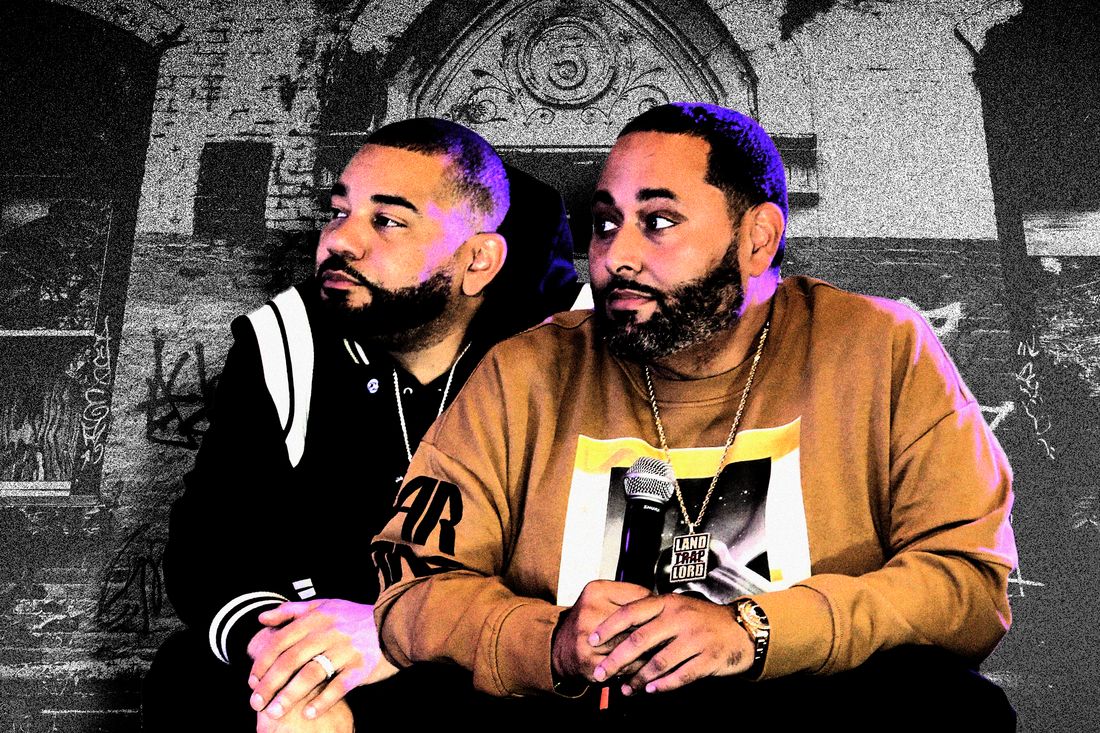 DJ Envy and Cesar Pina
Photo-Illustration: Intelligencer; Photos: Getty, Matt Stieb
This article was featured in One Great Story, New York's reading recommendation newsletter. Sign up here to get it nightly.
In the fall of 2021, in their shared office in the mansion-lined hills of northern New Jersey, DJ Envy was describing his commitment to his real-estate business with Cesar Pina. "This is not something we talk about, then we leave and we laugh," he said. "This is what we do." Speaking to their audience on Facebook, DJ Envy boasted of a potential $252,000 monthly profit on just two of their properties in the Garden State. "We're talking about generational wealth," he said. "When this is all said and done, and I pass away and he passes away, our kids will get that money."
For the three years prior, DJ Envy, the co-host of the wildly popular rap radio show The Breakfast Club, and Pina, a landlord influencer and house-flipper in New Jersey, had hosted real-estate seminars where aspiring investors could learn how to get ahead in an era of low-interest rates and up-and-to-the-right home prices. The duo would promote their seminars on social media and on the morning show, where Pina stood out as an unusual guest. He was quiet and uncharismatic compared to DJ Envy's co-host Charlamagne tha God. And he was a nobody compared to other guests like Dave Chappelle, Jay-Z, or the entire 2020 Democratic presidential field. But what Pina and DJ Envy promised was tantalizing: the secrets of financial freedom to anyone who would pay up to $250 for a ticket.
Over the years, the seminars expanded from Jersey wedding venues to the Javits Center, where the co-hosts held court and invited experts to teach everything from mortgage applications to metaverse real estate. After the spiels, newcomers could speak to real-estate coaches while investors ready to put money down could speak about the duller aspects of building ownership with HVAC pros and general contractors who worked with Pina and DJ Envy themselves.
Some qualified investors among the black folding chairs were allegedly invited to attend one-on-one follow-ups in Pina and DJ Envy's office for $2,500 a pop, where they say Pina offered development opportunities with an astonishing payoff — a return often north of 30 percent in roughly five months. The promise of fast returns also attracted investors outside the seminars, who gave Pina hundreds of thousands to develop properties to flip or rent out in Paterson, New Jersey, a former manufacturing city where a quarter of residents live below the federal poverty line.
The numbers sounded too good to be true, but many say they were swayed by the guiding presence of DJ Envy, who swore by Pina's investment advice in public — and did most of the talking for Pina in their joint appearances. One six-figure investor was Augie Rios, the owner of a body shop in Lodi, who figured that there was no way he could get burned by Pina after years of installing vinyl wraps on DJ Envy's luxury coupes and co-sponsoring his car shows. "I asked my brother if he wanted to invest, and he asked, 'What if you get scammed?,'" Rios said. "You can't. It's DJ Envy. We're investing in Envy."
But as the returns failed to materialize, Pina's below-market empire in Paterson came crashing down. Dozens have come forward this year on social media claiming that their life savings are gone or that the seminars actually served as a funnel to attract new money that Pina commingled with other investors' cash. At least 20 lawsuits have now been filed against Pina in the Superior Court of New Jersey with investors alleging that he failed to deliver the promised returns on their joint-venture agreements. Ten accusers have also named DJ Envy — known as Raashaun Casey to the court — as a defendant, stating that his radio and social media promo convinced them to invest in Pina's alleged scam. Some even say that Pina's business partner knew what was going on.
On October 19, Pina entered a new world of trouble when federal prosecutors in New Jersey charged him by complaint with one count of wire fraud, a felony that carries a maximum of 20 years in prison. "We allege Pina offered a ridiculously high rate of return to investors, then took the millions he got and invested it in himself," said the lead FBI agent on the case. Pina has pleaded not guilty, and DJ Envy — identified in the federal complaint as "his business partner" — has not been charged in what prosecutors described as a "Ponzi-like scheme." The complaint accuses Pina of a pattern of fraudulent business practices, bringing in multiple investors without ever building or renovating the units listed in the agreements; new money simply went to Pina's lifestyle and to earlier investors who put their funds into the commingled pot.
Consider one of the buildings named in the complaint, on Park Avenue in Paterson. It consists of an unrenovated, empty rental unit above a closed laundromat. Prosecutors say that Pina told investors that he needed funds to buy and flip it, bringing in over $3 million on the promise of a 30 to 35 percent return on their money in just five months. According to prosecutors, he did not tell them he already owned the building when he took their money.
DJ Envy's car guy, Augie Rios, was one of at least a dozen investors who put money into the house on Park Avenue after meeting Pina through the radio host. "If Cesar came to my shop and Envy wasn't his partner, I would never have given Cesar 100K of my hard-earned money," Rios said. In October 2022, he invested $100,000 in a joint-venture agreement with Pina that promised a 30 percent return in five months. But when payday came, he heard nothing from Pina. After hounding him for a month, Pina came into Rios's auto shop with a check for $100,000. "That one bounces," Rios told me in his shop in October, pulling a copy of the check from a green folder on his desk. A second check for $36,000 cleared, still leaving him well in the red.
Pina allegedly resorted to other methods of payment to try and get whole with Rios. In June 2023, he returned to Rios's auto shop with a backpack, pulling out a silver Cuban link bracelet and two chains that said "Trap Land Lord," an apparel brand run by Pina's brother Luis. "He says, 'Hold onto this until I can pay you,'" Rios said. He claims he never got his money back and now plans to add to the pile of lawsuits against Pina.
Only four properties are listed in the wire-fraud charge against Pina, but prosecutors say he drew in $17 million through those homes alone. Civil lawsuits alleging fraud describe an enterprise with millions more dollars invested in other developments that were never developed. So many people were accusing Pina of ripping them off that the marks — or, because this is New Jersey, the Anthonys — were running into each other at random.
At dinner one night this summer in the West Village, Anthony Barone, a comic-book and baseball-card dealer by trade, was introduced by a mutual friend to Anthony Martini, a music-industry executive who sells partial shares in artists' streaming revenue. Barone recognized Martini's name from a contract he had signed with Cesar Pina in 2020 investing $500,000 in a housing development next to the Christopher Columbus Highway in Paterson. But Martini was not aware of Barone. Martini's contract stated that the $1 million he'd put into the project known as the Taylor Apartments locked him in as the sole investor. The Anthonys, who have filed a joint suit against Pina and DJ Envy, claim that Martini's signature on Barone's contract was forged.
The building was supposed to be finished in 2021. But as the years dragged on and the lot remained empty, the Anthonys stopped believing Pina's talk about delays due to COVID work stoppages and the post-pandemic spike in lumber prices. Before the Anthonys filed their suit, Barone called Pina one last time to try and get his money back. Barone told Pina that he would contact the authorities if he didn't return his investment. Pina leveled with him. "Bro, if I go to jail, then nobody gets paid," said Pina, according to the lawsuit.
As all parties lawyer up, it's still unclear what Pina was actually doing with the funds if he was not renovating his investment properties, or why the alleged scam began to fall apart — though many promised returns began to fall short after interest-rate hikes ended what's now being called the free-money era.
For spurned investors and giddy members of the public following the mess online, many of the remaining questions concern DJ Envy. Over the years, he has made a number of famous enemies who are now reveling in his misfortune. After Pina's arrest, comedian Desus Nice could hardly mask his glee talking about the scandal on The Daily Show. On a rival radio show on Hot 97 in New York, host Funk Flex and rapper Rick Ross made fun of Envy for "doing the fraud" and "telling on your man." Others pointed to comedian Yamaneika Saunders's The Breakfast Club appearance in 2018. While Envy spoke of building "generational wealth" through real estate, Saunders had a less generous interpretation of him renting out multifamily units in what he once described at his real-estate seminar as "fucked-up" neighborhoods. "So you a slumlord?" she asked. "Does the government know?"
As his attorney handles the lawsuits, DJ Envy is engaging in a PR campaign to distance himself from Pina — his business partner and co-star in a planned reality show, Property Players, to be produced by 50 Cent for A&E. "I wanted to teach our community about investing in generational wealth," DJ Envy said on The Breakfast Club a week before Pina's October arrest. "Cesar, if he took money, I wasn't privy to it, nor did I even know." DJ Envy even presented himself as a victim, claiming that Pina stiffed him on a $500,000 investment on a school building scheduled for renovation in Paterson that sits empty, covered with graffiti.
DJ Envy's attorney Massimo D'Angelo says that his client's business dealings were limited to the real-estate seminars and the investment in the Paterson school. He says his client is not liable if investors mistook his involvement in the seminars with involvement in Pina's real-estate deals. He says that his client has never received payments from Pina's real-estate investments and that his client's name is not on any of the eight or more limited-liability companies that Pina used to run his operation.
While Cesar Pina declined to speak on the record, his wife pushed back on some of the claims against him and the radio host. Jennifer Pina, a former on-set hairdresser for The Real Housewives of New Jersey, says that DJ Envy never directly promoted any of Cesar Pina's real-estate ventures on the radio or on social media. She says that Augie Rios, who has not yet filed a lawsuit, is sharing his story for the free publicity, though she did not deny the outstanding payments owed to him. She says that the unfinished lot that Anthony Barone and Martini invested in actually has had quite a bit of work already completed — underground plumbing and electric, footings, and foundation — and that the Anthonys' complaint itself is delaying the building process now. (As for the lawsuits that name her as a co-defendant, she claims that she has not met any of those investors, save for Barone and Martini.)
In an Instagram Live following his arrest, Pina said that "DJ Envy has nothing to do with" the investments named in the lawsuits. But he rejected the framing that DJ Envy was a victim. "That's the dumbest shit I've ever heard in my life," he said in the post-arrest livestream. He added that "me and him were partners" on real-estate deals — just as Barone and Martini were "partners" on their deals with him. "Everybody's a victim; nobody's an investor anymore," he said. "Nobody. So it is what it is."
From the beginning, Pina was an unusual candidate for DJ Envy to pick as his real-estate guru. According to his memoir, Flipping Keys, he and his brother served three years in federal prison in the aughts for credit-card fraud after their cousin dimed them out for cloning card numbers. While at FCI-Fairton, he learned how to invest in the housing market from a man locked up for mortgage fraud named Rene Abreu, a New Jersey developer and a key fundraiser for Senator Robert Menendez. "In exchange for some real-estate advice, I gave him what I thought was good counsel in handling the life of prison," Pina wrote. Out on parole, he says a man recruited him and other ex-cons to man the phones for his real-estate business, turning Pina's halfway house into a "call center for a mortgage company." With some cash saved up by 2008, he saw the collapse as an opportunity; he described getting hooked on the feeling of buying a house and flipping it 30 days later for a $50,000 profit. Over the next decade, Pina says he expanded his holdings to hundreds of rental units in poor neighborhoods in North Jersey; the chapter on this phase in his career is called "The Hood! A Great Investment." In 2018, he says he met DJ Envy through a Paterson connection — the former label head of the rapper Fetty Wap — and they began hosting seminars just months later. Soon, Pina was appearing on The Breakfast Club presenting his life story as a tale of redemption.
While DJ Envy claims that he did not receive any cash from Cesar Pina's real-estate investments, multiple accusers were skeptical that DJ Envy promoted Pina so frequently on air and on social media without seeing a cut. "Envy is one of those greedy type of celebrities where he wants everything for free as long as he puts his name on it," said Augie Rios. Before their relationship soured over the real-estate deal, Rios said that he would offer big discounts on vinyl wraps for DJ Envy's McLaren coupe in exchange for Instagram promo. "He's not doing all that promoting for no money," Rios said.
Jose Rodriguez had a more formal promotional deal with DJ Envy. As Jose the Credit Dude, Rodriguez was one of the more consistent speakers at Pina's and DJ Envy's seminars, where he offered credit-repair services to the debt laden in the audience. In 2020, DJ Envy wanted a piece of his operation. Rodriguez says DJ Envy signed a deal for a 25 percent stake in his credit-repair company. In exchange for an $18,000-per-month payment, DJ Envy would promote his credit business on The Breakfast Club.
"If he was promoting me, and I paid him $550,000 in two and a half years — the way he was promoting Cesar? There's no way that no money was exchanged there," Rodriguez said. After DJ Envy filed a lawsuit claiming Rodriguez withheld financial information from him, he sued DJ Envy to get back the equity in his business. (IHeartRadio, the broadcaster which syndicates The Breakfast Club, did not respond to requests for comment.)
Rodriguez also says he found out the hard way that DJ Envy's public promotion and his private advice were not always in sync. In 2022, after four years of unpaid appearances at their seminars, Rodriguez says he became interested in a new investment vehicle from Pina called Flip2Dao. Basically, the company allows investors to use credit cards or cryptocurrency to buy into Pina's real-estate portfolio, owning fractions of many homes without ever putting money into a single property. But as he took a $150,000 loan out on his business to invest with Pina, he says that DJ Envy told him not to do it. "Why would DJ Envy tell me not to invest in a program that he's promoting?" Rodriguez asked. (DJ Envy's attorney said he was not familiar with such a conversation between his client and Rodriguez. Jennifer Pina claims that Rodriguez received his investment in Flip2Dao back.)
As he scrapped with Pina and DJ Envy, Rodriguez recorded a conversation with a person he claims is DJ Envy and posted it to social media. In the recording, DJ Envy boasted of his influence and how "nobody would know who you are" if it wasn't for him. The same went with Pina. "I created Cesar," DJ Envy said. "There was no Cesar. Cesar would not have the lifeline, or the life that he has, without DJ Envy."
Federal agents may also be interested in the ways that DJ Envy's fame made Cesar Pina who he is today. Before speaking with me in his shop in Lodi, I overheard a video call in which Augie Rios was speaking with IRS agents, who were asking for information about both Pina and DJ Envy. (An IRS spokesman stated that the agency does not share any protected information on potential investigations.)
Marie Springer, a professor at the John Jay College for Criminal Justice who wrote a book on the history of Ponzi schemes, says that the complaint against Cesar Pina may not bode well for DJ Envy. She said the description of him as "Individual 1" — versus other investors described as "victims" — was a careful decision by prosecutors." This was showing that [DJ Envy] was involved," Springer said. "I would be truly shocked if there were no charges coming in that direction." Springer also pointed to the second paragraph in the complaint, describing DJ Envy as Pina's "business partner" who used his "celebrity to promote various real-estate enterprises that Pina controlled."
"That's not looking good for this guy at all," Springer said. She noted that if prosecutors find evidence that he knew that Pina was running a scam business, he could be charged as a co-conspirator.
As for Pina, it's still unclear if he could face additional criminal charges. "There's only one charge for wire fraud," Springer said. "That's it. Okay, wait a minute, how come he's got all these instances here but there's only one charge?" Springer noted that when a defendant is charged by complaint — as opposed to the more arduous process of a grand-jury indictment — it can mean that "they either pleaded guilty or are going to plead guilty."
Pina has not mentioned any investment opportunities in public recently, though he is still posting — inspirational quotes, dances to "Eye of the Tiger," and advice to his followers to get up early and grind without excuses. "I'm Still here!!!" he wrote the day of his arrest. "Always moving forward never backwards!!!"