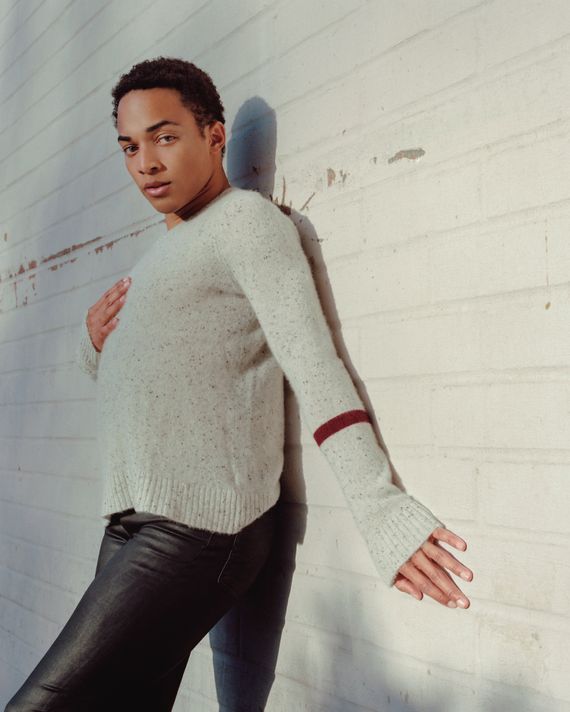 One day in February, Christian Walker, a junior at UCLA and the son of Hall of Fame football player Herschel Walker, opened TikTok to find that his account with more than 400,000 followers had been suspended. For the past eight months, he had been recording sassy, highly stylized screeds on familiar right-wing talking points, from immigration and election fraud to cancel culture and bathroom bills, which would then ricochet across the internet in the form of righteous backlash, supportive shares, and one angry dunk from Kathy Griffin. When his TikTok got reactivated a few days later, Walker uploaded a video of himself pulling into his driveway in a Mercedes G-Wagon, scored by Doja Cat. Caption: "GUESS WHO'S BACK #american #conservative."
"Because I'm right about my political commentary, leftists, who are typically wrong, want to shut me down," Walker says, Zooming with me from his parents' place in Dallas a few weeks later. He is in the process of moving apartments in West Hollywood, and when I ask to see something he had brought with him, he pulls out his student Bible without even leaving his chair. Online, Walker has been touting the TikTok ban as yet another sign that "groupthink psychos" are eager to cancel him. But when we speak, Walker admits he had reported an account for being critical of his own — perhaps a reason he had been suspended. "Because why not?" he says, laughing.
Walker is, in his own words, a "free-speech radicalist" and a Christian "conservative populist." He has declared, among other things, that "illegals" don't belong here and that white supremacy is a liberal fantasy created on college campuses. Among the internet's underbelly of young conservatives, like @thelibertyladies and @therepublicanhypehouse, Walker has differentiated himself, becoming a household "Young Republican" among the Gen-Z demographic and even getting invited onto Fox and One America News. (It doesn't hurt, either, that his father is a good friend of Trump's.) In a vast sea of white and blonde, Walker cuts a rare figure: a gay Black man in Cartier and Gucci who also happens to be a two-time world-champion competitive cheerleader with a six-pack and perfectly plucked eyebrows. "I laser my whole body," Walker informs me with a grin.
Walker's videos may come across as performance art, parody, or just the expected product of a life of privilege. But Walker sees himself as a much-needed breath of fresh air. "I think, for a long time, conservatism has been really buttoned-up and boring and stuffy," he says. "We also need conservatives who are in touch with the culture. Let's make TikToks. Let's go to Starbucks and talk politics. Because that's what [the left] does, and they're very effective at it. We needed a little spunk."
Walker's rise to notoriety began last summer, when he recorded a video critiquing Joe Biden's comment to Charlamagne tha God that Black people "ain't Black" if they planned to vote for Trump. Walker screamed into his iPhone camera, "Black America has been fighting stereotypes that we all have to speak a certain way, that we all have to act a certain way," before posing the question to Biden: "Who are you to determine Blackness? You do not get a pass for racism just because you're an old white liberal." If that comment doesn't read too differently from how some progressives reacted at the time, Walker's subsequent posts cleared things up. When protesters took to the streets in support of Black lives this past summer, Walker shared videos defending the Atlanta police who killed Rayshard Brooks. "The whole world shut down because of the coronavirus and then we had terrorist attacks across our country by ghetto BLM. That's when I hopped into politics," he tells me.
Before long, Walker was responding to nearly every turn of the news cycle with liberal-taunting monologues, which he often recorded at his favorite spot, Starbucks. A signature Christian Walker video takes place at the chain's drive-through, where he holds court on right-wing politics and complains about baristas messing up his order (a three-shot espresso over ice with one pump of white mocha, one pump of vanilla, whipped cream, and extra ice in a Venti cup — and ice water on the side). Over Zoom, his Starbucks cup sits beside him. "I've been drinking Starbucks since I was 6 years old — literally going every day before it was a white Karen thing," he says.
Part of what makes Walker so watchable isn't new. He patterns himself after figures like Kimberly Guilfoyle at the RNC, Jeanine Pirro on Fox News, and his personal icon, Ann Coulter, whose unblinking camera confrontations combine fabulousness with a lot of incredulous yelling.
What sets Walker apart from some of his predecessors is the self-awareness lurking behind his GIF-ready radical conservatism. Walker's videos are tailor-made for an internet ready to tear him to shreds. His favorite platform is Instagram, where his 290,000 followers can enjoy both his political punditry and his midriff-baring thirst traps. But Walker's persona is especially suited to TikTok, where the line between performance and sincerity is blurred, and where the more outrage he draws, the more often his face appears. Indeed, Walker's popularity is boosted by users who "duet" with his videos, recording their indignant reactions in real time. They especially delight in his blatant contradictions, like how he decries the downfall of "manly men" in one video and dances in stilettos in another.
Walker's disavowal of everything he is "supposed" to think about his own body and beliefs suggests how punkish it can be to be young and conservative today. "It's totally countercultural," he says of his politics. To Walker, the piousness and sensitivity of the modern left make it seem like an easy cult to join: All you have to do is learn the lingo and abide by it. To be on the left is to be a scold and a teacher's pet; to be on the right is to be a misfit and a rebel. One of his shticks, which has struck an unlikely chord among progressive viewers, is calling out the performativity of wokeness: the black squares, the Instagram Stories. "I know so much about Blacks and what people of color go through," he says, cheekily impersonating the "straight white male liberals" who talk down to him about his politics. "They know so much that they're going to tell people of color that they're race traitors. I can think for myself."
Talking one-on-one, however, Walker sometimes gets distracted by his own preprepared diatribes. Sentences that begin with a sincere "Can we just be really honest?" end in his insisting, out of nowhere, that he should be able to say "retard" whenever he wants. He operates on a hair trigger for moments when he can call Black Lives Matter "ghetto" or "terrorists." After all, it's those moments of carefully planned, albeit seemingly uncontrolled, pontification that draw attention. "There is a bit of performance," he admits. "If you think I walk around all day every day screaming and yelling, that's ridiculous. Occasionally I'm saying inflammatory things because I think there's an attack on our speech."
When I ask Walker what he hopes all of this conservative influencing will lead to, he throws his hands in the air with excitement. He wants to one day host a morning talk show, à la Wendy Williams, on which he could discuss culture and politics, Meghan Markle and the midterms. He's ripe for a Fox News gig where he can add some spice to its milquetoast punditry, and it can only help that Trump is now calling on his father to run for Raphael Warnock's Senate seat in 2022. "There's room for everyone [on the right]," Walker says. "And I've definitely created my own."