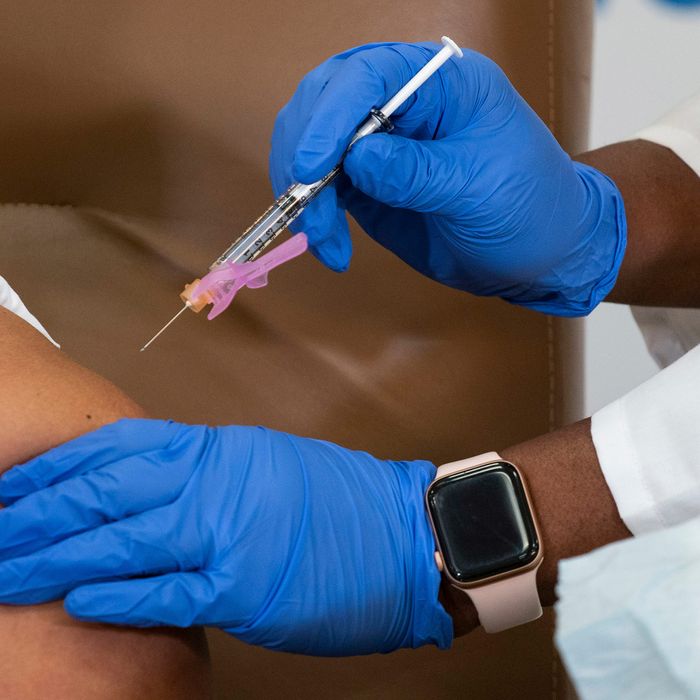 Photo: Eduardo Munoz Alvarez/POOL/AFP via Getty Images
With a flawed early rollout full of political squabbling and concerns about doses going unused, the first month of vaccine distribution in New York did not inspire confidence in the historically massive effort. But thanks to recent expansions of who can access the vaccine — and federal supply now matching state demand — all adults in New York can now get a shot. Below is a guide to the ever-changing process.
Who can currently sign up for the vaccine?
As of April 6, anyone 16 and older who resides, works, or studies in New York is now eligible to schedule appointments to get vaccinated. New York was one of the last states to announce the opening of vaccine sign-ups to all adults. All New Yorkers over the age of 18 can receive any of the three vaccine candidates, but teenagers between 16 and 18 will only be able to receive the Pfizer candidate, as the Moderna and Johnson & Johnson vaccines were not approved for minors. (Prior to emergency use authorization, Moderna and J&J limited trials to those over 18, while Pfizer tests involved those as young as 12.)
All NYC-run and state-run sites now accept walk-ins
As of April 27, all New Yorkers 16 and over can get vaccinated without an appointment at any of the New York City-run or state-run vaccination sites. The 35 municipal sites accepting walk-ins, including three which are open 24 hours a day, are listed here. (Residency restrictions have also been lifted at all city-run sites.) The 16 state-run mass-vaccination sites are listed here.
How do I sign up for a scheduled appointment otherwise?
New Yorkers who want to schedule a vaccination at a state-run site can visit this page, which will list vaccination sites with available appointments, or this page for non-state-run sites — COVID vaccines available at pharmacies, hospitals, local health departments, and federally qualified health centers. (For people without internet access, the state has also launched a hotline: 1-833-NYS-4VAX.)
After making an an appointment, you must complete a state-required vaccine form affirming you are eligible (i.e. residing, working, or studying in New York State). Upon completion, you will be given a submission ID, which you must bring to your appointment. You must also bring proof of eligibility to your appointment. As the state site notes, "Depending on your eligibility category, proof can include an employee ID card, a letter from an employer or affiliated organization, a pay stub, a driver's license, passport, or any legal proof of your date of birth and residency. At the time of your appointment, you'll be asked a series of clinical questions to ensure readiness for a vaccine. You will be asked for insurance information BUT the vaccine is free and there will never be a charge to you. This information is for administrative use only."
Once a resident receives their first vaccine dose, a second dose appointment will be scheduled automatically for the same time and at the same location as the original dose — and the state will provide a card with the date and time indicated, as well as a confirmation email.
Bots have also been set up to help New Yorkers find vaccine appointments amid the sign-up rush and the last-minute appointment openings.
In New York City, the Health Department has set up a portal called the NYC COVID Vaccine Finder to help residents schedule appointments. But as Gothamist notes, "the Health Department and NYC Health + Hospitals still have sign-up sites for their locations, and clinics or other smaller healthcare centers have their individual sign-up processes as well." With the NYC Health Department requiring residents to answer around 50 questions in the verification process, it raises immediate concerns about accessibility for older New Yorkers and those without access to computers.
On March 12, Governor Andrew Cuomo signed legislation authorizing four hours of paid time off per vaccine injection for all New York's public and private employees.
If I've received the first shot, how do I get the second?
For those that have already gotten their first dose, their inoculation information will be entered into the New York State Immunization Information System run by the Department of Health. The system will remind residents to get a second vaccine dose via mailers, robocalls, and text messages. The provider who administered the first dose is responsible for administering the second; the state's guideline say "providers must schedule the second dose appointment for recipients at the time the first dose is administered."
With President Biden requesting that all states make all adults eligible by April 19, New York City continues to expand access for vulnerable communities by launching mobile vaccine buses and opening up walk-in access for those over 75 at over 25 vaccination centers.
New York City's Goal: 5 Million Vaccinations by June
As the number of vaccine doses supplied by the federal government increases, the state is vaccinated record numbers of New Yorkers: On March 28, Governor Cuomo announced that over 1 million doses had been administered in the past seven days.
In early March, Mayor de Blasio announced an ambitious goal of 5 million New York City residents vaccinated by June; last week New York City inoculated 478,000 people, a new seven-day high. The mayor made the announcement at a new vaccination site at Co-Op City in the Bronx, one of New York's centers that will do homebound senior inoculations with the Johnson & Johnson candidate, which only requires one dose. In mid-March, the city opened up the inoculation outreach program throughout all five boroughs, with the goal of vaccinating the entire homebound population by the end of April. To sign up, seniors or their families can visit the NYC portal or call 877-VAX-4NYC.
As of April 3, over 10 million doses have been administered in New York, with almost one in three adults having received at least one dose. Almost one in five are fully vaccinated.
What about New York's vaccine passport?
On March 26, New York state introduced an app that has been called a "vaccine passport." Built by IBM, the Excelsior Pass will show a resident's vaccination status or recent negative COVID test to allow them into venues at participating locations, which already include shows and games at Madison Square Garden.
What were some of the early supply delays?
Due to the Trump administration's failure to secure enough doses to support the CDC's new recommendations speeding up the vaccination process, there was an early shortage of vaccines in New York and many other states. On January 20, the New York City Health Department announced it would close 15 of its vaccination centers on until January 22 due to the shortage — resulting in 22,000 rescheduled shot appointments and a pause on new appointments.
On January 24, new CDC director Rochelle Walensky told Fox News that "We don't have as many doses as we would like now for states like New York." The bar had been set pretty low. Two days before, the state ran out of vaccines — until the next shipment of 250,000 at some point in the coming week. In the interim, "the city is now considering giving them as first doses for those still waiting and backfilling the supply and delaying by a few weeks the second shot for those who already gotten the first," as ABC reports.
"Only Jesus with loaves and fishes could handle the situation that the federal government created," Cuomo said. "Because they created such a demand and they never increased the supply."
Vaccine challenges continue to accrue nationwide. Pfizer is now sending out fewer vials in order to account for the single excess dose contained within each container. As Politico notes, some syringes distributed by the federal government aren't efficient enough to extract the sixth dose, leading hospitals to throw out precious vaccine supply.
As the pandemic trudges forward, the same problems that have affected public-health response since its early days are enduring in the vaccination effort. According to the New York Times, Governor Cuomo continues to side-step public-health experts. And in New York City, partial demographic data from vaccinations so far shows that 15 percent of recipients are Latino and just 11 percent are Black — despite these groups making up 29 percent and 24 percent of the city's population.
On March 1, Mayor de Blasio noted that 42 percent of shots administered at the Javits Center in Manhattan and 75 percent of COVID shots administered at the Aqueduct Racetrack in Queens were given to people who do not live in New York City.