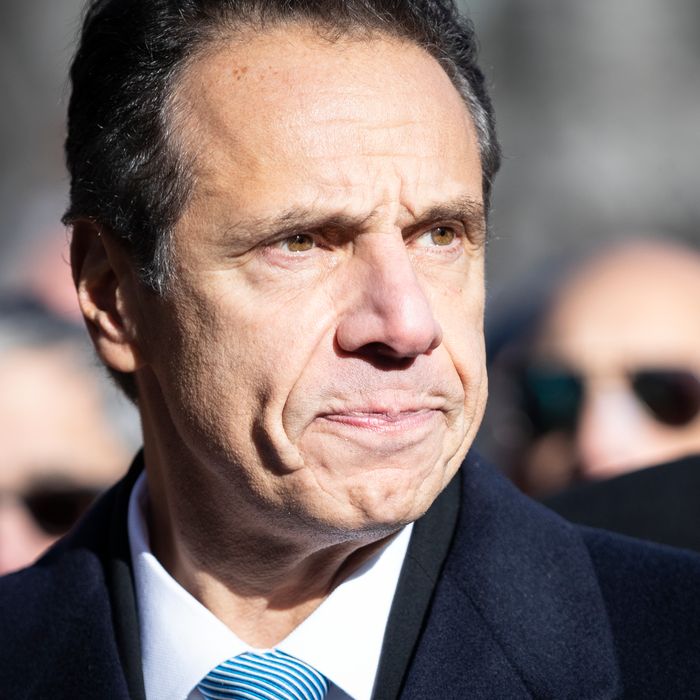 Photo: Corbis via Getty Images
Following multiple allegations of sexual harassment against Governor Andrew Cuomo, as well as reports that his administration may have mishandled or hidden data regarding COVID-19 deaths at New York nursing homes, two state investigations were launched in the spring of 2021 to examine the claims. The FBI reportedly launched its own investigation as well, focusing on allegations that the Cuomo administration provided false information on nursing home deaths to the Justice Department.
The state attorney general's investigation culminated in a stunning report released Tuesday, which concluded that Cuomo sexually harassed 11 women, violating federal and state law. The governor responded by insisting, as he has all along, that he did not engage in any form of misconduct. Cuomo also made it clear that he has no intention of heeding widespread calls for his resignation, including from President Joe Biden. The AP reports that a majority of state Assembly members say they will vote to begin impeachment proceedings if Cuomo does not step down.
Below is an overview of the investigations as they stand, the impeachment process, and how everything might play out.
The state attorney general's investigation into sexual harassment allegations against Cuomo
New York attorney general Letitia James launched an independent investigation into the allegations of sexual harassment against Governor Cuomo made by multiple former aides. She named Joon H. Kim, the former acting U.S. Attorney for the Southern District of New York and employment discrimination attorney Anne L. Clark to lead the probe.
The investigation took place over the course of five months with investigators speaking to 179 people, including complainants and current and former state employees. They also questioned Governor Cuomo for 11 hours as part of the investigation. The team reviewed more than 74,000 pieces of evidence "including documents, emails, texts, audio files, and pictures," according to James.
The final report was released on August 3 with James revealing in a press conference that the investigators found the women's accusations against Cuomo credible.
"The independent investigation has concluded that Governor Andrew Cuomo sexually harassed multiple women and, in doing so, violated federal and state law," James said. "Specifically, the investigation found that Governor Andrew Cuomo sexually harassed current and former New York State employees by engaging in unwelcome and non-consensual touching and making numerous offensive comments of a suggestive and sexual nature that created a hostile work environment for women."
The 165-page report laid out allegations against the governor from 11 women, three of which were previously unknown, in vivid detail and with supporting evidence. One of the new accounts came from a female state trooper in the unit assigned to protect the governor, who said she was sexually harassed by Cuomo on numerous occasions.
Though James said Cuomo violated state and federal law, she said there would be no criminal referral from her office. However, other prosecutors could decide to utilize the public report in any future investigations.
The state district attorneys' criminal inquiries
After James released her office's report on the sexual harassment claims and said that no criminal referral would be made, several district attorneys across the state of New York began to open their own inquiries.
Albany County district attorney David Soares issued a statement after the investigators' press conference that read, "We will be formally requesting investigative materials obtained by the AG's Office, and we welcome any victim to contact our office with additional information."
The DAs from Westchester, Manhattan, Nassau, and Oswego counties followed suit, indicating that they would be contacting the attorney general's office for information and evidence connected with incidents that occurred in their jurisdictions.
It's too early to say where these inquiries will ultimately lead, but for now, it's evident that the governor isn't yet in the clear legally.
The state AG's investigation into Cuomo's alleged use of state resources for his book
On April 19, the New York Times reported that the state comptroller issued a referral authorizing state Attorney General Letitia James to expand her investigation to include a criminal inquiry into whether or not Governor Cuomo used state resources to produce his pandemic book. While Cuomo claims that any work his staff members did on the project was "incidental," the Times reported in late March that senior aides worked on American Crisis: Leadership Lessons from the Covid-19 Pandemic around the same time that his office was allegedly obscuring coronavirus deaths in nursing homes in the state.
When asked about the status of the book probe following the release of the harassment report, James said, "The investigation with respect to the book and whether public resources were utilized is ongoing, and it's separate and apart from this investigation."
The State Assembly Judiciary Committee's impeachment investigation
On March 12, New York State Assembly Speaker Carl Heastie announced that he had authorized the Assembly Judiciary Committee to open an impeachment probe into Governor Cuomo. The Committee has the power to subpoena documents and witnesses, and can determine, on its own, the scope of the investigation. Heastie has said that the impeachment investigation will be "very broad" and indicated there would be no set timeline for its conclusion, but that the probe "should be done expeditiously." On March 17, Judiciary Committee chairman Charles Lavine announced that the Assembly had hired the Davis Polk law firm to assist with the probe.
The legislature's impeachment probe set out to investigate both the allegations of sexual harassment against Cuomo and his administration's handling of COVID-19 deaths in nursing homes. But following the release of the attorney general's report there has been a push to wrap up the legislature's probe and start impeachment proceedings immediately.
A source who spoke to the New York Times said that it could take about a month for the Assembly to conclude its business and draft articles of impeachment, with a trial in the State Senate beginning near the end of September or early October.
In a letter, the Judiciary Committee has informed Cuomo and his team that its investigation is "nearing completion" and that the governor has until August 13 at 5 p.m. to provide them with any additional evidence.
The impeachment process in New York State
As in the federal government, the impeachment process begins in the lower house of the State Legislature — the 150-member State Assembly. Per the New York State Constitution, an impeachment resolution in the Assembly would require a simple majority, or 76 votes, to pass. On August 4, the AP said that at least 82 Assembly members have said publicly or told reporters privately that they favor initiating impeachment proceedings against Cuomo.
Once the Assembly passes an impeachment resolution, the process moves on to the 63-member State Senate, where a Court for the Trial of Impeachments is convened, consisting of the lieutenant governor, all state senators, and the seven judges from the state's highest court, the New York Court of Appeals.
When a governor is impeached, the lieutenant governor (Kathy Hochul, in this case) temporarily becomes the acting governor for the duration of the trial, and is excluded from participating in the trial, along with the president pro tempore of the Senate (currently majority leader Andrea Stewart-Cousins) — since both are in the line of succession for the governor's office. That would leave 69 members in the Court for the trial, and a two-thirds majority, or 46 votes, would be needed to convict and remove the governor from office. The same number of votes would be required to ban the governor from ever holding elected office in the state again.
The governor would be able to retain his own counsel to represent him in the impeachment trial.
What constitutes an impeachable offense in New York?
The New York State Constitution, unlike the U.S. Constitution, doesn't stipulate what a state officeholder can be impeached for — leaving that judgment entirely up to the State Legislature.
The FBI investigation
In addition to the attorney general's probe and the state Assembly's impeachment inquiry, Cuomo's office is also reportedly facing an investigation into the alleged cover-up of nursing home deaths at the beginning of the pandemic. According to a report from the City on March 18, FBI officials are looking to interview administration staff about a last-minute addition to the state budget last March, which gave nursing homes and hospital sweeping legal protections against lawsuits and criminal liability for care provided during the pandemic. Investigators are reportedly asking how it "got in the state budget," according to one legislative source.
The agency's investigation appears to still be in progress as of August.
Is there any chance Cuomo will resign?
There is currently next to no chance of that, at least for the foreseeable future. When the accusations first emerged, Cuomo adamantly refused to resign, attacked those who called on him to do so, and seemed fully intent on riding out the crisis (and more likely than not, running for a fourth term when he is up for reelection next year). Prior to the release of the AG's report, he asked lawmakers and the public to withhold judgment until the probe was completed, suggesting it would reveal he was innocent.
But hours after James announced that the report concluded that Cuomo had "engaged in conduct constituting sexual harassment under federal and New York State law," he forcefully denied the findings, maintaining that he did nothing wrong.
"First, I want you to know directly from me that I never touched anyone inappropriately or made inappropriate sexual advances," Cuomo said, in a prerecorded video statement. "I am 63 years old. I have lived my entire life in the public sphere. That is not who I am."
The video also included a lengthy slideshow of photos showing the governor embracing and kissing constituents and dignitaries on the cheek in an attempt to show that his actions were commonplace.
But calls for his resignation are ramping up. On the day of the report's release, President Biden was asked if he stood by his statement in March that Cuomo should resign if the state attorney general found the accusations to be credible.
"I stand by that statement," the president said, later adding "I think he should resign."
Cuomo is also facing renewed pressure to step down from House Speaker Nancy Pelosi, Senators Chuck Schumer and Kirsten Gillibrand and State Assembly Speaker Carl Heastie.
Who replaces Cuomo if he is impeached and removed, or resigns?
If Cuomo steps down or is removed from office via impeachment, Lieutenant Governor Kathy Hochul would become governor and serve out the remainder of his term (and be able to appoint a new lieutenant governor to serve out the rest of her term). Hochul would then be up for reelection (and face possible primary challenges from other Democrats) in 2022. She would become the state's first female governor.
Much like a U.S. presidential impeachment, the State Senate also has the ability to bar a convicted governor from running for statewide office again.
What happens if he is impeached and acquitted?
Nothing, legally. Cuomo would regain his powers as governor, and Kathy Hochul would return to serving as lieutenant governor. Impeachment would undoubtedly come with a high political cost for Cuomo, however, and significantly reduce his chances at winning a fourth term in office, should he opt to run for reelection next year.
Has a New York governor ever been removed?
William Sulzer has the rare distinction of being the only governor of New York to ever be impeached and removed by the State Legislature. In 1913, after less than ten months in office, Sulzer was impeached for campaign finance violations and removed following a three-week trial. According to historians, the impeachment came after Sulzer was targeted by the powerful and infamously corrupt Tammany Hall political organization after Sulzer attempted to limit the organization's influence in state government.
Nationwide, just 16 governors have been impeached in U.S. history, with eight being subsequently convicted and removed from office.