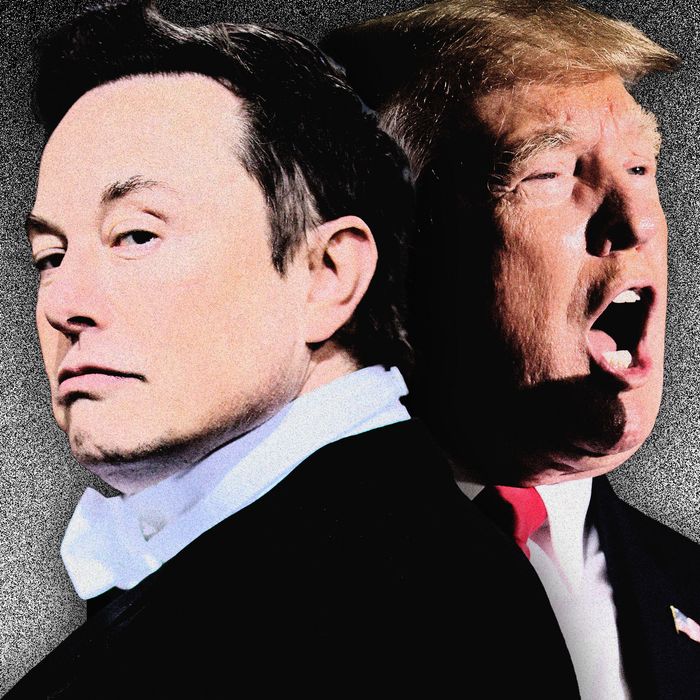 Photo-Illustration: Intelligencer; Photos: Dimitrios Kambouris/Getty Images for The Met Museum/Vogue; Scott Olson/Getty Images
Elon Musk struck a deal to buy Twitter in late April and quickly confirmed that he intended to lift the site's permanent ban on Donald Trump. As Twitter sued Musk for trying to renege on the $44 billion deal, a feud broke out between two of our most volatile rich dudes. In late October, the Musk-Twitter deal finally went through, and Trump publicly celebrated the Tesla–SpaceX–Boring Company CEO's acquisition of the social media giant. Musk eventually made good on his promise to allow Trump back on Twitter, but the ex-president has yet to tweet, insisting that Truth Social will remain the exclusive home of his social-media ramblings.
So what exactly went wrong between Musk and Trump? Are they back on good terms? And how is the public supposed to follow this drama when one of the participants only posts his "truths" on a site barely anyone uses? Here's a guide to how it all went down, which we'll continue to update as long as this chaotic duo keeps at it.
.

Despite Musk's regular criticism, Trump calls him a 'genius'
As president, Trump regularly lashed out at CEOs who crossed him, but somehow Musk stayed on his good side even as he repeatedly disparaged Trump's policies and personality.
Days before the 2016 election, Musk told CNBC that he generally agreed with Hillary Clinton's economic and environmental plans. His assessment of Trump was harsher. "I feel a bit stronger that he is not the right guy," Musk said. "He doesn't seem to have the sort of character that reflects well on the United States."
And early in Trump's presidency, Musk criticized the "Muslim ban."
Nevertheless, the CEO went on to join two of Trump's business-advisory councils — only to quit in protest.
In August 2019, Musk said he supported Democrat Andrew Yang's presidential campaign. That still didn't keep Trump from heaping praise on the tech billionaire at Davos in January 2020, calling him in a CNBC interview "one of our great geniuses, and we have to protect our genius." He continued, "You know, we have to protect Thomas Edison, and we have to protect all of these people that came up with originally the lightbulb and the wheel and all of these things. And he's one of our very smart people, and we want to cherish those people."
In the final year of his presidency, Trump found himself increasingly in agreement with Musk over "Twitter, the moon, and sticking it to the establishment," as Politico put it. In May 2020, Trump defended Musk's calls to reopen Tesla's plant in Fremont, California, which had been closed because of COVID restrictions; then he headed to Florida's Kennedy Space Center to watch a SpaceX rocket launch two NASA astronauts. Musk echoed some of Trump's criticisms of pandemic precautions, adding a new wrinkle to his ongoing drama with Twitter. Per Politico:
From the beginning of the crisis, Musk, the temperamental billionaire leader of SpaceX and Tesla, has frequently questioned mainstream scientific research, reporting and policy on Covid-19, to the point that Twitter was forced to deal with a wave of complaints suggesting the social-media platform remove his tweets for spreading disinformation. He accelerated the proposal of hydroxychloroquine as a potential cure from the backwaters of Bitcoin Twitter discussions into the mainstream, off of two tweets ("maybe worth considering …"), bucked government lockdowns in order to keep his electric cars in production and recently stated that he believed policies designed to keep Americans safe were violating their constitutional rights. As he bluntly tweeted in March: "The coronavirus panic is dumb."
.

Musk says he'd welcome Trump back to Twitter
The announcement of Musk's deal to buy Twitter prompted speculation that he might let the former president and various other exiles back onto the platform. Sure enough, Musk, a self-described "free-speech absolutist," soon declared that he was against permanent bans in general and Trump's ban specifically. He said Twitter's decision to kick Trump off over his January 6 rhetoric was "a mistake because it alienated a large part of the country and did not ultimately result in Donald Trump not having a voice."
At this point, Trump had already publicly claimed he was sticking with the flailing social-media network he had barely been using. "Truth Social will be a voice for me," Trump told Fox News. "And that's something nobody else can get."
But he made it clear that he was rooting for the Musk-Twitter alliance. "I think it is good. We want liberty and justice and fairness in our country, and the more we can have open, the better," Trump said. "I don't view that as a competition for what I am doing."
.

Musk reveals he's now a DeSantis man
Over the years, Musk has said he's a registered independent and described himself as "politically moderate" and "somewhere in the middle, socially liberal and fiscally conservative." But at the All-In tech conference in May 2022, he said Biden's support for unions and inability to "get a lot done" had driven him to embrace the GOP, though he had voted "overwhelmingly" for Democrats in the past.
"I have voted overwhelmingly for Democrats historically," Musk said. "Like, I'm not sure I might never have voted for a Republican, just to be clear. Now, this election, I will."
Although it was unclear whether "this election" referred to the midterms or the next presidential contest, initially this seemed as if it could be good news for likely 2024 candidate Trump. A few weeks later, however, the "moderate" tech CEO revealed that the Republican currently winning him over is the Florida governor known for the "Don't Say Gay" law and for punishing companies that defy him.
.

Trump calls Musk a "bullshit artist"
Even though Trump initially praised the Musk-Twitter deal, in mid-May he posted on Truth Social, "There is no way Elon Musk is going to buy Twitter at such a ridiculous price, especially since realizing it is a company largely based on BOTS of Spam Accounts. Fake anyone?"
So when Musk's agreement with Twitter appeared to be falling apart, Trump was eager to do some gloating and settle some political grievances. At a July 9 rally in Anchorage, Alaska, for Republicans Sarah Palin and Governor Mike Dunleavy, he claimed he had predicted the deal wouldn't happen and accused Musk of lying about voting for him in 2016.
"He said the other day, 'Oh, I've never voted for a Republican.' I said, 'I didn't know that,'" Trump said. "He told me he voted for me, so he's another bullshit artist."
Musk responded in a series of tweets, saying that Trump's claim was "not true" and that he's too old to run for president again anyway.
.

Trump bashes Musk and his "rocketships to nowhere"
The former president escalated the budding feud on July 12, attacking Musk's various endeavors in a series of Truth Social posts and claiming he could have made him "drop to [his] knees and beg" when he was in office.
Trump's "truths" still don't play nicely with other social-media sites, so Musk responded to another Twitter user's screenshot of Trump's post:
.

Trump says he'll keep trying to make Truth Social happen
On October 28, the morning after Musk officially acquired Twitter, Trump took to Truth Social to wish him well. But he also claimed, dubiously, that his own site has become "somewhat of a phenomena" so it will be his home for the foreseeable future.
.

Musk reverses the ban – but now Trump won't come back
Despite claiming that he would consult Twitter's "content moderation council" and create a "clear process" for reinstating banned accounts, on November 18 Elon Musk revived the @realDonaldTrump Twitter account because some random Twitter users told him to.
While Trump's tweets are visible again, so far he's refrained from returning to Twitter, claiming that he's perfectly happy on Truth Social.
"Truth Social is through the roof. It's doing phenomenally well," he said when asked about his social media intentions. "Truth Social has been very, very powerful, very, very strong, and I'll be staying there. But I hear we're getting a big vote to also go back on Twitter. I don't see it because I don't see any reason for it."
Trump also assured his Truth followers, "we aren't going anywhere."
.

Musk sides with Constitution over Trump
Announcing that you're a fan of the U.S. Constitution used to be innocuous. But in this dark timeline it counts as a political statement.
Musk was clearly criticizing Trump's Truth Social from two days earlier, in which he called for the "termination of all rules, regulations, & articles, even those found in the Constitution" to undo Biden's 2020 win.
Trump has yet to respond, but stay tuned. Everything we know about Musk and Trump tells us this won't be the last tweet, or "truth," on the subject.
This post was updated after Musk bought Twitter.