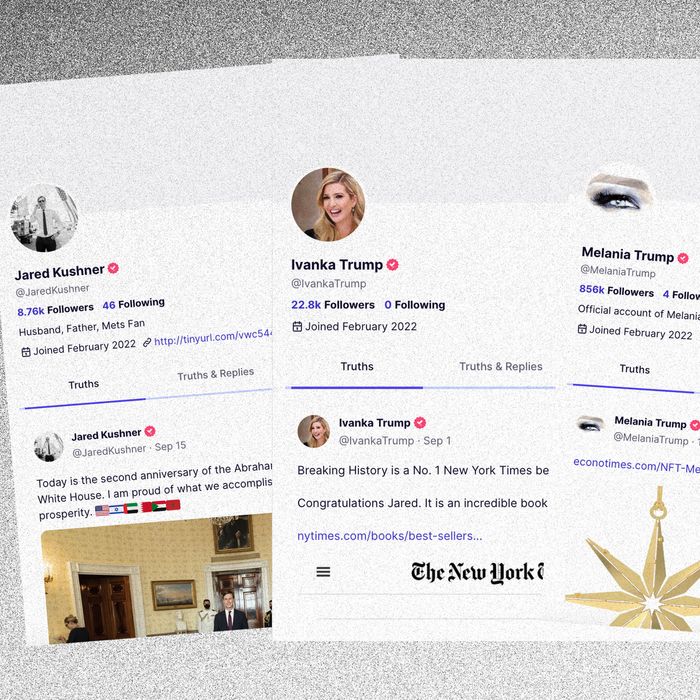 You can upload a header photo on Truth Social, they just didn't bother to do so.
Photo-Illustration: Intelligencer
The future is looking grim for Truth Social. As the Verge put it last month, Donald Trump's Twitter clone is "strapped for cash and facing a mountain of tech and legal troubles." The SPAC planning a merger with Truth Social's parent company is falling apart and Trump's app is still banned from the Google Play store, which means 44 percent of U.S. smartphone users can't download it.
The former president should blame himself. He oversaw the creation of a clunky app that launched for iPhones in February with no desktop version and kept more than a million people on a waitlist for weeks. The site is filled with bot accounts posing a real brands. Trump himself posted one "truth," then he stayed off his own social-media site for nearly three months.
But I have an idea that the former president will likely find more appealing: Why not blame your family? While his sons Don Jr. and Eric are fairly active on the site now, it initially took them more than a month to sign up. And most other Trump family members seems to think of Truth Social exclusively as a place to hawk their merch every few weeks. Here's a look at how the Trump family is using Truth Social so the former president can identify the guiltiest parties (Melania, Ivanka, and Jared) and decide who to punish (Eric, probably).
Melania Trump
The former First Lady has only shared 55 truths since February, when she signed on to announce the launch of the "Official POTUS TRUMP NFT Collection." Since then she's used the account to promote her Fostering the Future initiative, which provides educational opportunities to kids in the foster-care system; to plug various other NFTs, including a "limited edition ornament and #NFT to celebrate the 2022 Christmas Season"; and to release official statements, including this attempt to set the record straight on what Christmas means to her.
Melania Trump only follows four accounts on Truth Social: those of her husband, fashion designer Hervé Pierre, a person who reposts breaking news stories, and USA Memorabilia, "the premiere NFT platform featuring United States memorabilia."
Donald Trump Jr.
After his late start, Trump's oldest child is now the family's most active Truther by far. That means around once a day he posts an original conspiratorial rant, or someone else's meme with additional commentary (insights like "Yup LOL" or "Where's the lie??") Many of these memes are a bit too violent, racist, transphobic, or sexually depraved for Twitter, so Don Jr. is really making the most of the freedom of speech one can (theoretically) only enjoy on Truth Social. For example, here is a meme suggesting the Inflation Reduction Act is going to kill the economy, much like his dad's former friend O.J. Simpson allegedly murdered his ex-wife Nicole Brown Simpson.
Kimberly Guilfoyle
Guilfoyle is a former Fox News personality who is still engaged to Don Jr. and once gave a frighteningly enthusiastic pro-Trump speech at the Republican National Convention. With these credentials, you might think that Guilfoyle would be an avid Truth Social user, but that's not the case. Though she is prolific on Twitter, she has posted just five truths, and she isn't even keeping tabs on all of her future in-laws on the site. She's only following nine accounts, and while Dinesh D'Souza made the cut, Ivanka Trump, Jared Kushner, and Lara Trump did not.
Jared Kushner
From a quick glance at Kushner's Truth Social account, you might think he's actually using it. He's following 46 accounts, and he's been posting every few days. But upon further investigation, he's using the site for book promotion almost exclusively. He started posting on August 17, and all of his truths are about his memoir, Breaking History. There are six exceptions: five posts touting projects he worked on in the White House, such as the Abraham Accords and criminal-justice reform, and weirdly, this lone grandpa appreciation post that seems like it would be more at home on Ivanka's Instagram.
Ivanka Trump
Ivanka loves social media; she has tweeted more than 18,000 times and shared nearly 4,000 Instagram posts. Yet her Truth Social account is even sparser than her husband's. She's only posted four truths and "retruthed" her father twice (and both reposts were promoting Fox News interviews with Jared about his book). Ivanka's other truths are exact copies from her Instagram, but curiously she didn't even bother to copy these recent posts to Truth Social, like shots of her wakeboarding and Jared receiving a medal in Hungary are too personal to share with the Truth Squad.
Eric Trump
Unlike his sister, Eric Trump uses Truth Social — maybe to a fault. He generated headlines last month by posting a selfie that accidentally exposed a WiFi password. While many speculated that he'd "truthed" (?) out the login information for Mar-a-Lago's WiFi, Newsweek noted that it's unclear where he was, and thus which network's security he was breaching.
Eric follows more accounts on Truth Social — 178 — than any other Trump family member, including his father (Donald himself only follows three: @TruthSocial, @TruthSupport, and golfer @JohnDaly). Eric makes room in his feed for fake NASA and TMZ accounts, as well as "the official @squatsfitness community," a feed that consists entirely of videos of very fit people doing squats in skintight workout gear. He does not follow Ivanka and Jared.
Lara Trump
Lara Trump, paid Fox News pundit and wife of Eric, is pretty active on Instagram, but she doesn't seem to like Twitter or its obvious imitator Truth Social. She tweeted this on January 5:
Since then she has only tweeted out a link to one of her media appearances, and retweeted Jared's post about his book being a New York Times bestseller. Her first truth, on May 13, suggested she had a more favorable view of her father-in-law's creation.
But since then she has only posted one meme and one link to a Daily Caller article and plugged her podcast, The Right View, five times.
Tiffany Trump
Tiffany barely posts on Twitter. She swings by Instagram three or four times a year to wish a family member happy birthday or let us know she's in Paris, looking chic. She does not have a Truth Social account. Tiffany may be the least helpful Trump in the eyes of her father, but she's clearly making the best life choices.