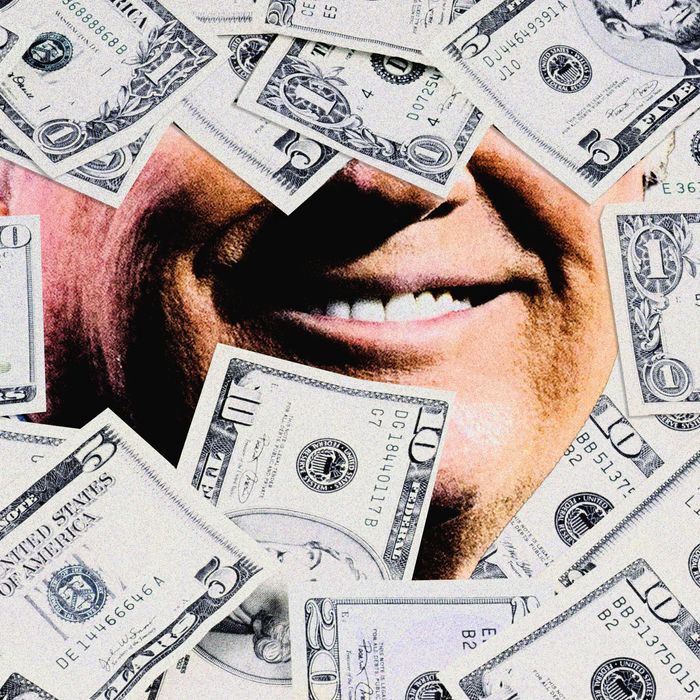 Photo-Illustration: Intelligencer; Photos: Getty Images
Former president Donald Trump is always running several cash-generating schemes. It's as essential to his being as the uncanny swoop of orange hair. Plus, as Bloomberg notes, "The Trump Organization has more than $590 million of debt coming due within the next four years with more than half personally guaranteed by Trump." So it's no surprise that even though he's out of the White House, Trump is using his post-presidential clout to rake in the big bucks. Here's what he's got going.
He's asking his supporters to keep the cash coming
Trump is still soliciting political donations, although it's unclear what he needs the money for. At the top of his website, it says, "Together, we are rebuilding our nation" above a link where one can donate to the Save America Joint Fundraising Committee. After selecting the amount you want to give, a box to make it a recurring donation is automatically checked. This has gotten Trump into a little trouble previously; he's had to refund $122 million to his supporters who unwittingly checked the box, thus far. He's also soliciting donations to this PAC via text message and email. Olivia Nuzzi, New York's Washington correspondent, said that she has received 19 fundraising texts in the last seven days.
Whatever Trump is up to, it seems to be working; as of last month, he had a war chest of more than $100 million. Financial Times reported that this money was raised via multiple fundraising vehicles, "some left over from his 2020 presidential campaign, others newly launched, making it difficult to keep track of the money Trump has raised and what he is able to use it for." We know Trump's Make America Great PAC has used $13 million thus far to fund his futile recount effort. And the Wall Street Journal suggested that the money is key to Trump's more legitimate efforts to retain political power, whether he plans to use it for his own 2024 presidential campaign or "to support his preferred candidates or back primary rivals to Republicans he is unhappy with." So far, he's not sharing. Earlier this month, Politico reported that no money from Trump's slew of fundraising PACs has been transferred "to GOP candidates or committees involved in the midterm elections."
He's patronizing his own businesses
Trump is funneling some of that donor money back into his businesses, and he's encouraged his Republican pals to do the same. A recent ABC News report revealed that in the first half of 2021, "dozens of Republican campaigns and political groups have together spent at least $750,000 at Trump properties, with nearly half of that coming from fundraising committees directly affiliated with or linked to Trump himself, according to federal and state campaign disclosure reports." The Make America Great Again PAC has been paying $40,000 per month to rent office space at Trump Tower, and another $8,000 for accommodations at Trump-owned hotels. PACs run by the Republican National Committee are also dropping big bucks at Trump properties; they spent $176,000 at Mar-a-Lago for a GOP donor retreat this spring.
He's hocking gold-lettered MAGA cards
While in office, Trump was masterful when it came to getting his supporters to pledge their allegiance to him, and even though he's currently sitting pretty in Mar-a-Lago, he's not slowing down. His Save America Leadership PAC announced earlier this month that they are releasing a line of Official Trump Cards. These gold-lettered red pieces of plastic will go for $20-$50 a pop. "The card you select will be carried by Patriots all around the Country. They will be a sign of your dedicated support to our movement to SAVE AMERICA, and I'm putting my full trust in you," Trump wrote in a fundraising email.
Carrying an Official Trump Card in your wallet will … do literally nothing. It's not dissimilar to the fake credit card that came with your toy cash register you loved to play with when you were a kid.
He's selling off parts of his real-estate empire, at bargain prices
Unfortunately for Trump, spending PAC money at his properties won't be enough to eliminate the Trump Organization's pile of debt. But downsizing could help. Trump has been trying to unload assets left and right, including:
His hotel in Washington, D.C., which became a hotspot for conservatives during his presidency, for $500 million

A "fixer-upper mansion" near Mar-a-Lago for $49 million

One of his personal helicopters, a 1990 Sikorsky S76-B, for an estimated $1 million

A lavish estate on St. Martin for $16.9 million, which is $11 million less than his initial asking price
Bloomberg noted that even though buying and selling properties is a normal part of the real-estate business, "the assets for sale are outside of Trump's typical business of marketing condos in a Las Vegas tower or homes at its California golf community."
Despite the discounted asking price for the St. Martin estate, Trump has been struggling to find a buyer. "People who were interested in the property weren't interested in being in the spotlight for buying the house of the former president of the United States," St. Martin real-estate agent Jonathan Schaede told Bloomberg of the ex-president's island estate.
He's charging the Secret Service for anything he can
One of the many privileges afforded to former presidents is free Secret Service protection for life. Trump has found a way to monetize this benefit: He's been charging his security detail $396.15 per night for the space they use at Mar-a-Lago. This adds up fast — from January 20 to April 30, the Secret Service spent over $40,000 at his Florida club. Of course, it's you and I, the noble taxpayers, who are actually footing the bill — and we've been doing it for some time. Trump's company charged the government at least $2.5 million for expenses accrued at his properties when he was president.
He's taking his show back on the road, and bringing a special guest
In an uncharacteristically precedented post-presidential move, Donald Trump is going on tour. He'll make four stops in Texas and Florida this December, sitting down with former Fox News host Bill O'Reilly to "discuss exactly how things were accomplished, as well as challenges, both good and bad, during the four years of Mr. Trump's presidency." Regular tickets to the "History Tour" will cost between $100-$300, but superfans can purchase a "VIP Meet & Greet Package" for upwards of $8,500 if they want to attend a 45-minute pre-show reception and get a picture with the two men, who have both been accused of sexual harassment.
Per Politico, the Trump-O'Reilly dynamic duo are struggling to fill seats. "We have concerts that are doing a lot better than this," a source told the website, noting that Bad Bunny and Kane Brown concerts at the same venue in Orlando have already sold out. Meanwhile, 60-65 percent of the Houston seats remain empty, and sales for the Sunrise, Florida, event haven't met expectations. Bill O'Reilly called these claims "bullshit" and threatened to sue Daniel Lippman, the author of the Politico piece.