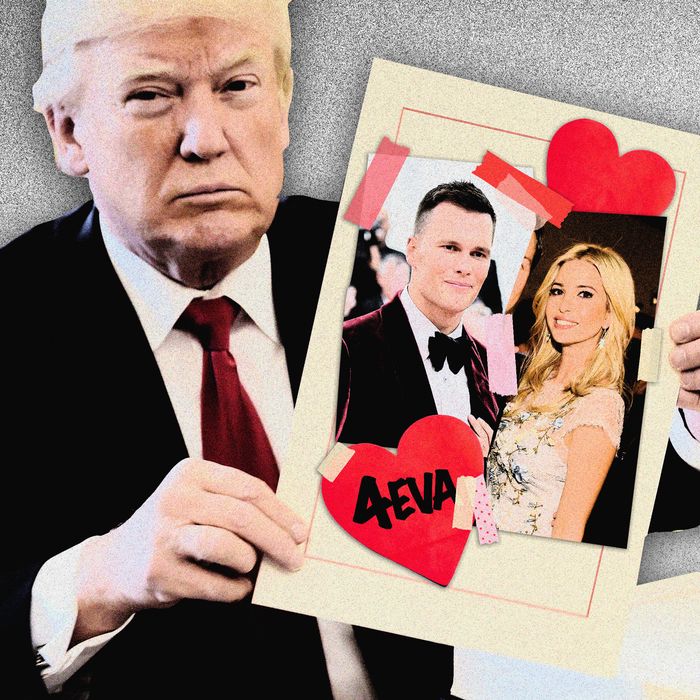 Tom Brady is the son-in-law that got away.
Photo-Illustration: Intelligencer; Photos: Getty Images
Imagine for a moment that you are Jared Kushner back in 2009. At just 28 years old, you're already a real-estate magnate and publisher of the New York Observer. Best of all, you've reunited with your girlfriend Ivanka Trump, and things are getting serious; she's converting to Judaism for you and you're planning to pop the question. There's only one problem: You have to break the news to her dad, Donald Trump, who recently sent you an angry letter because he feels the Observer ranked him too low on its annual "Power List."
At Ivanka's urging, you set up a lunch with her dad in Trump Tower. You feel your voice shake as you tell the Celebrity Apprentice host that you want to marry his daughter, and she's decided that she wants to convert. There's a terrifying pause. Then he says, "That's great. Most people think I'm Jewish anyway. Most of my friends are Jewish. I have all these awards from the synagogues. They love me in Israel."
It's a tad cringey, but it's the best response you could have hoped for. A wave of relief spreads over you. Then Trump smiles ominously and adds that he hopes you're serious because his "good friend" Tom Brady, Patriots quarterback and three-time Super Bowl champion, has been trying to take Ivanka out, too. Then he (jokes?) that if it were up to him, he'd go with Tom.
Jared Kushner reportedly relays this anecdote in his book Breaking History: A White House Memoir, which is set to be released on August 23. It's unclear if Kushner was distressed by Trump's remark, but it's something he, Ivanka, and Brady must be used to by now. Donald Trump has been openly dreaming about making Brady his son-in-law for nearly two decades, though the pair have expressed no interest in dating each other. Even after Ivanka and Tom both married other people, Trump kept the fantasy alive; White House sources have recalled the former president lamenting that the football GOAT could've been in the Trump clan, but "I got Jared Kushner."
Here's a look back at Donald Trump's long, lonely, and ultimately fruitless quest to make Tom Brady his (and Ivanka's).
.

January 2004: Trump claims Brady would "like to" date Ivanka
During an appearance on The Howard Stern Show, Trump declared that he wouldn't let Stern or himself date his then-22-year-old daughter Ivanka (because they're "disgusting people," not because he's her dad). But Trump said he'd be delighted if his daughter started seeing Tom Brady. Per Boston.com:
"Tom Brady, the quarterback, is somebody that really likes Ivanka and he's a great guy and I got to know him at the Miss Universe contest," Trump said.




Shortly after winning his first Super Bowl, Brady had served as a judge at the 2002 Miss USA beauty pageant, which Trump owned from 1996 to 2015.




"And you'd be okay with him dating your daughter?" Stern asked.




"I think he's great," Trump said. "He's 25 years old. He's Mr. All-American."




"Is he dating your daughter?" Stern asked.




"Well, it could happen. I mean, he'd like to, and we'll see," Trump said, noting that Brady was "focused now on the football stuff."
.

October 2004: Trump says Brady would "make any father-in-law proud"
Playboy asked Trump about Ivanka's reaction to his trying to make a match between her and the Patriots quarterback. He suggested he was just teasing his "friend" Tom, but made it clear that he thought they'd be great together.
How did she feel about your remarks on Howard Stern's radio show that New England Patriots quarterback Tom Brady is the only man good enough for her?




I kid Tom, but he's a friend of mine. I think he's a great character. I got to know him when he was a judge at a jitterbug contest I entered after the Patriots won the Super Bowl. He's a winner, and by that I mean every time he needs to make the pass he makes it. You have other guys in the NFL and in life who have all the equipment but don't make the pass. I think Tom's a great guy, and I think he and Ivanka would make a great combination.




What does Ivanka think?




My daughter has a boyfriend and she's happy with him, but Tom Brady would make any father-in-law proud.
.

2009: Trump warns Kushner that Brady is after Ivanka … but he'd just gotten married
In Breaking History, Kushner says that Trump delivered his warning a "few months" before he asked for Ivanka's hand in marriage. The two got engaged in July 2009. (In an interview with Intelligencer days later, Ivanka gushed about her fiancé and said they had no plans to work together, as "it's healthy to have a separation in our interests.") That means the Trump-Kushner conversation happened in spring, months after Brady married supermodel Gisele Bündchen. The couple got engaged in January 2009 and planned their wedding in a matter of days. They got married in a private ceremony on February 26. The news of their nuptials was widely reported at the time, so it's unclear why Brady's very good pal Trump still thought his daughter had a shot with him.
.

2017: Ivana says her daughter had no interest in Tom Brady
In her 2017 book Raising Trump, Trump's ex-wife Ivana suggested that her daughter was never onboard with her father's matchmaking.
"[Ivanka] preferred to keep her personal life to herself," Ivana wrote. "At one point, Donald wanted her to date Tom Brady, the quarterback. He said, 'You have to meet him!' But Ivanka wasn't into it."
.

2020: Brady says he never pursued Ivanka
Brady, who's been making a habit of disappointing Trump in recent years, clarified in an interview that April with Stern that he and Ivanka never even dated.
"Trump always dreamed of you marrying Ivanka, and he told me he suggested it to you, but did you ever go out with her?" Stern asked.
"That was a long time ago in my life, so … No, there was never that where we ever dated or anything like that," Brady replied, after some awkward laughing.
After some cross talk, in which Brady seemed to suggest that he would not arrange dates for his own daughter, Stern pressed him on whether Trump had actually tried to set him up with his daughter.
"I don't know if that's — he never suggested that to me," Brady replied. "I need the tape on that."
.

2016–2020: Trump uses nonexistent relationship to taunt Kushner … and Brady
The public record shows pretty clearly that the only person pulling for a Tom Brady–Ivanka Trump romance was Donald Trump. And Trump likes his actual son-in-law enough that he hired him as a White House adviser, along with Ivanka, and gave him an absurdly large portfolio. But it seems that whenever Kushner got on his bad side, the president would mock him over his wife's totally imaginary relationship with the football star.
In July 2018, the New York Times reported that people in the president's orbit had heard him quipping that he could've had a more spectacular son-in-law:
Several times Mr. Trump joked that he "could have had Tom Brady" as a son-in-law. "Instead," the president said, according to five people who heard him, "I got Jared Kushner."
In March 2019, the paper reported that Trump had also disparaged Kushner to Patriots owner Robert Kraft:
He would joke that Ms. Trump could have married Tom Brady, the quarterback for the New England Patriots, and once joked to Robert K. Kraft, the team's owner, that "Jared is half the size of Tom Brady's forearm."
And to top it all off, Trump has also reportedly poked fun at Brady for his failure to win over a woman he never wanted to date in the first place. In a 2019 appearance on the Daily Beast's Omnishambles podcast, former Trump campaign adviser Jason Miller recalled a birthday voice-mail Trump left for Brady in August 2016.
Miller said the first 30 seconds of the message were "pretty conventional," with Trump praising Brady for being the greatest football player of all time. Then Trump said, "There was only one thing you weren't able to do," catching Miller's attention.
"And he's like, 'Ivanka chose Jared. That's the only thing that you weren't able to win at,'" Miller said.
Miller made it clear that this was just lighthearted ribbing, but still — what did Tom Brady ever do except be attractive and ignore his pal's weird public campaign to make him his son-in-law?