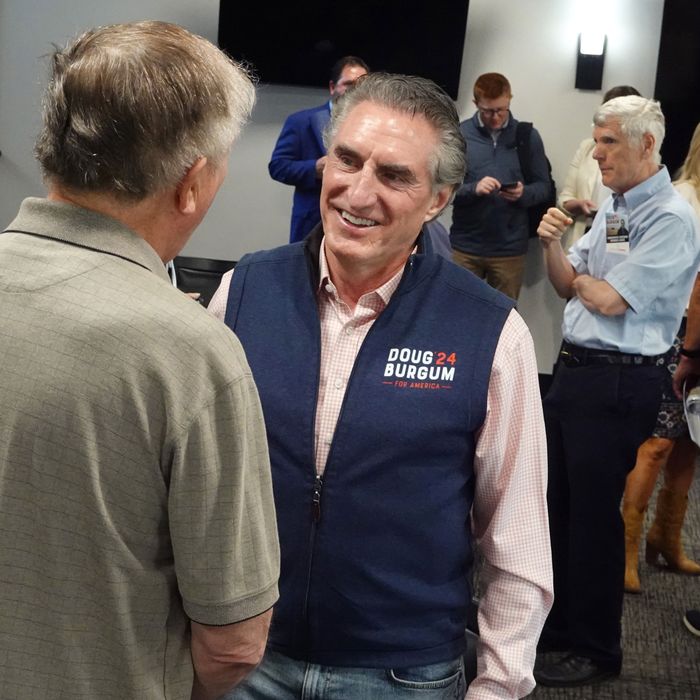 Photo: Scott Olson/Getty Images
Here's a hot deal you won't find on any list of Amazon Prime Day sales: You can earn $19 by becoming a Doug Burgum donor. All you have to do is give at least $1 to the Burgum campaign, and he'll send you a $20 gift card.
I'm sure you have a lot of questions about this technically free yet morally tainted money, so allow me to explain.
Who the heck is Doug Burgum?
He's one of the 13 people running against Donald Trump for the 2024 Republican presidential nomination. He's a technology billionaire and the governor of (checks notes) North Dakota.
That doesn't sound like someone I want in the White House. What does Burgum even stand for?
The New York Times reports that his campaign is "less focused on social issues and more on his business background and fiscal stewardship of the state, which included cuts to both …" blah, blah, blah. For our purposes, you just need to know it's extremely unlikely that he'll win the nomination, and he's loaded.
Why is Burgum doing this?
Last month, the Republican National Committee announced that to qualify for the first presidential debate on August 23 in Milwaukee, Wisconsin, candidates must hit at least one percent in a series of polls and have a minimum of 40,000 unique donors. Like many of the GOP long shots, Burgum may struggle to hit those polling numbers, but he's hoping this gift-card scheme will help him buy his way onto the debate stage.
He just came out and admitted that?!
Well, no. He's framing these payouts as a way of combatting so-called "Bidenflation."
How much will this cost the Burgum campaign?
$950,000 if all 50,000 "grassroots" donors give just $1.
So how exactly does this work?
Burgum told incredulous Twitter users that payments will be delivered to donors in the form of a Visa or Mastercard gift card sent to their mailing address.
Is this even legal?
Maybe not! Campaigns have been offering donors non-cash incentives — from lawn signs to books to "Let's Go Brandon" wrapping paper — for ages. But sending donors cash is new. Politico talked to several campaign finance lawyers, and they were divided on the legality of Burgum's scheme:
Paul S. Ryan, a longtime campaign finance and ethics lawyer, said the plan raised concerns that Burgum was effectively acting as a straw donor — a person who makes the contribution in the name of another, which is illegal.




"It sounds like this candidate is using these individuals as straw donors to make it look like he has a bunch of campaign donors when in fact, he's coaxing these contributions by reimbursing donors out there money that really, at the end of the day, is the candidate's money," Ryan said.
But that's a problem for the Burgum campaign. While there's a risk you won't actually get the gift card, you're not going to go to jail for sending an obscure presidential candidate $1.
Isn't this, like, bad for our democracy or something?
On the one hand, yes, letting a billionaire almost literally buy his way onto the Republican debate stage doesn't seem great. On the other hand, Doug Burgum is far from the biggest threat facing our political system at the moment. So you just have to ask yourself what you're willing to do for a cool $19.