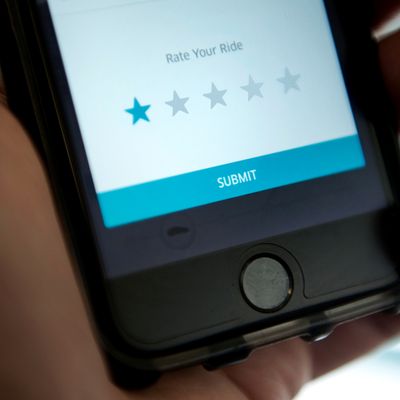 Photo: BRENDAN SMIALOWSKI/AFP/Getty Images
If you live in an American city, and have disposable income, Uber has likely revolutionized how you get around. The app, which more or less invented — and now dominates — the smartphone-ride-hailing business, made getting a cab easier and more pleasant (and in some cities cheaper) than ever before; from design to functionality, the company represents, in many ways, the hopes and promises of a generation of start-ups.
It also represents the pitfalls and dangers of taking the move-fast-and-break-things approach to corporate and regulatory culture. Over the last few weeks, the company has faced allegations of sexual harassment, a lawsuit over stolen technology, and a secret dashboard video of CEO Travis Kalanick losing his temper at a driver. The nonstop barrage of accusations and revelations has clearly shaken Kalanick — and investors. On Tuesday, Kalanick announced he is seeking a new chief operating officer, a "peer who can partner with me to write the next chapter in our journey," Kalanick wrote on the company blog. Translation: An executive, ideally a woman, who can run a company without the baggage.
About that baggage: Uber's issues didn't just pop out of nowhere. To those in the technology industry, the company has long been known for its "asshole culture"; and its frequent clashes with drivers, riders, law enforcement, and local government have made it either a disruptive hero or an arrogant villain, depending on who you talk to, and how badly they need a ride. Either way, there's no question that Uber has been pushing the limits of acceptable corporate behavior for a while.
None of this means that Uber is on its way out. The company is still well-funded by investors, and has — by a long shot — the largest and most comprehensive network of riders and drivers in its category; as Recode's Johana Bhuiyan pointed out yesterday, Uber's market share is so large, it will be hard for competitors like Lyft to take advantage of Uber's recent stumbles. But at the same time, there's no guarantee that Uber would make it through the next decade intact, even if it can right the ship — as the transportation-industry expert Hubert Horan convincingly argued last year, it's unclear if Uber can be sustainably operated without the "subsidies" offered by its investors.
This is the problem, in a nutshell: As an app in your phone, Uber is perfect — well-designed, genuinely helpful, a breeze to use. As a company, though, it's a lot more complicated. To get a sense of how Uber put itself in this position, we've created a timeline of its seven-year history, tracing the many warning signals that not all was right in its corporate culture. This list is by no means exhaustive (especially with regards to the growing number of people who have been, and claim to have been, assaulted, harassed, and endangered by drivers), but it makes for some decent context if you find yourself reading about everything going down at Uber in 2017, and thinking, Now, how did we get here exactly? (Editor's note: This post initially charted Uber's history from inception to March 2017. It has since been updated to reflect the company's ongoing saga through June 2017.)
June 2010: Uber (then known as UberCab) launches in San Francisco as a luxury black-car, on-demand service. A ride costs about 1.5 times as much as taking a traditional cab.
October 2010: California issues a cease-and-desist order to the newly launched UberCab. Penalties for continued operation include fines of up to $5,000 for each UberCab hailed, and jail time calculated based on the number of days UberCab remained operational after receiving the C&D.
October 2010: UberCab changes its name to Uber.
May 2011: Uber arrives in New York City.
September 2011: At the launch of Uber Chicago, guests are treated to a screen showing — without their permission — the location of "known people" using Uber in New York. Investor Peter Sims, who got a text from a friend at the party who knew his exact whereabouts, would go on to write a Medium post about the experience in 2014.
December 2011: Uber goes international, launching its first cars in Paris.
January 2012: Uber riders are enraged after the company charges up to six times the normal fare for rides on New Year's Eve, as part of its surge-pricing model. Even though the company had made it very clear in advance that surge pricing would be in effect — given the busy nature of the night — for many customers, this was the first time they experienced the full effects of Uber's dynamic pricing model.
March 2012: Uber shares a blog post using rider data to analyze people taking "Rides of Glory," Uber's on-demand economy version of the Walk of Shame. The company, in a now-deleted blog post, tracked people who requested rides from 10 p.m. to 4 a.m. on Fridays and Saturdays, and then requested a second ride hours later from the same place they were dropped off earlier in the evening.
July 2012: Uber introduces UberX, which allows almost anyone with a car who can pass a background check to drive for Uber. An UberX ride is 35 percent cheaper than a ride in a "regular" Uber car (later rebranded UberBlack), and longtime Uber drivers express frustration at lower rates and increased competition.
November 2012: Hurricane Sandy hits New York City, wiping out most public transportation options and driving up Uber demand. With the increased demand, Uber prices surge to twice the usual fare rate, causing some to accuse the company of price gouging during an emergency. The company responds by dropping the fare to the normal rate, while continuing to pay drivers two times the rate.
August 2013: Uber launches in India and Africa.
September 2013: Bridget Todd, a writer and activist, tweets at Uber claiming her driver, "David E," choked her for kissing her "white husband." Police arrive at the scene, but no arrests are made. Uber later issues a statement standing behind the driver, claiming that Todd and her husband were intoxicated (something Todd admitted in her tweets before making her account private), and that the situation only escalated after Todd refused to take her feet off of the seats. Leaked internal emails would later show Kalanick wanting his staff to "make sure these writers don't come away thinking we are responsible even when these things do go bad," and blaming journalists for making Uber "somehow liable for these incidents that aren't even real in the first place."
December 2013: Attorney Shannon Liss-Riordan files the first documents in a case against Uber, on behalf of over 350,000 current and former Uber drivers in California and Massachusetts. The suit argues that Uber drivers should be classified as employees, not independent contractors, meaning the company should be responsible for providing things like benefits, meeting the minimum wage, and reimbursing drivers for expenses. It will be two years before a judge rules the case can move to a jury trial.
January 2014: Valleywag reports that top Uber staff in New York City are creating accounts on Gett to call and cancel rides on the rival app. After canceling a number of rides, much to the frustration of the Gett drivers, Uber then attempted to poach those drivers to come work for Uber, instead of its competitor.
February 2014: Travis Kalanick does an interview with GQ, in which he refers to his company as "Boob-er" after the writer asks him about his rising popularity with women. "He [Kalanick] deflects [the writer's question] with a wisecrack about women on demand: 'Yeah, we call that Boob-er.'" Also in the interview, Kalanick, copping a line from Charlie Sheen, says, "that's hashtag winning"; he also says he'd rather be spending time at posh hotels in Miami than working with local authorities to cooperate with limo laws. (Fair enough!)
June 2014: Following allegations of a San Francisco driver assaulting a passenger and calling him a "dirty Mexican faggot," PandoDaily reports the driver in question had served time in prison for a felony conviction. Despite his criminal record, the driver still passed Uber's background check. The company initially said it would temporarily ban the driver, but later, following Pando's story, revoked his privileges entirely.
July 2014: District attorneys from San Francisco and Los Angeles send a letter to Uber (and Lyft and Sidecar), threatening legal action if the company doesn't change its process for vetting drivers, and calling the existing model "a continuing threat to consumers and the public." "The district attorneys told all three companies that they misled customers by claiming their background checks of drivers screen out anyone who has committed driving violations, including DUIs, as well as sexual assault and other criminal offenses," SFGate reported at the time. "The district attorneys say that's patently untrue."
August 2014: UberPool launches, allowing people to carpool with other riders headed to geographically close destinations for a significantly reduced rate.
August 2014: The Verge reports that, in a move similar to the one it reportedly used against rival app Gett in January, Uber used a group of independent contractors with burner phones to call and cancel thousands of rides with Uber's rival Lyft.
October 2014: Uber's office in Lyon, France, comes under fire for a promotion with an app that promised to match riders with attractive women as drivers. The app's name, "Avions de Chasse," literally translates to "fighter jets," but is also a slang term meaning "hot chicks." Uber's post about the partnership was deleted after a single day.
November 2014: Emil Michael, Uber's senior vice president of business, suggests that the company hire a team to do opposition research on journalists who are critical of Uber, in order to expose their secrets and "give the media a taste of its own medicine." The comment, which was made at an invite-only dinner hosted by Kalanick — and which Michael believed to be off the record — followed an October 2014 piece from Sarah Lacy, the editor of tech site PandoDaily, in which Lacy explained the "asshole culture" of Uber, and why she was deleting the app.
May 2015: Several months after opening a research facility in Pittsburgh and announcing a partnership with Carnegie Mellon, the Verge reports Uber poached 50 top employees from Carnegie Mellon's National Robotics Engineering Center.
June 2015: The California Labor Commission rules that Uber drivers are employees, rather than contractors. (The decision is not a direct effect of the California and Massachusetts class-action suit launched in 2013.)
June 2015: French taxi drivers attack alleged Uber drivers in Paris amid unrest between the two industries. Protestors are motivated by Uber's low fare rates and flexible hours hurting their business, calling Uber's model "economic terrorism."
April 2016: Uber settles two class-action lawsuits over labor practices with hundreds of thousands of current and former drivers in Massachusetts and California. The company agreed to pay a settlement of $100 million. A few months later, a federal judge would deem the settlement "not fair, adequate and reasonable," and throw it out.
May 2016: Uber ends service in Austin, Texas, after it fails to overturn a city rule with stringent guidelines, including fingerprint-based background checks for drivers. Uber (and competitor Lyft) spent $8.6 million in Austin trying, unsuccessfully, to get the rule changed.
July 2016: After losing a long fight to win the market, Uber's main competitor, Didi Chuxing, purchases Uber's Chinese business. Uber lost a reported $2 billion trying to defeat Didi in China before the sale.
August 2016: Uber drivers in Kenya strike after the company slashes fare rates by 35 percent to stay competitive.
September 2016: An Uber emergency-hotline operator allegedly laughed and hung up when New York man Kevin Ko called to report he had been assaulted by his driver. Ko claims he was "sexually assaulted, advanced and forced without consent," saying his driver made him touch his erect penis twice. Uber later banned the driver in question.
November 2016: Uber settles a sexual-assault lawsuit in California related to accusations against drivers.
December 2016: Former Uber forensic investigator Ward Spangenberg sues the company, alleging age discrimination and whistle-blower retaliation. In his filings, Spangenberg claims it is still frighteningly easy for Uber staff to access passenger information via the company's "Heaven View" map, a new name for the company's controversial "God View" map, which made headlines after employees allegedly used the tool to stalk VIP users.
December 2016: Travis Kalanick, along with Tesla CEO Elon Musk and PepsiCo CEO Indra Nooyi, announces he'll be joining President Trump's economic-advisory council.
December 2016: Uber launches its autonomous car program in San Francisco, only to have the state DMV declare it illegal. A week later, Uber ends the program, saying the DMV revoked the company's car registrations, forcing Uber to look for other locations to test its self-driving cars.
Jan 23, 2017: A depressing report from Bloomberg dives into Uber's driver culture in California, where drivers are known to sleep in their cars to maximize earnings. By staying overnight in their vehicles, drivers don't have to leave areas where fares are higher.
January 30, 2017: A campaign to #DeleteUber reaches its peak, after the company publicly announces it would turn off surge pricing, amid protests at JFK Airport following the announcement of Trump's travel ban. While this is Uber's standard move in times when surge pricing would be seen as gouging people in need, many people took Uber's pricing declaration to be scabbing, particularly since the New York Taxi Alliance called for a temporary boycott of JFK pickups following the ban announcement.
February 2017: Uber drivers in several cities throughout India strike in protest of falling fare rates and decreased driver incentives.
February 2, 2017: Travis Kalanick announces he is leaving Trump's advisory council. "Joining the group was not meant to be an endorsement of the President or his agenda but unfortunately it has been misinterpreted to be exactly that," Kalanick wrote in an email to Uber staff explaining his decision.
February 19, 2017: Ex-Uber engineer Susan Fowler publishes a damning blog post detailing the alleged gender discrimination she faced during the year she worked for the company. Her story — including being solicited for sex by a colleague; and being told by HR that because she frequently lodged formal complaints, she must be the root of her problems — prompted Travis Kalanick to meet later in February with 100 of the company's female engineers, who told him gender discrimination is a "systemic problem" at Uber.
February 23, 2017: Waymo, Google's self-driving-car company, files a lawsuit against Uber. The suit claims Uber stole Waymo's designs for a laser-scanning detection system, a product used by autonomous cars to read the road. The crux of the suit involves ex-Google engineer Anthony Levandowski, who founded Otto, a self-driving-truck company, which Uber acquired in 2016. Levandowski allegedly stole data and documents from Google in January 2016 before leaving the company to found Otto, later bringing that stolen technology with him to Uber, after his company was purchased.
February 27, 2017: Amit Singhal, Uber's SVP of engineering, is forced to resign, after it is revealed that he did not disclose allegations of sexual harassment, which had been levied against him during his time working for Google prior to joining Uber.
On the same day, the Verge publishes a series of emails showing that Uber ignored the California DMV's attempts to help the company get proper permits for its self-driving cars, before launching, disastrously, in San Francisco back in December 2016. Despite the DMV's classifications, Uber repeatedly insisted its self-driving cars technically weren't autonomous. (The program was later moved to Arizona, where laws surrounding autonomous vehicles are less strict.)
February 28, 2017: Video surfaces of CEO Travis Kalanick arguing heatedly with an UberBlack driver over decreasing fares over the past few years. The driver, Fawzi Kamel, tells Kalanick that changing Uber's pricing forced him to declare bankruptcy. Kalanick ends the conversation saying, "Some people don't like to take responsibility for their own shit," before slamming the car door and exiting Kamel's car. "They blame everything in their life on somebody else. Good luck!" Hours after the video was published by Bloomberg, Kalanick released a statement on Uber's blog, apologizing and announcing that he'd be seeking "leadership help" and needs to "grow up."
March 2, 2017: Uber decides to apply for autonomous-vehicle-testing permits from the California DMV after all. Permitted vehicles are required to report every time the self-driving technology is shut off and the driver is forced to take control of the vehicle. (This is likely the reason Uber resisted getting the permits initially.)
March 3, 2017: News breaks about a secret software called Greyball, which Uber used to tag, and sometimes track, officials who might hurt the company's business. For example, local officials and law enforcement in cities where Uber had legal troubles were identified using geofences, burner-cell-phone-number records, and credit cards. If one of these tagged people attempted to hail a ride, Uber would use Greyball to show them a fake version of the app, complete with nonexistent cars that would never pick them up. The program, known within the company as VTOS, or "violation of terms of service," has been in effect since 2014.
On the same day, Ed Baker, Uber's VP of product and growth, resigns after three years at the company. The resignation, according to a report from Recode, follows some allegedly questionable behavior on Baker's part, including having consensual sex with another employee.
March 7, 2017: Kalanick announces Uber is conducting a search for a new chief operating officer, describing the role as "a peer who can partner with me to write the next chapter in our journey." Sources inside the company say a female COO would be preferred.
March 9, 2017: Uber announces it will no longer use its tracking software — Greyball — to label and track officials who might slow the company's business. On its blog, the company explained that Greyball was used for a number of purposes, including "the testing of new features by employees; marketing promotions; fraud prevention; to protect our partners from physical harm; and to deter riders using the app in violation of our terms of service." In May, the Justice Department announces it is conducting a criminal probe into the company over the alleged tracking.
March 20, 2017: After just six months on the job, Uber's president, Jeff Jones, resigns his position. His exit was reportedly spurred by the string of scandals and bad press plaguing the company.
March 22, 2017: In an attempt to hire a female engineer who said she was not interested, an Uber recruiter tried to sway her by insisting that the ride-hailing company's alleged problems are the same at every tech company. "I just want to say that sexism is systemic in tech and other industries," the recruiter said in a DM, which the engineer, Kamilah Taylor, later tweeted.
March 25, 2017: Travis Kalanick's ex-girlfriend, professional violinist Gabi Holzwarth, tells the press that back in 2014, she and several Uber employees, including Kalanick and Emil Michael, visited an "escort-karaoke bar" in South Korea. One of the female employees present reported the incident to Uber's human-resources department, a report the company said had been forwarded to Eric Holder as part of his review.
April 12, 2017: Uber's senior vice-president of global public policy and communications, Rachel Whetstone, announces her resignation. "I joined Uber because I love the product — and that love is as strong today as it was when I booked my very first ride six years ago," Whetstone said of her departure.
April 13, 2017: The Information uncovers another secret tracking software used by the company. Known as "Hell," the program was shut down at the beginning of 2016, but prior to that, Uber used Hell to monitor which drivers were cross-dispatching — industry speak for driving for both Uber and Lyft. Later in the month, former Lyft drivers launch a lawsuit against Uber over the software.
April 21, 2017: Uber board member Arianna Huffington sends an internal email announcing that the independent review of Uber's alleged sexual-harassment problem being conducted by U.S. Attorney General Eric Holder will be delayed. Holder and his associates reportedly asked the company for more time to complete a thorough report. Meanwhile, 19 Uber dudes and 1 Uber woman spray-painted a wall in San Francisco with the hashtag #UNDELETE. The graffiti was, apparently, an attempt to get disgruntled users to re-download the app.
April 24, 2017: News breaks that back in 2015, Uber used secret codes to tag and track iPhones even after phone owners had deleted the app. The program was most predominant in China, where the company reportedly used the codes to keep drivers from signing up for multiple accounts by using different email addresses, gaming the system to earn more new-driver incentives.
April 27, 2017: As the Uber-Waymo lawsuit heats up, the ex-Googler at the heart of the case, Anthony Levandowski, voluntarily steps down from his role as head of the company's self-driving unit, effectively removing himself from any involvement with LiDAR technology. Several weeks later, a judge ruled that Uber had to return all of the allegedly stolen files to Google, to which Uber's attorney sent Levandowski a letter, saying he could be fired if he didn't do everything he could to help Uber.
May 30, 2017: Uber fires Anthony Levandowski. The ex-Google engineer — and now ex-Uber engineer — pleaded the Fifth and refused to testify in the Uber-Waymo case.
June 5, 2017: Uber makes two high-profile female hires: Frances Frei, from Harvard Business School, to act as the company's first SVP of leadership and strategy, and Bozoma Saint John, formerly an Apple Music exec, as chief brand officer. The news is timely, given details from Uber's sexual-harassment probe are also expected this week.
June 6, 2017: The company fires multiple employees following an internal investigation conducted by Perkins Coie. (This investigation is separate from the probe conducted by former U.S. Attorney General Eric Holder. Details from that report were also presented this week, but only to Uber's board members.) Of the 215 claims the firm investigated, 100 were thrown out and at least 20 people were terminated as a result.
June 7, 2017: Eric Alexander, formerly president of business in Asia Pacific, is fired for obtaining and sharing the medical records of an Uber passenger who was raped in India by her driver. (Alexander and others at Uber apparently believed that the rape might have been falsified by Ola, an Uber competitor in India, to hurt business.) Alexander reportedly showed the records to a number of Uber executives, including Travis Kalanick. Alexander was not among the 20 who were fired as a result of the investigation, but rather, only lost his job after journalists from Recode started asking questions.