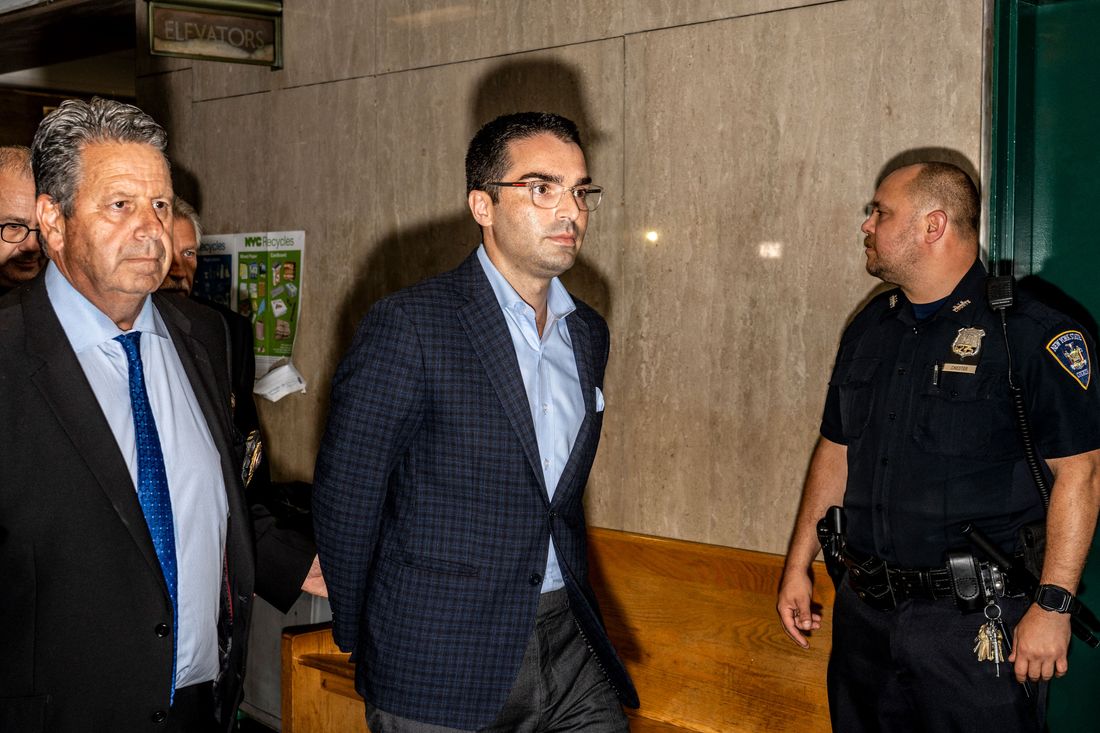 Eric Ulrich going into court on Wednesday to face a slew of bribery charges brought by prosecutors over his time in the Adams administration.
Photo: Mark Peterson
This article was featured in One Great Story, New York's reading recommendation newsletter. Sign up here to get it nightly.
Eric Ulrich adjusted his pocket square and looked straight ahead for the cameras. As a public official — first as a city councilmember, then as a senior adviser to Mayor Eric Adams, and finally as commissioner of the Department of Buildings — he knew all about photo ops, ever ready to deliver a sharp sound bite in his dry Queens accent. But on Wednesday, inside Manhattan criminal court, he uttered just two words: "Not guilty."
Ulrich, 38, was arraigned on charges brought by District Attorney Alvin Bragg's office that he accepted $150,000 worth of bribes. It was the result of a yearslong investigation into organized crime, including an underground casino where Ulrich gambled with several co-defendants. Ulrich is accused of using his position as a top aide to Adams to pull strings for his friends, who allegedly paid him with thousands in cash, Mets tickets, a discounted seaside apartment, and more. "Eric Ulrich monetized each elected and appointed role that he held in New York government," Bragg said at a press conference. "Rather than serving the public, he used his roles to benefit himself and his friends."
Ulrich and his co-defendants, five of whom pleaded not guilty, also worked together to raise hundreds of thousands of dollars to elect the mayor. Their efforts afforded some of them remarkable access to Adams and his staff, including face-to-face meetings. When Adams was asked about the investigation this summer, he claimed he didn't know about it or Ulrich's pals who hosted fundraisers for him. "If you ask me, did I know everyone who came or hosted an event or what have you? No. I don't know everyone that hosts events," he said. "I don't know their names, I don't know all their faces."
Though not charged, Adams and his advisers featured throughout the indictments — and an explosive story over the summer reported that the mayor tipped Ulrich off to Bragg's investigation last year. Ulrich's relationship with the mayor runs deep, and this case may ultimately provide the most detailed look at how, time and again, Adams finds himself surrounded by people embroiled in scandal or, with increasing frequency, the subject of criminal investigation. Selecting Ulrich, a chronic gambler with friends in organized crime, to lead the Buildings Department — an agency historically dogged by suggestions that it has ties to the mafia — was potentially the most alarming personnel decision the mayor has made, bringing prosecutors and alleged mobsters uncomfortably close to his administration.
As much as any city councilmember, Eric Ulrich was cut from the cloth of the area he represented, and, in southern Queens, organized crime was part of the patchwork. Gambino crime boss John Gotti's unofficial headquarters, the Bergin Hunt and Fish Club, was in Ozone Park, not far from Robert's Lounge, the dive bar where Lucchese associates hashed out their plan for the Lufthansa heist, as famously reenacted in Goodfellas. Raised by his Italian American grandparents as a devout Catholic, Ulrich flirted with the priesthood, attending a seminary high school. Instead, he answered another higher calling: politics.
A week after his 24th birthday in 2009, Ulrich won a special election to the City Council, mainly representing Ozone Park, Howard Beach, and the Rockaways. "Even though he was a conservative Republican, I liked him from the jump," said Jimmy Van Bramer, the Democratic former City Council majority leader, who became close friends with Ulrich. "For a kid that young to be so talented, there was something special about him. Part of his success came from how he was raised and the gifts he was born with. Tough, smart, savvy — I think that was part of Eric's skill as a politician." That swagger would attract television producers behind Showtime's The Circus and VH1's Mob Wives, who followed Ulrich around for a month for a potential show about the City Council, though it never got made.
Ulrich's former staffers say that he won over skeptics by taking constituent work seriously; he tracked down a deceased constituent's relative so she wouldn't be buried in a pauper's grave on Hart Island and organized Hurricane Sandy relief efforts moments after his daughter was born.
Some of those constituents included wise guys. In 2011, Ulrich wrote a letter of support for William "Old Man Willy" Pazienza, a soldier in the Gambino family who pleaded guilty to trafficking women from Eastern Europe into New York strip clubs under the protection of the Gambinos and Bonannos. "I have known the defendant for the past seven years and consider him a personal friend," he wrote to the judge on his City Council letterhead. In 2017, Robert Pisani, owner of a Howard Beach bagel shop and an alleged Bonanno family associate, pleaded guilty to collecting gambling debts as part of a $26 million loan-sharking operation. Ulrich vouched for him too. "Mr. Pisani is a kind person, devoted family man and a selfless individual," he wrote.
Before he was 30, Ulrich established himself as a political connector between Republican candidates and Queens leaders and power brokers. Often, he held court at Aldo's, a pizzeria in Ozone Park where he brought Joe Lhota to stump for mayor in 2013. "Eric had an enormous amount of energy, knew everybody in the southern part of Queens, and in a campaign that's an important thing to have," Lhota said. In 2018, Ulrich brought gubernatorial candidate Marc Molinaro to Aldo's, where he made pizza while the restaurant's new owners, Joe and Anthony Livreri, took photos. Aldo's was something of a hangout for Ulrich, who was friends with the Livreris, and the city councilman would hire Joe to a part-time position on his staff in 2020. Both Livreri brothers would emerge as key figures in the DA's investigation. Ulrich would also spend time at Aldo's with Mike Mazzio, the owner of a Brooklyn tow-truck firm who was fresh off being indicted alongside 16 others for allegedly price-fixing towing jobs around the city.
When the Brooklyn borough president Eric Adams began eyeing a bid for mayor, he came to rely on Ulrich's connections in Queens. The two struck up a relationship over meetings at Aldo's, and Ulrich introduced Adams to southern Queens civic leaders and high-dollar donors. In December 2019, Adams attended a fundraiser at Aldo's hosted by Ulrich, the Livreris, and Mazzio that raised more than $16,350 for his mayoral campaign. Mark Caller, a Brooklyn-based real-estate developer, pitched in $1,000.
Months later, as the pandemic set in, Ulrich drank at the bar at Aldo's two or three days a week, and Joe Livreri soon invited him to play cards at a space he'd set up in Ozone Park on 101st Avenue. Though the building was inconspicuous, everyone in the neighborhood knew it had previously been the headquarters of Ciro Perrone, a capo in the Genovese family, who would sunbathe on the sidewalk in plain view of federal agents. In 2020, years after Perrone died, Livreri renovated the space as a private "social/soccer club," according to business records. Inside, the front looked like any other bar or café, but in the back was a room full of slots and video poker machines. Downstairs, ergonomic chairs surrounded high-end card tables.
Ulrich, who was in his third and final term as a city councilmember in 2020, would later admit to going to the illegal casino during interviews with the DA's office, according to people familiar with the sessions. But he claimed that he'd merely played Rumino, an Italian variant of gin rummy, on Monday nights with the Livreris, Mazzio, and others. Still, Ulrich told prosecutors that he'd witnessed dozens of people playing high-stakes Texas Hold'em in the club's basement. (Joe Livreri didn't respond to requests for comment. Anthony, asked at Aldo's about the casino allegation before his arraignment, told me that it was his "cousin who was caught up in all of that.") Ulrich told prosecutors that he stopped going to the casino in May 2021.
Two months later, after Adams won the Democratic primary, he went into overdrive to raise money. On August 8, Ulrich, the Livreri brothers, and Mazzio again joined forces, throwing a fundraiser for Adams at Russo's on the Bay in Howard Beach. Tickets cost $1,000 apiece. The event was a smash, raising nearly $160,000 for Adams. Two days later, Adams attended a fundraiser on the rooftop of the Brooklyn headquarters of the Marcal Group, Caller's development firm, which raised $47,050.
Ulrich and his southern Queens crew ended up doing more for Adams than he ever did for fellow Republicans, raising hundreds of thousands for the would-be mayor. "I think Eric was pursuing opportunities and he had access to donors who wouldn't have normally contributed to a Democratic mayoral candidate," said one former staffer. "He picked a horse and stuck to it. Adams wasn't a sure bet, and Eric didn't know if that would lead to him becoming a commissioner."
Ulrich's loyalty paid off. A month after Adams was elected, he went to Aldo's and met again with Ulrich, the Livreri brothers, and Mazzio. A week later, the mayor-elect named Ulrich as a senior adviser. Little did Ulrich know that two days after the election, investigators had tapped his phone.
Almost as soon as Ulrich started working for Adams, he allegedly began accepting bribes. In January 2022, according to prosecutors, Ulrich discussed with the Livreris and Mazzio how he might get Mazzio exclusive city towing contracts and resolve licensing issues for his company. A few weeks later, Ulrich allegedly called the head of the Department of Correction and urged him to hire Mazzio's daughter. In return, Mazzio is accused of paying him back with, among other things, a premium Mets ticket package. (Around the same time, Ulrich allegedly took $3,600 from Victor Truta, a former corrections officer, in exchange for getting Truta's family members city jobs.)
Then in February, Anthony Livreri called Ulrich in a panic. Health inspectors had visited Aldo's and found a raft of violations, including evidence of mice. Inspectors evaluate restaurant safety using a system where 28 points or more can result in a grade-C rating and closure — Aldo's earned 46 points, according to city records. "I need fucking help," Anthony pleaded. Ulrich then allegedly reached out to a number of high-level city officials, including Adams's chief adviser. "The mayor's favorite restaurant in Queens got shut down tonight by the Department of Health," he told one official. Three days later, Aldo's received a reinspection, earning just nine points and a grade-A rating.
Ulrich is accused of doing other illegal favors for the Livreris. In March, the brothers allegedly asked him to help rescind a city order to vacate the Fortunato Brothers Bakery in Williamsburg after a fire temporarily shut the business down. (The bakery's owner was twice convicted of participating in a 1994 killing by Genovese hit men, but both verdicts were overturned on appeal.) With Ulrich's help, prosecutors say the bakery quickly reopened.
Hitting Ulrich up came at a price, prosecutors said: Since 2017, he solicited and received tens of thousands of dollars from Mazzio, the Livreris, and others, doled out a few hundred at a time, then turned around and gambled with some of those alleged bribes at Livreri's casino.
Caller, the Brooklyn real-estate developer, was also quick to contact Ulrich after he started working in City Hall. "I just need your help," he said on a February 2022 call. "There's millions and millions of dollars … that many, many partners that have been waiting, you know, for the administration to change … Now I need City Planning and you to help me." He asked Ulrich to get the city to approve the rezoning of a development on 115th Street in Rockaway Park. Later, Ulrich said that he would call the City Planning director about "a couple of projects that are the Mayor's agenda." Following a meeting between Adams, Caller, and Ulrich, he texted the planning director Caller's contact information, and the two scheduled a meeting.
At the same time, Ulrich phoned Caller and said he needed a new place to live. Caller allegedly gave Ulrich a $30,000 discount on a two-bedroom apartment his company owned, paid the closing costs, and threw in a free parking spot. While they were negotiating the apartment, prosecutors say Caller asked Ulrich to shut down a homeless shelter near the 115th Street development. "We're going to send Buildings Department and Fire Department this week, and there's a good chance they may vacate the building," Ulrich replied, though the effort was unsuccessful.
In late April, just before taking over the Buildings Department, Ulrich seemed to get nervous. "I have to be a little bit more careful because I can't be conflicted," he told Caller, directing him to use an intermediary in the future.
On May 3, 2022, Ulrich was sworn in as commissioner, officially putting him in charge of the inspection and safety of the city's 1.1 million buildings. Three days later, he joined Adams at a Bronx jobsite to address a few dozen workers for Construction Safety Week. After some public remarks, Adams pulled Ulrich aside and asked him to hand his cell phone over to a member of the mayor's security detail, according to multiple people familiar with the conversation. Then Adams said that "a little birdie" had told him that a friend of Ulrich's was being investigated and indicated that Ulrich was under surveillance. "Watch your back and watch your phones," the mayor warned.
Ulrich later told investigators that he'd informed Livreri about the probe almost immediately. Three days after Adams's tip-off, according to court papers, Ulrich met with Mazzio and another friend who'd played cards at Livreri's casino at a Queens diner. Before they talked, they deposited their phones on a windowsill ten feet away. It wasn't the only precaution Ulrich took once he knew he was under investigation. According to authorities, Ulrich spoke in "coded conversations" with Paul Grego, who was allegedly trying to get a liquor license for his client. They were recorded discussing a painting by the last surviving apprentice of Salvador Dalí that Grego allegedly gave Ulrich in return.
One morning in early November, the DA's investigators finally moved in. They raided Livreri's casino and swarmed Ulrich as he left his Rockaway apartment building, confiscated his phone, and told him he was wanted for questioning downtown. The next day, Ulrich sat for the first of two interviews in which prosecutors revealed they had been listening to his phone conversations for the past year.
Many of their questions were focused on organized crime. They asked about Fortunato Brothers Bakery and if Ulrich knew who Joe Livreri was paying protection money to for his underground casino. (Ulrich said he didn't know.) When prosecutors asked Ulrich about Zelle and Venmo payments between him and the Livreris and Mazzio, Ulrich claimed he borrowed buy-in money all the time from his friends and he'd always paid them back.
Not long after Ulrich walked out of the DA's office, news broke of the investigation. He resigned shortly after. Ulrich spent the months between his resignation and arraignment trying to establish a second career in insurance. He also wrote a children's book, If Pets Could Vote. On Wednesday morning, he arrived at court holding a different book: Bill O'Reilly's Killing Jesus. "When thousands of phone calls and documents are cherry-picked and cut into small bits, and then viewed with eyes biased towards guilt, anyone can be made to look bad," Ulrich's attorney, Samuel Braverman, said in a statement after his client was released from court.
Asked about the indictments last week, Mayor Adams emphasized the fact that his administration hasn't been accused of any wrongdoing. Gone was the facetious bite of his remarks over the summer when, after the New York Daily News first broke the story that Adams had tipped off Ulrich, the mayor shrugged off the allegation. "I was reading that article, I felt like it was a reboot of Goodfellas," Adams said. "Why would it make sense to appoint someone a commissioner if you know they're under criminal investigation?"