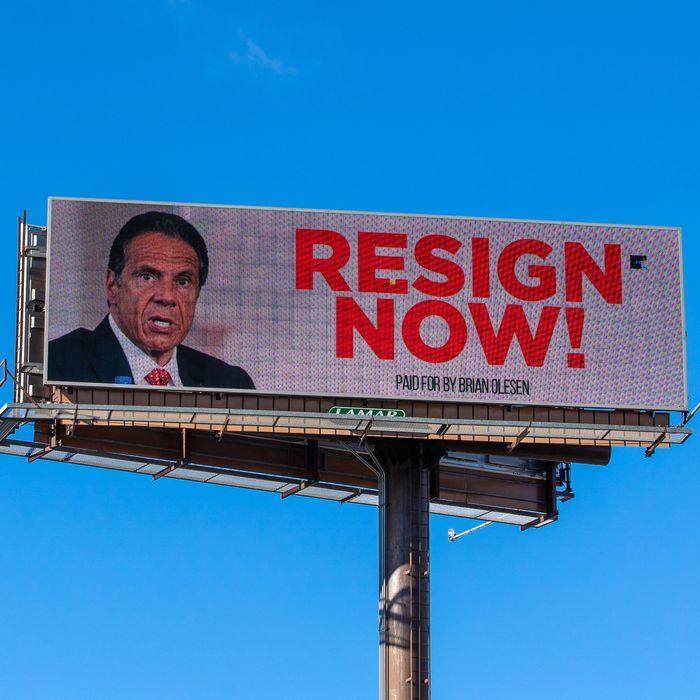 Photo: Matthew Cavanaugh/Getty Images
Almost the whole of New York's Democratic Party has turned on Governor Andrew Cuomo, calling on him to resign from office after allegations ranging from berating phone calls to sexual harassment in the workplace, as well as an apparent cover-up of nursing-home deaths.
In recent weeks, the third-term governor has also been accused by six women of inappropriate touching and comments. That fueled calls from across New York politicians, including in his own party, for Cuomo to resign or risk impeachment proceedings. The calls were amplified on Wednesday, March 10, after the Albany Times-Union reported that an aide accused him of groping her at his private residence in late 2020. New York's Rebecca Traister reported more inappropriate behavior by Cuomo, including that he told aides to track down attractive young women he found at parties and offer them jobs. By Friday evening, New York's two U.S. senators, most of its members of Congress, and a majority in the state legislature called for him to step aside.
Cuomo has been adamant that he has no intention of resigning prior to the release of the findings from the attorney general's investigation. "I'm not going to resign because of allegations. The premise of resigning because of allegations is actually anti-democratic," Cuomo said in a recent call with reporters.
Below is a running list of everyone calling for Cuomo's exit.
Members of Congress
Jamaal Bowman (D)
Yvette Clarke (D)
Antonio Delgado (D)
Adriano Espaillat (D)
Senator Kristen Gillibrand (D)
Brian Higgins (D)
Mondaire Jones (D)
Nicole Malliotakis (R)
Carolyn Maloney (D)
Sean Patrick Maloney (D)
Grace Meng (D)
Joe Morelle (D)
Jerry Nadler (D)
Alexandria Ocasio-Cortez (D)
Kathleen Rice (D)
Senate Majority Leader Charles Schumer (D)
Elise Stefanik (R) 
Claudia Tenney (R)
Paul Tonko (D)
Ritchie Torres (D)
Nydia Velázquez (D)
Lee Zeldin (R)
Democratic Assembly Members
Speaker Carl Heastie
Thomas Abinanti
Khaleel Anderson
Brian Barnwell
Charles Barron
Harry Bronson
Kenny Burgos
Patrick Burke
Marianne Buttenschon
Robert Carroll
Sarah Clark
Catalina Cruz
Carmen De La Rosa
Simcha Eichenstein
Harvey Epstein
Nathalia Fernández
Mathylde Frontus
Emily Gallagher
Jessica González-Rojas
Richard Gottfried
Judy Griffin
Aileen Gunther
Andrew Hevesi
Jonathan Jacobson
Billy Jones
Anna Kelles
Ron Kim
Jennifer Lunsford
Zohran Mamdani
Marcela Mitaynes
Yuh-Line Niou
Amy Paulin
Victor Pichardo
Dan Quart
Karines Reyes
Daniel Rosenthal
Linda Rosenthal
Nily Rozic
Angelo Santabarbara
Amanda Septimo
Jo Anne Simon
Philip Steck
Phara Souffrant Forrest
Carrie Woerner
Democratic State Senators
Majority Leader Andrea Stewart-Cousins
Alessandra Biaggi
Jabari Brisport
Samra Brouk
Michael Gianaris
Andrew Gounardes
Michelle Hinchey
Brad Hoylman
Robert Jackson
Anna Kaplan
Brian Kavanagh
Liz Krueger
John Liu
John Mannion
Rachel May
Shelley Mayer
Jessica Ramos
Elijah Reichlin-Melnick
Gustavo Rivera
Julia Salazar
James Sanders Jr.
James Skoufis
Toby Ann Stavisky
Republican Assembly Members
Minority Leader Will Barclay
Jacob Ashby
Ken Blankenbush
Keith Brown
Kevin Byrne
Marjorie Byrnes
Joe DeStefano
Dave DiPietro
Michael Durso
Christopher Friend
Jarett Gandolfo
Jodi Giglio
Joseph Giglio
Stephen Hawley
Josh Jensen
Kieran Lalor
Mike Lawler
John Lemondes
Brian Manktelow
David McDonough
Brian Miller
Melissa Miller
Michael Montesano
Mike Norris
Philip Palmesano
Ed Ra
Mike Reilly
John Salka
Colin Schmitt
Matt Simpson
Doug Smith
Robert Smullen
Christopher Tague
Michael Tannousis
Mark Walczyk
Mary Beth Walsh
Republican State Senators
Minority Leader Rob Ortt
George Borrello
Daphne Jordan
Mike Martucci
Peter Oberacker
Tom O'Mara
Jim Tedisco
Statewide officials
Comptroller Thomas DiNapoli (D)
Mayors
New York City Council Members
Diana Ayala
Joseph Borelli
Justin Brannan
Fernando Cabrera
Costa Constantinides
James Gennaro
Ben Kallos
Brad Lander
Stephen Levin
Carlos Menchaca
Keith Powers
Antonio Reynoso
James Van Bramer
New York City mayoral candidates
Kathryn Garcia
Carlos Menchaca
Scott Stringer
Maya Wiley
This post has been updated.