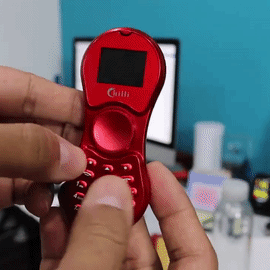 Two hot new fads kids can't get enough of, fidget spinners and cellular phones, have finally come together. As spotted by PhoneRadar, the phone, called the Chili (because it's so spicy!), has been on sale for nearly six months.
The handset has a 1.4-inch screen, a basic web browser, and Bluetooth; it also comes with a default of 32 MB of storage — but you can up that to 8 GB with an SD card. It costs $20.
Here's a full review of the phone, though it's in Hindi, and it's over 30 minutes long, so I hope you either have a lot of patience or understand Hindi.
For the price of one iPhone X, you could buy 50 Chili phones. Yes, you won't get edge-to-edge screens, an AMOLED display, or wireless charging — but you will get a phone you can spin very quickly on either your index or middle finger. While the Chili is only on sale in India, there's a whole bunch of fidget-spinner phone cases on Amazon, which let you turn your iPhone into a fidget spinner. They all look extremely legit and like a smart and safe way to spin a very expensive object around really fast.
We reached out to Apple for comment on whether its phones can or should be used as fidget spinners. We will update if the company responds.