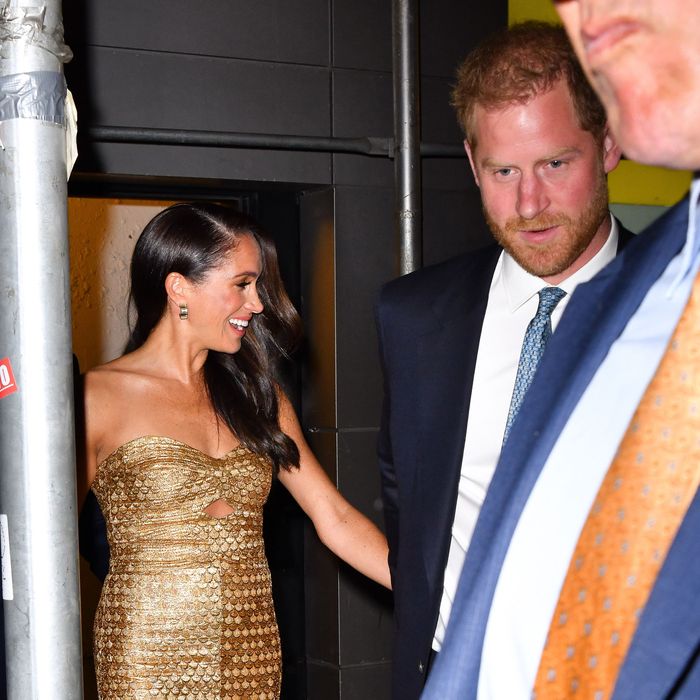 Photo: James Devaney/GC Images
Prince Harry, Meghan Markle, and her mother Doria Ragland were involved in a "near catastrophic car chase at the hands of a ring of highly aggressive paparazzi" on Tuesday night in New York, according to a spokeswoman for the couple. The NYPD confirmed that its officers assisted the couple with security on Tuesday evening, adding that "there were no reported collisions, summonses, injuries, or arrests."
As is often the case with the British royal family, there's still plenty of confusion and controversy surrounding the incident. Here's a rundown of what we know, which we'll update as more information becomes available.
.

Why were Harry and Meghan in New York?
The Duchess of Sussex was in New York to accept the Women of Vision Award during the Ms. Foundation's 50th-anniversary gala at the Ziegfeld Ballroom in midtown Manhattan. Markle, who was one of four honorees, received the award "for her global advocacy to empower and advocate on behalf of women and girls," according to the foundation's website. She was joined at the ceremony by her mother and husband.
The Duchess briefly alluded to her issues with the U.K. tabloids during her acceptance speech.
"The narrative on repeat that surrounded me allowed me to recognize that part of my greater value and purpose in life was to advocate for those who felt unheard, to stand up to injustice, and to be not afraid of saying what you know is true, and what is just, and what is right," she said.
.

What have Harry and Meghan said about the incident?
The world first learned of the episode on Wednesday morning, when the Sussexes' spokesperson put out this statement:
Last night, The Duke and Duchess of Sussex and Ms. Ragland were involved in a near catastrophic car chase at the hands of a ring of highly aggressive paparazzi.




This relentless pursuit, lasting over two hours, resulted in multiple near collisions involving other drivers on the road, pedestrians and two NYPD officers. While being a public figure comes with a level of interest from the public, it should never come at the cost of anyone's safety.




Dissemination of these images, given the ways in which they were obtained, encourages a highly intrusive practice that is dangerous to all in involved.
It's unclear when the couple will return to California, where they live with their two young children.
.

Where did the car chase take place?
Harry and Meghan's statement was light on details, but a fuller picture has emerged from other reports.
Thomas Buda, who runs a private security business contracted to help the couple, explained the route they took. Per CNN:
He said the couple's convoy took a circuitous route from 23rd street to 96th street – up and down busy Manhattan arteries – before security brought the couple to the 19th police precinct on East 67th street. From there, the couple were moved to a yellow cab but it ended up circling the block and returning them to the police station.
CNN reported that the couple took a circuitous route because they were staying at a friend's house and didn't want to compromise their security:
To answer the question of why this elaborate game of cat and mouse unfolded, we were told by Harry's team that the couple were staying at a private residence and did not want to compromise the security of their friend's home by returning directly from the awards. Meanwhile, a law enforcement source also said the pair did not stay at a hotel but rather at a private residence on the Upper East Side of Manhattan and chose to keep the location secret so they could come and go.
The New York Post's "Page Six" said the couple left the gala around 10 p.m. and were immediately pursued by around a dozen paparazzi. Eventually, the couple decided to ditch their original vehicle and switch to a yellow cab in an effort to shake the photographers. The Post's report continued:
The insider alleges that one cameraman hit a car while another almost ran over an NYPD officer during the "near-fatal" chase.




"It started off with 12 paparazzi, then ended up with four chasing [Meghan, Harry, and Doria]," the insider tells us. "Their security tried their best to lose [photographers]."




Once in the taxi, Harry used his cellphone to record the ensuing melee.

We're told security was also recording to gather evidence.
The paparazzi were reportedly "confronted by uniformed police officers" but continued chasing the royals.
.

What did the paparazzi say?
The photo agency Backgrid said it was investigating the conduct of four freelance photographers who were taking images of the Sussexes on Tuesday, according to the BBC. But the agency disputed parts of their account.
"We understand that Prince Harry and Meghan Markle's security detail had a job to do, and we respect their work," the agency said.
"We do, however, want to point out that according to the photographers present, there were no near-collisions or near-crashes during this incident. The photographers have reported feeling that the couple was not in immediate danger at any point."
One of the photographers told Good Morning Britain, "Their driver was making it a catastrophic experience.'
.

What did other witnesses say?
Chris Sanchez, a member of the couple's security team, told CNN that he found the incident very alarming. "I have never seen, experienced anything like this," he said. "What we were dealing with was very chaotic. There were about a dozen vehicles: cars, scooters, and bicycles."
He added, "The public were in jeopardy at several points. It could have been fatal."
Zara Sayeed, who was in the crowd outside the event, told the AP that she saw paparazzi heckling Meghan and Harry, trying to get a rise out of them. "As they were leaving, the way they chase the car, it just reminds you of all the other scenes you've seen in the past with Prince Harry's mother," she said.
Taxi driver Sukhcharn Singh told the Washington Post that he drove with the trio and their security guard for about ten minutes. Singh said he picked the group up at around 11 p.m. outside the NYPD's 19th Precinct on East 67th Street. He said he got the impression that they had already been chased by photographers, and they were followed by two vehicles as he was driving: a black Honda Accord and a gray Honda CR-V.
"They kept following us and were coming next to the car," Singh said. "They took pictures as we stopped and were filming us."
After a few minutes, the security guard became concerned that they were too exposed and asked Singh to return them to the police station.
But Singh's characterization of the episode wasn't as dramatic as that of Harry and Meghan's team. "I don't think I would call it a chase," Singh said of the brief drive. "I never felt like I was in danger. It wasn't like a car chase in a movie. They were quiet and seemed scared, but it's New York — it's safe."
.

What did New York officials say?
The NYPD initially said the incident was "under investigation." Later on Wednesday, Julian Phillips, the NYPD's deputy commissioner for public information, provided a fuller statement. He generally backed up the Sussexes' account, albeit with less vivid language:
On [Tuesday] evening, May 16, the NYPD assisted the private security team protecting the Duke and Duchess of Sussex. There were numerous photographers that made their transport challenging. The Duke and Duchess of Sussex arrived at their destination and there were no reported collisions, summonses, injuries, or arrests in regard.
By the end of the week the NYPD had concluded that the incident required "no further investigation."
On Wednesday, New York mayor Eric Adams said he found it "hard to believe that there was a two-hour high-speed chase" in midtown, but that "a ten-minute chase is extremely dangerous in New York City." He condemned the paparazzi for being "a bit reckless and irresponsible" and said he was told police officers were at risk during the incident.
"It's clear that the press, paparazzi, they want to get the right shot, they want to get the right story. But public safety must always be at the forefront. The briefing I received, two of our officers could've been injured," Adams said.
.

What are the couple's critics saying?
Tina Brown, who has written two books on the royals, summed up the general stance of Harry and Meghan skeptics, telling the New York Times that their account, "sounds mildly preposterous."
An anonymous friend of King Charles told The Daily Beast: "Charles will completely understand Harry being upset at being pursued by the paparazzi. He knows how scary it can be. But he has always tried to get Harry to understand that complaining about photographers or the media is pointless. It just makes it all worse."
.

What did U.K. officials say?
Nothing. CNN reported, "Both King Charles' Buckingham Palace and Prince William's Kensington Palace told CNN they would not be commenting on the incident."
.

What's going on with the photos taken on Tuesday night?
Backgrid said it received a letter from Harry and Meghan's legal team demanding that they "immediately" provide copies of all photos and videos taken by freelance photographers covering Tuesday's event for the photo agency. Backgrid refused. Per the BBC:
The agency said it had replied in a letter: "In America, as I'm sure you know, property belongs to the owner of it: Third parties cannot just demand it be given to them, as perhaps Kings can do.




"Perhaps you should sit down with your client and advise them that his English rules of royal prerogative to demand that the citizenry hand over their property to the Crown were rejected by this country long ago.

"We stand by our founding fathers."




In the UK there is no royal prerogative and there has long been tension between the Royal Family and the British media over privacy.
Backgrid had four photographers, three in cars and one on a bike, trailing Meghan and Harry on Tuesday. The agency told TMZ they "had no intention of causing any distress or harm, as their only tool was their cameras."
.

What's going on between Harry and the press more broadly?
The press and the paparazzi are the main villains in Prince Harry's memoir Spare, which was released earlier this year. He has often said he blames the paparazzi for his mother's death; Princess Diana died in a car crash in Paris in 1997 while being chased by photographers, though her chauffeur's reckless driving was a major factor in that accident. Harry has also accused the U.K. press of repeating history by relentlessly harassing him, his previous girlfriends, and Meghan Markle.
In Spare, he says that after visiting the tunnel where his mother died, he wondered if the car's driver was blinded by the paparazzi. "Why were those paps not more roundly blamed? Why were they not in jail? Who sent them? And why were they not in jail?" he writes.
Harry currently has six lawsuits pending in U.K. courts related to his security and privacy invasions by the press. The prince is part of a group of celebrities suing Mirror Group Newspapers for allegedly hacking their phones and using other illegal methods to gather private information on them; the trial is now underway in London. A High Court judge recently ruled in a separate case that Prince Harry's lawsuit against Britain's Home Office, whom he accuses of denying him the right to pay for police protection when he visits the U.K. can proceed.
The couple have also had security issues in the U.S. A man was arrested shortly after 2 a.m. Monday near the couple's property in Montecito, California. CBS News reports that 29-year-old Kevin Garcia Valdovinos was put under citizen's arrest by a staff member until police arrived. He was charged with prowling and released on $2,500 bail.