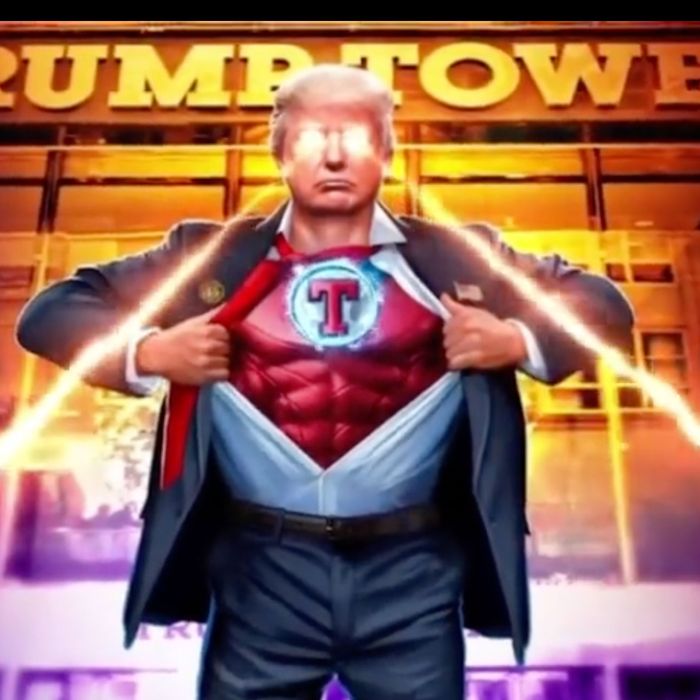 Illustration: CollectTrumpCards.com
Among the many laughably unrealistic images in the Donald Trump NFT collection, one stood out: the illustration of the former president in the classic Superman pose, ripping open his dress shirt to reveal a superhero costume underneath. Trump used this image, which was animated to show lasers shooting out of his eyes, to tease a "major announcement" on December 15, which turned out to be a collection of 45,000 digital trading cards. "America needs a superhero!" Trump proclaimed in the video posted to Truth Social.
For many, this called to mind the report that Trump wanted to wear a Superman shirt when he returned to the White House after being hospitalized for COVID-19 in November 2020. But Trump's effort to portray himself as the Man of Steel — and encourage others to do so as well — actually goes back decades. Of course, there's plenty of superhero imagery in politics; leaders including George H.W. Bush, Barack Obama, and Justin Trudeau have jokingly encouraged the Superman comparison. As usual, however, Trump found a way to make it weird. Here, a rundown of the last president's odd past with the Last Son of Krypton.
1986: Trump Inspires a Lex Luthor Reboot
Though Donald Trump does not appear to be a fan of the genre in general, he's made nearly two dozen cameos in comic books over the past three decades. He also served as inspiration for Superman's archnemesis Lex Luthor in an '80s reboot of the character, as the Daily Beast reported:
In 1986, DC Comics rebooted the entire Superman mythos in part to better reflect the anxieties and preoccupations of modern America. Instead of a mad scientist, Luthor was re-envisioned as a rich and powerful businessman, an idea hatched by writer Marv Wolfman and realized in the "comics event of the century," writer and artist John Byrne's Man of Steel miniseries.




It was a time when anti-corporate public sentiment against real-life Wall Street villains like Michael Milken and Barry Minkow was on the rise (the film Wall Street, featuring the partly Milken-inspired Gordon Gekko, was released one year later). But unsurprisingly, one wealthy '80s mogul in particular inspired the new Luthor: "Of course, Donald Trump was our model," Byrne tells The Daily Beast.
Years later, other versions of businessman Lex Luthor became president of the United States — or at least campaigned for the office. In the cartoon series Justice League Unlimited, Luthor admitted to The Question, "My campaign is a farce, a small part of a much larger scheme … Do you know how much power I'd have to give up to be president? … I spent 75 million on a fake presidential campaign, all just to tick Superman off."
Some believe Trump only ran for president in 2015 to tick off Obama after he mocked the mogul at a White House Correspondents' Association dinner. Perhaps, similarly, Trump's Superman fixation has its roots in being cast as the model for the Man of Steel's greatest foe.
1996: Trump's Superman Birthday Cake
In a vacuum, this seems pretty innocuous. As New York Times reporter and foremost Trump chronicler Maggie Haberman recalled, Trump's 50th-birthday party featured a Superman cake.
In an interview shortly after the party, Trump's then-wife Marla Maples told the Times that she was initially picturing a small and intimate affair, but he wanted "a big blowout." She put together a party at Trump Tower that featured 400 guests, a Marla-as-mermaid ice sculpture, and, per the Times, a Superman cake:
Then, as the Superman movie theme began to play, the cake was wheeled onto the stage — with all of Mr. Trump's buildings on it, and a sugar figure of Mr. Trump, dressed like Superman with a money sign on his chest. Ms. [Eartha] Kitt sang "Happy Birthday," and 600 gold balloons cascaded from the ceiling.
2015: Trump Says He'll Be 'Superman' President
Throughout his career in presidential politics, Trump encouraged his followers to think of him as a superhero. In an October 2015 interview, CNBC's John Harwood pushed Trump on his grand promises and lack of policy specifics, saying, "But we don't have Superman presidents!" The mogul replied, "But we will if you have Trump. You watch."
2016: The 'Super Trump' Times Square Billboard
After Hillary Clinton fell at a 9/11 anniversary event in 2016, the Committee to Restore America super-PAC decided to publicly gloat about Trump's ostensibly superior physical prowess. The group launched a 55-foot billboard in Times Square featuring Trump as Superman.
"When I was a kid, Superman was my idol because he stood for truth, justice, and the American way, just like Donald Trump," said tech mogul Dr. Robert Shillman, who donated money for the ad.
2017: The Time Cover Photoshop
During the Trump administration, memes featuring Donald as Superman became popular among the MAGA crowd with the Trump family's encouragement. One of the weirder examples is this fake Time magazine cover Donald Trump Jr. posted to Instagram in 2017, featuring his dad as an inexplicably bearded Superman.
2018: Kanye Says Trump Hat Makes Him 'Feel Like Superman'
Ye's appalling recent remarks have totally overshadowed his weird, rambling 2018 Oval Office soliloquy. But back then, the rapper made headlines when he gushed to Trump about his MAGA hat, "There is something about when I put this hat on that makes me feel like Superman! That's my favorite superhero. You make a Superman cape for me."
2020: The Superman COVID Stunt That Never Was
Trump returning to the White House after being hospitalized for COVID, whipping his mask off, and then heading into the building — though he was possibly still infectious — was one of the most memorable images of his presidency. But it could have been even more shocking, as the New York Times reported days later:
In several phone calls last weekend from the presidential suite at Walter Reed National Military Medical Center, Mr. Trump shared an idea he was considering: When he left the hospital, he wanted to appear frail at first when people saw him, according to people with knowledge of the conversations. But underneath his button-down dress shirt, he would wear a Superman T-shirt, which he would reveal as a symbol of strength when he ripped open the top layer. He ultimately did not go ahead with the stunt.
2022: Trump Maintains His Secret Identity
The NFT collection isn't the only thing keeping the Trump-as-Superman theme alive. During the 2022 midterms, Trump was spotted with a gleeful look on his face as Arizona gubernatorial candidate repeatedly called him "Superman" at a rally, and his Save America super-PAC released "Ultramaga" superhero T-shirts:
While Trump is literally the inspiration for Superman's nemesis and his battles against truth, justice, and the American way are well documented, it's no surprise that he remains invested in pretending he's an all-powerful hero. Though, it's possible his Superman fixation is just a cover for a darker delusion.