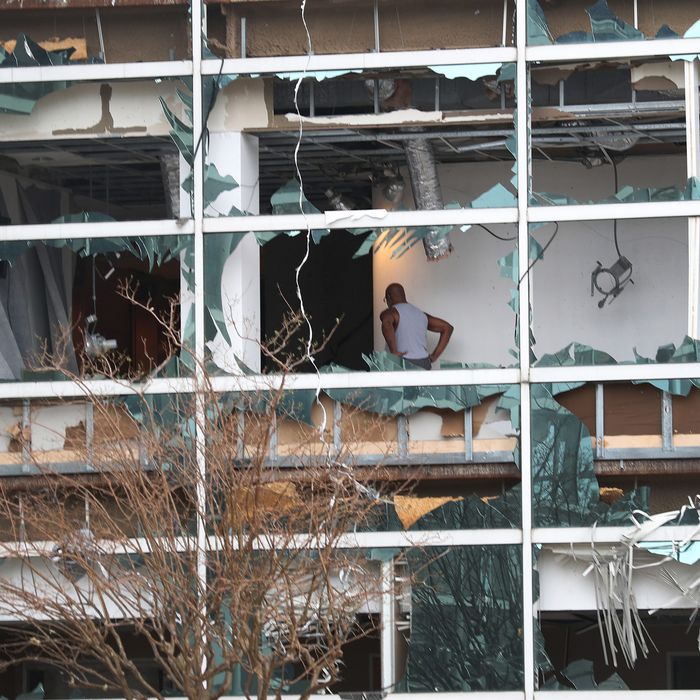 In the downtown area after Hurricane Laura passed through Lake Charles, Louisiana.
Photo: Joe Raedle/Getty Images
Hurricane Laura made landfall after midnight on Thursday near the small town of Cameron, Louisiana, just east of the Texas-Louisiana border. It came ashore a fearsomely powerful Category 4 storm — one of the most powerful ever to strike the U.S. Laura's 150-mph winds, storm surge, and intense rain did significant damage to many communities in southern Louisiana and eastern Texas, and at least four people were killed in Louisiana by falling trees, including a 14-year-old girl in Vernon Parish.
In addition, on Thursday morning, a large fire broke out at a chlorine-production plant west of Lake Charles, Louisiana, blanketing the area in a plume of potentially toxic smoke and prompting a new shelter-in-place order for three communities.
Though the region is reeling from the destructive storm, the consensus among meteorologists and public officials on Thursday was that it still could have been much, much worse.
As of Thursday afternoon, Laura — now a tropical storm — had moved through northern Louisiana and into Arkansas.
Widespread wind damage
Laura had been forecast to deliver an "unsurvivable" storm surge, and though a surge of nine feet occurred in at least one coastal area in Louisiana, most of the surge monitors reported three to four feet — far below what the highest estimates had been. However, Laura's winds, which reached as high as 150 mph — just shy of Category 5 strength — took their toll, ripping apart buildings and downing countless trees and power lines. More than 500,000 people were reported without power in Louisiana and Texas on Thursday.
From images and videos taken on Thursday, it is clear that Laura wrought major damage to Lake Charles, Louisiana's fifth-largest city, and its surrounding communities, as well as along the state's southwestern coast — which all fell directly in the storm's path after it made landfall overnight.
Louisiana governor John Bel Edwards said Thursday that the storm surge was about half of the 18 to 20 feet some forecasts had predicted. And while Louisiana bore the brunt of the storm, some parts of Texas that were in Laura's path appeared to have escaped the worst.
Chemical-plant fire near Lake Charles
On Thursday morning, a large fire broke out at the BioLab Inc. chlorine-production facility in Westlake, Louisiana, which is just west of the city of Lake Charles, to the south of Interstate 10. The fire was the result of damage the plant sustained from Laura. Huge plumes of smoke pouring out of the industrial facility could be seen for miles, and state and local authorities quickly issued a shelter-in-place order out of fears that the smoke could be toxic.
It's not yet clear how dangerous the smoke is, according to the New Orleans Advocate:
A Louisiana State Police hazardous materials was called to the scene and the Lake Charles Fire Department entered the building at around noon. Troopers shut down I-10 from the I-210 exit to the west and the Lakeshore Drive exit at the foot of the bridge over the Calcasieu River. …




DEQ staff are monitoring air quality near the site. Initial readings did not detect chlorine releases but more testing will be carried out throughout the day. The U.S. Environmental Protection Agency plans to send an aircraft to do flyover monitoring …




Chlorine gas can cause blisters and a burning sensation in the eyes, nose and throat. Nausea, vomiting, shortness of breathe and headache are symptoms of heavy exposure. The gas is also heavier than air and tends to linger along the ground.
The facility's parent company, KIK Custom Products, said on Thursday that is has dispatched a specialized team to to help first-responders "contain and mitigate the impact of this incident as quickly as possible." The company also said that the facility's employees were safe.
Laura took down a confederate statue
How have Louisiana and Texas prepared?
Governor Edwards of Louisiana and Governor Greg Abbott of Texas have both declared states of emergency and have said that their requests for the president to grant federal emergency declarations have been approved. The National Hurricane Center has issued a storm-surge warning from San Luis Pass, Texas, to the mouth of the Mississippi River in Louisiana. Edwards closed Interstate 10, near Lake Charles, on Wednesday night.
Mandatory evacuations have already been called in many areas, including Jefferson County in Texas and Lake Charles in Louisiana. Around 500,000 people have been instructed to evacuate in the two states, though Texas does not appear to be prepared for the overlap of challenges from the pandemic summer and hurricane season. On Tuesday, Nim Kidd, chief of the Texas Division of Emergency Management, said that COVID-19 testing teams would be sent to shelters "as soon as practical," but that a hotel would be "the safest place for [evacuated] families to be."
Some of the eastern Texas communities in Laura's path were devastated just three years ago by Hurricane Harvey.
Meanwhile, some wealthy homeowners have been taking matters into their own hands with some high-tech levy tactics — though their effectiveness against such a monster storm remains to be seen:
How Laura could impact the pandemic in Louisiana and Texas
Thankfully, the summer surge in COVID-19 cases has been on the decline in both states, meaning patients injured by the storm who are transported to hospitals in east Texas and Louisiana will not be entering into wards inundated with coronavirus patients. However, the challenges of social distancing and accessing PPE in crowded shelters could create the conditions for a superspreader event. According to the COVID-19 Event Risk Assessment Planning Tool provided by Georgia Tech, most parishes and counties expected to be hit hard by Laura have a risk level of over 90 percent, meaning that if 100 people are at a gathering, there is a nine-in-ten chance that there will be a person who has coronavirus in the room. Those aren't great odds when some shelters in Texas are already at capacity.
To help decrease the risk of COVID-19 spreading in shelters, local governments in Texas have cut their capacity significantly, while Governor Edwards of Louisiana does not intend to open state shelters. "We are not a sheltering city, but we might have to shelter people that couldn't get out in time," Beaumont mayor Becky Ames told the Texas Tribune. "But now in a building that had capacity for 200, we can only shelter 100."
Both states have boosted programs placing evacuees in hotel rooms to limit the risk of exposure: On Wednesday, Louisiana booked 2,000 rooms for evacuees from the coastal area. However, regional supply is starting to be strained, too. "Hotels up and down the coast from Austin to San Antonio are full," Rocky Vaz, the director of emergency management for the city of Dallas, said on Wednesday. "Dallas hotels are filling up extremely fast."
Other challenges abound: Some nursing homes in the region decided not to evacuate, concerned that the risk of COVID-19 infection for their elderly residents was more dangerous than weathering the tremendous storm. Some communities, including neighborhoods in Port Arthur, Texas, are still recovering from the last devastating storm to blow through — Hurricane Harvey in 2017. One organizer in Port Arthur, Vernon Pierce, told the Texas Tribune that he anticipated that the pandemic could slow locally driven recovery efforts as well, if people do not have the funds to donate or feel safe enough to volunteer their time to rebuild.
This post has been updated throughout.