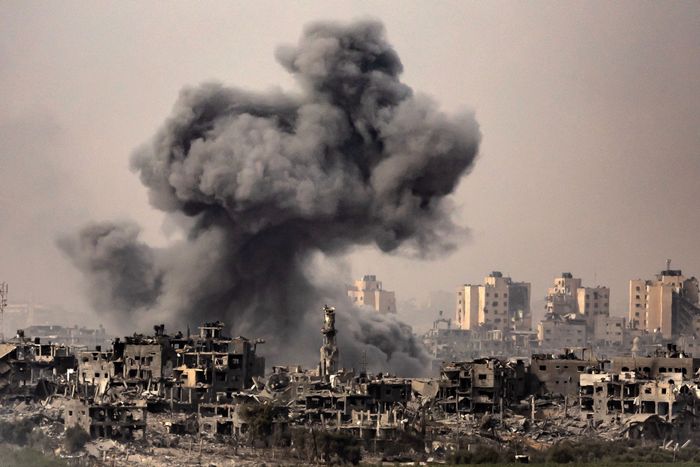 This image taken from the Israeli border with the Gaza Strip on October 29, 2023, shows a black cloud of smoke ascending from the Gaza Strip amid the ongoing battles between Israel and the Palestinian militant group Hamas.
Photo: Fadel Senna/AFP via Getty Images
Israel's widely expected invasion of the northern Gaza Strip is underway, three weeks after Hamas' stunning attack. The Israel Defense Forces are continuing to expand their ground offensive into Gaza, where the civilian death toll, already in the thousands, is expected to rise sharply. Below are live updates on this significant escalation in the war as it develops.
More settler violence in the West Bank
An Israeli settler reportedly shot and killed a Palestinian man harvesting olives with his family in the West Bank on Saturday — the seventh Palestinian allegedly killed by settlers since the war began. The Associated Press reports:
Tayseer Mahmoud said his nephew, Bilal Saleh, was working in the grove in the village of Sawiya with his wife and their four children on Saturday when a group of settlers attacked them. Saleh, concerned about the safety of his children, tried to leave the area but a settler shot him in the chest, Mahmoud said.

Mahmoud said he didn't witness the confrontation but was close by and reached the scene within minutes of the shooting. Saleh died before he could be taken for medical care, he said.

Settler leader Yossi Dagan said in a video posted to Facebook on Saturday that the shooter was accompanied by family members and fired in self-defense after they were "attacked with rocks by dozens of rioting Hamas supporters."
There have been numerous reports of intensified settler aggression against Palestinians civilians and communities in the West Bank since October 7, drawing international condemnation, including from from President Biden.
Inside the Israeli government, Shin Bet head Ronen Bar has reportedly warned the country's war cabinet that the West Bank could erupt if the settlers aren't reined in.