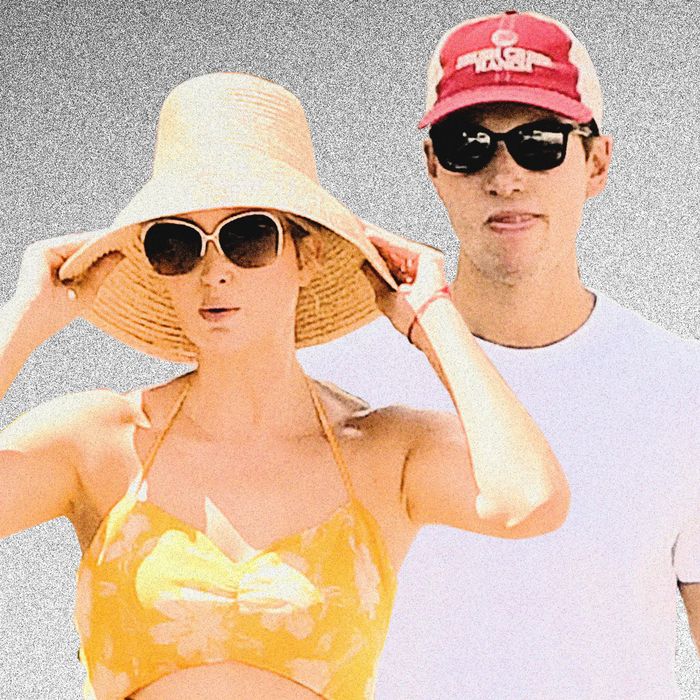 Photo-Illustration: Intelligencer. Photos: Getty Images
For years, following U.S. politics meant keeping track of Jared Kushner and Ivanka Trump's pet political concerns and personal grudges. Then six months ago, America's least favorite beneficiaries of nepotism exited the White House — and our daily thoughts. But their quest for relevancy continues. Here's an update on their recent hijinks, from Jared's foray into publishing to Ivanka's brush with light perjury.
They became Floridians
After Ivanka and Jared found themselves effectively exiled from New York, they decamped to the greater Miami area, where they are renting a condo. Their current residence is a five-minute drive from Indian Creek, a luxury island with 86 residents also known as "Billionaire's Bunker," where they recently purchased a $24 million waterfront mansion and a $32 million empty lot.
Jared founded a "peace institute"
During the Trump administration, Kushner explained that he was the best guy to sort out this whole Israel-Palestine business because he'd read "25 books" on the conflict. Even though he's no longer senior adviser to the president, this learned foreign-policy expert is still on a mission to solve all the Middle East's problems.
In May, he launched an organization called the Abraham Accords Institute for Peace. The Abraham Accords, which normalized diplomatic relations between Israel, the United Arab Emirates, and Bahrain, was one of the Trump administration's signature foreign-policy achievements — the former president even declared ahead of the signing ceremony that now, "there's going to be peace in the Middle East." (Some had a more skeptical view, such as Jeffery Goldberg, who wrote in The Atlantic, "In many ways 'The Abraham Accords' amount to an arms deal.")
But hey, let's give peace a chance. That's the message Kushner is pushing with his new project, which aims to foster tourism, trade, and "people-to-people connections" between Israel, Morocco, Bahrain, the UAE, and Sudan.
Ivanka (allegedly) lied under oath
Do Trumps have some kind of aversion to the truth? That's the worrying possibility Mother Jones raised last month in its report on Ivanka's testimony in a lawsuit filed by Washington, D.C. attorney general Karl Racine alleging that the 2017 Inaugural Committee misused charitable funds to enrich the Trump family. The publication reported that during a December 2020 deposition Ivanka was asked under oath about her role in planning the inauguration:
She replied, "I really didn't have an involvement." Ivanka testified that if her "opinion was solicited" regarding an inauguration event, she "would give feedback to my father or to anyone who asked my perspective or opinion." And that was as far as her participation went.
Mother Jones obtained documents related to the case, including emails between Ivanka and several top inaugural committee officials. They show (you guessed it) that she was actively involved in decision-making for various aspects of the inauguration, weighing in on everything from messaging to menus.
Fortunately for Ivanka, she probably won't face any serious consequences, as attorney Eric Lewis explained at The Independent. "Perjury cases are fairly rare and are almost never brought based on deposition testimony in a civil case, where, sadly, witnesses lie all the time," he said. "This case is unlikely to be an exception."
Jared scored a seven-figure book deal
Despite Jared's sizable role in the administration, we rarely heard from him directly during Trump's presidency. (In fact, when the internet first learned what his voice actually sounded like, he was subject to a considerable amount of mockery on account of its high pitch.)
In early 2022, the world can finally hear Jared's side of the story: Broadside Books, a conservative HarperCollins imprint, will be publishing his memoir, which he reportedly received a seven-figure advance for. "His book will be the definitive, thorough recounting of the administration — and the truth about what happened behind closed doors," Broadside said. There's no word yet on whether the audiobook will be read by the author.
We learned that Ivanka called the Capitol riot an "optics issue"
In Michael Wolff's new book about the final days of the Trump presidency, he reported that on January 6, Ivanka downplayed the attack on the Capitol as "an optics issue." Yeeeesh! But this shouldn't come as a surprise, as Ivanka sent out (and then deleted) a tweet calling the mob "American patriots."
… And Jared doesn't "give a fuck" about the GOP
During an "intense argument" with Republican National Committee Chair Ronna McDaniel ahead of the 2020 election, Kushner told her, "I don't give a fuck about the future of the Republican Party!" according to a new book by Wall Street Journal reporter Michael Bender.
He might want to pretend to care, at least for the next year, since Republicans will probably be the primary audience for his forthcoming memoir.
They distanced themselves from dear old dad
Ivanka and Jared have been doing their darnedest to keep away from Donald Trump, according to a recent report. The couple and their children "weren't around for the usual spring and summer events at Mar-a-Lago," a member and family friend told CNN. The New York Times reported that Kushner told his advisers that he wants to establish "a simpler relationship" with the former president. A CNN source described Kushner's attitude toward his father-in-law as being like "a parent who sticks around less and less each morning while they're transitioning their kid to day care."
They even ditched Donald on Father's Day
Ivanka skipped her usual Twitter tribute to her dad on Father's Day, and a bit of social-media sleuthing revealed that she and Jared spent the holiday in South Carolina, many miles from Mar-a-Lago.
To make matters worse, they were hanging out with Nikki Haley, the former U.N. ambassador who landed on Donald Trump's shit list after she condemned his response to the 2020 election. Ouch!
They were banned from Gossip Girl
Ivanka and Jared made a cameo on Gossip Girl way back in 2010, but they won't be showing up on its Gen-Z reboot. "Definitely not! Definitely not," Joshua Safran, who executive-produced both iterations of the series, told the Daily Beast when asked if they would be welcome back, noting that times have changed and an appearance by the couple wouldn't make sense nowadays. Perhaps the the Real Housewives of Miami reboot will take pity on them.