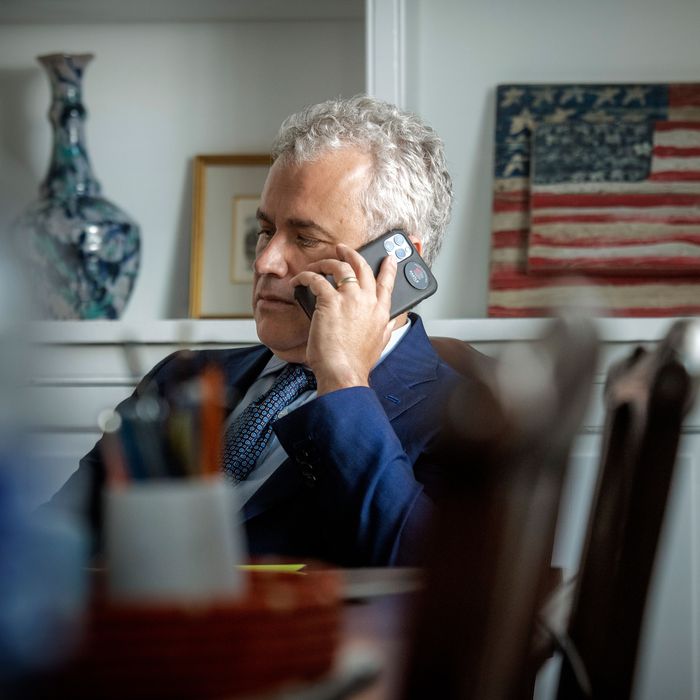 Jeff Zients in his West Wing office in June 2021.
Photo: Bill O'Leary/The Washington Post via Getty Images
When the White House announced on March 17 that Jeff Zients would be leaving after 15 months in charge of the federal government's pandemic response, it was widely interpreted as at least a partial acknowledgment that the country was reaching a new stage of its relationship with COVID-19. As the administration's coronavirus-response coordinator, Zients led the effort to scale up vaccinations, testing, and treatment. But he also oversaw the government's uneven reaction to the Delta and Omicron variants and the inconsistent messaging that confused an increasingly polarized public.
Zients, a former business consultant who served as both budget chief and National Economic Council director for Barack Obama and helped run the presidential transition for Joe Biden, agreed to sit for an exit interview on his last weekday in the role before he handed it off to Ashish Jha, the Brown University School of Public Health dean.
As we spoke over Zoom, Zients sat in a West Wing that was unamused to be surrounded by a small, D.C.-specific spike in cases: More than 80 people who were at the annual white-tie Gridiron dinner in early April have tested positive, including a handful of Cabinet secretaries. But virus levels in the U.S. as a whole were plateauing after weeks of decline, and Zients was eager to tout the government's unprecedented vaccination mobilization, calling upon Congress to provide the White House with more funding to maintain the response, and to point a finger at tech companies' responsibility to fight the misinformation that he says has hampered the government's effort to reach vaccine-skeptical groups.
First, how deeply should we be reading your departure as a serious change in the White House's posture with respect to the pandemic overall?
I joined during the transition and then, in early December, I transitioned to leading the COVID-response efforts. There really wasn't a plan to fight the virus. So we spent time putting together a plan so that, on day one, we could begin to execute. And from the beginning, the president said, "This is so critical; it's the biggest problem the country faces. It's a once-in-a-century pandemic, and we've got to do everything we possibly can and pull out all the stops, deploy every resource, pull every lever of the federal government to make a difference here — and quickly — and to get this pandemic under control." We spent that transition putting together a strategy. What we walked into on day one was there weren't enough vaccines, there wasn't enough supply, there weren't enough vaccinators, and there weren't enough places to get vaccinated. And there were only 2 million people vaccinated. There's almost 220 million people vaccinated today.
That's the number of people who have gotten both initial doses of the Pfizer or Moderna shot or the single Johnson & Johnson dose.
We also have a medicine cabinet full of effective treatments, including 20 million Pfizer pills that have 90 percent effectiveness, that keep people out of the hospital. We have free tests, which Americans can order, and they're sent to their doorstep now within 48 hours. We've achieved equity in vaccinations, which was one of the goals of this plan. There were seven goals — goal No. 6 was to protect the most at risk and advance equity, including across racial, ethnic, and rural and urban lines. The data now is we have roughly the same percentage of Black, white, and Hispanic adults vaccinated, all in the 80 to 83 percent range. The schools are open. When we walked in, 46 percent of schools were open; now it's 99 percent. Businesses are open. The job creation across the last 16 months has been record job creation.
We've made tremendous progress on that front, and now we're entering a new phase where we can move forward safely. Americans can begin to return to their more normal routines. I feel like right now is a good time to pass the baton to Dr. Jha.
I'll be quiet in a second, but just today a Yale University study came out that said the president's vaccination program saved over 2 million lives, prevented 17 million hospitalizations, and saved almost a trillion dollars in health-care costs.
Let's talk about the best tool you have. Clearly, many more people are vaccinated now than when you took over. But at the same time, we're at roughly 65 percent of Americans with two shots and 29 percent boosted. What, in your analysis, is it that's stopped the remaining 35 percent? What is your explanation for why we can't get to 80 or 90 percent?
In your numbers are the 0-to-5-year-olds, for whom the vaccine is not yet available, but your point is the right one because vaccines are so effective at preventing hospitalization and death. If we had everyone vaccinated, we would obviously be in a very, very different position. I think the root-cause problem has been misinformation. It's been a real problem, even bigger than anyone thought it would be. It goes to the misportrayal of science and facts that undermines people's decisions to get vaccinated and protected and treated. We see it first and foremost on what is the most effective tool, which is vaccinations. But, also, misinformation is undermining treatments, too.
We've pulled out all the stops; we have attacked this problem, from organizing tens of thousands of local messengers (doctors, clergy members, business leaders) to talk to people to ad campaigns in 14 different languages reaching tens of millions of Americans. Local doctors — because at the end of the day, people look to their doctors — armed with all the facts. You know, we made real progress back in December 2020, in the transition. Only about one out of three Americans said that they wanted to get vaccinated. We do have 85 percent of Americans — and, again, I want to emphasize that we've achieved good ethnic parity here — with at least one shot in arm. But we've got to keep doing everything we can, keep fighting the misinformation. The technology companies need to cooperate and do the right thing.
What do you think that right thing should look like now? If that's the big factor, is there anything you wish you had pressed the tech companies on more seven months ago or a year ago?
I don't think there's any magic bullet. I think it's hard work. Surgeon General Vivek Murthy's done a lot of the work on this, really led the charge. We just need to get the right facts to people, not the wrong facts.
Have you talked to Facebook, where you served on the board from 2018 to 2020?
No. I've not done anything with Facebook because I had some involvement. I've been in zero contact. Dr. Murthy has really led those efforts — and I think made a lot of progress — but it's a constant battle, and we've got to keep doing all we can to get the science, the facts, to the American people.
When you've looked back to reevaluate the government messaging on vaccination, do you wish you had described it differently in the early days, perhaps not as just two doses but an ongoing protocol? Are there other vaccine messages you wish you could send differently? Or do you actually think our current state is as good as it could possibly have been considering the circumstances?
I think the progress speaks for itself. The insight that we got to pretty early on was the importance of local messengers. You can only do so much from a national stage. The president has been clear about the importance of vaccinations from day one. He has been very clear with all of us to not politicize the message in any way, shape, or form. I think our move to organize people locally and to get doctors involved is absolutely correct. And I think we just have to keep grinding away. Every additional person who gets vaccinated, that's one more person who's protected. Each day, there are more people getting vaccinated, more people getting boosted. That's all headed in the right direction. But the misinformation has been a real impediment.
When you think about the task that still remains, though — trying to convince people who are still hesitant to get vaccinated or boosted — are there lessons from vaccine rollouts in other countries that might help?
Look, I think that there's no substitute for just the hard work and the local conversations — the conversations with doctors and answering people's questions. People seeing their family member or their neighbor or their co-worker vaccinated, and the advantages of vaccination and boosters, and how it keeps people out of the hospital, how it keeps people alive. This also applies to the treatments — we need to make sure that people understand these treatments are safe, they're effective, for both people who are vaccinated or for people who decide not to be vaccinated.
I won't put words in your mouth, but it sounds like you're saying that there may still be marginal increases of vaccine uptake but that we might also simply be at a ceiling here. Fair?
Perhaps.
And if there are people who, for whatever reason, have just decided they're not going to get vaccinated, even though all the data points to how safe the vaccines are, how effective they are, it's really important that we have in our tool kit these effective treatments. I want to make sure that people understand how effective those are, how readily available they're becoming. We have this "Test to Treat" initiative, so someone can walk into a clinic if they suspect they could have COVID, if they've been exposed, and get tested. If they test positive, they pick up the pills, start the pills, and that's 90 percent effective.
You've been talking a lot about what needs to happen right now. The $10 billion in COVID-focused funding that Chuck Schumer announced this month with Mitt Romney is something, but it isn't even half of what you've said you need. What are you most worried about not getting covered by the shortfall?
I mean, we need more money. We're already seeing the consequences of not having enough money. We're not ordering more monoclonal-antibody treatments, and, in fact, they'll start to run out at the end of May. We don't have enough of Evusheld, which is the very effective treatment for the immunocompromised. We have doses for the next several months, but if we don't order more, get more funding soon and order more doses, we'll start to run out. We have enough booster shots for the decision that was recently made to cover people 50 and over. But if there's a determination based on the science that comes later in the year, in the fall, that all Americans need boosters, or — as was discussed at the FDA — that we need a different booster, a variant-specific one with a new formulation of the vaccine, we have no inventory, and we need to be ordering that, and we need the funding.
But we also need money to make sure that we are spotting any potential variant early and preparing for any variant if it occurs. And we need to make sure that we have the money to continue to make progress globally. USAID needs the funding to turn vaccines into vaccinations, shots in arms across the world. Having the supply is step one, but in order to protect people, you need to put shots in arms.
Assuming this level of funding is all you're going to get from Congress for now, what investment is most likely to fall off first?
There are urgent needs, so definitionally we'd just be funding the most urgent needs. But that's not sufficient, and it's really shortsighted because the amount of money we're talking about here is so small compared to the consequences.
It sure sounds like the global vaccination program would suffer a lot.
It's really important. As the president says, the virus knows no boundaries, and if you look at where the variants that we have experienced to date have started, they're all outside of our borders. Obviously, we've had to fight those variants, and in order to continue to make progress, we need to make sure that people across the globe are vaccinated, and we're in a position now where we have supply.
At the president's direction, we have committed to donating 1.2 billion doses to the world for free — no strings attached. We have delivered over 500 million to 114 different countries. We now have more supply than we can send overseas, and this week we made an important announcement that we were going to start to provide pediatric doses — 20 countries have asked us for pediatric doses. We're going to have Pfizer mRNA pediatric doses available across the next couple of months. But how do we take the vaccine supply that exists and turn it into shots in arms if we need that funding? And if we don't get that funding, then we're more vulnerable as a country. We also need to make sure we have the tools to protect Americans here at home, that we have the genomic sequencing and other monitoring to make sure that we spot variants early.
Have you been surprised by the distinct polarization of Dr. Anthony Fauci's image and message or of the political lens through which your other communicators are now viewed?
Yeah. It brings me back to the misinformation and the polarization. Dr. Fauci is an extraordinary public servant, and he's been at the forefront of HIV, Ebola, now COVID and has been such a strong leader and pioneer on each of these. We wouldn't be where we are in terms of all the progress we've made without Dr. Fauci. All he cares about is the health and well-being of Americans. The idea that somehow people would use him as a political target and subject of all this misinformation is a real shame and really unfair.
Presumably, you think trying to rebuild bipartisan or broad public trust in our public-health infrastructure is an urgent task.
Essential. The president on day one said when we do make progress here, it begins to restore the trust that the government can take on the biggest, most important issues to make a real difference.
To be clear, does that mean you think your response has already done that: rebuilt trust?
I think it has! I think it has.
We still have a lot more work to do, but if you think about where we were on the pandemic in general — trust in government to take on the biggest challenges, do the right thing, and make a difference in people's lives — I think across 16 months under President Biden's leadership, we've made a real difference.
This interview has been edited and condensed.