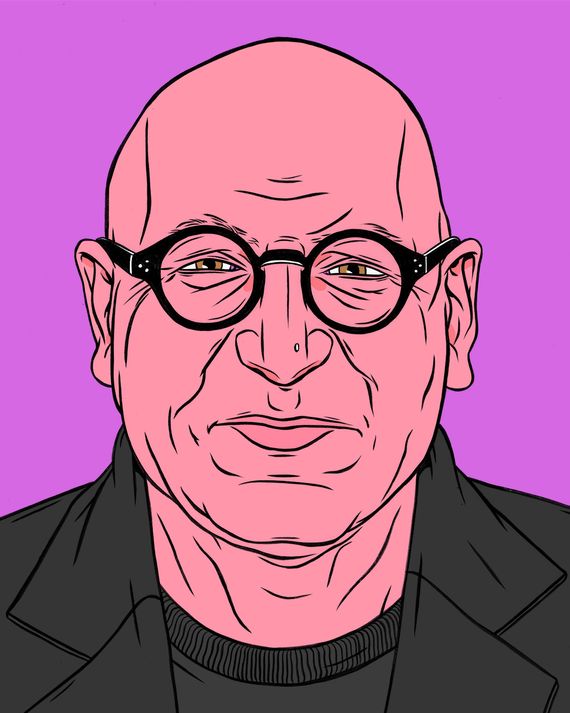 Illustration: Kelsey Dake
In the summer of 2019, Jeffrey Wernick, then a 63-year-old investor and self-described anarcho-capitalist, was living above a hotel in midtown Manhattan and hosting regular lunches at Freds at Barneys, where he'd extol bitcoin and rue the sunset of free speech in America. It was at one of these gatherings that he got to talking with John Matze, 26, the libertarian who had recently founded Parler — a Twitter alternative for conservatives fed up with what they considered to be the suppressive policies of mainstream social media.
Wernick doesn't particularly like social media ("It's antisocial," he told me), but he appreciated Parler's purity: The platform showed posts in simple chronological order with rather laissez-faire content moderation. A few months after the encounter, Wernick invested in the start-up and became a strategic adviser. "I thought it would be really perverse if the World Wide Web existed without there being a real public forum," he said. "The town square has been hijacked by private actors, and a public square no longer exists."
Wernick, who has a shaved head and has been photographed wearing both fashionably thin and fashionably chunky eyewear, was speaking by phone from California at a moment when it's quite easy to imagine a world without Parler. Since some of its users were in the insurrectionist crowd that stormed the Capitol on January 6, the social network has borne nearly fatal consequences. Apple and Google removed Parler from their app stores, Amazon Web Services booted the company from the cloud, and smaller tech partners it depended on, like Okta and Twilio, also severed ties. Parler, whose app had surged from about 12,000 downloads a week to 268,000 in the three days after the riot, now exists as an unusable, static website. (Note: Just before this story published, Parler's site reactivated for existing users.) Recently, Parler's controlling shareholder, Rebekah Mercer, fired Matze, leaving Wernick as one of the few grown-ups remaining in the effort to get it back online. As we spoke over a series of calls, he sounded remarkably calm for a sexagenarian swept into cleaning up a technological, legal, and political debacle of the highest order.
Backing a social-media platform — he owns debt that's potentially convertible into equity — hasn't made Wernick interested in sharing. "I don't want to talk about my personal life or my family," he said. "I don't want them attacked." He allowed, however, that his aversion to central authority goes way back. Wernick, who was born in New York, said he was 15, a precocious monetary-policy obsessive, when he put his savings into gold stocks. At 25, after studying economics at the University of Chicago, he sold a risk-management model to an insurer, enabling him to drop out of the workaday world. He said he has spent the past 40 years reading ("at least a hundred" nonfiction books a year) and angel investing and that more than half of his net worth is in bitcoin.
When Wernick came to Parler late in 2019, he understood that his involvement would be more than financial. Matze, he said, "was looking not just for money but for mentorship." Parler was getting little traction, and one of Wernick's first suggestions was to not renew the contracts of the influencers the site was paying to attract users, except for one: Dan Bongino, the Secret Service agent turned lib-owning podcaster. Parler had its best download days when Bongino read its ads on his show. "We don't even need a script with this person; he believes it," Wernick recalled saying. Wernick insisted that the company wanted a range of voices — it reserved handles for mainstream outlets like the New York Times — but even if the platform wasn't a conservative echo chamber by design, it became one by demand.
In the summer of 2020, Parler enjoyed a spike of MAGAverse interest when Donald Trump's then campaign manager, Brad Parscale, suggested the president might join. Then the service crashed for much of the Fourth of July weekend, lending credence to the view that Parler was perhaps more of a proof of concept than a ready-for-prime-time tech company. Wernick remained a believer. When Facebook and Twitter decided to restrict the reach of an October New York Post report on Hunter Biden, it only reinforced the value of a social network with no "brownouts of coverage," he told me. Still, to many outsiders, Parler was little more than a sewer, dominated by QAnon, racism, and #StopTheSteal, and by December, the company began to feel deplatforming heat from big tech.
"Google said we were violating their hate-speech code," Wernick said. He and a colleague began a Zoom to discuss the matter with Google executives, one of whom asked if they were recording. Wernick said yes. Then a Googler claimed technical difficulties; the group asked to reconvene on the Google Meet platform, which Wernick didn't consider neutral ground. "You can determine how credible it is that people at Google didn't know how Zoom worked," he said. "Google wanted to tell us something they didn't want other people to hear." Amazon, meanwhile, whose servers Parler relied on to operate, sent the company examples of odious content on its network. "The stuff they sent us had like ten views," Wernick said. "So basically the marketplace worked. I don't know what they did to find it, but they found content that almost no one else found."
In the run-up to January 6, Parler was flooded with calls for revolt, and afterward, Apple gave the company 24 hours to end the planning of "further illegal and dangerous activities." Despite the conditional language, Wernick said, "I thought they'd kick us off no matter what," and his negotiations with Amazon were similarly fruitless. "They came up with four posts of incitement as an example," he said. "I countered with lots of examples from Twitter. They said, 'We're not talking about Twitter.' I said, 'I'm trying to understand what's acceptable to you. You're not giving me guidance.' " (He's not alone in his confusion. Extremism researchers say Facebook was in many ways a more significant factor in creating the conditions that led to the riot.)
Parler has since sued Amazon to get back online, although in one hearing, a judge disparaged its allegations as "inaccurate and unsupported." Unable to enlist any mainstream vendors, the company has resorted to using an obscure Russian company for some of its infrastructure. Wernick, who claims Parler will be working again this month, said it has lined up "multiple data centers" and is "reinforcing our moderation efforts" with the help of outside firms he declined to name. "We want to preserve free-speech principles," he said, "but we also want to promote civil discourse." In early tests, however, Wernick said, the system proved "terrible" at catching violent content while inadvertently flagging such things as "I love Parler," "free market," an American flag with a heart, and various Austrian economists.
Wernick's hopes to remain behind the scenes of Parler's reboot were upended when BuzzFeed reported that he, Matze, and Bongino had met with Parscale and a Trump lawyer at Mar-a-Lago in June to discuss the president taking a 40 percent stake in Parler in exchange for making the platform his home. The congressional Oversight Committee wrote directly to Wernick suggesting that such a deal might have amounted to criminal bribery. He stopped answering my messages; when we reconnected, he emphasized that he was not a legal officer of the company (he is often incorrectly described as its chief operating officer), that the Trump discussion was initiated by Parscale and arranged with Matze, and that he "left the meeting thinking Parscale was trying to cut a deal for himself."
Wernick also sent me a long series of texts lamenting that he had become a public face of the company when he had only ever wanted to be an adviser. "During this long period of turmoil I have remained silent because the focus should not be on the personalities but on Parler," he wrote. "I am a philosopher," he added. "Who wants to return to his books."
*This article appears in the February 15, 2021, issue of New York Magazine. Subscribe Now!