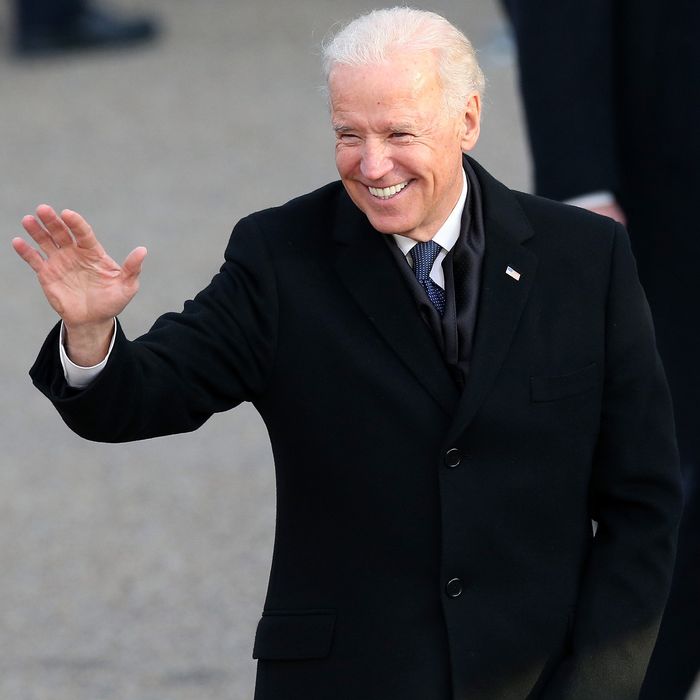 Photo: Mark Wilson/Getty Images
Anxiety about Joe Biden's inauguration on January 20 reached new heights after a pro-Trump mob's attack on the Capitol, where insurrectionists managed to breach security and storm the building with alarming ease. Coming in the midst of a worsening pandemic, Biden's inauguration was already set to look much different from his predecessors'. His inaugural committee has laid out plans that attempt to model behavior in line with public-health guidance while preserving some pomp and political tradition, a tricky balance now compounded by Wednesday's riot (which may turn out to be a superspreader event in itself). Here's everything we know about the swearing in of the 46th president, from how inaugural planners are reassessing security after the Capitol riot to what President Donald Trump, who recently announced he will not be attending, might spend the day doing instead.
Biden's swearing-in will still take place in person
As in previous years, Joe Biden and Kamala Harris will take their oaths of office at the U.S. Capitol — but the audience will be drastically pared back. Even before the Capitol riot, Biden's inaugural committee had capped the number of available tickets due to COVID precautions. While members of Congress typically receive 200,000 inauguration tickets to hand out among their constituents, lawmakers this year will each receive only two tickets — one for themselves and one for a guest, the Washington Post reports. The inaugural committee has emphasized that strict health and safety protocols will be in place for those who do attend; the committee hired a chief medical adviser, Dr. David Kessler, to help organize the event in accordance with such protocols, according to The Wall Street Journal.
Here's the guest line-up for the swearing-in ceremony, which begins at noon on January 20:
Invocation - Father Leo J. O'Donovan 
Pledge of Allegiance - Andrea Hall 
National Anthem - Lady Gaga 
Poetry Reading - Amanda Gorman 
Musical Performance - Jennifer Lopez 
Benediction - Reverend Dr. Silvester Beaman
After the ceremony, Biden and Harris will participate in a Pass in Review, a review of troops meant to reflect a peaceful transfer of power. In lieu of the traditional inaugural parade, Biden and Harris will receive a "presidential escort," including representatives of every branch of the military, for the roughly mile-and-a-half trip to the White House from 15th Street. The committee said this will provide "the American people and world with historic images of the president-elect proceeding to the White House without attracting large crowds and gatherings."
The National Mall will be closed to the public
While officials had already been trying to discourage Americans from traveling to D.C. for the inauguration, after January 6 they took drastic action to keep members of the public away. The entire National Mall will reportedly be closed on Inauguration Day, a major departure from previous years when as many as 1 million people have gathered between the Lincoln Memorial and the U.S. Capitol to watch the new president be sworn in.
The transition had previously announced that a public art display including 191,500 U.S. flags will cover the National Mall from 3rd Street to 13th Street. This "Field of Flags," is meant to represent "the American people who are unable to travel to Washington, D.C., and reflect our commitment to an inclusive and safe event that everyone can enjoy from their home."
National Guard presence expected to top 20,000
Concerns about security at Biden's swearing-in have skyrocketed following the Capitol Police's catastrophic lack of preparedness for the chaos on January 6. Within two days the attack, some 6,200 National Guard members from six states were activated to help support law enforcement for the next 30 days; inauguration road closures were put in place; and barriers designed to be impossible to climb were erected on the Capitol grounds. Those barriers were already set to go up for the inauguration, which always involves heightened security measures, the AP explains:
The inauguration is a National Special Security Event overseen by the Secret Service and scores of other federal agencies, including the Defense Department, which helps lead counterterrorism efforts associated with the event. That's the same level of security provided during political party conventions or when a dignitary lies in state at the Capitol — but not during a normal congressional session like when rioters breached the building.
But now the usual security perimeter around the Capitol is expected to be larger, and remain in place for much longer.
The city's full police force of 3,700 officers has already been deployed, according to the Washington Post, and another 2,908 law enforcement personnel have been called in to assist with the inauguration. Senior Defense officials said the National Guard may send as many as 15,000 additional troops to D.C. for the inauguration.
"I think you can expect to see somewhere upwards of beyond 20,000 members of the National Guard that will be here in the footprint of the District of Columbia," Washington Metropolitan Police Chief Robert Contee said on Wednesday.
The National Guard members are expected to come from nearly all states. Troops who are military police or have law enforcement experience will be armed; others won't be carrying their weapons but will have access to them.
Most other inaugural events will be virtual
To demonstrate the importance of health and safety protocols aimed at stopping the spread of COVID-19, inaugural activities outside the swearing-in will largely take place virtually. Biden's team embraced the format throughout his campaign, and, in December, the president-elect said we should expect "something that is closer to what the convention was like than a typical inauguration."
A virtual "Parade Across America" will be aired in place of the traditional in-person parade. "The planned programming is expected to feature Americans across the country along with musical acts, local bands and poets to pay tribute to frontline workers during the pandemic," according to The Wall Street Journal.
The Biden team is also producing a prime-time special for the night of his inauguration. The 90-minute program, titled "Celebrating America" will air live on ABC, CBS, NBC, CNN, and MSNBC from 8:30 p.m. to 10 p.m. EST on January 20. Tom Hanks will host and it will feature performances by Jon Bon Jovi, Demi Lovato, Justin Timberlake, and Ant Clemons.
To help fund these events, Biden's inaugural committee is accepting up to $500,000 in donations from individuals and up to $1 million from corporations, and rewards for those donors will largely be virtual too. The reported perks for someone who gives $500,000 or bundles $1 million for the inauguration include invitations to virtual briefings with Biden leadership, access to "preferred viewing" for the virtual inauguration, and invitations to virtual events with Biden, Harris, and their spouses.
Canceled: inaugural balls, Biden's Amtrak ride, and the congressional luncheon
There will be no inaugural balls, but Biden, Harris, and their spouses will make an appearance during the prime-time program on January 20.
The post-inauguration luncheon, where members of Congress formally welcome the new president and vice-president has also been called off. It was initially set to occur in a modified format that would involve instituting new health and safety protocols, but after consulting with Biden's inaugural planners, the Joint Congressional Committee on Inaugural Ceremonies canceled it altogether, Bloomberg reported.
Biden had planned to ride his beloved Amtrak train to D.C. for his inauguration, replicating his commute during his decades in the Senate. But the event was called off following a briefing from the FBI and Secret Service on security concerns after the Capitol riot.
Other Inauguration Week events
The inaugural committee said it will honor those who have died from the coronavirus in a ceremony on January 19, the day before Biden is to be sworn in. The memorial will take place at 5:30 p.m. ET and will include a lighting ceremony at the Lincoln Memorial Reflecting Pool. "The committee said it is also inviting cities and towns around the country to light buildings and ring church bells at the same time," according to the Post.
After he's sworn in on January 20, Biden will head to Arlington National Cemetery to lay a wreath at the Tomb of the Unknown Soldier. He'll be accompanied by Vice President-elect Kamala Harris and former presidents Barack Obama, George W. Bush, and Bill Clinton. All of the officials' spouses will also attend.
Trump's plans for January 20 are unknown
In one of the final tweets he issued before being permanently banned from the platform, President Trump announced "to all of those who have asked" that he will skip the inauguration. Traditionally, the sitting president and the president's spouse welcome the incoming president and their spouse to the White House for a morning coffee, after which the two leaders take a limousine ride together to the Capitol for the swearing-in ceremony. Trump will be the first president in the last century to sit out a successor's inauguration.
Vice-President Mike Pence, however, is expected to attend Biden's inauguration, according to three people close to him, a move reportedly made easier by the attacks Trump leveled at his No. 2 ahead of, and after, the congressional certification of Biden's victory that Pence presided over in a joint session on Wednesday. "It was a much more difficult decision days ago, but less difficult now," one of the people told Politico, despite a spokesman for Pence saying the vice-president and Second Lady "have not yet made a decision on their attendance."
Biden called Trump's decision not to attend "one of the few things we have ever agreed on. It's a good thing, him not showing up." The president-elect said Pence is "welcome to come" and he'd be honored to have him there.
What Trump will be doing on January 20 instead remains unclear. The president and First Lady may fly to Mar-a-Lago the day before the inauguration, or even the morning of, a plan said to be in discussion among White House aides. A reported factor driving Trump's desire to leave town prior to the event is flying on Air Force One while he still can. A post-inauguration flight would require Trump "to ask Biden to allow him to use a plane for his departure, as is customary," according to Politico, a request the president would likely despise making — not to mention that that aircraft would no longer be called Air Force One at that point.
There's plenty of other speculation about Trump's Inauguration Day plans: Theories include fleeing to his golf resort in Scotland (which Nicola Sturgeon, Scotland's first minister, said would violate coronavirus restrictions) and announcing a 2024 run on Air Force One in an attempt to steal the spotlight from Biden.
This post has been updated throughout.