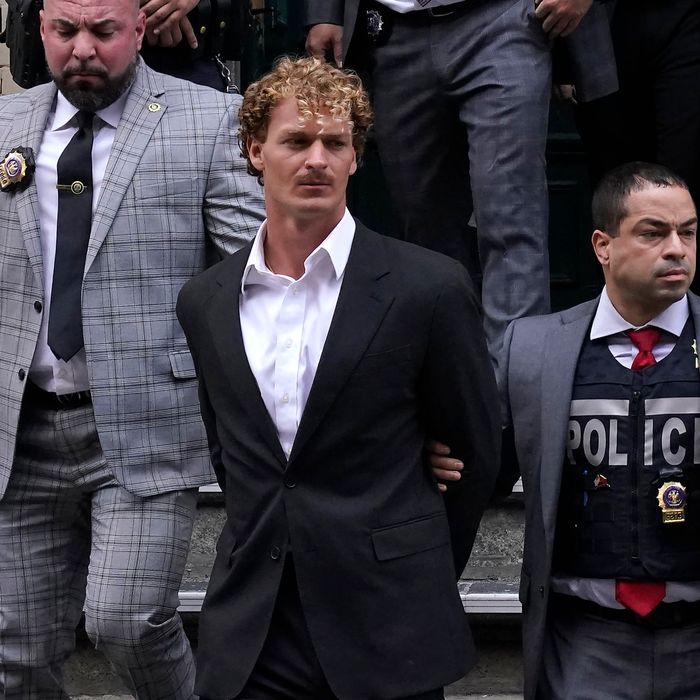 U.S. Marine veteran Daniel Penny (C) is walked out of the New York Police Department Fifth Precinct in lower Manhattan on Friday morning on his way to arraignment.
Photo: Timothy A. Clary/AFP via Getty Images
On May 1, Daniel Penny, a 24-year-old Marine Corps veteran from Queens, killed Jordan Neely aboard a Manhattan subway train after placing him in a lethal choke hold. Penny was later charged with second-degree manslaughter. Below are the latest updates on the ongoing aftermath of Neely's death, as well as what we know about Penny and the legal consequences he may face.
Penny gives first interview: "This had nothing to do with race"
In his first public comments since killing Jordan Neely, Daniel Penny told the New York Post on Saturday that he was not a racist, was "deeply saddened by the loss of life," and that Neely's death was "tragic":
When asked what he would say to the family of Jordan Neely, whose funeral was Friday, Penny looked somber, carefully choosing his words.

"I'm deeply saddened by the loss of life," he said " It's tragic what happened to him. Hopefully, we can change the system that's so desperately failed us." But when asked if he would take action again if he were in a similar situation, Penny nodded. "You know, I live an authentic and genuine life," Penny said. "And I would — if there was a threat and danger in the present …" Does he feel he did anything to be ashamed of? "I don't, I mean, I always do what I think is right."
Penny, citing the case against him, told the Post he couldn't detail his version of what happened aboard the train. He claimed race wasn't a factor:
"This had nothing to do with race," … "I judge a person based on their character. I'm not a white supremacist."




"I mean, it's, it's a little bit comical. Everybody who's ever met me can tell you, I love all people, I love all cultures. You can tell by my past and all my travels and adventures around the world. I was actually planning a road trip through Africa before this happened."
Hundreds gather to mourn Jordan Neely
The funeral for Neely was held Friday morning at Mount Neboh Baptist Church in Harlem. In his eulogy, Reverend Al Sharpton offered sharp criticism for city leaders and those who defend Daniel Penny. Sharpton emphasized that Neely died "not because of natural causes but because of unnatural policies" and decrying how "people keep criminalizing people that need help."
Regarding those who have celebrated Penny's actions, Sharpton insisted that "A good Samaritan helps those in trouble, they don't choke him out."
Conservatives have made Penny a cause célèbre
As of Saturday morning, Daniel Penny's lawyers have already crowdfunded nearly $2.7 million for his legal defense using page on the conservative-centered GoFundMe alternative, GiveSendGo. A number of figures on the right have been promoting the effort and not just defending Penny, but championing him and what he did. Late Friday, prospective GOP presidential candidate Ron DeSantis linked to the page in a tweet in which he referred to Penny as a "Good Samaritan." Vivek Ramaswamy's campaign confirmed to Vice that the entrepreneur donated $10,000 to the fundraiser.
The Washington Post collects some more examples of support from the right:
Other conservative outlets such as One America News have had segments asking whether Penny "should be prosecuted or honored." The Wall Street Journal's conservative-leaning editorial board made the case against charging Penny, describing him in a Friday headline as "the Subway Samaritan." Rep. Matt Gaetz (R-Fla.) gave Penny a similar nickname — "Subway Superman" — on former president Donald Trump's Truth Social platform.
Penny released on bond
Penny was released on May 12 on $100,000 bond. According to the Associated Press, he also surrendered his passport and will not be allowed to leave the state without prior approval. His next court date is scheduled for July 17.
Penny has already raised more than $280,000 for his defense
His lawyers confirmed they set up a defense fund on the conservative crowdfunding site GiveSendGo. Gothamist reports that as of 11 a.m. Friday, more than $280,000 had already been donated to pay for Penny's legal expenses.
DA finally charges Penny
Penny surrendered to New York police at the Fifth Precinct on Friday morning. The DA's office said in a statement on Thursday afternoon that Penny would be arrested and charged with manslaughter in the second degree. The New York Times reports:
Mr. Penny, 24, dressed in a dark gray suit, walked through the front doors of the Police Department's Fifth Precinct at around 8 a.m. Hands cuffed behind his back, Mr. Penny was led out of the precinct at 10:38 a.m. He was put into a waiting black police car to be taken to Manhattan Criminal Court, where he was to be arraigned later Friday.
Neely's funeral will be held in Harlem on May 19
Attorneys for Jordan Neely's family announced the funeral on Tuesday. Reverend Al Sharpton will deliver the eulogy.
Neely's family calls statement by Penny's lawyers an "admission of guilt"
On Monday, attorneys Donte Mills and Lennon Edwards released a statement on behalf of Jordan Neely's family in which they denounced the statement released by Daniel Penny's lawyers late last week:
Daniel Penny's press release is not an apology nor an expression of regret. It is a character assassination and a clear example of why he believed he was entitled to take Jordan's life. In the first paragraph, he talks about how "good" he is and the next paragraph he talks about how "bad" Jordan was in an effort to convince us Jordan's life was "worthless." The truth is he knew nothing about Jordan's history when he intentionally wrapped his arms around Jordan's neck and squeezed and kept squeezing. In the last paragraph, Daniel Penny suggests that the general public has shown "indifference" for people like Jordan, but that term is more appropriately used to describe himself. It is clear he is the one who acted with indifference, both at the time he killed Jordan and now in his first public message. He never attempted to help him at all. In short, his actions on the train, and now his words, show why he needs to be in prison.
Protesters climb onto subway tracks in Manhattan
A group of protesters calling for justice for Jordan Neely climbed down onto the subway tracks during a demonstration at the Lexington Avenue–63rd Street station station in Manhattan on Saturday evening:
More than a dozen people were arrested when police cleared the station.
Protesters had gathered Saturday afternoon at the Broadway–Lafayette Street station, where Neely was killed, before marching north through Manhattan, then briefly occupying the platform and halting service at Lexington and 63rd.
Penny's lawyer releases statement
Daniel Penny's attorney, Thomas Kenniff, released a statement on Friday night in which he claimed Penny had acted "to protect" himself and other passengers after Neely "began aggressively threatening" them. Kenniff insisted that Penny "never intended to harm Mr. Neely and could not have foreseen his untimely death." The statement pointed to Neely's "documented history of violent and erratic behavior" and decried the mental-health crisis in the city.
What happened?
On Monday afternoon, Daniel Penny was seen choking Jordan Neely, 30, aboard an F train in an encounter captured on video. During the nearly four-minute video, Penny is seen wrapped around Neely's back on the ground with both arms tight across his neck. Neely struggles as another unidentified man holds his arms by the wrist. The conductor and others can be heard calling for police, and after about two minutes, a bystander gets inside the train car and warns Penny, "If you suffocate him, that's it. You don't want to catch a murder charge." Shortly thereafter, Penny releases the choke hold and the men roll Neely, who appears to be unconscious, onto his side. Neely was later pronounced dead at a nearby hospital.
Officers questioned Penny and released him. Later, the medical examiner's office determined that Neely had died from compression of his neck, ruling his death to be a homicide.
Who is Penny?
Daniel Penny graduated from West Islip High School in 2016, in the bedroom community on Long Island's South Shore, about a 90-minute drive from Manhattan. In 2017, he joined the Marines. His lawyer said Penny is currently a college student. The Washington Post notes that, according to his service records, Penny served as a rifleman until 2021, reached the rank of sergeant, and was deployed with the 22nd Marine Expeditionary Unit to the Mediterranean.
For a time, Penny lived at his grandfather's house in West Islip, according to Willy Horan, who purchased the waterfront home from Penny's grandfather in 2019. Horan took a break from his yard work Friday morning to lament both Neely's death and Penny's circumstances. "It's unfortunate it had to end with a 30-year-old dying. But the kid was threatened, he's a marine, what was he supposed to do?" Horan wondered. "Tell Adams, 'Now that he's got the rats under control, it's time to address mental illness.'"
In a bio on the service-industry job site Harri, Penny wrote that his experience as a squad leader on two deployments led him to realize he was "passionate" about "helping, communicating, and connecting to different people from all over the world."
Will he be charged?
Prosecutors and detectives are said to be considering potential charges for the veteran with the Manhattan DA's office "weighing if the case should go to a grand jury to determine if charges should be brought," according to the Daily News. Gothamist reports that the investigation is being led by Assistant District Attorney Joshua Steinglass, who it notes "is one of the office's go-to lawyers on high-profile, violent crimes."
Catherine Christian, an attorney who spent 30 years in the Manhattan DA's office, told Gothamist that the video of the choke hold would not be enough for prosecutors to charge Penny with murder — as state law demands that prosecutors prove there was an intention to kill. If charges are filed, Christian said that it's more likely to be second-degree manslaughter or criminally negligent homicide, which would require prosecutors to show that Penny was not "reasonably acting in self defense," per Gothamist.
With only one witness coming forward publicly so far, it's essential to any potential case that more firsthand accounts are found. "I would hope that the police officers got the name and contact information of everyone in that subway car, because what people who weren't in the car are saying is irrelevant," Christian told Gothamist. "So I would want to know: What did they see? What did they hear?" On Thursday, the NYPD encouraged witnesses who have not come forward to share any information they may have about the attack.
Penny, who did not respond to a request for comment, is being represented by criminal defense attorney Thomas Kenniff, who ran unsuccessfully as a Republican for Manhattan district attorney against Alvin Bragg in 2021.
This post has been updated.