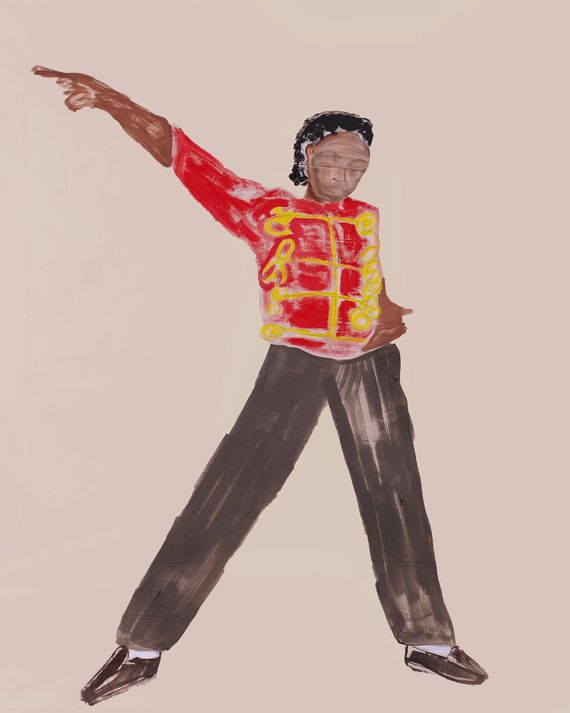 Tschabalala Self,
Mr. Neely
(2023).
Art: Tschabalala Self
For some New Yorkers, Jordan Neely was dead even before Marine Corps veteran Daniel Penny allegedly choked the life out of him on the floor of a subway train. Modern America, including New York, designates some categories of people as socially dead — part of an underclass that is subject to exclusion, indifference, or even outright hatred and violence. To be Black, destitute, homeless, and mentally ill in our city is to be one of those outsiders, existing in a kind of internal exile from society's circle of care and concern.
"I don't have food, I don't have a drink, I'm fed up," Neely screamed in the final minutes of his life, according to Juan Alberto Vázquez, a freelance journalist on the train who recorded the incident. "I don't mind going to jail and getting life in prison. I'm ready to die." It seemed to be a complaint shouted to the heavens, aimed at nobody in particular. Neely "didn't seem like he wanted to hurt anyone," Vázquez later said. But the doomed man's words were sadly accurate about the choices he believed New York offered: prison or death.
As the local tragedy quickly became national and even international news, the city's politicians began squabbling. "Jordan Neely was murdered," Representative Alexandria Ocasio-Cortez tweeted, calling the killing "disgusting." "We must not become a city where a mentally ill human being can be choked to death by a vigilante without consequence. Or where the killer is justified & cheered," New York City comptroller Brad Lander chimed in.
Mayor Eric Adams, by contrast, complained that Ocasio-Cortez and Lander were jumping to conclusions. "We cannot just blatantly say what a passenger should or should not do in a situation like that, and we should allow the investigation to take its course," he said on CNN.
The mayor's wait-and-see attitude today stands in stark contrast to how he reacted to the killing of Austin Simon inside a Harlem bodega in 2022. In that case — a dispute over a bag of chips that escalated and led to the store clerk, Jose Alba, stabbing Simon to death — the mayor rushed to the scene days later and held a news conference outside. Earlier that day, he had said, "My heart goes out for this hardworking, honest New Yorker that was doing his job in his place of business, where a person came in and went behind the counter and attacked him."
Ocasio-Cortez chided Adams for being unable to denounce the use of deadly violence on the subway. "I have yet to hear a real explanation from any official hesitating to condemn the killing of Jordan Neely about what makes condemning this violence so 'complicated,'" she tweeted. "Killing is wrong. Killing the poor is wrong. Killing the mentally ill is wrong. Why is that so hard to say?"
Above and apart from the back-and-forth, City Council Speaker Adrienne Adams issued a statement that came closest to identifying the core issue of Neely's death. "Racism that continues to permeate throughout our society allows for a level of dehumanization that denies Black people from being recognized as victims when subjected to acts of violence," she said. "Everyone in our city and nation should be reflecting on what this incident represents and says about us."
When the political dust settles, we should demand a full accounting from all of these officials. Neely, it seems, had encountered many of the clinics, hospitals, and social-service organizations we collectively (and optimistically) call a social safety net, including the Bowery Residents' Committee and Bellevue Hospital, according to the New York Post. Employees from the Citywide Mobile Crisis Outreach Team brought him to a hospital or shelter five times in 2020.
But the city's web of social organizations is ludicrously underfunded and badly lacking in quantity and coordination, according to City Councilwoman Linda Lee, who chairs the council's Committee on Mental Health, Disability, and Addiction. "This is yet another unfortunate incident that we're seeing in the community that could have been prevented," she told me, specifically citing a lack of crisis centers where people in mental distress can find help and a place to stay in an emergency. "Across New York City, there's a total of only 50 beds. That's it, 50 beds," she said. "When you're looking at a city of 8.8 million people, it's not enough services, it's not enough beds, it's not enough spaces that are being provided for those that have severe mental illness."
For Neely, the alternative to social services was the NYPD and a jail cell on Rikers Island. "Cops continued to engage over the next year with the homeless Neely, who often mentioned that he was schizophrenic, had ADHD and was sometimes suicidal," the Post reports. He was apparently locked up from November 2021 until February of this year after punching and severely injuring an elderly woman.
"Nobody seems to be in charge of, like, looking at the arrests," City Councilman Bob Holden complained to the Post. "If you keep arresting him, and he keeps getting let go without getting treatment, this is going to continue to happen. We're gonna get more of these."
This is no way to treat the Neelys of our city. Demonstrators took to the streets demanding Penny be prosecuted, tagging a station downtown with the words WHO KILLED JORDAN NEELY? — a question that seems to implicate not only Penny but also the authorities, all the way up to the mayor, who have allowed various overlapping crises of poverty, homelessness, and mental health to go unaddressed.
"I want to see this person held accountable for killing a fellow New Yorker," Shelly Nortz, deputy executive director for policy at the Coalition for the Homeless, told NPR. "Allowing this to happen only encourages others to do the same."
Penny's possible prosecution will turn on a legal standard developed in People v. Goetz, the case involving a man who shot four teenagers on the subway in 1984, claiming he thought he was about to be mugged. Self-defense is allowed, according to the state's highest court, if a person has a reasonable fear of imminent serious harm, taking into account all of the circumstances. The challenge for Penny is that New York law also specifies a duty to retreat once an immediate deadly threat has passed: In the words of the penal code, "the actor may not use deadly physical force if he or she knows that, with complete personal safety to oneself and others, he or she may avoid the necessity of so doing by retreating."
The horrifying video of Neely's death includes an unseen bystander telling Penny to stop, that he's killing the man in his choke hold, and that Neely has defecated on himself, a sign that the life is ebbing out of him. It will be up to District Attorney Alvin Bragg to determine if the facts warrant prosecution. In an odd twist, Penny will be represented by Thomas Kenniff, Bragg's Republican opponent in 2021. By all appearances, the stage is set for a case that will divide the city along the line Adams seems to be walking — between empathy for the dead man or for his alleged killer, whose vigilantism has been welcomed in certain quarters that believe the subway needs to be cleaned up with a stiffer brush.
Readers of a certain age will recall that Bernhard Goetz was acquitted by a jury of assault and attempted murder for firing at teenagers who, however threatening they might have seemed, never touched him. Alba, who stabbed a man to death, has been lionized by conservatives who called him as a witness at a recent hearing designed to attack Bragg.
We have elected a mayor who was eager to pronounce Alba "honest" and "hardworking" before any investigation and is now unable or unwilling to speak with concern or compassion about Neely. At a minimum, Adams should order a review of all the city agencies that interacted with Neely over the years, from the Health Department to the NYPD and Department of Correction. And then all of these officials should make the city's $107 billion budget conform to the level of need.
But none of this will let the rest of us off the hook. In addition to the bystander telling Penny to stop, others watched and even helped him. This is what happens when the sight of the distressed becomes so common that it is both fearsome and exhausting; we look the other way, mutter about crime and quality of life, and ignore the fact that we as a society are taking the cheap, easy way out by condemning some of our neighbors to a kind of walking death and hoping we avoid the consequences.