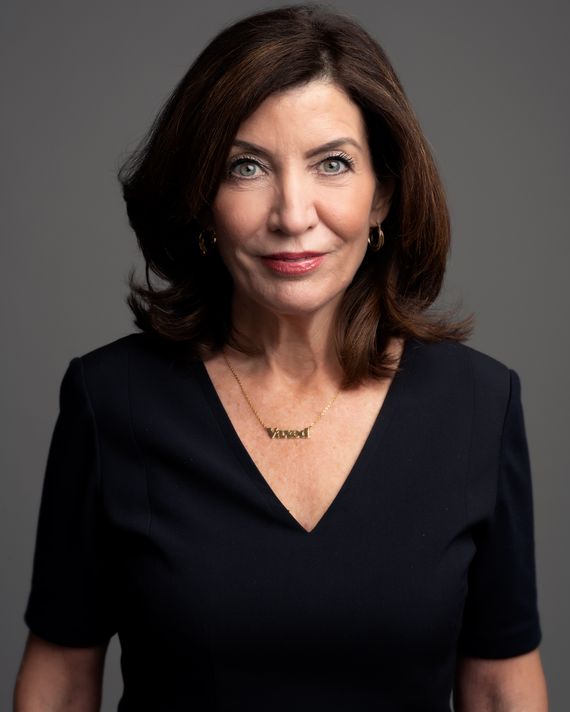 This article was featured in One Great Story, New York's reading recommendation newsletter. Sign up here to get it nightly.
The first female governor of New York was sitting in the back of the Apollo Family Restaurant in Buffalo one recent Wednesday afternoon when an older man in a VFW baseball hat approached. The governor, wearing a light-brown suit and a gold nameplate necklace that read "VAXED," looked up from her rice pudding.
"I hate to interrupt, but I need to ask a burning question. Did you ever go out with a guy named Jim Wilson?"
Kathleen Courtney Hochul, age 63, married for 37 years, thought for a beat. Then she asked, "Jim Wilson who played football with my brother?"
"Yeah."
"I did not go out with him."
"Aww, that lying son of a — "
"Is he saying I went out with him?
"Yeah, he said he dated you."
"Nah, tell him, 'In his dreams.' "
She laughed. The man laughed. The governor considered the possibility again. "I didn't date that many guys," she said after a moment of reflection. "I'd remember. I was kind of a nerd."
It had taken ten minutes for Hochul to get from the diner's entrance to a booth in the far back corner — stopping to shake hands and take selfies with servers, the manager, an older couple who had just moved here from Texas, a college student. She compared notes on waitressing with the waitress, assessed the Bills with a lady who had a cat tattoo on her arm, and reacted in no discernible way when a patron told her, "You're a lot prettier than the last governor."
Folksy to the max, unrushed, gaffe free: It was as capable a diner-working as I'd ever seen a political actor execute. In the booth, Hochul looked at me with manifest eagerness. "I am almost like a psychologist," she said. "I really want to understand people where they are — their frustrations and pressures. I always want to be very inquisitive."
Hochul is a little over five feet tall, with shoulder-length brown hair and huge, round blue eyes. She talks plainly in an alto register and a rapid cadence with a distinctive Buffalo accent, drawing out her a's (habits is three syllables) and dropping her terminal g's. "You've always got to touch people," she continued. "See how they're doing, and make sure they know you're not better than anybody else. No matter what their title is, everybody has value." I've been covering Hochul's rise in government for a decade, a span in which she has often played the role of an accidental ascendant, stepping into positions abandoned by others and disclaiming any interest in actively seeking higher office herself. It was interesting now to observe her describing the basic unit of interacting with voters. Three months into her governorship, and seven months before a primary that will help determine if she gets to keep the job, Hochul is still introducing herself to the electorate, and the easiest way to do that is through an implicit rebuke of her predecessor and former running mate. It wasn't just the bromides about our common humanity — the fact that she had agreed to be interviewed at all, in a public space where she couldn't regulate the environment or avoid awkward strangers asking about her teenage dating life, was a scenario unthinkable during the 11-year reign of Andrew Cuomo, an obsessively controlling person with uncanny political intuition whose deficits in the area of human decency proved his undoing.
"We might not agree on things, but it'll never be visceral and won't be personal," Hochul said. "I'm going to take all that out of state government because it doesn't have to be there. The biggest applause line I get when I go to any event is — I've got your headline — 'Newsflash! Governor of New York Works With Mayor of New York City.' It's so simple!"
Nice, empathetic, and collegial may top the list of the least Cuomo-like attributes, but they don't tend to describe people who win knife fights in New York politics. Hochul is so unintimidating that she's already facing five likely challengers in the Democratic contest set for June — the state's first competitive primary for governor in 40 years and a once-in-a-generation opportunity for an outsider to seize power. Her most formidable opponent is State Attorney General Letitia James, whose investigation into Cuomo's alleged sexual misconduct and abuse of power drove him from Albany and who, if victorious, would become the first Black female governor in America. Jumaane Williams, the New York City public advocate and progressive darling, officially entered the race on November 16. On Hochul's moderate flank, Long Island representative Tom Suozzi and Suffolk County executive Steve Bellone are reportedly considering runs, and so, insanely, is Mayor Bill de Blasio. Some began plotting before Hochul was even sworn in. They're betting she is so benign, bland, and unknown that she'll be unable to leverage the power of incumbency to overcome her conspicuous disadvantages — chief among them her years of subservience to Cuomo and her base of voters upstate, which hasn't produced a governor in nearly a century.
And yet Hochul isn't hopeless. Much of the political Establishment figured that after a career as a provincial technocrat and then seven years of wandering the state in search of ribbons to cut, Hochul would be a directionless executive. Instead, she has governed with surprising urgency — enacting progressive legislation, lavishing funds on constituencies from hotel workers to Orthodox Jewish groups, and haunting New York City. The five boroughs account for more than half the votes in a typical primary; she has done 35 public events here in her first 65 days, plus more in private.
"Tell everybody at the VFW I need them," Hochul told the man in Buffalo who interrupted her rice pudding. "I hope I didn't date Jim Wilson," she said after he'd gone. "He might have liked me, but I don't think I dated him. I was not a popular kid in high school."
In Lackawanna, a working-class suburb just south of Buffalo, Hochul took me to the Shamrock Mobile Home Park, where her parents once lived. A giant Confederate flag hung in the window of the trailer nearest the entrance. A burly, bearded man emerged, crossed his arms, and stared at us suspiciously. It started to rain, and we didn't linger.
Hochul was born in 1958 to Jack and Pat Courtney; she was the second of six kids in a big Irish Catholic family living in what had once been the tenth-largest city in America. Her grandfather, father, and uncle all worked at the once-mighty Bethlehem Steel plant, but by Hochul's early childhood, Buffalo was entering an economic decline. "The only escape out of here was generally an education," Hochul told me. Her father started taking night classes at nearby Canisius College and got a job with a small company in the nascent field of computing. In the early 1960s, the Courtneys moved to Hamburg — an affluent and nearly all-white suburb farther outside Buffalo.
To judge by clippings I found in the local newspaper archive, Hochul grew up in an extraordinarily political household, heavily informed by the Courtneys' involvement in their church and the activist Christian Family Movement. They organized grocery and clothing drives for poor migrants in Erie County, and by 1964, Jack Courtney was chairing committees in the local chapter of Housing Opportunities Made Equal, a group "dedicated to the belief that every person has the right to build, buy, or rent a home anywhere without restrictions which are based on race, religion, or national origin." Buffalo's Black population had soared after World War II and was concentrated on the city's poor East Side; by 1967, there were riots in response to police brutality and the destruction caused by urban "renewal" programs. That spring, the Courtneys were among the members of an "open housing" campaign asking Hamburg residents to add their names to a pledge "welcoming neighbors regardless of race." Hochul recalls her parents sitting with a Black family after a cross was burned in their yard, and a time when someone spit on her mother in church as she handed out integration literature.
Some of the family's most fervent activism came in opposing the Vietnam War. In May 1971, 12-year-old Kathy's name appeared in a half-page ad in the Hamburg Sun, alongside her parents', seeking volunteers for a FAST FOR PEACE. "We Must End This Shameful War Now," the ad read, asking for a 24-hour commitment "to show the intensity of your opposition to the war, and as a gesture of personal penance for supporting it through your taxes."
Democratic politics in Buffalo was a tangle of internecine feuds and patronage mills in the 1970s — a phenomenon reporters often described as "Beirut on the Lake" — and Kathy wanted in. In high school, she took a bus an hour each way to volunteer at Erie County Democratic Headquarters, working alongside another local political junkie named Tim Russert. Hochul has said she never imagined herself in elected office at the time ("I was preparing myself to be the best staffer," she told Time magazine recently), but her sister Sheila Heinze tells a story that seems more revealing of her early political ambition. "I remember her telling me that when my dad took her to look at colleges, they went to a small college and then they went to Syracuse," Heinze says. "When she asked him what he thought, he said the smaller college 'sounds like a place that the wife of a senator would go. Syracuse sounds like a place where a senator would go.' " Hochul went to Syracuse.
Curiously, when she got there in the fall of 1976, this daughter of firebrands began to stake out a small-bore approach to politics. As a prominent and well-liked member of the student government, she led a boycott of the school's bookstore over its high prices, with the Daily Orange newspaper noting approvingly that she "would not take no for an answer." The shop yielded, cutting 11 cents off the average sticker. Hochul had a knack for identifying popular, granular, and achievable issues — like questioning a fee students paid to go to sports games and pushing to reschedule freshman orientation from summer to fall, when more students could afford to attend. She appeared intent on avoiding the larger symbolic issues that captivate idealistic collegians; at one point, she pushed to end Syracuse's membership in a national organization of student governments in part because it had adopted a platform on issues "not directly relevant to SU," such as affirmative action and abortion. (She made an exception for divestment from South Africa's apartheid regime.)
While interning at the New York State Legislature, Hochul met her husband, William. (He would later serve as the U.S. Attorney for the Western District of New York from 2010 to 2016 and has since worked as an executive for Delaware North, an influential gaming-and-hospitality company.) After law school, she worked at a large firm in Washington and for Representative John LaFalce and Senator Daniel Patrick Moynihan.
When the Hochuls had children, a lack of affordable child care drove them back to Hamburg. "I thought I was gonna go brain-dead," she told me. "Truly no offense to my kids, but it's not stimulating watching Sesame Street all day." Eventually, Hochul enrolled in a public-speaking course from the author of How to Win Friends and Influence People, which helped "transform my life," she said. "It really taught me how to speak impromptu and kind of just how to be comfortable in my own skin." By the early 1990s, she was edging back into local politics, advocating on matters of zoning and development.
In 1994, Hochul was appointed to fill an empty seat on the Hamburg town board, and she kept up her parochial focus. She led an effort to boycott local Exxon gas stations, not over their impact on the environment but because of high prices. Her biggest success was a yearslong campaign to eliminate tolls on the highways into downtown Buffalo. By 2007, she was a successful figure in regional politics, and Governor Eliot Spitzer elevated her to the vacant role of Erie County clerk. The position mostly involves processing paperwork and licenses, but it's where Hochul took one of the stances that's likeliest to haunt her in the 2022 primary.
In September 2007, making appeals to dignity, safety, and lower insurance costs, Spitzer announced a plan to let undocumented immigrants obtain driver's licenses. Hochul, who was about to face an election, didn't just come out against the measure — she promised that if it were implemented, she would report any applicants to federal authorities. She was reading the mood of the state: Polls taken just before the election showed 72 percent of Erie County Democrats in opposition. Hochul won her election, and in the face of continued criticism, Spitzer withdrew his plan.
Hochul may have been an incrementalist, but she had come a long way from the family that once took gifts of food and necessities to Erie County's migrants. Her detractors have described Hochul's pose as craven and xenophobic, helping set back conditions for New York's immigrants for more than a decade; a law authorizing the licenses didn't pass until 2019. "It is a whole different era out there," Hochul told reporters in defense of her 2007 position. "That was 11 years ago, and there were very few people saying that was the right policy at the time."
Who is Kathy Hochul? It's frustratingly difficult to say what set of positions and principles she believes in. Press her for a personal political philosophy, and she tends to answer tangentially, describing an approach that's admirable but also inarguable to the point of being anodyne: She tries to listen to people, weigh her options, and choose to do the right thing. It's more illuminating to observe what Hochul has done at moments that threatened her political survival.
The license debate wasn't the only time she tacked right to win an election or dodged an ideological test. In 2003, as a member of the State Democratic Committee, Hochul avoided voting on a resolution supporting gay marriage because "I was on my county lunch hour," as she put it back then, adding, "I'm glad I did. I don't think it's an appropriate issue before Erie County at this time." In 2011, she ran in a special election to fill the congressional seat vacated by Republican Chris Lee after Gawker caught him sharing shirtless selfies on Craigslist. Hochul won, in part by bucking a trend and defending entitlement programs. No Democrat had held the seat in more than 40 years, and she was marked as a rising star within the party — if only she could hang on to it. A new redistricting plan made the area the most heavily Republican in the state, and in the next election Hochul did what she thought she needed to do to win. She skipped the Democratic National Convention, equivocated on aspects of Obamacare, and took stances so gun friendly the NRA endorsed her over her Republican opponent. Hochul lost by less than two points. Friends say it's the only time they have ever seen her truly discouraged.
People who know Hochul well say she isn't an ideologue. Instead she's a small-d democrat with almost no fixed positions — a cipher, essentially. (In that sense, she's not so different from Cuomo, who also drifted along the political spectrum. He tried to get things done by being nasty to everyone; she's attempting the opposite.) Hochul has defended her malleable politics by arguing that she's fulfilling her mandate as an elected representative. She's a vessel for the will of her constituency, which for years was in a conservative part of the state that has more in common with northwest Ohio than New York City. Now that she represents the entire state, she has more liberal beliefs. One former staffer told me, a little tortuously, that Hochul has a "strong moral compass," while her political compass tends to bend.
When I asked Hochul about the persistent criticism that she has no firm ideology, she answered with a broad defense of pragmatism. "People want results now," she said. "They don't want hyperpartisanship — they're tired of it. The electorate is exhausted. After Trump, after all the drama in the State of New York, they just want no drama. They want basic competency at tackling problems, and no one could look at my record and say what camp I fit into because I will defy those labels. They don't work for me. Because the issue, each issue, is unique in its own right."
"They can say whatever they want," she said of those who wish she were more reliably liberal. "They want to pigeonhole themselves into one camp and one label? Then you're not a good elected official because you're not willing to look at all the options. So I welcome that debate. That's what they've got on me? Bring it on."
Hochul's political honeymoon with Cuomo lasted something on the order of a few months. When he tapped her to join his ticket as lieutenant governor in 2014 as he sought a second term, the choice was purely utilitarian. Cuomo wanted to shore up his weak numbers in western New York, and she was a popular native; plus, as a pro-choice woman, Hochul might help him attack his general-election opponent on abortion rights, one of the few issues on which the two principals had significant differences. During the primary campaign, though, Cuomo and Hochul faced a surprisingly spirited challenge from the left by Zephyr Teachout and Tim Wu, a pair of law professors who became avatars of the increasingly alienated liberal New Yorkers incensed by Cuomo's Republican-coddling first term.
After slamming Hochul on immigration and guns, Wu edged her out for the New York Times' endorsement, which cited her "deeply troubling record on health reform, gun control, and environmental deregulation." Cuomo and Hochul enjoyed a fund-raising advantage in the millions and the institutional support of nearly every labor union in the state, but Teachout and Wu managed to capture more than 30 percent of the primary vote. Embarrassed, Cuomo questioned Hochul's political utility, and after they won the general, he paid her little attention. On the rare occasions when they spoke on the phone, Hochul addressed him as "Governor." The relationship was formal, courteous, distant.
The job of lieutenant governor is poorly defined, with few responsibilities. For seven years, Hochul kept herself busy traveling the state, routinely logging 11 hours of driving a day. A typical sequence might have her attending a cookout upstate, then cutting the ribbon at the reopening of a children's museum in Oswego, then shaking hands with an octopus at the Niagara Falls Aquarium, then meeting the premier of Quebec for a luncheon at the St. Regis. She has been known to walk parade routes, circle back, and walk them again to ensure she had shaken every hand.
If all this retail politicking was in service of a dream to succeed Cuomo one day, she made sure never to admit it. He required public gestures of submission that affirmed she posed no threat. "I love my position as lieutenant governor, and I don't harbor higher ambitions," Hochul told the veteran Albany reporter Karen DeWitt in 2015. "I have been so blessed to have opportunities come my way that I genuinely don't seek out."
By 2018, as Cuomo eyed a third term, Hochul had outlived her usefulness. The toxic presidency of Donald Trump meant Cuomo would easily dispatch his eventual Republican opponent; his biggest weakness would be in the primary, and he wanted a person of color from downstate to shore up his liberal bona fides. Firing Hochul outright would have been too ugly a move even for Cuomo, so instead he suggested publicly that she step off the ticket to run for her old congressional seat. In a rare flash of independence, she refused. Hochul campaigned relentlessly and fended off Jumaane Williams, winning three of New York City's boroughs and almost every other county in the state. Their partnership, such as it was, was effectively over. When the governor published a memoir about his handling of COVID, Hochul's name wasn't even in it.
By 2020, as Cuomo made plans to seek a fourth term, he tried to get her off the ticket again — reportedly by offering to secure her a plum job in the Biden administration, perhaps as ambassador to Ireland. According to the Washington Post, White House officials signaled that a role inside a Cabinet agency was more realistic.
In the end, of course, Cuomo self-immolated. There wasn't a single politico in New York who didn't know he was a bully, but the sexual-misconduct allegations against him — a devastating pattern of accusations from nearly a dozen women — were news to many. Hochul, who issued a statement saying she believed the women, said she had no inkling of that side of Cuomo's behavior. After all, she said, the two had "no relationship other than at very professional and formal events." Her position on the periphery had become an asset. "Looking back," she said, "it's probably just for the better I was not in that world."
Hochul said she found out Cuomo was resigning the same way the public did: when he announced it on TV. She has told the story of what she did next several times, once to a crowd of churchgoers in Harlem: She dropped to her knees and began to pray. "I said, 'God, please grant me wisdom and grant me strength.' "
There's so little time between when Hochul took office and when primary votes will begin to be cast that, for her, governing and campaigning are functionally one and the same. In her limited time, Hochul has advanced a surprising number of popular initiatives. She turned on the cash gushers of two federal pandemic-aid programs, for renters and small businesses, that had flailed under Cuomo. She approved a wind project and a hydroelectric-power project that had languished in Albany for a decade and signed a flurry of legislation that had been stuck on Cuomo's desk, including a parole-reform bill long pushed by progressives. She even implemented a vaccine mandate for health-care workers with no option to undergo weekly testing as an alternative, at the risk of alienating her base upstate.
Some of Hochul's accomplishments are the low-hanging fruit of simply not being a raging asshole. Lawmakers and other figures who had been treated like mortal enemies of the Cuomo administration — including Assemblymembers Ron Kim and Dick Gottfried, State Senator Mike Gianaris, and Cuomo's former primary opponent Cynthia Nixon — have suddenly found themselves embraced by the governor. "I characterize it overall as a charm offensive," says John Kaehny, head of the good-government group Reinvent Albany. "Not getting in feuds and shitshows and ego storms, you know, that stuff is a big plus."
In addition to picking up Cuomo's unfinished business, Hochul may articulate an agenda of her own in January, when she delivers the traditional State of the State address. The Biden infrastructure bill could jump-start the Gateway tunnel to New Jersey — a major project that Cuomo abandoned and that Hochul could make her own. There are further legislative opportunities in the areas of bail reform, decriminalizing sex work, and recreational marijuana. To manage the state, Hochul has hired a string of boldface operators known for their expertise at running complex organizations, including Kathryn Garcia, the former city sanitation commissioner and runner-up in the mayoral primary, as the state's operations director; Dr. Mary Bassett, the highly regarded former city health commissioner, for the same role at the state level; and Karen Persichilli Keogh, a.k.a. KPK, a former JPMorgan executive with close ties to Hillary Clinton, as secretary to the governor. "I enjoy talking to the executive chamber now," one legislative staffer says. "It used to be, like, I'd see the Cuomo people were calling and think, Oh, what the fuck is it now? It's all just kind of normal government now. Oh, this is what it's like. How refreshing. I'm not constantly thinking, How are the Cuomo people trying to fuck with me on this?"
One day, outside Hochul's Manhattan office, Kim led a protest with families of people who had died of COVID in nursing homes. When he ran into Hochul afterward, she immediately offered to meet with him about it. "It's night and day in her approach. I think she's making a genuine effort to lead with empathy, which is clearly not what Andrew Cuomo was about," Kim says. Still, he and other progressive lawmakers have lingering doubts about Hochul's sincerity. "People like to be included in things," he adds. "It's just human nature — no one wants to be that kid that doesn't get invited to the popular kids' lunch. But I think what's left to judge is, is this predatory inclusion?"
"Are we just being included to protect the status quo," Kim continues, "and nothing's going to change? And people will write this toxic legislation that harms vulnerable people while we cut ribbons and feel like we're included in the press conference? Or are we celebrating some real transformative change? That's left to be determined. I think if Kathy can deliver transformative change in the new session, then she'll be a formidable candidate."
"Transformative change" will be a difficult banner to hang on someone who was — her nose-against-the-glass protestations notwithstanding — Cuomo's loyal deputy for seven years. The historic energy in the contest is already with Letitia James. She has been attorney general for only three years, but it's a job so frequently used as a stepping-stone to the executive mansion that New Yorkers joke that AG stands for "aspiring governor." Even though she has laid out no specific policy agenda, some of the most prominent progressives in the State Legislature, such as Senator Jessica Ramos, have already endorsed her.
James can't run for governor and reelection to attorney general at the same time, suggesting she's supremely confident in her path to victory. That's not unreasonable, given that a fifth of the votes in the primary are likely to come from Brooklyn alone and the fact that James has strong relationships with some of the biggest labor organizations in the state, such as SEIU 1199, the health-care-workers union. But some observers wonder if she isn't getting some not totally objective counsel from her advisers. James is represented by the Hamilton Campaign Network, as is Brooklyn district attorney Eric Gonzalez, who has made no secret of his desire to become the state's first Puerto Rican attorney general. James's decision to run for governor clears the path for Gonzalez to run for AG, and for the consulting firm to run two high-dollar campaigns.
After years of taking on Trump and the NRA, James enjoys a reputation for gutsiness among the sort of white downstate progressives who like watching MSNBC. It's easy to imagine campaign ads that contrast her pugilism with footage of Hochul campaigning smilingly with Cuomo. "Kathy's a nice lady, but, you know, the people who were dying in nursing homes didn't need a nice lady," one New York Democratic political operative says. "They needed someone to speak up for them. And she was about job preservation." (That framing assumes, probably correctly, that voters aren't aware that James herself rarely stood up to Cuomo during her years as public advocate.)
If Hochul has any edge over James, it's in fund-raising. James isn't good at it. "She just doesn't like to ask people for money," says a second party operative. Meanwhile, Hochul has been relentless, raising $10 million in less than three months — a record for a nonelection year. James's other big problem is the two male Brooklyn politicians in the mix: Williams and de Blasio. Both would likely siphon votes from the liberal New York City residents James is counting on to beat Hochul. How serious they are as candidates is deeply in question. Many insiders wonder whether Williams truly wants to be governor yet; he's afraid of flying and may struggle to campaign across the state. One theory is that he's trying to push James to the left before dropping out. And de Blasio, who has a lower favorability rating in New York than Trump, may simply be looking for a diverting activity for after he leaves City Hall in January. "He's all tactics and no strategy," one political operative says. At the moment, neither man seems concerned about the possibility that their candidacies could spoil James's chances and deliver Hochul a full term. (Hochul has her own exposures to consider. If Suozzi and Bellone formally enter the race, they'll likely eat into her support among moderates in suburban Long Island.)
Limited early polling shows Hochul leading the field. But one enormous unknown is whom New York's newest power broker, Mayor-elect Eric Adams, will support. It may seem as though James, a fellow Brooklynite, is a shoo-in for his endorsement. But Adams has a history of estrangement from progressive Democrats in the borough. He also has a good working relationship so far with Hochul, who showed up onstage at his victory party on Election Night and was invited to say a few words.
And then there's Cuomo. He left office with $18 million in his campaign account and has shown little willingness to retreat from public life, retaining his former communications director as a personal spokesman who regularly attacks James and questions the legitimacy of her office's report on his alleged misconduct. People close to Cuomo say he's so enraged at James that he might spend some of his millions on an independent effort to attack her.
Back at the diner in Buffalo, Hochul finished her rice pudding as her staff motioned that she had to leave. She had a conference of Baptists to attend later that night, then had to travel back to Manhattan for the following day's annual Al Smith Dinner, where she would be photographed in a cocktail dress hugging Tish James. What, I asked her in the time we had left, do people need to know about Kathy Hochul? It seemed like a lot.
She answered immediately. "I am tenacious," she said. "I am a fighter. My first position is I will always reach my hand out with friendship and try to resolve things collaboratively. If it doesn't work? Then you have to see the other side of me."