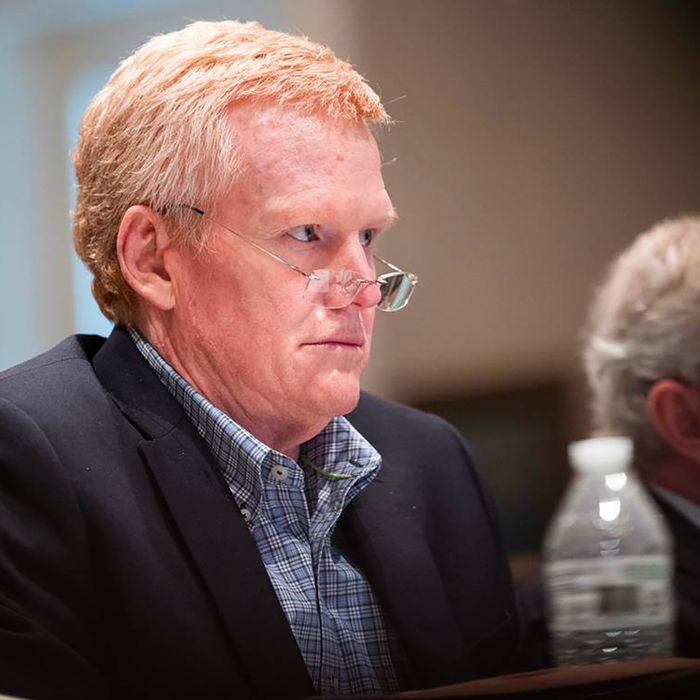 Photo: Joshua Boucher/The State/Tribune News Service via Getty Images
Prominent South Carolina attorney Alex Murdaugh has been found guilty of murdering his 52-year-old wife, Maggie, and 22-year-old son, Paul, at the family's 1,700-acre hunting estate, "Moselle," in June 2021. After a six week high-profile double-murder trial, the jury needed less than three hours to reach its verdict. Prosecutors had alleged the murders were an attempt by Murdaugh to "shift the focus away from himself and buy himself some time to try and prevent his financial crimes from being uncovered, which — if revealed — would result in personal, legal, and financial ruin." He has been sentenced to two consecutive life sentences.
A number of stunning revelations and developments followed the Murdaugh murders. Paul Murdaugh was himself facing felony charges over his role in a fatal 2019 boat crash that killed a teenage girl, and that wasn't the only suspicious death the powerful family was linked to. Alex Murdaugh eventually resigned from his law firm after being confronted with evidence he had embezzled millions of dollars from clients and colleagues. He was shot in the head in an apparent botched assisted-suicide attempt and life-insurance fraud scheme involving a hired hitman. Murdaugh, who eventually went to rehab an opioid addiction, has faced an ever-increasing number of lawsuits and criminal charges, eventually including the double murder of his wife and son. The ongoing saga has already spawned worldwide attention, including multiple true-crime docuseries, podcasts, and news specials.
Alex Murdaugh, whose father, grandfather, and great grandfather all served as top prosecutors in South Carolina's Hampton County, took the stand in his own defense. Below are some of the key moments of his testimony and the trial thus far.
Murdaugh is sentenced to two consecutive life sentences
Judge Clifton Newman, who knew Murdaugh for years before the double-murder trial, addressed the court on Friday morning, saying that he did not expect a confession from the lawyer on trial. He stated that the state did not seek the death penalty in this case, but noted that "your family has prosecuted many people in this very courtroom" seeking capital punishment "in many cases for lesser offenses." When Murdaugh claimed his innocence, Newman said: "It might not have been you. It might have been the monster you become when you take 30, 40, 50, 60 opioid pills." He then sentenced Murdaugh to two consecutive sentences of life in prison, the maximum in the case.
Murdaugh found guilty of murdering his wife and son
The jury returned their verdict on Thursday evening, finding Alex Murdaugh guilty on all four charges — the murders of Maggie and Paul Murdaugh and two counts of possessing a weapon during a violent crime.
Jury reaches verdict after less than three hours of deliberation
The defense presents their final argument
Defense attorney Jim Griffin tried to reiterate Murdaugh's love for his wife and son, playing jurors a recording of testimony from witnesses who described how close the family was. He also alleged that the prosecution "failed miserably" in their case and that the idea of Murdaugh shooting both family members with separate guns was nearly impossible. As for the initial lie about not being at the scene of the crime — down by the family's dog kennels on the night of the murders — Griffin claimed it was related to his drug use. "He lied because that's what addicts do," Griffin said. "Addicts lie."
In a rebuttal, prosecutor John Meadors said he found it "offensive" that the defense suggested that law enforcement failed to do their job while Murdaugh was "withholding and obstructing justice by not saying 'I was down at the kennels.'"
"You don't lie and misremember being at the scene of a murder when you said you weren't even there, or being at the scene where your family was brutally murdered," Meadors said. "You don't lie about that. That's not a mistake."
The jury then began deliberating.
A juror was removed for discussing the case outside of court
On Thursday morning, one of the jurors was removed after over a month of sitting through testimony after a member of the public reached out to inform judge Clifton Newman that she had conversations with people not involved in the case. Before she was replaced with an alternate, Newman asked if she had anything in the jury room she needed to grab and she answered that she left a dozen eggs back there.
The prosecution presents their final argument
On Wednesday, prosecutor Creighton Waters spoke to the jury a final time, arguing that Murdaugh "lies convincingly and easily," but that the evidence speaks to the truth. According to Waters, the texts and phone calls from Murdaugh to his wife and son after their deaths that were presented by the defense were just a method of "manufacturing an alibi." He also reiterated the importance of the guns used in the murders — "family weapons" that the Murdaughs had used on their property for years. "A family [rifle] killed Maggie," Waters said. "It was present just a couple months prior to the murders and it's gone now. A family weapon the defendant cannot account for killed Maggie."
The jurors visit the scene of the crime
After hearing from more than 75 witnesses during the trial, the jury headed to the crime scene on March 1 to see where Maggie and Paul Murdaugh were killed near the dog kennels on the family's secluded estate. Following the visit, they will hear closing arguments from the prosecution and the defense, and will begin the deliberation process to determine if Alex Murdaugh is guilty in the double-murder.
State begins rebuttal after defense rests
Over a month into the trial, the defense has rested after Alex Murdaugh's attorneys called 14 witnesses to cast doubt on the state's case that he killed his wife and son and present an alternative claim that another assailant (or assailants) committed the murders. On Tuesday, prosecutors called five rebuttal witnesses, including the pathologist who conducted the autopsies of Paul and Maggie Murdaugh, to push back on the testimony of the defense's witnesses. The pathologist stood by her determination that Paul was killed from a shotgun blast to his shoulder; the defense claims he was killed by a shot to the head, which would support a two-shooter theory. Once prosecutors finish speaking with rebuttal witnesses, the jurors will be allowed to visit the crime scene.
Expert witness claims two assailants shot and killed Murdaugh's wife and son
On February 27, crime scene expert Tim Palmbach testified, telling Murdaugh's lawyers his theory that two shooters killed Maggie and Paul Murdaugh. Palmbach noted that Maggie and Paul stopped using their phones within seconds of each other and that both victims were shot without attempting to defend themselves or run away, suggesting that the shootings happened at the same time. The defense also noted that neither the shotgun used to kill Paul nor the rifle used to kill Maggie has been found
To help determine the evidence, the judge agreed to a request from the defense allowing the jury to visit the crime scene, though a date was not set.
Murdaugh admitted he had lied about his alibi and blamed his opioid addiction.
Alex Murdaugh had previously told police and others that he hadn't been to the family estate's outdoor dog kennels on the night of June 7, 2021, in the hours preceding his discovery of his wife and son's bodies there. But a video on his dead son's smartphone recorded his voice near the kennels minutes before their deaths. On the witness stand, Murdaugh acknowledged that it was his voice, but otherwise maintained that he had been fully cooperative with the police investigation — other than lying about that.
Murdaugh, who broke down into a sobbing mess multiple times during his hours of testimony, primarily blamed his erratic behavior before and after the murders on his opioid addiction. He claimed his consumption of as much as 2,000 milligrams of oxycodone a day in the preceding months had left him with paranoid thoughts, that he also distrusted the police, and did not want them to consider him a suspect.
Murdaugh also admitted to financial crimes.
During his testimony, Alex Murdaugh acknowledged that he had stolen money from his law clients, casting blame on his expensive multi-year opioid addiction.
Murdaugh denied manufacturing an alibi.
Prosecutors have also alleged that Murdaugh tried to create an alibi for himself by making numerous phone calls and a high-speed trip to his ailing mother's house immediately after the murders were later deemed to have taken place.
Murdaugh denied those allegations on the stand, and maintained he did not discover his wife and son had been murdered until after he returned from his mother's house and went to check on them at the kennels.
Prosecutors suggested Murdaugh's "new story" acknowledging he was at the kennels minutes before his wife and son's death, but not present when they were killed, nor able to hear the gunshots, didn't make sense.
Murdaugh's surviving son testified on his behalf.
Alex Murdaugh's eldest son, 26-year-old "Buster" Murdaugh, took the stand on February 21, during which he insisted that his father appeared "destroyed" and "broken down" in the hours after the deaths of his mother and brother. "He was heartbroken. I walked in the door and saw him, gave him a hug," Buster recalled of that night. He also testified that he had repeatedly heard his father say "They did him so bad," referring to his brother Paul's dead body, on the night of the murders and afterward; earlier in the trial, a state witness had testified that Alex Murdaugh had said, three days after the murders, "I did him so bad."
Murdaugh's attorney aimed a rifle at prosecutors during the trial.
In court on Tuesday, February 21, Murdaugh trial attorney Dick Harpootlian briefly pointed a model of the AR-15-style rifle police believe was used to kill Maggie Murdaugh — a .300 Blackout — at prosecutors and joked, "Tempting…" while attempting to demonstrate an expert witness's assertion that it was "very unlikely" someone as tall as Murdaugh shot his wife, per the trajectory of her bullet wounds.
The same expert, forensic engineer Mike Sutton, testified that it was possible that someone in the house at the Murdaugh estate may not have been able to hear gunshots at the kennels; Murdaugh has claimed he was in the house at the time of the murders and never heard the multiple gunshots.
Neither or the murder weapons believed to have been used in the killings have been recovered by police, but prosecutors say the firearms were likely family guns, and a forensic expert testified for the prosecution that the spent casings found at the murder scene matched older spent casings found at the estate.