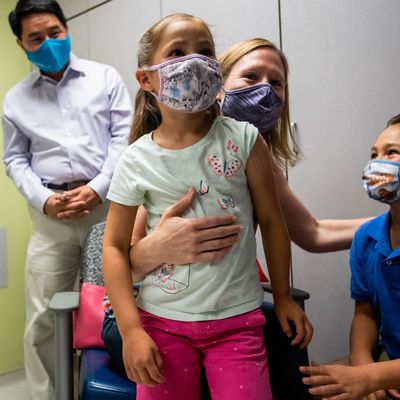 A family participating in a clinical trial for a COVID vaccine for children in Los Angeles in June.
Photo: Sarah Reingewirtz/MediaNews Group/Los Angeles Daily News via Getty Images
Parents, teachers, and pediatricians have been eagerly waiting to find out when, exactly, younger Americans will have a shot at getting a COVID-19 vaccine. That wait is over, now that the U.S. has authorized kid-size doses of the Pfizer vaccine, making it available for the up to 28 million American children who are between the ages of 5 and 11. Below is everything you need to know about the rollout of kids' COVID-19 vaccines.
Where and when will the shots be available?
Because the Pfizer COVID vaccine for kids is an entirely new distribution program with smaller doses and smaller syringes, it won't be instantly available like booster shots for adults after they were authorized. Specially designed packages of the Pfizer COVID vaccine for children will be shipped immediately, now that the CDC has given the final sign-off to the vaccine. That means vaccination appointments for children will likely ramp up in the coming days.
"We are now beginning to roll out, to distribute the vaccine, to give parents the information that they need," CDC director Dr. Rochelle Walensky told ABC's Good Morning America. "Go talk to your pediatrician, your trusted health-care provider, your pharmacist, and get the information that you need as we start scaling up vaccines across this country."
Nationally, the Biden administration plans to make the vaccine available at more than 25,000 pediatricians' and doctors' offices. The government site Vaccines.gov lists places where kids can get vaccinated in their neighborhood. CVS and Walgreens already accept appointments for COVID-19 vaccines for children; many school districts throughout the country, like Austin and New York City, will also serve as locations for administering kid-size jabs. The White House says it has ordered enough shots to vaccinate all 5- to 11-year-olds in the country.
Prior to making an appointment, parents should mention their child's exact age, according to emergency physician and professor of health policy at George Washington University Dr. Leana Wen. "If they are not sure yet, call back the next day — a lot is changing very quickly."
What do we know about the Pfizer COVID vaccine for children?
Last week, the FDA signed off on an emergency-use authorization for Pfizer's vaccine for kids between the ages of 5 and 11 last week. On Tuesday, advisers to the Centers for Disease Control and Prevention voted unanimously to recommend the vaccine and CDC director Rochelle Walensky signed off, as well.
As with teens and adults, children will get two doses spaced three weeks apart, but the child-sized doses of the Pfizer vaccine are just a third of the amount. (They'll still need to wait 15 minutes after getting the shot to watch for side effects.) According to NPR, the kiddie vaccine also differs from the existing formulation that teens and adults get in that it can be stored in a refrigerator for up to ten weeks.
Is the Pfizer COVID vaccine safe for kids?
Yes. Last week, the FDA advisory panel voted in favor of approval on the basis of clinical-trial data showing that the Pfizer shot is about 91 percent effective at preventing symptomatic infection in 5- to 11-year-olds. The data from the trial of 2,268 participants shows that it's safe: Though mRNA-based vaccines have been linked to a very small risk of myocarditis (an inflammation of the heart muscle), there were no reports of the condition in kids who participated in the trial. The dosage for children also proved safe, with similar or fewer temporary reactions to the vaccine — such as sore arms, fever, or aches — that teens experience.
The American Academy of Pediatrics issued the go-ahead in a press release on Tuesday. "Vaccinating children will protect children's health and allow them to fully engage in all of the activities that are so important to their health and development," it said. "The AAP recommends COVID-19 vaccination for all children and adolescents 5 years of age and older who do not have contraindications using a vaccine authorized for use for their age."
When will other kinds of COVID vaccines be available for kids?
For now, the Moderna and Johnson & Johnson shots are only available to people 18 years of age and older. The Moderna mRNA vaccine is still being studied in young children and teens, and both Pfizer and Moderna are testing jabs for babies and preschoolers. Meanwhile, Johnson & Johnson is well behind: It's expected to begin vaccine trials of its shot for young kids in the future, but has not yet begun a trial for ages 16 and under.
These vaccines still have to go through the same authorization process that the Pfizer vaccine has just undergone.