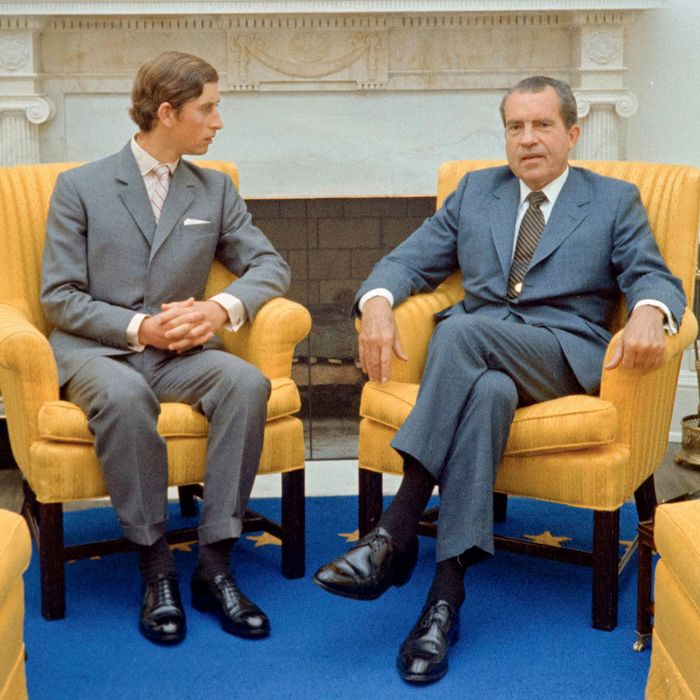 Photo: Nixon Library/Wikimedia Commons
In the days following the death of Queen Elizabeth II, there has been some fretting in the press over whether King Charles III will be able to maintain Britain's "special relationship" with the United States. Elizabeth had started putting in the work even before she became queen, politely smiling through awkward visits with nearly every U.S. president going back to Dwight D. Eisenhower. Among Americans, the queen was "beloved for her apolitical marshmallow diplomacy," as Politico put it, but "her very outspoken son will have his work cut out for him."
King Charles is already off to a rough start, generating headlines about forcing President Biden to take the bus to the queen's funeral. As it turns out, this wasn't true (and, of course, Amtrak Joe loves mass transit both foreign and domestic). Still, it wasn't a great opening gesture from Charles, who is one of America's most disliked British royals according to a recent YouGov poll. But this dustup raises an interesting question: What if the new king just isn't that into us? He has plenty of reasons to dislike the U.S. — and not just in the way all monarchs probably hate us deep down for throwing off their rule. Dating back to the 1970s, we've repeatedly shown the royal formerly known as Prince Charles a bad time and amplified his (often self-induced) woes. Here are some facts to consider.
We made him hang out with Richard Nixon.
Charles has visited America more than 20 times, but he couldn't muster much enthusiasm when asked about his upcoming U.S. tour in 2015. The United States is "a country that you've visited many times, officially and privately. It must be a country you're very fond of," CNN's Max Foster notes in the clip below.
Foster is clearly giving Charles an opportunity to offer some bland praise about America's "spirit" or whatever. Instead, the royal just confirms the facts and makes a joke about his age. "I think I've been 20 times or something in the last 45 years. Just shows how old I'm getting," he says.
And what's the one detail that springs to mind when Charles recalls his first trip to the states in 1970? "That was quite amusing, I must say. That was the time when they were trying to marry me off to Tricia Nixon," he recalls.
So aside from pushing the First Daughter on Charles (who had met his future wife Camilla Shand just months earlier), how did the Nixons entertain the 22-year-old prince? Here are some key excerpts from the New York Times' account of the visit, published on July 19, 1970:
Prince Charles and President Nixon today spent an hour and 20 minutes alone in uninterrupted conversation at the White House. 




Earlier this afternoon Prince Charles … watched a baseball game … President Nixon's son-in-law, David Eisenhower, who is working this summer as a statistician for the Washington Senators, explained the differences between hits and strikes, walks and runs … 




Prince Charles watched Dr. Louis N. Locke dissect the body of a bald eagle and inquired in detail about the theory that the bird had died from organic pesticides. As he left the laboratory, the Prince smiled at Dr. Locke and said, "You can eat your lunch now." 
We capped off this exceedingly boring and occasionally gross visit by giving Charles a gift only Mitch McConnell could love.
We served him tea incorrectly.
When Prince Charles returned to Washington in 1981, President Reagan tried to charm him with some horse banter, which is how he turned Queen Elizabeth into a lifelong friend. Her son didn't seem that amused.
According to Reagan's own diary entry, which was published years later in Vanity Fair, the White House also committed some tea-related offense:
*Fri. May 1 •*Highlight was noon visit by Prince Charles. He's a most likeable person. The ushers brought him tea — horror of horrors they served it our way with a tea bag in the cup. It finally dawned on me that he was just holding the cup & then finally put it down on a table. I didn't know what to do. Mike [Deaver, deputy chief of staff] escorted him back to the W.H. and apologized. The Prince said, "I didn't know what to do with it."
As an uncouth American, I don't even understand what Charles's issue was. Did the royal not understand how to operate a tea bag decades after its invention? Was he fussy about water temperature? To be honest, this seems like a Charles problem, not an us problem.
We had Princess Diana dance with John Travolta.
Please go watch the latest season of The Crown for the full context on Prince Charles's jealously over Princess Diana's wild popularity. But the video below offers a good snapshot of the U.S. contributions to Charles's misery. At an evening reception during his return trip to the White House in 1985, the royal forgot to deliver his toast, and the president forgot the princess's name. Then Diana enjoyed a glamorous dance with John Travolta.
Years later, Travola said he had asked Diana to dance because Nancy Reagan told him it was the princess's "fantasy." But in the documentary The Last 100 Days of Diana, her butler and close friend Paul Burrell said Diana actually wanted to dance with Mikhail Baryshnikov. The iconic Travolta dance was orchestrated by the Reagans for a photo op.
Regardless of whose idea it was, Charles was clearly miffed. When the press asked him if Diana had enjoyed her dance with the actor, he snapped, "Well, I'm not a glove puppet, so I can't answer for that, I'm afraid." Then he turned to his wife and said, rudely, "But I think you enjoyed it didn't you? Be an idiot if she didn't enjoy dancing with John Travolta, wouldn't she?"
We addressed him as "Prince."
In his book Not in Front of the Corgis: Secrets of Life Behind the Royal Curtains, Brian Hoey reports that Charles was miffed when an American said "Hi, Prince" during an unspecified visit to the U.S.
"His Royal Highness was not amused and his Private Secretary was instructed to inform future hosts that if fellow guests could not manage his full title, he would prefer a plain 'Charles.' Anything but 'Hi Prince,'" Hoey writes.
The royal website says there are "no obligatory codes of behaviour" when meeting a member of the royal family, but the correct formal address is "Your Royal Highness" and subsequently "sir." So again, this is a Charles not appreciating American informality issue, not an official protocol breach.
We made him chat with one of our tackiest celebrities.
In 2005, Charles and Camilla headed to the U.S. for their first official tour as husband and wife. They attended a "celebrity-studded reception at the Museum of Modern Art," but according to the AP, these were the best stars we could muster:
Guests enjoying the reception's Champagne and organic canapés with the couple included Donald Trump, Sting, Yoko Ono, TV newswomen Diane Sawyer and Barbara Walters, former tennis star John McEnroe, actors Matthew Modine and Joan Collins, and New York Police Commissioner Raymond "Ray" Kelly.
Aside from Sting, who isn't even American, this celebrity roster is pretty "sad!" And to make matters worse, it gave the New York Post an opportunity to run the headline "Queen Camilla Is New York's Frump Tower."
We made him chat with one of our tackiest presidents.
Prince Charles and his son William did not meet with President Trump and First Lady Melania Trump when they visited the U.K. in 2018 and had tea with the queen. "They simply refused to attend," a source told the Sunday Times. "It's a very, very unusual thing for the queen to be there on her own. Usually she is accompanied by somebody."
Charles had to make up for it when Trump returned for a more elaborate state visit the following year. He and Camilla accompanied the Trumps to multiple events and hosted them for tea at their London residence. Although the Americans were nearly an hour late, the two couples appeared friendly at their photo op — until Camilla winked at the press. Harper's Bazaar suggested Camilla was "just being friendly to the photographers," but online the gesture was widely interpreted as a cry for help.
We exposed his brother's (allegedly) sick behavior.
Prince Andrew's friendship with convicted sex offender Jeffrey Epstein was producing a "steady stream of criticism," per the BBC, as far back as 2011. But it became a crisis for the royal family in 2015 when allegations that Andrew had raped Virginia Giuffre when she was 17 surfaced during a federal lawsuit against the American financier in Florida. As the scandal continued to spiral — even after Epstein died by suicide in a Manhattan jail in August 2019 — Guiffre filed a civil lawsuit against Andrew. In February 2022, weeks before the prince was scheduled to sit for a deposition, he and Guiffre settled for an undisclosed sum.
Andrew was stripped of his military titles and royal patronages when a New York judge denied his motion to have the civil case dismissed in 2021. However, Queen Elizabeth continued to show her support for her second son: Andrew was by her side during Prince Philip's memorial service earlier this year, and the queen reportedly ordered all members of the royal family not to wear military uniforms to the service just so Andrew wouldn't stick out in his civilian garb.
King Charles seems less keen on protecting his brother's image. While Andrew will stand with his siblings during memorial events for the queen in the coming days and will even be allowed to wear a uniform to one, a royal source told The Daily Beast that he'll likely "disappear" again after the funeral. That seems especially likely after another Andrew-related embarrassment came during the queen's funeral procession: On Monday, a 22-year-old heckler was arrested and charged with "a breach of the peace" for shouting, "Andrew! You're a sick old man!" as the prince walked behind his mother's coffin in Edinburgh.
We encouraged Harry to publicly talk shit about him.
I won't engage with the sexist narrative about Meghan Markle plotting to "steal" Prince Harry and whisk him back to her native California. And Americans are certainly not to blame for the royal family's allegedly refusing to listen to Meghan's pleas for help with mental-health issues that had been spurred by the racist harassment she received from the British press. But we did provide Harry and Meghan with an ideal venue for airing their grievances with Charles and the rest of the clan: the Oprah Winfrey interview.
To be sure, Meghan and Harry spilling royal family tea would have been explosive even if they'd decided to go with another celebrity interviewer. But it took America's "Queen of All Media" to make the interview truly iconic. Would their pal James Corden have had us all saying, "Who is having that conversation?" for weeks after the March 2021 interview? No. Can you imagine Anderson Cooper giving a little eyebrow raise and asking, "Were you silent, or silenced?" with the same impact? I think not. Who but Oprah, America's therapist-at-large, could coax Harry into publicly reflecting on why Charles had stopped taking his calls and how his father had left him feeling "really let down" because "he's been through something similar" with Diana.
Charles has spent decades waiting to be king, and we Americans are sullying it by encouraging his son to drop a tell-all book and introducing a new generation to his alleged crimes against Diana via a Netflix series, an Oscar-nominated film, and a terrible Broadway musical. If he did want to pack our president into a bus, who could blame him?