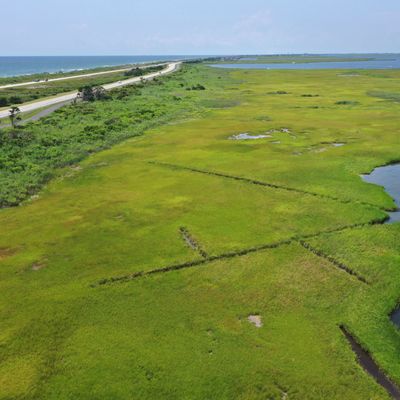 The area where the murdered bodies of four young women were found in 2010 near Gilgo Beach on Long Island.
Photo: John Paraskevas/Newsday via Getty Images
The Gilgo Beach serial-killer case that has haunted Long Island for more than a decade seems to have finally been solved. On July 14, a 59-year-old local architect, Rex Heuermann, was arrested and charged with murdering three women whose bodies were discovered in 2010 near Gilgo Beach along Long Island's South Shore. Heuermann, who lived in nearby Massapequa Park and ran his own firm in midtown Manhattan, is also the prime suspect in the murder of a fourth woman whose body was found near the other victims'. He pleaded not guilty to the charges. Below is what we know about the suspect, the case against him, and all the latest updates on this still-developing story.
Heuermann ordered to provide swab of his DNA
A judge has ordered Rex Heuermann to submit to a DNA swab, which will allow prosecutors to make comparisons to case evidence in their possession.
The New York Daily News reports that Suffolk County Supreme Court Judge Timothy Mazzei ruled against Heuermann's lawyer's argument that there was no existing "probable cause" to compel their client to provide DNA. Prosecutors intend to analyze the sample for any similarities to DNA found on a piece of pizza crust that authorities believe Heuermann discarded. They also plan to see if there's a match with a hair found on the body of Megan Waterman, one of the three victims in the case.
Gilgo Beach investigators have identified "Jane Doe No. 7"
Police on Long Island have determined the identity of a woman whose partial remains were found both on Fire Island in 1996 and near Jones Beach in 2011. Suffolk County district attorney Ray Tierney announced on Friday that the woman who investigators had been calling "Jane Doe No. 7" and "Fire Island Jane Doe" was Karen Vergata, who was 36 years old and is believed to have been working as an escort when she went missing in 1996.
Newsday reports police do not believe there is a link between Vergata's death and alleged Gilgo Beach killer Rex Heuermann, according to source.
Vergata was identified using DNA evidence. No charges associated with her disappearance or death have been filed.
Infighting led to bungling of the Heuermann case
The Washington Post published an article on Tuesday detailing how years of conflict between various factions working on the Gilgo Beach killings led to a lengthy delay in solving the case:
Prosecutors believed the detectives refused to follow orders and clashed with federal partners, multiple high-level law enforcement officials familiar with the case said. Detectives, meanwhile, felt that the district attorney at the time, Tim Sini, was forcing them to investigate leads they had already ruled out while ratcheting up pressure to solve the case before his 2021 reelection bid. The tension grew so high that, at Sini's urging, the case's longtime lead detective was removed.
Somehow, as investigators fought with one another, a key piece of information in the case — a witnesses's description of Heuermann's pickup truck — got lost in the shuffle, only to resurface recently.
Prosecutors say they have thousands of pages of evidence
In a 10-minute preliminary hearing on August 1, Suffolk County prosecutors stated they had amassed over 2,500 pages of documents, including autopsy reports and photos of the crime scene. They also have hundreds of hours of video recorded at Heuermann's house in Long Island and office in Manhattan.
Suffolk County district attorney Raymond Tierney and Heuermann's defense attorney, Michael Brown, agreed to a protective order that "limits the release of evidence to attorneys," according to NBC News. Heuermann was in appearance for the hearing, but did not speak. The next preliminary hearing will take place on September 27.
Heuermann's wife asks for privacy
Asa Ellerup, the estranged wife of Rex Heuermann, issued a statement through her attorney on Friday asking the public for privacy in the wake of his arrest. People reported that Ellerup said she and her two adult children are "enduring a profound and indescribable catastrophe." In an interview with the New York Post, Ellerup said her kids "cry themselves to sleep" since the arrest.
Ellerup described her family and elderly neighbors in their Massapequa Park neighborhood as having their daily lives "turned upside down by the enormous police presence, in addition to the spectators, and news crews." The home itself has been torn apart by police, as shown by pictures obtained by the New York Post.
"I am pleading with you all to give us space so that we may regain some normalcy in our neighborhood," the statement continued.
Many other murders of sex workers, including possible serial killings, remain unsolved
The Associated Press shines a light on the other cold cases around the country:
 [T]he recent breakthrough, and the rekindling of public interest, only highlights a painful truth: Many similar cases — like the one in Atlantic City — remain open.




The FBI would not say how many killings of sex workers in the U.S. remain unsolved. Media accounts and statements from local authorities show a long trail of open cases, from nine women whose bodies were found along highways in Massachusetts, to 11 found dead in New Mexico, and eight more found amid the crawfish farms and swamps of southern Louisiana. The killings of other sex workers in Chicago, New Haven, Connecticut and Ohio, among other places, also remain mysteries.
The AP spoke to Phoenix Calida, a former sex worker who has become an advocate with the Sex Workers Outreach Project:
"Police departments often refer to it as an 'NHI' case: No humans involved," she said. "You feel like the only way you'll be remembered is when they catch the serial killer who killed you, and then they'll make five movies about him and no one will remember your name." …




Three of her friends who were also sex workers in Chicago also turned up dead.




"You see someone, you become friends with them and then one day they're suddenly just not there," she said. "We'd all go out asking around and looking for them, and then a few days later a body would be found. There's always this specific fear that it's a serial killer. Sometimes we never even get a body back to bury. And we wonder: Will law enforcement take it seriously because it's 'just another sex worker?'"
No link to Atlantic City cold case
The alleged Gilgo Beach killer is not a suspect in the 2006 Black Horse Pike murders, as some have speculated, according to Suffolk County Police Commissioner Rodney Harrison. "We don't believe that the sex workers killed in Atlantic City are connected to Rex Heuermann," Harrison told the New York Post on Friday.
The "murderabilia" market
News 12 reports that items associated with the alleged killer, like his 1977 junior-high-school yearbook, are already being listed for sale online. "I've been dealing with the murderabilia industry for over 20-some odd years and one thing I've learned is that when who is attached or charged with serial killings, items will be put up for sale," explained Crime Stoppers director of victim services Andy Kahan, who works to stop the practice.
Former classmates of Rex Heuermann speak out
Several people who went to school with Rex Heuermann spoke to the New York Times about their memories of him. In their accounts, Heuermann is portrayed as a loner who was bullied at times.
"When I heard they arrested him, I was not surprised at all," said Don Ophals, a healthcare executive who attended Berner High School with Heuermann from kindergarten through the end of high school. Heuermann attended Berner High School in the 1980s, which now serves as a middle school in the Massapequa school district.
Ophals continued, "He was a recluse, very quiet. You just saw him as a guy by himself. He barely spoke."
Actor Billy Baldwin, who attended the school along with his three famous brothers, expressed surprise at Heuermann's arrest, saying he "didn't think he was so weird, so creepy or so unusual that it would lead to something like this."
John Parisi told the Times that Heuermann was "everybody's punching bag," but that as he grew taller in high school, he became more intimidating.
"I was really scared of him. He was the type of guy if he snapped he could really hurt you," he said. "He was disillusioned and he was misguided. You had to be very careful."
More women have come forward with stories about meeting Heuermann
Suffolk County Sheriff Errol Toulon told WCBS that additional women have come forward to the authorities with their own stories of alleged interactions with Rex Heuermann as they worked as sex workers. Their accounts will be investigated for any potential leads.
"My staff is really going to vet these additional females to see if they actually did come in contact with him and then see what that contact was and see if that can lead us in any other possible direction," he said.
Suffolk County District Attorney will lead prosecution
In an unusual move, Ray Tierney, the Suffolk County district attorney, will lead the team that will prosecute Heuermann, his office said Wednesday.
"Tierney will be the lead prosecutor in the case against Rex Heuermann. He intends to prosecute this case fully and bring justice to the victims of this alleged serial killer," spokeswoman Tania Lopez said in a statement.
Tierney previously served as a federal prosecutor in the Eastern District of New York, but he has not personally prosecuted a case since he took office in January 2022. Newsday noted that he's already "taken a hands-on role in the case by presenting evidence to the grand jury that indicted Heuermann and leading the prosecution at the defendant's July 14 arraignment."
Town may buy Heuermann's home
With throngs of people descending on Heuermann's home, Massapequa Park Mayor Daniel Pearl said neighbors "have a lot of concerns in terms of quality of life, their safety and their property," according to Newsday.
At a community meeting on Monday night, Pearl said Nassau County Police have committed to adding video surveillance and additional patrols to ease neighbors' concerns. He said the town is also looking into the possibility of buying the property.
"Legally we're getting everything lined up so the village is prepared to move forward when the time comes," he said.
What it was like to work with Heuermann
In a piece written for New York, Mary Shell describes her experience working at the suspect's architecture firm, RH Consultants:
He famously loved guns, and we all knew that he was a collector. He would frequently invite colleagues to go hunting or shooting at the range, including one of my attractive co-workers that he seemed to mention the idea to every time they spoke. She never accepted the offer, confiding in me it sounded dangerous and creepy. My former colleagues described how he gushed about his bear-hunting trips in particular: baiting an area and lying in wait. More than once, he gleefully described the process of dressing the game, seeming to delight in grossing his employees out. Once, at a job site, he spotted a client approaching and, speaking to my boss over the phone, said, "Target in sight." Around this time, authorities say, he made another call — the first of several — to taunt the family of his latest alleged victim, Melissa Barthelemy.
Read the full piece here.
Police say gawkers outside Heuermann's home may be fined
Nassau County police are warning that anyone blocking traffic outside Heuermann's Massapequa Park home will be issued a $150 summons.
"Basically you can't stop and impede traffic," a police spokesman told the New York Daily News on Tuesday. "You're supposed to know that when you get your learner's permit. They're going be erecting signs all around the block [that say] no stopping, no standing, no parking."
He also warned journalists to stop taking photos of the home, though as the Daily News noted, "it's unclear what authority cops would have to block journalists' First Amendment rights."
Suffolk County DA details findings from Heuermann's house
During a press conference Tuesday afternoon, Suffolk County district attorney Ray Tierney confirmed that a search of Rex Heuermann's home has been completed "for all intents and purposes" and that personnel will be leaving the property soon.
Tierney described the home as "cluttered" and said that investigators retrieved a "massive amount" of evidence that needs to be analyzed, a process that could take a significant amount of time. Among the items taken from the home are approximately 279 weapons.
"We won't know exactly what we have for quite some time, just given the sheer volume of evidence that was taken," he said.
The search team made use of an excavator to dig through the house's backyard in search for evidence. Though a system sensed some objects underneath the dirt, Tierney said that "nothing of note" was discovered in the yard. The question of whether any of the killings took place in Heuermann's home remains unanswered.
"Evidence does not point either one way or the other," Tierney said on that point.
Tierney also said that Heuermann's DNA hasn't been entered into any national crime database because he has yet to be convicted of a crime. Additional investigations are still ongoing into Heuermann's ties in other states including South Carolina and Nevada. When asked about the South Carolina inquiry, Tierney gave no comment, saying it wasn't his jurisdiction.
The district attorney also confirmed that Heuermann is due back in court on August 1, which he expects to be a "typical court conference" where discovery will be discussed.
Investigators wrapping up search of Heuermann's home
The search of Rex Heuermann's Massapequa Park home will likely be finished by the end of the week, WABC reports. It could end as early as Tuesday, which will mark the 12th day that investigators have combed the house. The overall investigation into Heuermann and any potential links he might have to other crimes is still ongoing.
Though examiners will be leaving the site, there will still be a law-enforcement presence in the area due to the home's new notoriety.
"We're putting cameras on the block. We're going to have enforcement out there, vehicle and traffic enforcement, and we're going to make sure that we're not going to turn this into some kind of sideshow," Nassau County police commissioner Patrick Ryder told the media Monday.
CBS New York reports that county officials will be placing "No Standing" signs outside the Heuermann property and will issue $150 summons to drivers who loiter in the road to view the home.
Cops are digging up the backyard; new details emerge about room built in basement
Investigators began using police dogs, ground-penetrating radar, and an excavator at Heuermann's Massapequa Park home on Sunday. The Associated Press reports:
A yellow excavator that had been seen scooping dirt in the backyard Sunday was still at the house Monday morning. In Associated Press drone footage, a man could also be seen operating a piece of equipment that can be used to scan for buried objects.




Over the weekend, police dismantled a wooden deck at the house. "They yelled 'lift' and brought it up in one big piece, as if it was a cover," a neighbor, Barry Auslander told the AP. The porch has been replaced by a white tent, with a state medical examiner's truck parked nearby. Investigators with shovels could be seen scraping through the freshly upturned earth in Heuermann's yard.
Suffolk police commissioner Rodney Harrison told News 12 Long Island that investigators did take several items from Heuermann's home over the course of their search of the premises.
Though there is speculation that some or all of the murders may have taken place in the home, Harrison said he could not confirm if any of the victims had ever visited. The search of Heuermann's home still continues.
"We are doing a total investigation around the house to see if there is anything out there that we need to take a closer look at," he said.
The New York Post has reported that a room in Heuermann's basement may have been soundproof, but speculated that it may be the same vault that police have said the alleged killer kept his enormous collection of firearms in. Harrison supported this observation, saying that no soundproof room was found.
One of Heuermann's former co-workers told the Post that the architect took time off to install the concrete-lined room:
It's not just a hidden room — it's a serious vault. It had a huge, heavy-duty safe door. He went and poured new concrete walls, massive amount of concrete to encase this room. It was maybe 2 or 3 feet thick.
"I mean come on, why didn't they use that?"
Dave Schaller, who was Amber Costello's roommate at the time of her 2010 disappearance — as well as the witness who provided police with a description of the suspected killer and his SUV — offered his side of the story to the Associated Press:
The man they were looking for was a towering, Frankenstein-like figure with an "empty gaze" who drove a first-generation Chevrolet Avalanche, Schaller recalled telling investigators. The man's size stuck out, as did his unusual pick-up truck, which he'd used to flee the house Schaller shared with [Costello].




On that night, Schaller said he came home to find the stranger threatening Costello, an occasional sex worker, who had locked herself in the bathroom. The two men came to blows, with the hulking intruder eventually leaving in the truck. …




"When they told me she was dead, he was the first person who jumped in my head," Schaller told The Associated Press. "I've been picturing his face for 13 years."
Schaller also shared his frustration over the fact that his testimony was somehow overlooked and filed away for years until a new task force reexamined the case — and stressed that he had met with investigators multiple times:
Speaking out for the first time since the arrest, he said he had met with homicide detectives on multiple occasions during the initial years of the investigation. During one of their final meetings, roughly two years after the women went missing, he said he picked the truck's model out of a line-up of photographs provided by the detectives.




"I gave them the exact description of the truck and the dude," he said. "I mean come on, why didn't they use that?"
Gawkers are flocking to Heuermann's house
The New York Times reports on Long Island's new "macabre tourist attraction":
Some bike over or walk the dog from nearby blocks; some trek from distant towns or other states. Once-near-empty streets are lined with cars from sunup to sundown, parked by true-crime addicts, serial killer aficionados and some people obsessed specifically with the Gilgo Beach murders.




"It's part of history," said Lidia Feldman, 26, who lives several towns away. Her 2-year-old daughter cheerfully rode her plastic toy car into the yellow crime-scene tape. "It sends chills down your spine," said Ms. Feldman.
Police reportedly believe at least one of the murders happened inside the home
News 12 Long Island reported Thursday that "multiple sources" had told the outlet that investigators "believe one or more of the Gilgo Beach murders took place at the Massapequa Park home of suspect Rex Heuermann."
Suffolk County DA Ray Tierney quickly pushed back on that speculation:
At the time of the arrest, we indicated the causes of death were homicidal violence; the locations of the murders were never specified. At this juncture, if any law-enforcement officials are saying anything contrary to that, they do not know what they are talking about.
Investigation extends to four states
In addition to New York, authorities are looking into whether Heuermann might have committed crimes in at least three other states — though much of that work seems to be due diligence at this time. Suffolk County police said Thursday that departments across the country are reviewing their unsolved murder cases to see if any might be linked to the alleged killer, whose DNA has been added to a national law-enforcement database.
South Carolina
Authorities have conducted searches at South Carolina properties owned by Heuermann, according to WHNS, a local news affiliate. Fox News Digital captured video footage of a truck being towed from one. The vehicle is believed to be a Chevy Avalanche, the same model of truck that has been linked to the case. Heuermann's brother, Craig, reportedly also owns property nearby.
The Chester County Sheriff's Office, whose jurisdiction covers the properties, confirmed in a statement that it had been enlisted by the task force investigating the Gilgo Beach murders to "assist in gathering evidence in Chester County relevant to their investigation."
"The Chester County Sheriff's Office has and will continue to work closely with the Federal Bureau of Investigation (FBI) and Suffolk County law enforcement authorities during this very important and arduous investigation," it read.
South Carolina police are also investigating whether Heuermann might have been involved in the disappearance of an 18-year-old woman who went missing some 20 miles from properties linked to him, but a local police official stressed to ABC News that "so far, there is no indication that leads us to identify Heuermann as a suspect in this case."
Nevada
The Las Vegas Review-Journal reports that Heuermann owned a time-share in Las Vegas. "We are currently reviewing our unsolved cases to see if he has any involvement," the Las Vegas Metropolitan Police Department said Tuesday.
New Jersey
Suffolk County police said Thursday that authorities in Atlantic City are among those reviewing their case files in the aftermath of Heuermann's arrest. In 2006, the bodies of four women who had been sex workers were discovered in a roadside ditch in Egg Harbor Township. The still-unsolved Black Horse Pike murders are believed to be the work of an as-yet-unidentified serial killer, but police have not indicated any link to the alleged Gilgo Beach killer.
"There were some murders a couple years ago that were similar, or something where it had to do with sex workers; we had to take a closer look and see if it was similar to the Gilgo Beach murders," Suffolk County police commissioner Rodney Harrison told ABC 7 on Thursday. "What I'm being told is it's not a connection, but we want to revisit that investigation as well."
The Atlantic City prosecutor's office said in a statement:
Our office continues to investigate the 2006 Black Horse Pike homicides as we do all unresolved matters, and we follow all leads. Since this remains an open investigation, we cannot comment further due to its potential to compromise the investigation. We have no comment on the Gilgo Beach investigation.
Investigators originally overlooked key evidence
The New York Times has published an expanded account of how Suffolk County police, armed with new technology and new perspectives, finally identified the suspected killer, Rex Heuermann, more than a decade after the bodies of his alleged victims had been found. The report offers more details about how police overlooked a critical piece of evidence: a witness's description of the vehicle driven by a would-be client of victim Amber Costello shortly before she disappeared.
The description of the vehicle in the driveway, a dark, first-generation Chevrolet Avalanche, ended up tucked away in the case file, the authorities said. The fact apparently lay buried for years among hundreds of thousands of pages of interviews; telephone, travel and credit records; and endless tips as the Suffolk County police department and district attorney's office endured years of turmoil.




James Burke, the swaggering police chief who had been running the department since 2012, was arrested in 2015 and later convicted on federal civil rights and obstruction of justice charges. He had beaten a suspect who had been arrested after stealing cigars and a bag containing pornography and sex toys from Mr. Burke's sport utility vehicle. The subsequent cover-up ensnared the district attorney at the time, Thomas J. Spota, who also landed in prison. The federal investigation into Suffolk County's top lawmen spanned years during the Gilgo Beach case, a period during which both Mr. Burke and Mr. Spota had spurned help from the F.B.I.
After Suffolk County's next police chief, Tim Sini, redoubled the department's efforts to solve the case, it was able to use cell-phone data as well as more advanced technology and software to determine that many of the evening calls linked to the victims had come from somewhere inside an area of several hundred homes in Massapequa Park. Police called this area "the polygon" and surmised that it was likely where the killer lived. Daytime cell-phone data was used to identify a second key area in midtown Manhattan, which was likely where the killer worked.
Years later, when a new task force was formed to reexamine the case, in 2022, someone unearthed the description of the vehicle. Investigators then did a database search, which revealed that the same year the last victim went missing, a dark, first-generation Chevrolet Avalanche was linked to Heuermann — who, as it turned out, lived inside the polygon, worked in midtown Manhattan, and matched the physical description witnesses had given to police of the would-be client who parked an Avalanche outside Costello's home.
No one the Times spoke with who had worked on the case knew how the vehicle description was overlooked:
"If they knew about it then, a major mistake was made in not tracking down this car earlier," said Rob Trotta, a former Suffolk County detective and a current county legislator, who said he expects to make an official inquiry into what happened.




Dominick Varrone, the former chief of detectives who oversaw the first year of the investigation, questioned whether the Avalanche clue had actually been in the case file, but added, "I will feel very, very badly if our team missed something."




"I'll tell you right now: No suspect vehicle was on our radar when I was still there," he added.
Suspect's wife files for divorce
Asa Ellerup, the longtime wife of Rex Heuermann, has filed for divorce, according to court filings first reported by The Daily Beast. The divorce filing is listed as "uncontested." Not much is known about Ellerup, beyond the fact that the 59-year-old seemed to lead a reclusive life with her two children and that she was reportedly out of town when her husband was alleged to have murdered his victims. Suffolk County police commissioner Rodney Harrison said on Wednesday that Ellerup was "shocked" and "disgusted" after learning about the allegations against her husband.
"When we told the wife, she was shocked, she was embarrassed," Harrison told Fox 5 New York. "But there was a point where we showed her certain pictures and she said, 'Okay, it is what it is.'"
Ellerup's lawyers, Macedonio & Duncan, LLP, said in a statement on Friday that she and her family "are going through a devastating time in their lives" and that she is requesting privacy and will not be commenting on Heuermann's case.
"The sensitive nature of her husband's arrest is taking an emotional toll on the immediate and extended family, especially their elderly family members," the firm said.
Heuermann's lawyer says his client is "traumatized" by arrest
Michael Brown, the attorney representing Rex Heuermann in the Gilgo Beach case, told ABC News that his client appeared "traumatized" at his arraignment hearing where he entered a not-guilty plea. Brown, who described Heuermann as "soft-spoken," said the case will be difficult to try because of its high-profile nature, opining that his client has "been convicted in the media already."
"When you have a high-profile case like this, initially you have to be concerned about getting a jury that hasn't been biased, that hasn't convicted him just based on what they've read in the newspapers and what they've heard on social media. So that's going to be a challenge," he told the outlet.
Brown said he is building his legal team for the proceedings and awaiting the discovery process.
Woman details unsettling past date with alleged killer
Nicole Brass, 34, spoke to the New York Daily News about an encounter she says she had with Heuermann in her former life as an escort.
Brass recalls that Heuermann first wanted to meet her in a hotel room near Massapequa Park, where he lives, but she was uncomfortable with that idea. She asked to meet instead at a seafood restaurant called Steam Room in Port Jefferson. During their dinner, Brass remembered Heuermann seeming "totally normal" until he brought up the Gilgo Beach murders and his demeanor changed.
"When he spoke, something about his body language changed, the look in his eyes changed, and it seemed like talking about the victims was enjoyable for him," Brass said.
She said his tone while discussing the murders made her think he was "visualizing it in his head and getting off to what he was saying."
"The way he talked about it was really weird, and it gave me the worst gut feeling. I was so scared at the end of it," Brass said. "I didn't try to keep the dinner going long after that."
She told Francis Donoghue, a friend of her fiancé's, about the meeting years later. He also spoke to the News.
"I remember a few years ago when I met her, she told me about that," Donoghue said. "She was certain, and she even showed me a picture of him," he told the outlet.
Officials shed light on why Heuermann wasn't arrested outside his home
Authorities took Rex Heuermann into custody last week in Manhattan, a choice that took on new significance after the discovery of hundreds of firearms in his Long Island home. In an interview with ABC News, Suffolk County district attorney Ray Tierney said the weapons were the deciding factor in law enforcement's decision to arrest him elsewhere.
"We wanted to take him into custody somewhere outside the house because of access to those weapons," he said.
Heuermann's wife likely did not know about his crimes
Court documents suggest that Rex Heuermann likely kept his actions from his family. Analysis of phone records shows that Heuermann's wife, Asa Ellerup, was out of town during the periods in 2009 and 2010 when Melissa Barthelemy, Megan Waterman, and Amber Costello went missing. Though Heuermann is also a suspect in the 2007 death of Maureen Brainard-Barnes, phone records from that era are no longer accessible.
In an interview with CNN, Suffolk County police commissioner Rodney Harrison said Heuermann's family was stunned when they were told of his alleged crimes.
"They were disgusted. They were embarrassed," he said. "So if you ask me, I don't believe they knew about this double life that Heuermann was living."
Heuermann's family was reclusive, per neighbors
Residents in Rex Heuermann's neighborhood are starting to paint a picture of the suspect's life in Massapequa Park, where he lived with his wife, Asa Ellerup, and their two children. Heuermann had been married to another woman in the 1990s.
The New York Post reports that Heuermann's daughter, Victoria, is an employee at his architecture firm, though a page that included the company's staff has been scrubbed from its website. Not much is known about Heuermann's other child, a stepson whom a neighbor described to CBS News as having "special needs."
Ellerup shopped at the IGA grocery store with the children every week for decades. Heuermann never joined them. Mery Salmeri, a store manager, told the New York Times that Ellerup generally looked depressed and that the family often paid with food stamps, which is uncommon for that area. The use of food stamps also seems at odds with Heuermann's career as an architect with a midtown Manhattan office.
The family's neighbors describe the family as solitary and rarely interacting with anyone on their block or having visitors to their home. The house they lived in was not well maintained, and one neighbor said Ellerup often looked like she "just rolled out of bed."
Investigators face a "flood" of evidence
"Right now, we have a flood of information and a flood of evidence coming in, and it's going to take us a while to sort of go through all of that," Suffolk County district attorney Ray Tierney told CNN on Monday.
On Sunday and Monday, police searched and removed items from storage units that Rex Heuermann apparently rented at two facilities in Amityville. They also removed evidence from Heuermann's architectural-firm offices in midtown Manhattan over the weekend and have continued to confiscate items from his Long Island home. CNN reports that, according to a source, the search of his house in Massapequa Park "has largely been focused on forensics, but authorities are also looking for items that could be souvenirs from the killings — things that appear to be hidden or kept in such a way other family members would not have come across them."
Among the items recovered from Heuermann's residence, which Suffolk County police commissioner Rodney Harrison has described as a "very cluttered house," were between 200 and 300 firearms — including pistols, revolvers, and semi-automatic rifles — that Heuermann kept in a vault in his basement. Though he was apparently an avid hunter, he had legal permits for only 92 of the firearms. "It's concerning, regarding the guns being registered or legal or not," Harrison told Fox News on Monday. "That's something we're still taking a look at. Anytime somebody has that type of arsenal, we have some concerns."
Police have also been seen removing what the New York Post describes as "dozens of bizarre items" from the home, including "a child-sized, fair-haired doll kept in a large wooden and glass case" — that was not found in Heuermann's children's rooms.
After his arrest, alleged killer reportedly asked, "Is it in the news?"
CNN reports that, according to "a source familiar with the case," Heuermann "had only one question during intake at the jail after being arrested last week" — which was "Is it in the news?"
The alleged serial killer, who is being held without bail, was put on suicide watch on the advice of medical staff after he was taken to jail.
Criminologists' 2011 profile of then-unknown serial killer wasn't far off
The New York Times revisited what several experts and criminologists said in 2011 when the publication asked them to profile the person who had murdered the Gilgo Four:
[The women] were probably killed by a white man in his mid-20s to mid-40s, they said. He is married or has a girlfriend. He is well educated and well spoken. He is financially secure, has a job, owns an expensive car or truck, and lives or used to live near where the bodies were found.




On Friday, details began emerging about Rex Heuermann, who was arrested and charged with murder in the killings of three of the women. Prosecutors said he was the prime suspect in the death of the fourth woman. Mr. Heuermann, 59, is a married white man who works as an architect in Manhattan and lives in Massapequa Park, about 15 miles from Gilgo Beach. He owned a Chevrolet Avalanche truck at the time of the killings, prosecutors said.
Rex Heuermann's mugshot
A mugshot of the suspected killer was released by law enforcement following his Thursday arrest:
What Heuermann's lawyer has said
Defense attorney Michael Brown told reporters on Friday that, after he was arrested, Heuermann broke down in tears in front of his lawyers and said, "I didn't do this." Brown has also released a statement to the media emphasizing his client's spotless record:
Rex Heuermann is 59 years old with no prior criminal history. He is a college graduate and is a hardworking licensed architect who has his own NYC firm. He is a loving husband to his wife of over 25 years and an involved and dedicated father to his daughter and stepson. He has entered a not-guilty plea and has insisted he did not commit these crimes. There is nothing about Mr. Heuermann that would suggest that he is involved in these incidents. And while the government has decided to focus on him despite more significant and stronger leads, we are looking forward to defending him in a court of law before a fair and impartial jury of his peers.
Among the gawkers outside suspect's house: Rudy Giuliani
The former mayor swung by Rex Heuermann's residence in Massapequa Park on Saturday and reportedly asked one of the cops there how close he could get to the house. His spokesperson later told the New York Post that Giuliani "was on scene to cover this heinous crime as part of his hit new livestream show."
What about the other bodies?
Although the cold cases of the so-called Gilgo Four now appear to have been solved, law-enforcement officials on Friday shared no additional details about the status of the investigations regarding the seven other people whose remains had been found around Gilgo Beach since 2010. There was also no indication that investigators believe Heuermann was involved in those deaths.
Instead, the officials who spoke at Friday's press conference indicated only that their investigations into the other cases are still ongoing. "Even with this arrest, we're not done. There's more work to do in this investigation regarding the other victims, of the Gilgo Beach bodies that were discovered," Suffolk County police commissioner Rodney Harrison said. He urged anyone with information to call 1-800-220-TIPS, the county's Crime Stoppers hotline.
Suffolk County DA: "This case is not over"
At a press conference regarding the arrest, Suffolk County district attorney Ray Tierney vowed that the case against Heuermann was "only beginning" and that "we're continuing to execute search warrants, and we anticipate getting more evidence."
Tierney also thanked the various law-enforcement partners in the task force that ultimately cracked the case, mentioning in particular how they continued to keep details of the investigation secret because they knew the suspected killer was himself closely following news about the case. "We knew that this one person would be watching, and we didn't want to give him any insight into what we were doing," Tierney said. "And we also didn't want him to know just how close we were getting."
In his comments on the arrest, Suffolk County police commissioner Rodney Harrison emphasized that "Rex Heuermann is a demon that walks among us. A predator that ruined families. If not for the members of this task force, he would still be out on the streets today."
Cell-phone data — which proved critical to tracking Heuermann down — paints a chilling, detailed portrait
According to court documents made public on Friday, Rex Heuermann faces both first- and second-degree murder charges over the deaths of Melissa Barthelemy, Amber Lynn Costello, and Megan Waterman in 2009 and 2010. He is also the prime suspect in the 2007 murder of Maureen Brainard-Barnes. All four women were described in the documents as sex workers who "had contact shortly before their disappearances with a person using a 'burner' cellphone" and were found in close proximity to one another, similarly positioned and bound.
After a new push to review evidence from the case last year, investigators were able to zero in on Heuermann as the main suspect after finding a vehicle an eyewitness had seen at the home of one of the victims the day before her disappearance. The first-generation black Chevrolet Avalanche had been registered at the time of the murders to a Long Island resident who matched the physical description a witness had given of a man seen at that same victim's home attempting to solicit her.
Investigators then subpoenaed cell-phone data allowing them to link the man to calls made to and from the victim's phones near both Heuermann's home in Massapequa Park and his office in midtown Manhattan. The women's own phones provided ominous clues to their fate — a final cell-tower ping near Heuermann's residence, a voice-mail check by the expressway, and taunting calls to one victim's family members using her own phone from near Heuermann's office. Here's how the bail application filed Friday by prosecutors details the cell-phone data related to victim Melissa Barthelemy:
On July 3, 2009, Ms. Barthelemy was contacted by a burner cellphone. Thereafter, the Barthelemy Cellphone was contacted by this burner cellphone on July 6, July 9, and July 10, 2009, which was the last day she was seen alive. On July 10, 2009, cell site records indicate the burner cellphone traveled from Massapequa Park to Midtown Manhattan. Later that evening, the Barthelemy Cellphone traveled from Midtown Manhattan to Massapequa with the last cell site location being in Massapequa on July 11, 2009, at approximately 1:43 a.m. On July 11, 2009, Ms. Barthelemy's cellphone was used to make an outbound call checking her voicemail from a cell site location in Freeport. On July 11 and July 12, 2009, the Barthelemy Phone made two more outbound calls checking her voicemail from cell site locations in Babylon. On July 17, July 23, August 5, August 19, and August 26, 2009, the Barthelemy Phone made taunting phone calls to Ms. Barthelemy's family members, some of which resulted in a conversation between the caller, who was a male, and a relative of Melissa Barthelemy, in which the male caller admitted killing and sexually assaulting Ms. Barthelemy … the cell site locations of the Barthelemy Phone during these taunting calls were all in Midtown Manhattan.
"Do you think you'll ever speak to her again?" the caller asked Barthelemy's teenage sister in "a bland, calm voice" during one of those calls in July 2009, according to the New York Times, and "when she told the caller that she hoped to talk to her sister again, he replied that he had killed her after having sex with her," then hung up.
Investigators said in their court filing that Google data revealed Heuermann had repeatedly sought news about the case, such as searches for "why could law enforcement not trace the calls made by the long island serial killer?" and articles including "8 Terrifying Active Serial Killers (We Can't Find)." He allegedly sought out podcasts about the murders as well as photos of the victims' families. Prosecutors have evidence that the alleged killer conducted "thousands of searches related to sex workers; sadistic, torture-related pornography; and child pornography" — including porn involving 10- to 13-year-old girls.
With Heuermann in their sights, investigators sought a DNA sample from his trash — eventually recovering the crust in a pizza box he threw away in Manhattan and then comparing the DNA found on it to the DNA from a piece of hair recovered on one of the victims' bodies.
Who is the suspect, Rex Heuermann?
Rex Heuermann, 59, was arrested in midtown Manhattan on Thursday night. He is a married father of two who lived with his family in Massapequa Park on Long Island.
Heuermann, an architect, is the founder of RH Consultants & Associates, Inc., a Manhattan-based architectural firm that has worked with city agencies and other clients such as Catholic Charities and American Airlines. A 2022 interview with Heuermann about his life and experiences as an architect can be found on YouTube. In the clip, he describes himself as someone "born and raised on Long Island" who has been working as an architect in Manhattan since 1987.
PIX11 News spoke to Damien Richards, an employee of Heuermann's who was hired in 2020; he was taken aback by the news that his boss had been arrested in connection with the brutal crimes.
"Shocked. Shocked. Total shock. At first, the shock of hearing of this, then obviously the next thing comes to my mind, what happens to my job and my family?" Richards told the network. Of his boss's personal nature, he added, "I've never witnessed him be violent — but [he] gets aggravated. This industry is a roller-coaster ride."
How the case began
In 2010, authorities were searching for Shannan Gilbert, a 23-year-old New Jersey woman who had gone missing on Long Island, when they discovered the bodies of four women in burlap sacks 500 feet from one another near a parkway by Gilgo Beach on Jones Beach Island, a barrier island on the South Shore. All four of the women — Maureen Brainard-Barnes, 25; Melissa Barthelemy, 24; Amber Lynn Costello, 27; and Megan Waterman, 22 — were later determined to have been strangled to death.
Gilbert's body was eventually found in 2011, as were the remains of another four people across the remote area between 2010 and 2011 — including two more women, a man, and a female toddler. It's still not clear if or how some or all of those cases may be linked, but police have long believed that some were the work of a single serial killer.
Gilbert's death, which was never ruled a homicide, was later deemed by law enforcement to be unconnected to the murders of the so-called Gilgo Four, though Gilbert's family members continue to believe the cases are connected. At the time of their deaths, all five women were working as sex workers and advertised escort services on Craigslist.
In 2011, New York spoke with relatives of the five women about their quest to find justice for their loved ones:
[Maureen Brainard-Barnes's sister Melissa] Cann says the police have failed to take her sister's case seriously, beginning with the first officer she spoke to. "Soon as I told him what she was doing up in Manhattan, it was like he didn't care." She speaks of the fruitless trips her husband and brother took to New York to try to find Maureen themselves, the two and a half years it took even to get Maureen's name onto the national registry of missing persons. She tells me she got her sister's e-mails, texts, and phone records herself, trying to retrace Maureen's steps. "I've been driving myself crazy for four years trying to figure out what happened to my sister," she says. "I drove myself to the point where I didn't want to get up in the morning to brush my teeth. I didn't want to go to sleep. I just wanted to figure out where my sister was. I got fired from my job. I was like, I can find another job, but I can't find another sister. Going on with my life felt guilty."
This post has been updated.