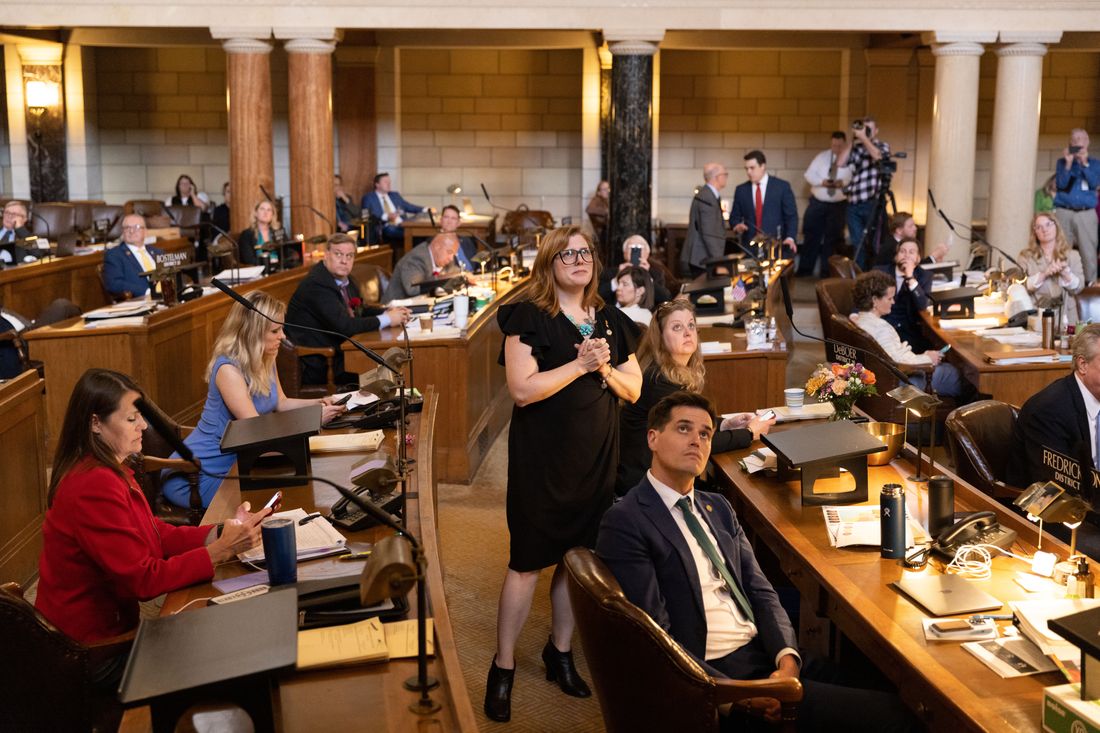 Machaela Cavanaugh
(center)
looks up at the balcony where protesters have gathered in an attempt to stop LB 574, the trans-health-care ban introduced by Senator Kathleen Kauth
(left, in red)
.
Photo: Rebecca Gratz
This article was featured in One Great Story, New York's reading recommendation newsletter. Sign up here to get it nightly.
On an icy morning in February, Machaela Cavanaugh, a Nebraska state senator, woke up with strep throat at the Cornhusker Hotel. She took some cold medicine and drove to the Nebraska Capitol Building in Lincoln, where her colleagues, sitting at rows of black-walnut desks beneath a gold frieze depicting cattlemen and homesteaders arriving in the state, had gathered for the 33rd day of the 90-day legislative session. "I felt like shit and I got on the floor and I made a speech that I do not remember, except for that it circulated the internets," she recalled. Among other things, she announced that she intended to "burn the session down to the ground."
Five weeks earlier, a Republican colleague had introduced LB 574, the "Let Them Grow" bill, which would ban transgender people under the age of 19 from seeking what it described as "gender altering procedures," including puberty-blocking drugs, hormone therapy, and surgery. Like most of her colleagues, Cavanaugh hadn't known much about the health-care needs of transgender people before the bill was introduced, but in the weeks since, she had talked to doctors, read papers, and listened to hours of testimony, and she had concluded that the proposal was ill-conceived, unscientific, and bigoted. She'd tried, and failed, to persuade her Republican colleagues to let it die in committee. Now, with Republicans outnumbering Democrats (and one progressive independent) in the Nebraska legislature 32 to 16, all she could do was filibuster. "I don't care if the record just shows me hacking up a lung," she said, flushed and hoarse. "I'm going to stand here, and I'm going to take every minute that I can. So get out your correspondence, do your taxes, make your lunch plans, plan your funeral." She embarked on the first of the many digressions that would follow. "It's always a good idea to plan your funeral," she said. "Not because I think anybody is dying. Just it's a good proactive thing to do in life." She wore a black blazer and bright-yellow pom-pom earrings and talked for nearly three hours. "This body is going to have to make some choices," she said. "You're going to have to decide what your priorities are. My priority is protecting children. That's it."
Over the next two months, standing at her desk, Cavanaugh, 44, spoke for hundreds of hours, an absurdist feat of stubbornness and passion. Nebraskans tuned in to a livestream of the spectacle on Nebraska Public Media's website; bars in Lincoln streamed the proceedings on their TVs. They watched as she recounted the plot of Penguins of Madagascar. As she made a case for the Oxford comma ("Clarity is key"). As she listed her favorite things to put in salads ("Nothing better than a fresh tomato"). As she held forth on the history of the word queue, shared a memory of her mother trying to teach her how to play bridge, and explained, in exhaustive detail, the rules of the legislature that allowed her to take up so much time. She took up more time still by decrying the legislation she opposed — not only LB 574 but also a bill that would ban abortion after six weeks of pregnancy. She filibustered almost every bill that came to the floor, preventing the legislature from voting on almost all of the 812 bills introduced this year, including some she supported. "I'm not going to discriminate," she said. Rising at their desks, her opponents called her a "bully" and accused her of "making a fool of yourself." By the time I visited in April, 67 days into the session, some Republicans had taken to turning their backs to her when she spoke. Others hid in their offices. One walked over to the press area and asked if I was "bored to tears."
When Cavanaugh wasn't killing time on the floor, she and many of her colleagues spent the days rehashing their arguments over the bill and fighting about matters of procedure. They only needed one Republican to vote against the bill for it to fail. All of the Republicans hated the filibuster, but several of them disliked the bill that had prompted it, too. They struggled to understand its relevance. They had campaigned on expanding broadband access, reducing property taxes, making the government more efficient — things they felt actually mattered in the daily lives of their constituents. They hadn't run for local office because they wanted to take up arms in the culture war, especially not for a cause many of them had never thought about before and didn't have much interest in thinking about now. "I've spent way more brainpower on this than I ever wanted to," Senator Jana Hughes told me. One day, a freshman senator named Christy Armendariz led me to a bench in an empty hallway. She found it puzzling that a reporter from New York would come all the way to Nebraska to cover this affair. "I don't watch the news or get the newspaper," she said. "Is there anything going on I should be aware of?" I mentioned that other states had passed similar bills and that a federal appeals court in the same circuit as Nebraska had ruled one of them unconstitutional. "So is it a big widespread thing?" she asked. As far as she could tell, ordinary Nebraskans did not know about the issue. "I knocked doors for a year, and nobody brought this up." She said she wished the bill had never been introduced.
The senator who had introduced it, Kathleen Kauth, entered office this past June. Like Cavanaugh, she has said her goal is to "protect kids." By her account, the bill would protect them both from a "pro-transition" ideology pervading social media, which had caused gender confusion to spread like a "social contagion," and from a profit-driven medical Establishment that promoted "novel and irreversible procedures" insufficiently supported by science. "We have laws that protect kids from abuse, exploitation, and from exposure to dangerous substances like alcohol and drugs," she told her colleagues at a hearing for the bill in February. "As adults, we understand that a child's brain is not fully formed and cannot comprehend the ramifications of making irreversible medical decisions."
Kauth's bill is nearly identical to dozens of others. This year, legislators in 18 states have introduced some 130 bills restricting care for transgender minors. Nineteen states controlled by Republicans have now passed laws or policies banning such care. Pending court cases have prevented three states from enacting them in full or have pushed back the dates they would go into effect. (Last August, a federal appeals court ruled that Arkansas's ban discriminates on the basis of sex: A cisgender boy, for example, could be prescribed testosterone or have breast tissue surgically removed, but a transgender boy could not.)
From the beginning, Cavanaugh knew she could lose and probably would. She had accepted that. What she wanted, at a minimum, was to make the Republicans suffer for their victory — to deprive them of the mindless ease of pressing a button to vote the party line. "If you want to inflict pain upon our children, I am going to inflict pain upon this body," she promised on the floor in February. "People are like, 'Is she threatening us?' Let me be clear. Yes, I am. I am threatening you."
On a Sunday evening in April, Cavanaugh stood at the island in her parents' kitchen, slicing tomatoes for a salad, her red hair pulled into a messy bun. She is the fourth of eight children. Every Sunday night, whoever is around gathers at her parents' place in Omaha, a two-story ranch house not far from downtown. Cavanaugh's three children — ages 4, 7, and 9 — ran in and out of the house with a gaggle of cousins. No one knew how many to expect for dinner, and no one seemed especially concerned. "They'll just keep showing up," Cavanaugh said.
By then, Cavanaugh had been filibustering for eight weeks. Every evening, she studied the agenda for the following day and calculated how many motions and amendments she would have to file to speak for eight hours, the maximum length of time allotted for the first round of debate allowed for each bill.
Nebraska has a citizen legislature, which means many senators also have full-time jobs. They farm, own small businesses, build houses. This year, many of them were new to politics. Cavanaugh was not. She comes from a family of politicians and civil servants. In the living room hung a photograph of Cavanaugh's grandfather, a county commissioner, with JFK. At the table, Cavanaugh's younger brother John Cavanaugh Jr., a former public defender who serves with her in the legislature, bowed his head and said grace. "Thank you, God, for bringing us all together for this meal. It's always a pleasure to have this opportunity to decompress and talk about our adventures together." Cavanaugh, sitting across from him, raised her eyebrows and laughed.
Their father, John Cavanaugh, sat at the head of the cloth-covered table. In the '70s, he served one term in the state legislature and two as a U.S. congressman. He seemed nostalgic for a time when collaboration between the parties was still possible. "People just aren't willing to accept differences and work systematically on problems," he said. Nebraska still has the only legislature in the country that is officially nonpartisan, and the rules that govern it, including the filibuster, were intended to promote compromise and moderation. But the state is among those that have shifted to the right in recent years. Some partly attribute this shift to a grudge. In 2015, a bipartisan coalition of senators overrode a veto by Governor Pete Ricketts, making Nebraska the first red state in 40 years to abolish the death penalty. In response, Ricketts, co-owner of the Chicago Cubs and son of the founder of TD Ameritrade, reached into his deep pockets to back a series of candidates running to the right of some of the Republicans who had rejected his veto, driving those relative moderates out of office.
In 2018, Cavanaugh beat an incumbent Republican in a Republican district. She was one of just two candidates in the state that year to run an openly pro-choice campaign. She concluded that most Nebraskans are less conservative than the officials who tend to represent them. For four years, Cavanaugh prioritized building relationships with Republicans, as any Nebraskan Democrat who wants to pass laws must. When she was a freshman, one Republican, Robert Hilkemann, backed a bill of hers that addressed domestic violence. And when she introduced legislation demanding the statehouse provide a room to be used for nursing (she was the first senator to breastfeed from the floor of the chamber), every woman in the body supported it.
Cavanaugh sees her job as a kind of religious calling. Her grandmother was a proponent of Catholic social teaching, an area of doctrine concerned with finding remedies for social injustices. In high school, Cavanaugh wrote a paper arguing that all Catholics should be Democrats. She still thinks of herself as a person of faith, but her feelings about the Church have changed. "Part of what has been painful about this is watching my own religion advocate for the harm of these children," she said. She did not believe Kauth, who was also raised Catholic, was genuinely concerned about the fate of kids who suffer from gender dysphoria. "I call bullshit on that," Cavanaugh said. "I can see very clearly she is trying to set us on a path to eliminate trans people from existence by eliminating the health care that helps them exist." Her brother John said hypocrisy had always vexed her. "I think the filibuster started out of her anger and just, you know, kept going," he said.
Cavanaugh has three years left in her term, and she won't run again; Nebraska laws limit senators to two consecutive terms. With nothing to lose and no possibility of getting any legislation passed this session, if ever again, she has no reason to suppress the contempt she has come to feel for her opponents. "I am just not in a place any longer where I can have a conversation with people where I don't want to slap them at the end," she said.
Cavanaugh's main opponent, Kathleen Kauth, is a professional mediator. She arrived in the statehouse after Governor Ricketts appointed her to replace Rich Pahls, a Republican who had died halfway through his term. "My job is getting people to set aside conflict and work through difficult issues," she said in a video for the Nebraska Farm Bureau. "I'm very adept at listening to all points." Like Cavanaugh, she is a mother of three. At her swearing-in ceremony, she said she'd gotten into politics to "fill the void" after her boys left for college. I approached her one day when she was sitting at a table in the chamber with her laptop and a Diet Coke. She had observed my conversations with her colleagues. "You've talked to so many people about this — I don't need to speak with you," she said. When I pointed out it was her bill, she said, ​​"I'm not going to talk to you because I don't believe you'd be balanced."
Kauth first took interest in the subject of transgender minors around the time Ricketts appointed her. The Biden administration had just announced it would require schools to abide by a nondiscrimination policy concerning gender identity and sexual orientation as a condition for accepting some federal funding. Kauth, who campaigned on ending government overreach, saw this as an affront. "These decisions need to be made by Nebraskans," she said on the floor. By the time she entered office, some states had already passed bans on trans care. She crafted her bill, by her own account, to resemble those laws, turning to a national Republican playbook to develop her legislation. As leaders of the religious right have noted, these bills represent the culmination of a coordinated strategy years in the making. In 2015, after the Supreme Court upheld same-sex marriage, conservative groups scrambled for a new cause that would animate the base. Matt Sharp, the senior counsel for the Alliance Defending Freedom, told the New York Times the growing number of young people openly identifying as transgender carried a particular "sense of urgency."
Nearly every bill in Nebraska gets an open hearing — an opportunity for citizens to express their thoughts and concerns about the legislation and for lawmakers to invite experts to testify. In February, hundreds traveled to the statehouse for the hearing on LB 574. In her opening presentation, Kauth, who is as restrained as Cavanaugh is boisterous, wore a boxy red blazer and spoke in an even tone. "I recognize the emotions that exist among all the stakeholders and in this room today," she said, facing the senators on the Health and Services Committee, including Cavanaugh.
Although some of the people she invited would invoke God and religion when testifying in support of the bill, Kauth said her support was based in science. She mentioned a 30-year study in Sweden that supporters of trans-health-care bans have often cited in recent years; in her telling, it shows that trans people who underwent surgery were "19 times more likely to kill themselves." More likely than who? Kauth didn't say. If she had, she would have undermined her point. As the study's authors note in the paper, they compared patients who had transitioned with members of the general population, not with transgender people who'd opted against surgery or were denied it. "Things might have been even worse without sex reassignment," they write. Kauth also failed to mention that participants who transitioned after 1989 did not experience a significant increase in mortality, which the study's authors note might have been attributable to "altered societal attitudes towards persons with different gender expressions." (The lead author has repeatedly told interviewers their findings have been misinterpreted.)
When Kauth finished citing the study, Cavanaugh raised a finger. She wanted to know whom she had worked with on the bill. "I called on the Nebraska Family Alliance. I called on the Catholic Conference," Kauth said, naming two right-wing religious organizations in the state. "I called on every group I could think of that had experience with this."
"Did you work with any health-care entities locally?" Cavanaugh asked.
Kauth smiled. "See all the doctors sitting behind me?"
In the hours that followed, eight doctors and clinicians testified on Kauth's behalf. None of the doctors said they had direct experience providing gender-affirming care to transgender teenagers. Dr. Jennifer Bauwens, who works for the Family Research Council, a lobbying group that has claimed "the transgender movement mirrors cults like Scientology," asserted that doctors face "immense pressure to go down this path of affirmation." (She had also testified in support of trans bans in Montana, Kentucky, and Oregon.) When one of the senators asked a pediatrician from central Nebraska, Sue Greenwald, how she handled patients with gender dysphoria, she explained she'd retired five years ago and had never seen one. "You were male or female," she said as though describing a distant era. "This is a social construct that has been invented." None of the doctors who testified in support of the bill spoke on behalf of a medical association. The
other side, which counted twice as many medical professionals and psychologists, included representatives from the Nebraska Medical Association, the Nebraska Psychological Association, the Nebraska Chapter of the American Academy of Pediatrics, and the Nebraska Nurses Association. "This bill rejects the best literature," Dr. Alex Dworak, who treats trans children at an Omaha clinic, said, "which shows improvements in mental health, reductions in suicidality, and improvement in overall well-being of children."
Almost two dozen trans teens, adults, and their family members, all from Nebraska, testified as well. "I am not delusional, I'm not sick, I'm not indecisive," Alex Hamric, a 15-year-old from Lincoln, told the committee. "I'm not simply a child that has lost their way." One mother, Rachel Ogborn, said she'd come so she wouldn't lose her child. "I went from having a suicidal, depressed, self-harming son who didn't see himself in the future at all to having a happy, healthy daughter," she said.
A group of four people also testified to say they regretted medically transitioning. All but one of them had transitioned as adults. A woman named Cat Cattinson said she began transitioning when she was 28 and had suffered from a series of health complications, including heart palpitations and body pain. After she spoke, Cavanaugh thanked her for her testimony. "I'm very sorry for what you've been through," she said. "And I hope this does not diminish your experience at all, but I wanted to ask if this happened to you, well, in Nebraska?" Cattinson replied that she was not from the state. (She's from California.) "But the measures that trans activists are pushing for is — they want it everywhere," she said. Of the people who said they regretted transitioning, only one, a woman named Luka Hein, was Nebraskan. She and Cattinson had been appearing in statehouses across the country, speaking in favor of similar bills.
On March 15, a month into Cavanaugh's filibuster, she began reading aloud from documents from the Holocaust Memorial Museum describing the persecution of gays and lesbians in Nazi Germany. She drew a blunt comparison to her colleagues who supported the bill. "This is a genocide," she said. One of those colleagues, a young Ricketts appointee named Julie Slama, moved to censure Cavanaugh for her remarks, saying they reflected "a level of ignorance that is unacceptable in an elected body." Senator John Arch, the Speaker of the house, declined to pursue the charges.
That day, Cavanaugh announced she was ready to pause her filibuster for a debate on the bill. "I want a record," she said. "I want the bloody hands recorded."
Every bill that comes out of committee is allowed three rounds of debate, and each round culminates in a vote. The process is designed so senators can offer amendments and, in theory, improve — or kill — a bill before it becomes a law. In many respects, the debate over trans health care, like the debates over abortion and other divisive issues, highlights the meaninglessness of this process. The bill's opponents attacked the legislation from every angle; they argued it was unconstitutional, unscientific, and cruel. They framed the arguments in ways they thought would appeal to their conservative colleagues (and to Senator Mike McDonnell, a Democrat who often votes with Republicans on social issues). Wasn't this an example of governmental overreach and an infringement of parental rights, precisely the sort of thing so many of them had campaigned on abolishing?
One of Cavanaugh's friends and colleagues, Megan Hunt, who owns a stationery store in Omaha, led with a personal appeal. Hunt, an independent and the first openly bi woman in the body, has a 13-year-old son, Ash, who came out as trans a few years ago. Along with several Democrats, she had been participating in Cavanaugh's filibuster, filing motions and eating up floor time. She had led filibusters before, but this session wore on her in a new way: "I'll be on my way to work and have to pull over on the side of the interstate because I can't breathe for 15 minutes. It's affecting my health in a way I almost can't control." She had never mentioned her son on the record until now. "There aren't counselors making kids trans," she said. "There aren't counselors telling parents, 'You have to get your kids on these drugs or else they're going to kill themselves.' This is scare tactics. It's 'satanic panic.'" She dropped her pen on the podium and pulled her floral silk scarf away from her neck. She glared at her colleagues around the room. "You literally don't know what you're talking about," Hunt said. "And if this bill passes, all your bills are on the chopping block and the bridge is burned." She jabbed a finger at a Republican. "Senator Hughes," she said, "the bridge is burned. We're not cool." She pointed at other Republicans, people she used to think of as friends: "Senator Brandt, Senator Dorn, Senator Arch, I'm not doing anything for you because this is fake. This has nothing to do with real life. This is all of you playing government when I gotta go home to my house and live in my house."
The next speaker, Senator Dave Murman, a dairy farmer, acted as if he hadn't heard her. He read from a prepared speech about the "sanctity of life" in a flat tone. But Senator Myron Dorn, one of the Republicans singled out by Hunt, later stood and thanked her for sharing her story. He acknowledged he and his colleagues were not experts on the issue. "Many of us," he said, "we're not a doctor. We're not a lawyer. We're doing the best job we can."
Along with all 31 other Republicans, Dorn voted for the bill to advance to a second round of debate. Still, he was conflicted. He was among a handful of Republicans who weren't necessarily opposed to minors receiving hormones or puberty blockers if they really needed them. In April, as the second round of debate approached, Kauth filed an amendment that seemed designed to address their concerns, limiting the banned treatments to just surgery. But when the debate got underway, hard-line conservatives attacked it. At the last moment, Kauth changed her mind, asking her allies to vote down the amendment. The speaker, Arch, paused debate, pulled Kauth off the floor, and advised her to engage in discussions where "bridges could be built." The next day, Kauth invited four Republicans and three Democrats to participate in a bipartisan conversation about amending the bill.
When I visited in April, the Republicans who remained on the fence seemed hopeful the conversation might yield a compromise that would make them more comfortable with the bill. One morning, Senator Merv Riepe, a Republican, who, at 80, is the oldest senator in the legislature, suggested we leave the chamber and talk in the corridor outside. A former hospital administrator, Riepe hadn't spoken once during the debates. He wore a navy suit, a red tie, and a slight frown. "Being here on all these decisions," he said, "it's like being in a batting cage where you have three batting machines shooting hardballs at you." He held up his hands, gripping an imaginary bat. "I like to get all the facts I can before I make a decision," he continued. "Anytime you put your children on something, people get really wound up. It gets beyond facts; it gets into emotions. And we're trying to sort out the emotions from the facts, and if the facts are valid. Because everybody has a bias." I asked him what he, personally, felt about the bill. He glanced up and down the empty hallway. "I'm not declaring either way," he said. "I wanna see if there are any amendments that will come in to soften the landing."
Others seemed to be wrestling not only with the nuances of the legislation but with the idea of transness itself. Senator Christy Armendariz, the Republican who wished LB 574 had never been introduced, told me the conversation about transgender people had made her think about "the huge backlash the country had several years ago about body image and how the airbrushed photos and the perfect body image really needs to go away and the real human needs to be shown. What happened to that philosophy?" I suggested gender dysphoria may not be related to the experience of feeling like you don't meet certain beauty standards. "When I was a teenager and I was going through a lot of trouble," she persisted, "my mom used to tell me, 'You can't run away from yourself. You're inside. Your head's always going to be the same.'" When I noted we allowed women, including teenagers, to get breast augmentation for any reason, including to feel better about how their bodies looked, she gestured to herself. "I don't have much breasts at all," she said. "You can probably tell I do not feel that way."
Another undecided Republican, Jana Hughes, a freshman, asked if we could sit near windows overlooking a tulip garden. "Sunlight," she said with a sigh, looking longingly outside. Hughes grew up on a farm, studied engineering, worked in logistics, got on a school board, and "ultimately ended up in this dumpster fire," she said, gesturing toward the chamber. A woman in purple athleisure approached with a 2-year-old toddling behind her. She handed Hughes a pouch with something squishy inside — curled-up figures that felt like stress balls. "We're going to give all the senators these little 12-week-old fetuses," the woman said cheerfully. "Little babies!"
"Okay, yeah!" said Hughes. "Thank you."
The woman left, and Hughes continued to elaborate on her frustrations. She had spoken with the families of transgender teenagers who came to the Capitol and understood why they were worried about the legislation. She believed in parents' right to raise their child as they saw fit. But she also remembered what she was like as a teenager. "I was uncomfortable in my body," she said. "It didn't mean I wasn't supposed to be in it." She said she felt unqualified to evaluate the issue. "It's hard because you can find articles on whatever side you are on," she said. Around then, one of her colleagues, Senator John Fredrickson, walked by, and they said "hello." "Now, he's qualified," Hughes told me.
Fredrickson, the first openly gay man in the legislature, is a clinical social worker who worked for several years at the Callen-Lorde Community Health Center, where he treated trans people. Tall and handsome, he speaks in an even, nonjudgmental tone. He is a Democrat, but Republicans like him because, as one of them said on the floor, taking a sideways swipe at Cavanaugh, "he expresses his concern with logic." I asked Hughes why, if she thought he was qualified, she didn't follow his recommendation and vote "no." Hughes looked offended. "John and I get along famously," she said. "But the medical community is not always right." Lobotomy was once a standard practice, she said. "Are we going down that path with this?"
One night, a group of Democrats gathered on the back porch of Billy's Restaurant. Hunt ordered a glass of rosé and picked up her little white dog, Cricket. The conversation turned toward Senator Merv Riepe. A couple of people had heard him expressing doubts about another contentious bill, the one that would ban abortions at six weeks. George Dungan, a former public defender who sits behind Riepe, said he'd heard Riepe complaining to the Speaker that voting for the abortion ban might hurt his reelection chances because his district was pro-choice. "He was saying it real loud," Dungan reported.
"He might not give a fuck about sabotaging it because he knows it'll secure his reelection," Hunt said. At 80, she mused, he was among the most "forward thinking" Republicans in the body. Hunt hadn't talked to any of her Republican colleagues since declaring on the floor that she never wanted to speak to any of them again. Now she was reconsidering. "Real talk," she said. "Do you think I should talk to Merv? Do you think we should get together and bury the hatchet?" She laughed. "I'll say, 'Merv, I haven't talked to a single fucking person, and I'm coming to you. Let's be real.'"
Cavanaugh leaned forward. "I think if you're willing, then talking to him is a good thing," she said.
"If he votes 'no,'" Dungan said, "it gives other people cover to follow."
A group of three Republicans entered the bar and walked past their table. Hunt shot them a look. Nobody said "hello" or nodded. She turned back to her friends. "Myron came over to me today," she said, referring to the senator who had thanked her for her speech on the floor. He wanted her and Cavanaugh to ease up on the filibuster so he could get his amendment attached to an ethanol bill that was up for debate. "I said, 'I can't talk to you about that because of the way you're voting against my family.'"
Dungan laughed. "It's amazing to me that people don't think you're serious."
Cavanaugh looked at her phone. While she and the other Democrats were strategizing, the bipartisan group invited to discuss amendments, which included Kauth and Cavanaugh's brother John, was still attempting to find some kind of compromise. By this point, its members had been meeting for nearly two weeks. The group at Billy's was skeptical that anything would come of their labors. Kauth had just told the Omaha World-Herald she viewed the conversations as more of a "listening exercise" than a negotiation. As the senators were downing their second round, John Cavanaugh showed up, his eyes hidden behind sunglasses, and slumped into a chair. One observer of the legislature had described the siblings as "Good Cavanaugh, Bad Cavanaugh," alluding to John's calm, conciliatory demeanor.
"Was it an 'exercise'?" Cavanaugh asked.
"Everything's an exercise," John said.
"In futility," she added. They looked at each other. "What do you want to drink, John?"
A month later, John Cavanaugh wondered why Kauth had sat for those listening sessions at all. The Democrats had proposed clauses that would have required prospective patients to get parental consent, to present recommendations from at least two mental-health professionals, and to show that any underlying mental-health conditions had been addressed. The Republicans didn't take up any of these ideas. Instead, they came back weeks later with an amendment that was even more radical than the original bill. They combined the two most contentious bills of the session, shoehorning an abortion ban — this one prohibiting abortions after ten weeks — onto an amendment to the bill banning trans health care. In April, the bill banning abortion at six weeks had failed by just one vote (Riepe's), but now they had revived it in a new form, sweetening the deal for any anti-choice Republicans who were still ambivalent about LB 574. (The updated bill also included a clause allowing youth who are already on blockers or hormones to continue taking them. In addition, it would allow teens to access blockers or hormones if they meet certain criteria — which will be defined by the state's chief medical officer, who has supported LB 574.)
On the afternoon of May 16, a debate on the abortion amendment began. Cavanaugh and her allies had a plan: If they filibustered for the entire two hours allocated by the Speaker, they might prevent the bill's proponents from adding the amendment, forcing them to vote solely on the original bill. They would argue it was unconstitutional to amend a bill concerning transgender youth with an abortion ban, citing the legislature's "single-subject rule," which stipulates each law may deal with only a single subject. Cavanaugh spoke first. She was more measured than she had been for months. "Perhaps you have a hard time understanding why someone would seek this care," she said, reading from a prepared speech. "Perhaps you think parents should find a different solution for their children's suffering. I know that for a lot of us, these conversations are deeply, deeply rooted in personal conviction and moral convictions."
This uncharacteristic attempt at diplomacy did not last. Over the next several hours, chaos descended on the statehouse. Instead of debating LB 574 or the constitutionality of amending it with the abortion bill, the senators became embroiled in a fight over procedure. In a change from how they'd kept time during earlier debate on the bill, Speaker Arch and the president of the legislature, Lieutenant Governor Joe Kelly, paused the clock throughout the evening, making it impossible for Cavanaugh and her allies to stop them from getting to the amendment. When Democrats attempted to question this tactic, Kelly overruled them. He eventually declined to recognize them at all. This was "an exertion of raw political power," as Senator Danielle Conrad put it. And there was nothing they could do to stop it.
When Cavanaugh rose again two hours later, her hair was disheveled and her voice was tired. "Every single argument that I come up with, I remind myself that it doesn't matter," she said. "It doesn't matter what I say. And I am not foolish enough to think that it does." Over the evening, her despair turned to rage. "Children are dying," she said. "It is your fault." Through the chamber doors came a muffled chant: "One more vote to save our lives." Outside in the rotunda, hundreds of protesters had gathered in a last-ditch attempt to stop the bill from becoming law. A smaller number of counterprotesters had shown up too, some with guns on their hips. Cavanaugh surveyed her colleagues in the chamber. "If you vote for this," she said, "you will have buckets and buckets of blood on your hands."
She focused her anger on Riepe. Ever since he'd voted down the six-week abortion ban, Republicans had exerted enormous pressure on him. Activists held a prayer vigil outside his office, and he had to send his staff home so they wouldn't be harassed. The current governor, the Republican Jim Pillen, urged him to reconsider. According to local news reports, Riepe had made a handshake deal with Senator Ben Hansen, the state's chair of the Health and Human Services Committee, to vote in favor of LB 574 with the new amendment attached. After it passed, Hansen promised, they could come up with an amendment to soften the abortion ban's restrictions. On the floor, Cavanaugh told Riepe that Hansen was lying to him. "And if you vote for that," she said, "you know he's lying to you. Don't assuage your guilt."
At around 8 p.m., Riepe voted in favor of adding the abortion amendment to the bill. So did all of the other Republicans, all but ensuring LB 574 would pass. Afterward, state patrol officers escorted the bill's supporters to their cars, leading them through closed-off construction areas so they could avoid walking past the families of trans youth chanting and weeping in the rotunda.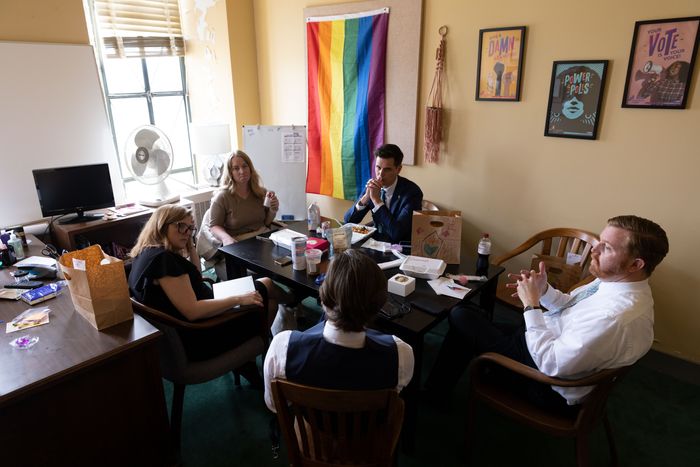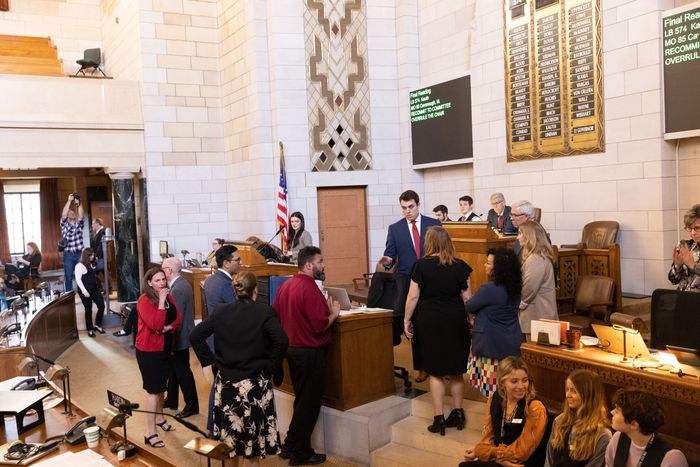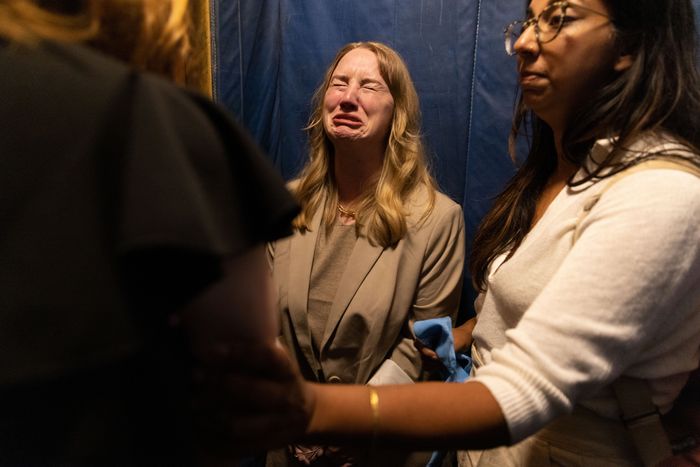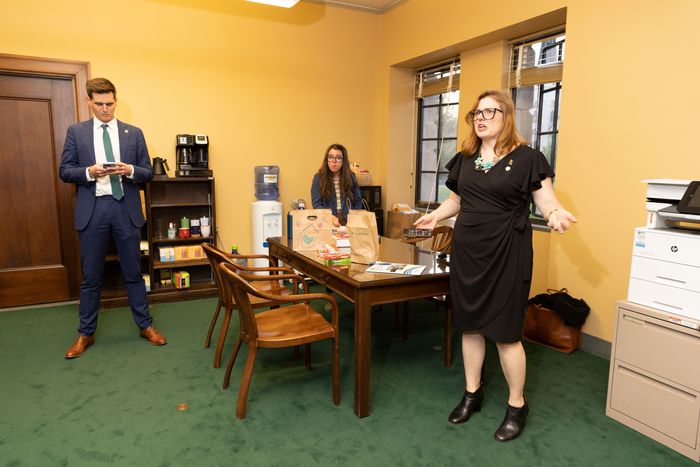 Cavanaugh stumbled out of the chamber into the chanting crowd. People hugged her. One mom of a trans kid held her for a long time. "She told me she didn't want me to blame myself because I'd done absolutely everything I could do," Cavanaugh recalled. Some observers felt differently. Nathan Leach of Nonpartisan Nebraska, a nonprofit he founded in 2020 in response to rising partisan rancor in the legislature, admired Cavanaugh's devotion to her cause but worried her approach could nonetheless incentivize Republicans to get rid of the filibuster and other safeguards against one-party rule. "She created the perfect storm for the majority to make radical changes to the rules of the legislature," he said. Cavanaugh didn't care for this perspective. "I'm not responsible for the actions of my colleagues," she said. "Statements like that let them off the hook for what they're doing to dismantle democracy in the state."
Around 9:30 p.m., she drove to a local bar with a handful of Democrats. She drank a beer and ate a slice of pizza. She returned to the Cornhusker, slept poorly, and walked back to the Capitol in the morning. She arrived early. The rotunda was empty. She took a photograph of the light streaming down onto the mosaic floor and sat in silence. Earlier this year, one of her mentors in the legislature, Senator Ernie Chambers, who was term-limited out in 2020, had called her up. He was the only Black senator in the body for over 40 years and the resident obstructionist when Cavanaugh was first elected. "When you take this position," he recalled telling her, "you're going to be somebody who swims upstream against the current. Failure for you won't be reckoned the way it is for other people. Failure for you will be an unwillingness to stand for what you believe. By standing for what you believe, if and when time comes to vote, even if you never have a vote go in your favor, you will have never failed."
The bill would pass three days later, and the governor would sign it, but Cavanaugh wouldn't stop filibustering. She planned to filibuster every other bill up for debate in the remaining 12 days of the session, and when a new session begins next year, she would do it again. "I want to be done with all of this," she said. "But I don't believe they're done. Their willingness to break rules and protocol and precedents to get their end makes it extremely evident this is not the end of this. This is the beginning." That her efforts had failed to stop them so far did not lead her to question the rightness of her methods. "The only way to do anything about it from inside the chamber is to continue to do what I'm doing," she said. "So that's what I'm gonna do."
*An earlier version of this story incorrectly stated that Senator Ernie Chambers was the only Black senator in the Nebraska legislature for 30 years. In fact, it was for over 40 years. The story also noted that Senator John Arch had broken with precedent during the abortion amendment debate. It has since been updated to clarify he changed the method of time-counting from the way it had been practiced earlier in debate for LB 574.