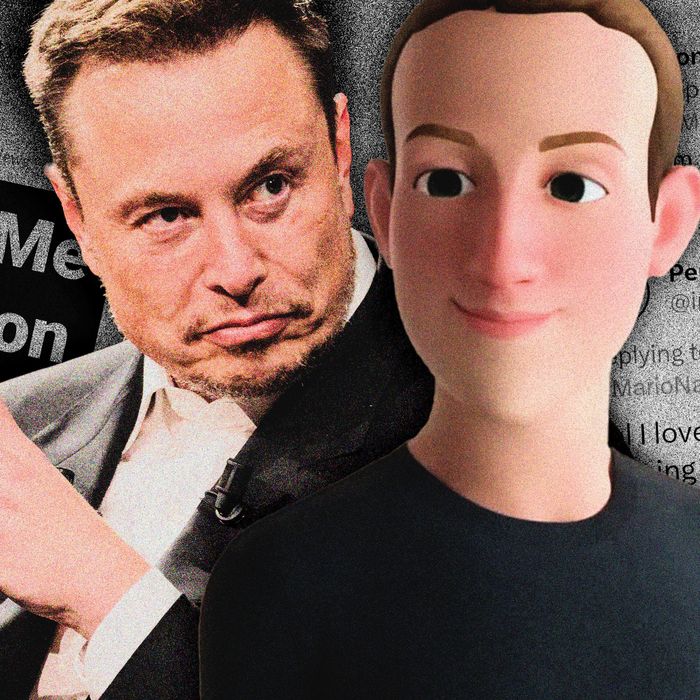 Photo-Illustration: Intelligencer; Photos: Getty Images/Meta
Elon Musk is a fight-seeker by nature, taking on people and corporate entities ranging from Donald Trump and Jeff Bezos to Apple and NPR. Mark Zuckerberg, aside from his own beef with Apple, is more likely to let the lawyers do the talking. But this summer, the Meta CEO has met the Chief Twit at his own level, taking the bait on a personal feud — that actually might develop into an actual cage match. Below is everything we know about the possibility of a title fight between two of the richest men in the world.
Yeah, this probably isn't happening
After weeks of wavering on Musk's part, Zuckerberg tried to make it extremely clear that the fight isn't going to happen unless his hypothetical opponent starts taking this more seriously.
"Elon won't confirm a date, then says he needs surgery, and now asks to do a practice round in my backyard instead," Zuckerberg wrote on his social platform Threads on August 13. "If Elon ever gets serious about a real date and official event, he knows how to reach me. Otherwise, time to move on. I'm going to focus on competing with people who take the sport seriously."
Musk appears to be making stuff up about a fight location in Italy
On August 11, Musk claimed in a tweet that he had already lined up most of the details. The fight would be managed by his and Zuckerberg's charitable foundations and would be lived-streamed on Twitter and Meta. Musk claimed he spoke to the Italian prime minister and their minister of culture, who both agreed "on an epic location." There was a theme, too. "Everything in camera frame will be ancient Rome, so nothing modern at all," he proposed.
But the event wasn't quite as locked in as he suggested. According to the Verge, Zuckerberg wasn't informed of any of the details prior to Musk's tweet. And the Italian minister of culture said hours later that "it will not be held in Rome." Zuckerberg seems to be growing tired of this dynamic:
Zuckerberg says he is ready, but Musk is wavering
After a good bit of trash talk and social media stunts in June, the fight prospect cooled off in July. But the matter was revived the first weekend in August when Musk tweeted that he was "preparing for the fight" and that all proceeds from the event, which would be live-streamed on Twitter, would go to charity for veterans.
On Threads, Zuckerberg's new social media platform, the Facebook founder responded saying he was "ready today." He added that he suggested August 26 for the fight night when Musk first proposed the idea, but Musk "hasn't confirmed. Not holding my breath." Musk then claimed he was injured. "Exact date is still in flux. I'm getting an MRI of my neck & upper back tomorrow," Musk tweeted. "May require surgery before the fight can happen. Will know this week."
Why is Elon Musk doing this?
For years now, Mark Zuckerberg has wanted to buy Twitter, even offering a bid for the nascent social media platform back in 2008. In recent days, he has been saying Twitter isn't living up to its potential, telling MIT researcher and podcaster Lex Fridman on June 10 that "I always thought Twitter should have a billion people using it." The day before, The Verge reported on the Meta app Project 92. Meta's chief product officer, Chris Cox, called it "our response to Twitter," which would allow their many users to sign up for a "sanely run" alternative to the app Musk seems fixed on tanking.
In a June 20 exchange regarding Meta's encroachment into Twitter's business, Musk responded to a random Twitter user with 112 followers who warned him to "be careful" because Zuckerberg "does ju jitsu now." Musk replied:
In response, Zuckerberg posted to his Instagram story a screenshot of Musk's challenge with the caption "send me location."
Why is Mark Zuckerberg doing this?
If you haven't paid attention to the Facebook founder's wellness journey, Mark Zuckerberg has spent the past few years getting extremely jacked and learning kickboxing. It's a classic move for billionaires. What better way is there to invest than in yourself? (It also might help him avoid a Batman's dad type situation.) Newly minted as a jock, the 39-year-old CEO appears to be ready to do jock things like beating up a really annoying guy in his orbit.
How is Zuckerberg training for this potential fight?
During the pandemic, Zuckerberg says that he began martial arts training to get in shape. "From the very first session that I did, like five minutes in, I was like, 'Where has this been my whole life?'" Zuckerberg told Joe Rogan, who is more than willing to talk to any famous person about fighting. Zuck added that he loves the "primal" nature of mixed martial arts and is currently learning from a coach who has trained MMA title contenders.
Zuckerberg is cross-training pretty heavily as well. In June, he posted to Facebook stating he completed what is known as the Murph challenge: a mile run with a 20-pound weighted vest followed by 100 pull-ups, 200 push-ups, 300 squats, and another mile. "The last mile run when your legs are torched from the squats and your heart rate is pegged is pretty brutal too," he said. Fun!
But is Musk actually training?
Up until the fight prospect, it didn't look like Musk had been keeping fit. If shirtless pictures from last summer are any indication, he looks like an average out-of-shape 52-year-old, aside from the extreme paleness. But on June 26, Musk met up with MIT researcher and podcaster Lex Fridman to spar a little bit:
If Musk does take the fight seriously, his friend and MMA commenter Joe Rogan once said he would help him out in another beef. When Musk was toying with fighting Vladimir Putin last year, the podcaster said he would help Musk. "I said, 'Dude, I will arrange all of your training,'" Rogan told a podcast guest. Meanwhile, he has accepted the offer from retired MMA welterweight champ Georges St-Pierre to train for the hypothetical match.
Have either of them actually gotten in a fight?
In 2022, when he was pushing for "single combat" with Vladimir Putin last year, Musk produced a picture of himself grappling with a sumo wrestler from his Japanese-themed birthday in a castle in Tarrytown, New York, roughly a decade ago. "Managed to throw him, but it cost me smashing my c5-c6 disc & 8 years of mega back pain!" he claimed. "Finally fixed with c5-c6 disc fusion." Musk claims to have lifted his opponent off the ground and that he was "350 pounds, and they were not jiggly pounds."
Zuckerberg's competitive record is mixed. In his first Brazilian jujitsu tournament in Woodside, California, in May, Zuckerberg was placed in a choke hold. The New York Times reports that he began snoring, suggesting he lost consciousness. (Zuck's PR people went on a campaign to suggest this did not actually happen, but that he was grunting. The Times stands by its reporting.) Zuckerberg later won a different match in the tournament.
What would the fight actually look like?
Musk initially proposed the "Vegas Octagon," suggesting a pay-per-view or streaming event for the dumbest duel since Hamilton-Burr. So, yes, if the unlikely event happened, it would most likely take place at a top UFC venue like the T-Mobile arena or the UFC Apex in Las Vegas. Ultimate Fighting Championship president Dana White said if the show were to go on it would be "the biggest fight ever in the history of the world," easily pulling in over $1 billion. "I would break all pay-per-view records," he added. "These guys would raise hundreds of millions of dollars for charity." Musk has said that he would be onboard for "full MMA rules," allowing for a wide range of kicking, punching, and wrestling techniques.
As if the Vegas route isn't flashy enough, Musk tweeted that there is "some chance fight happens in Colosseum." TMZ reported that the Italian minister of culture even contacted Zuckerberg to gauge his interest on the matter.
So if it actually happens, who would win?
Musk is purportedly six-foot-one, while Zuckerberg is five-seven, giving Musk the clear height advantage. Musk also has more than a few pounds on Zuck, though that might only be an advantage for what he calls his signature move:
The betting odds would be on the CEO who is younger and can do 100 pull-ups. But the real answer: the haters. The haters would win if these two chose to embarrass themselves like this.