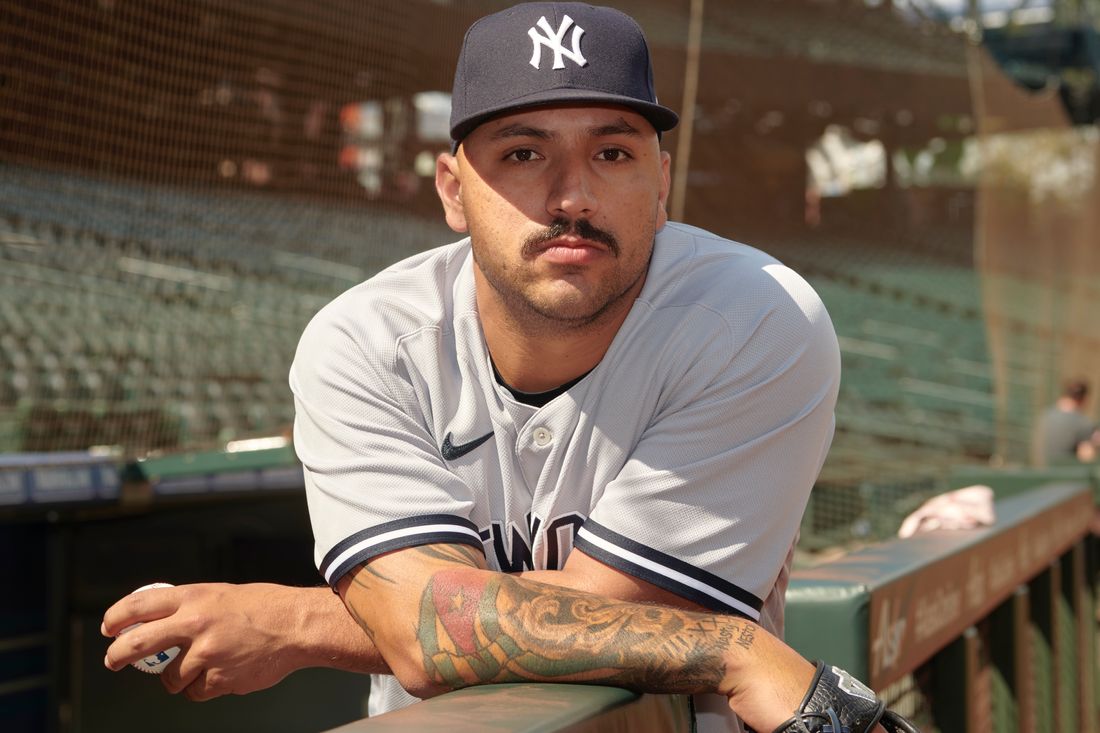 On a muggy afternoon at the ragged end of July, Nestor Cortés Jr., the mustachioed, heavily tattooed left-hander for the New York Yankees, was pouncing off the mound to field ground balls and fire them to first base. The night before, the Yankees had won on a walk-off home run from Aaron Judge, their six-foot-seven, 282-pound juggernaut and the front-runner for the American League's Most Valuable Player Award. Not since Derek Jeter have the Yankees enjoyed such a captivating superstar. But the 27-year-old Cortés, built at the human scale of five-foot-11, has emerged as a star in his own right, quietly capturing the hearts of the Yankee faithful as the team tries to win its first World Series title in 13 years.
For most professional athletes, there's a time, usually in late childhood or adolescence, when they realize they are superior. The other kids can't hurl a ball as far or tackle as hard, and high-school competition melts away. Scouts arrive in droves to herald a bright, limitless future. For Cortés, such a moment never came. "I was a 36th-rounder out of high school, throwing 87, 88," he told me in the Yankee dugout, fresh off his rigorous stretching-and-throwing routine. "I didn't know how long my career was going to be. I would've been happy with a two-, three-, four-year minor-league career."
Nicknamed "Nasty Nestor," Cortés contorts his torso and right leg into quasi-yogic poses on the mound, deceiving hitters who are sure this will be the time they crush a fastball that clocks, at best, in the low 90s. They rarely do. In an era of behemoths—the putative pitching ace of the Yankees, the $300 million, six-four Gerrit Cole, casually throws a baseball 100 mph—Cortés is an anomaly, succeeding at the highest level of the sport with guts and guile. "I think there's been a change for scouts to look at guys like me," he said, "who aren't very tall or throw very hard but have a big heart, who have that edge."
Cortés is so far outpitching Cole and almost everyone else. By mid-August, he boasted a lower earned-run average and a higher bWAR, an advanced stat that measures overall pitching value, than Cole. He has won nine games and lost four. Despite not being a classic power pitcher, he has struck out more than a batter an inning and walked very few. In July, he made his first trip to the All-Star Game, donning a customized glove and strutting the red carpet in Los Angeles. He even got engaged there.
"If you told me three years ago that I would've been an all-star in 2022, I would've told you that you were lying," he said. "I wouldn't believe you."
It had been a renaissance year for the Yankees, who were, before a disastrous losing skid, on track to near the 114 victories they captured in 1998, a franchise record. That year, they won the World Series, something they used to do with regularity. Those days are long gone; the Yankees last won a World Series in the first year of Barack Obama's presidency. This drought has made an entitled fan base restless. With the crosstown Mets also in first place in their own division, New York City is threatening to become the unquestioned baseball capital it has always believed itself to be.
And it all starts with Cortés, the rare underdog on a team that prides itself on its alpha status. His father was once jailed in Cuba for trying to defect and eventually won a visa lottery to escape to Florida. Cortés, who was born in Cuba, was raised in Hialeah, a city in Miami-Dade County with the highest percentage of Cubans in the U.S. He grew up a rabid fan of the beleaguered local baseball team, the Marlins. His most cherished childhood memory is one of my most dismal: the time the Marlins shocked the Yankees to win the 2003 World Series. Beyond baseball, his dream (still unfulfilled) is to meet Eminem. "Growing up, I listened to almost every song he came out with," he said.
An undersize high-school pitcher with a pedestrian fastball, Cortés understood that his greatest hope was to pitch well enough to get a scholarship to help pay for college. Florida International University came calling; he would have gone if the Yankees hadn't drafted him. The enticement was money, not prestige. With an $85,000 signing bonus, Cortés could afford a down payment on an apartment in the Miami area, a rainy-day investment for when his professional baseball career inevitably fizzled.
Cortés made subminimum wage pitching for minor-league teams and did well enough to get promoted. After 2017, the Yankees dumped him altogether, unimpressed. He then cycled among teams in the minors and majors—the Yankees brought him back, only to trade him away—before landing with the Yankees for a third stint in 2021. By then, he had mastered a new pitch, the cut fastball, which jams right-handers, making it difficult to get the barrel of the bat on the ball. His ball spins faster now, too. And he has grown wilier, altering his windup and arm angles and speeding pitches up and down so hitters never get comfortable. Most fans thought his 2021 success was a fluke. This year, he's been even better.
The lifestyle difference between the minors and the majors is enormous. Cortés currently earns more than $700,000 a year, a paltry sum next to Judge or Cole but plenty to a working-class kid. His father still insists on keeping his job as a forklift driver, even after his son's salary bump. "I've told him, 'Hey, maybe you should do less hours,' " Cortés said.
He enjoys being a young gun in the city. "Being in the struggle so long, it's nice—people actually recognize you," he said. "People love to take pictures." He lives in a large one-bedroom in Fort Lee, New Jersey, driving over the George Washington Bridge and parking his car in midtown. Unlike Yankee stars of the past, he's not routinely hitting the clubs. He said he goes out maybe "once or twice a month," having drinks, living "a little." "In Miami, you stay up a lot longer. We go later in Miami," he said, laughing. "I think 2 or 3 a.m. is enough for you to not get into trouble."
He has had controversies. Earlier in the year, the New York Post and other outlets reported he had used a racial slur in old tweets from high school. He quickly apologized. Later, fans became outraged on his behalf when the 83-year-old Jim Kaat, a Hall of Fame pitcher and broadcaster, referred to him as "Nestor the Molester" while describing his feisty pitching style. Kaat apologized, though Cortés said he didn't need to because there was no malice intended.
In the next few months, Cortés, now a crucial part of the pitching rotation, will be far more than a feel-good story. Cole has struggled at times, and the Yankees' other pitchers appear to be regressing. Meanwhile, since Cortés has never pitched this much before, the Yankees are seeking to limit his innings in August and September to make sure he doesn't burn out. But come October, when the postseason begins, Nasty Nestor will be summoned for the biggest games of his life.
He already pitches as if each game were his last. Having gone through the "bad stuff," as he calls his struggles in the minors, he knows he can't afford to make mistakes. "Every day I'm out there pitching, I'm nervous until I actually get there," he said. "Once I step on the mound, it's like, Okay, I've been here before."