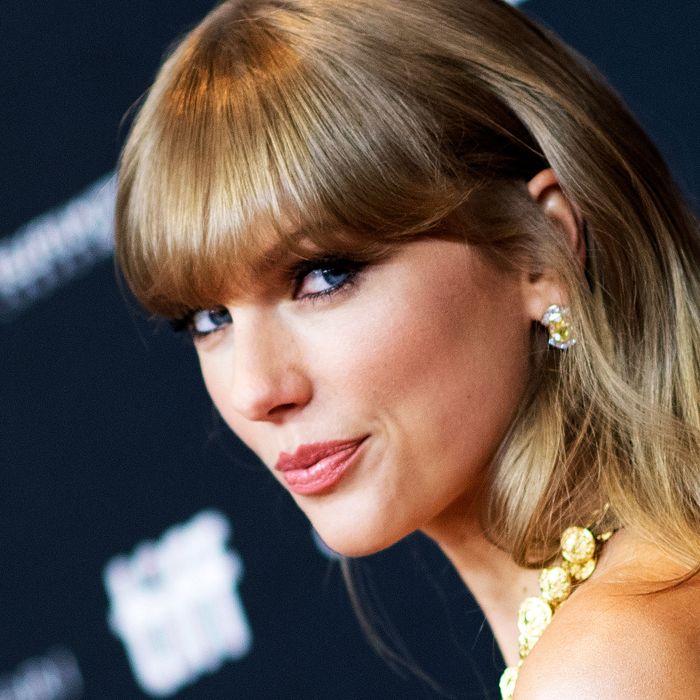 Photo: Valerie Macon/AFP via Getty Images
This week, U.K. prime minister Liz Truss resigned and Taylor Swift dropped her tenth studio album, Midnights. At first glance, these two stories have nothing in common but timing (which is actually a key theme of Midnights). But after gracing us with the Truss-versus-lettuce livestream, the geniuses in the British press served up an encore. Since Truss recently identified "Blank Space" as her favorite Swift song (and we know she's a fan), Channel 4 News decided to send her off with this masterfully edited montage.
This is rare achievement. Swift's decision to speak out politically in 2018 was famously fraught (she made a whole Netflix documentary about it). And beyond Swift's personal discomfort, just about every time politicians have tried to reference her music, the results have been incredibly awkward. Yet candidates and elected officials keep trying to win Swifties to their side. It's as if they have this thing where they get older but just never wiser. Here's a ranking of the moments that should keep them up in the middle of the night, ranked from most to least cringe-worthy.
9.
Huckabee
Offers
Swift
Backhanded
Support
In the lead-up to the 2018 midterms, Swift explicitly voiced her political opinions for the first time, announcing in a lengthy Instagram post that she would not be voting for GOP Senate nominee Marsha Blackburn because "her voting record in Congress appalls and terrifies me."
Former Arkansas governor Mike Huckabee jumped into the debate around Swift's decision to get political, faux-defending her, then jabbing her because the legion of fans at her command includes teen girls.
Huckabee was thoroughly dragged on Twitter, with many commenters noting that the pop star has plenty of adult fans and that dismissing women's and girls' political opinions wasn't a great look for the GOP. (Although Blackburn won in Tennessee, women voted at higher rates than men across the country in 2018.)
8.
Bredesen
Poses
as
a
Swiftie
Unconvincingly
On the other hand, maybe Huckabee deserves some credit for not referencing a Swift lyric. Phil Bredesen, Blackburn's opponent, tried it, resulting in a "How do you do, fellow kids?" vibe.
As the Washington Post explained at the time:
Bredesen did not explicitly say so, but "look what you made her do" is probably a reference to Swift's 2017 single "Look What You Made Me Do."




Although the song is not about a Senate race, it begins, "I don't like your little games" — which Bredesen also echoed in his tweet before segueing into a swamp metaphor unrelated to Swift's music.
7.
Cruz
Asks
If
Swift's
Earth,
Wind
&
Fire
Cover
Is
'Hate
Speech'
Following Facebook CEO Mark Zuckerberg's April 2018 testimony before Congress, senators submitted written follow-up questions. Senator Ted Cruz tried to make his 209 queries more relevant by including one about Facebook's stance on Swift's cover of the 1978 Earth, Wind & Fire song "September," as Mashable noted at the time. Responses posted on the Senate's website show Facebook dodged his inane question.
6.
Boehner
Deploys
Swift
GIFs
to
Complain
About
Obama
In 2015, then-Speaker John Boehner posted an article titled "12 Taylor Swift Reactions to President Obama's Free College Idea" on speaker.gov. Mercifully, this piece is mostly lost to history aside from a few screenshots shared on social media.
5.
Murkowski
Defends
Alaska
With
a
Swift
GIF
Republicans didn't learn anything from Boehner's poor use of Swift GIFs. In March, the person running Senator Lisa Murkowski's Twitter account used a Swift reaction GIF to reply to a Fox News article with the headline "Russian lawmaker demands return of Alaska, California fort and reparations amid US-led sanctions."
4.
Markey
Tries
to
Build
Back
Swiftie
Dropping Swift references in a desperate attempt to appear relevant is a bipartisan affliction, as septuagenarian Democratic senator Ed Markey of Massachusetts demonstrated when he Photoshopped the words "Build Back Better" over a frame from the singer's ten-minute "All Too Well" short film. At least he didn't try to work the famous red scarf into his climate-change message.
3.
Warner
Wants
Your
Midnights
…
Attention
Thankfully, Senator Mark Warner did not feign familiarity with Swift's lyrics in this newer tweet Thursday night, but his attempt to target Swifties searching social media for Midnights-release news was still pretty shameless.
2.
The
Taylor
Swift
Masters
Controversy
(Terry's
Version)
Last year, Democratic Virginia gubernatorial candidate Terry McAuliffe tried to turn out Swift fans by launching digital ads highlighting the role his opponent, Glenn Youngkin, played in her losing her master recordings. Before launching his political career, the Republican was co-CEO of the private-equity firm the Carlyle Group, which helped Swift's nemesis, music producer Scooter Braun, acquire her masters.
McAuliffe had a more legitimate reason to bring up Swift than most politicians (though, as Axios noted, he'd "been criticized for his own investments tied to Carlyle Group funds.") Still, Democrats' efforts to explain to pop fans that private-equity firms were the reason Swift was rerecording her early catalogue were a bit of a stretch. Also McAuliffe still lost.
1.
Swalwell's
Swift-Approved
Turnout
Ad
While previous list entries involve politicians awkwardly invoking Swift and her likeness without her permission, Eric Swalwell and Swift share the blame for this one. The song "Only the Young" was inspired by the 2018 midterms, and Swift released it in January 2020 to promote her Miss Americana Netflix documentary. She then approved its use in an ad California Democratic representative Eric Swalwell released days before the 2020 election to promote youth turnout.
Now the video feels like a time capsule of 2020 resistance cringe — particularly syncing the lyric "And the big bad man and his big bad clan / Their hands are stained with red" to shots of Trump and other GOP leaders. On the other hand, there's a strong possibility I got teary-eyed when I saw this at the time, and youth turnout did increase 11 percent from the previous presidential election. Plus it's quintessentially Swift: As The Atlantic observed in its Midnights review, she's a "clever and corny 32-year-old woman from Pennsylvania who likes cats and cozy sweaters." Clearly that works for her but not so much for the politicians trying to capitalize on her fame.