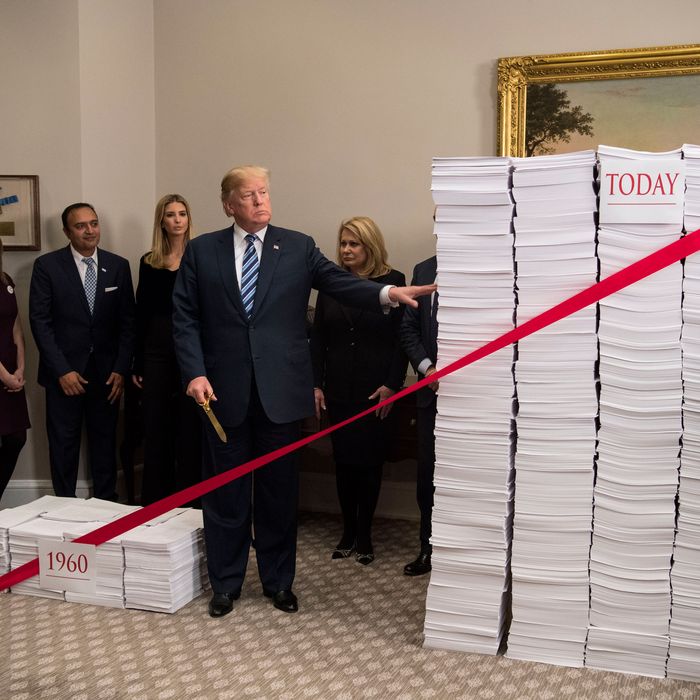 Any questions?
Photo: Carolyn Van Houten/The Washington Post/Getty Images
Donald Trump is a man of the people, so he knows Americans like their news delivered the same way he does: with lots of pictures and graphs. Yet, while we all know our president has the best words, somehow his commitment to excellence in props (both real and fake) has been overlooked. That ends today. In honor of the White House presenting Lesley Stahl of 60 Minutes with a massive but possibly blank book of Trump's health care achievements, we're showing off the best objects shown off by the president.
A Big Pile of Papers
''These papers are just some of the many documents that I've signed turning over complete and total control to my sons,'' President-elect Trump explained during a January 2017 press conference in Trump Tower.
Trump never opened the folders, referenced specific documents, or let journalists review them, and some of the pages and folder labels appeared to be blank. But just look at all those pieces of paper! One of them had to say "no conflict of interest."
A Handwritten Letter From Obama
Yes, presidents usually get a letter from their predecessor, but how many of them received a long, thoughtful letter from the founder of ISIS?
A Huge Chart of Regulations
Trump broke out this massive chart, which shows the permitting process to build a theoretical federally funded highway, several times in April 2017. Trump promised to get rid of many of these regulations, presumably stupid considerations like "Project in floodplain?" and "Project involve hazardous waste?"
A Big Pile of Papers Wrapped in a Ribbon
Who could forget that time Trump used a scissor to SET FREE OUR DREAMS, and this inaccurately sized stack of paper?
A Blank Piece of Paper
The president is a busy man. It's just more efficient if he signs first, fills in the bill part later.
A Map of ISIS Territory in Syria
When Trump declared on March 20, 2019, that the remnants of ISIS's self-declared caliphate would be "gone by tonight," the New York Times countered that there were still "reports of continuing fighting between the extremist group and American-backed local forces in Syria." The Times supplied zero graphics to back up that claim, so it seems Trump was right.
A Deal With Mexico
Think President Trump doesn't have a secret agreement with Mexico? Read this folded up piece of paper (through careful photo analysis) and weep.
Plans for the Air Force One Redesign
Sure, Air Force One's new paint job makes it look a lot like Trump's private jet. But why didn't anyone giving Trump credit for not demanding that George Stephanopoulos "hop in"?
A Model of the Redesigned Air Force One
Then-press secretary Sarah Huckabee Sanders suggested the president should give Justin a turn playing with it, but he said no.
A Hurricane Forecast Map He Altered With a Sharpie
While his predecessors were content to let underlings at the National Hurricane Center produce forecast maps, it appears President Trump personally doctored this map, extending the storm's path with a black marker. The haters claim Trump was trying to cover for a mistake he made days earlier, but maybe he just didn't want Alabamians to feel left out of Dorian coverage. Thoughtful!
Handwritten Talking Points on the Ukraine Scandal
No time to watch hours of impeachment hearings? Allow President Trump to sum up the only points you need to know, via Sharpie-scrawled notes he brought to a chat with reporters on the White House lawn on November 20.
"I want nothing," he wrote. "I want nothing. I want no quid pro quo. Tell Zellensky [sic] to do the right thing. This is the final word from the Pres of the U.S."
Any questions? Hopefully not, because this is the FINAL WORD FROM THE PRES OF THE U.S.!
A Blank Piece of Paper, Hospital Edition
While President Trump was being treated for COVID-19 at Walter Reed medical center, the White House released photos assuring us that he was still healthy enough to pretend to work.
A Bound Book of Trump Health Care Achievements
Before Trump stomped out of his interview with Lesley Stahl, the 60 Minutes journalist was presented with a bound book containing "just a small part" of what the president has achieved on health care," according to Press Secretary Kayleigh McEnany. The page Stahl opened to appears to be blank.
Honorable Mention
"You can't get any clearer!"
This piece has been updated.