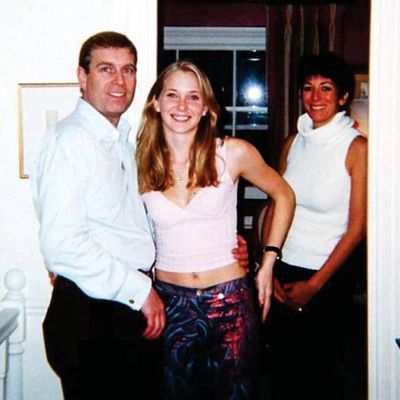 Photo: Florida Southern District Court
Though the federal sex-trafficking case against Jeffrey Epstein ended with his death, several alleged co-conspirators have been wrapped up in litigation stemming from their involvement with the late sex offender. Among the most prominent was Prince Andrew, the British royal who was sued for damages in August 2021 by alleged Epstein victim Virginia Giuffre for allegedly raping and sexually abusing her when she was 17. "I am holding Prince Andrew accountable for what he did to me," Giuffre said in a statement. "The powerful and the rich are not exempt from being held responsible for their actions." The prince certainly qualifies as part of that cohort: As Queen Elizabeth's third child, he is ninth in line to the British crown.
But on February 15, weeks before he was scheduled to sit for a deposition, Prince Andrew and Virginia Giuffre reached a settlement in the civil lawsuit, depriving amateur Epstein sleuths of one of the few remaining options to find more information on the alleged sex trafficking ring. Below is everything we know about the allegations and how they have impacted the Duke of York, who stepped down from public life amid the fallout from the scandal.
What does the lawsuit allege?
The lawsuit filed in August in Manhattan federal court by Virginia Giuffre — one of Epstein's most prominent alleged victims — claims that after she was coerced into his sex-trafficking operation, he forced her on several occasions to have sex with Prince Andrew when she was 17 and he was around 40. Repeating prior claims, the suit alleges that the prince committed "sexual assault and battery upon Plaintiff" at Epstein's New York City mansion when she and "another victim" were forced to "sit on Prince Andrew's lap as Prince Andrew toucher her." During this visit, the lawsuit claims, the royal also forced Giuffre to "engage in sex acts against her will." It also alleges that Prince Andrew abused Giuffre on Epstein's private jet and that he raped her at the home of alleged Epstein madame Ghislaine Maxwell in London. (Maxwell was convicted on December 29 of sex trafficking and four other counts, and is potentially facing life in prison.) The lawsuit also includes a picture of Prince Andrew with his arm around Giuffre's waist in which Maxwell appears in the background. The royal has previously claimed the photo was doctored, and he has never faced criminal charges.
"During each of the aforementioned incidents, Plaintiff was compelled by express or implied threats by Epstein, Maxwell, and/or Prince Andrew to engage in sexual acts with Prince Andrew, and feared death or physical injury to herself or another and other repercussions for disobeying Epstein, Maxwell, and Prince Andrew due to their powerful connections, wealth, and authority," the lawsuit states.
"As such, Prince Andrew is responsible for battery and intentional infliction of emotional distress pursuant to New York common law," the filing claims. "The damage to Plaintiff has been severe and lasting." Giuffre is requesting damages to be determined by the court.
What do we know about the settlement?
Despite Prince Andrew's attempts to try and avoid being served and his attorneys efforts to get the lawsuit dismissed, Manhattan Federal Court Judge Lewis Kaplan ruled on January 12 that the trial would go forward. It would have begun most likely between September and December 2022, with depositions beginning late this winter. Kaplan determined that Prince Andrew's argument — that he was covered against future lawsuits from a 2009 settlement between Giuffre and Epstein — was not relevant.
But on February 15, the prince settled the lawsuit for an undisclosed amount of money, in addition to a "substantial donation" to a charity "in support of victims' rights," according to a joint statement in a court filing. Though Prince Andrew did not admit to any of Giuffre's allegations, a settlement hardly exonerates him in the public eye.
"He is on record as saying that he had nothing to do with her," law professor Melissa Murray told CNN. "And so any effort to settle at this point would appear to be a statement that there is some truth to her allegations." If the lawsuit did go forward, that could be even more concerning for him. "To have discovery, take depositions, [and] surface evidence means that anything that comes up in this civil suit that is made public can then be used as a basis for criminal charges against him, or any other person whose name is surfaced in this particular dispute," Murray added. "He has a lot of general exposure and things to think about at this point."
The tone in the filing in February was much different than previous statement from the prince's legal team. Aannouncing the settlement, Andrew said that he had never intended "to malign Ms. Giuffre's character and he accepts that she has suffered both as an established victim of abuse and as a result of unfair public attacks." He also said he "regrets his association with Epstein and commends the bravery of Ms. Giuffre and other survivors in standing up for themselves and others."
In prior court filings, his attorneys wrote that "Giuffre has initiated this baseless lawsuit against Prince Andrew to achieve another payday at his expense and at the expense of those closest to him."
Why was the lawsuit filed in New York and why now?
The suit explains that Giuffre is filing in Manhattan federal court because she alleges that Prince Andrew "sexually abused [the] plaintiff in this state, and has thus committed a tortious [wrongful] action within this state." As for the timing, in February 2019, former Governor Andrew Cuomo signed the Child Victims Act into law, providing adult survivors a one-year window to sue in civil court for crimes that occurred when they were underage. (The law expanded the timeframe for survivors to file from their 23rd birthday to their 55th.) Because of the pandemic, the window to file was extended until August 14, 2021; Giuffre announced her suit on August 9.
The Child Victims Act and the location of one of the alleged crimes in New York make it much more advantageous for Giuffre to file in Manhattan, rather than in the United Kingdom, where Prince Andrew resides. "In theory, she could sue for damages in England but, given the dates of the alleged offences, it is likely that Prince Andrew would be able to argue that any claim was time-barred and could not be brought," British attorney Richard Spafford told the Guardian.
How has Prince Andrew responded to the allegations?
The royal's general response to his involvement in the Epstein scandal should go down as a lesson in what not to do in PR-crisis situations. Despite the picture of him with his arm around the waist of a then-17-year-old Giuffre, Prince Andrew has claimed he has "no recollection" of meeting her and has denied all wrongdoing. In an attempt to defend himself, he appeared on BBC's Newsnight in November 2019, saying he did not regret his friendship with Epstein because it was "useful" and staying at his home was "convenient." He also added that he was too "polite" to cut off the connection.
As for the Giuffre allegations, he provided a bizarre alibi against one interaction in 2001 with the 17-year-old — in which she claimed he was sweating profusely — by saying that he physically was not able to sweat two decades ago. "I have a peculiar medical condition, which is that I don't sweat, or I didn't sweat at the time," he said. "I didn't sweat at the time because I had suffered what I would describe as an overdose of adrenaline in the Falklands War when I was shot at, and I simply … it was almost impossible for me to sweat. And it's only because I have done a number of things in the recent past that I am starting to be able to do that again."
Following the bumbling interview, Prince Andrew announced he would step down from public duties for "the foreseeable future" — reportedly because his mother, the queen, told him to do so. The prince has also been stripped of his military titles and is no longer allowed to use the phrase "His Royal Highness" in an official capacity — a change that took place the day after the case was allowed to go forward in January.