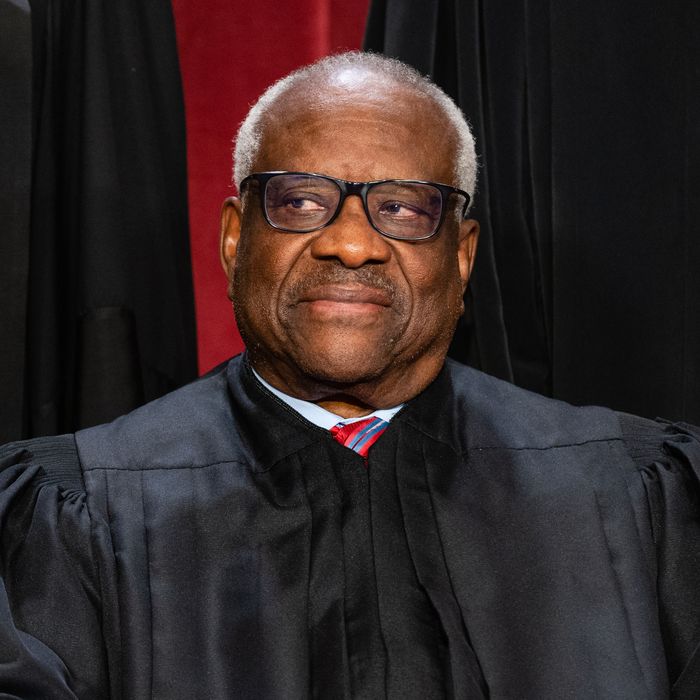 Photo: Eric Lee/Bloomberg via Getty Images
The ethics scandals continue to pile up for Supreme Court Justice Clarence Thomas. This year, reports from ProPublica, the Washington Post, the New York Times, and other outlets have revealed a number of problematic-at-best financial arrangements between Thomas and his wealthy friends and benefactors, including major donors to conservative causes. Below is a running list of the various scandals and other ethical issues that have recently come to light.
.

Thomas has had a staggering 38 destination vacations paid for by billionaires
On August 10, ProPublica revealed a new level to Thomas's unreported gifts, with the value of the billionaires' largesse likely in the millions. ProPublica found that he took 38 destination vacation, 26 private jet flights, eight helicopter flights paid for by rich friends. He also accepted a dozen VIP passes to sports events and two luxury stays in Florida and Jamaica.
Many of the gifts came from three benefactors: Former Berkshire Hathaway exec David Sokol and H. Wayne Huizenga of Blockbuster, who Thomas met through the Horatio Alger Association. The other was oil tycoon Paul Novelly. On two occasions, Huizenga sent his 737 to fly Thomas out from D.C. to south Florida — which would cost $130,000 per flight if Thomas were to charter the flight himself. In September 2019, Sokol flew Thomas and his wife out to attend a University of Nebraska-Lincoln football game in a luxury suite. From there, they flew to Sokol's luxurious ranch in Jackson Hole, Wyoming.
.

The financing of Thomas's luxury RV
On August 5, the New York Times reported that Thomas's $267,230 purchase of a used Prevost Le Mirage XL Marathon luxury motor coach in 1999 was financed by a wealthy longtime friend, AmeriChoice founder Anthony Welters. Welters told the Times that he simply gave a loan to his friend and that the loan has since been "satisfied" but would not provide any other details on the arrangement, nor would Thomas. Notes the Times:
The two men's silence serves to obscure whether Justice Thomas had an obligation to report the arrangement under a federal ethics law that requires justices to disclose certain gifts, liabilities and other financial dealings that could pose conflicts of interest.




Vehicle loans are generally exempt from those reporting requirements, as long as they are secured by the vehicle and the loan amount doesn't exceed its purchase price. But private loans like the one between Mr. Welters and Justice Thomas can be deemed gifts or income to the borrower under the federal tax code if they don't hew to certain criteria: Essentially, experts said, the loan must have well-documented, commercially reasonable terms along the lines of what a bank would offer, and the borrower must adhere to those terms and pay back the principal and interest in full.
.

Thomas's Horatio Alger hookups
On July 9, the New York Times reported on Thomas's longtime membership — which began just months after his confirmation to the Supreme Court — in the exclusive Horatio Alger Association of Distinguished Americans, giving him access to wealthy co-members and numerous unreported perks:
His friendships forged through Horatio Alger have brought him proximity to a lifestyle of unimaginable material privilege. Over the years, his Horatio Alger friends have welcomed him at their vacation retreats, arranged V.I.P. access to sporting events and invited him to their lavish parties. In 2004, he joined celebrities including Oprah Winfrey and Ed McMahon at a three-day 70th birthday bash in Montana for the industrialist Dennis Washington. Several Horatio Alger friends also helped finance the marketing of a hagiographic documentary about the justice in the wake of an HBO film that had resurfaced Anita Hill's sexual harassment allegations against him during his confirmation.
.

Financial-disclosure errors, including claiming rental income from a defunct real-estate firm
The Washington Post reported in May that in an apparent misstatement, Thomas had reported hundreds of thousands of dollars in rental income from a Nebraska real-estate firm, founded by Thomas's wife and her family, long after the firm officially ceased to exist in 2006:
That year, the family real estate company was shut down and a separate firm was created, state incorporation records show. The similarly named firm assumed control of the shuttered company's land leasing business, according to property records … The previously unreported misstatement might be dismissed as a paperwork error. But it is among a series of errors and omissions that Thomas has made on required annual financial disclosure forms over the past several decades, a review of those records shows.
.

Thomas's Harlan Crow connections
Many of the scandals reported this year involve Thomas's relationship and secret financial arrangements, including numerous gifts, with Texas real-estate magnate, billionaire, and conservative megadonor Harlan Crow. (Crow claims he and his wife "have never sought to influence Justice Thomas on any legal or political issue." ProPublica has reported that Crow's gifts to Thomas might also have violated tax laws.)
Undisclosed luxury vacations
In early April, ProPublica reported that Thomas had, over two decades, taken multiple luxury trips both with and paid for by Crow, including trips around the globe aboard Crow's private jet and superyacht as well as trips to Crow's private Adirondacks resort, an elite California resort, and other destinations. Thomas never reported the trips, worth hundreds of thousands of dollars, in his financial disclosures and claimed after the fact that he had been told he didn't need to.
Undisclosed real-estate deals
ProPublica reported in April that Thomas had also not disclosed that in 2014, Crow had purchased the house where Thomas's elderly mother lived in Savannah, Georgia, as well as two vacant lots from the justice's family. Thomas's mother continued to live at the home, on which Crow made tens of thousands of dollars in improvements. Crow claimed he had bought the home with the intention of preserving it and eventually converting it into a public museum dedicated to Thomas's life.
Undisclosed tuition for Thomas's nephew
According to ProPublica, in 2008 Crow also paid the $6,000-a-month tuition for Thomas's teenage grandnephew, whom Thomas has said he was raising as a son, to attend a private boarding school for a year in Georgia. Thomas did not report the payments on his financial disclosures.