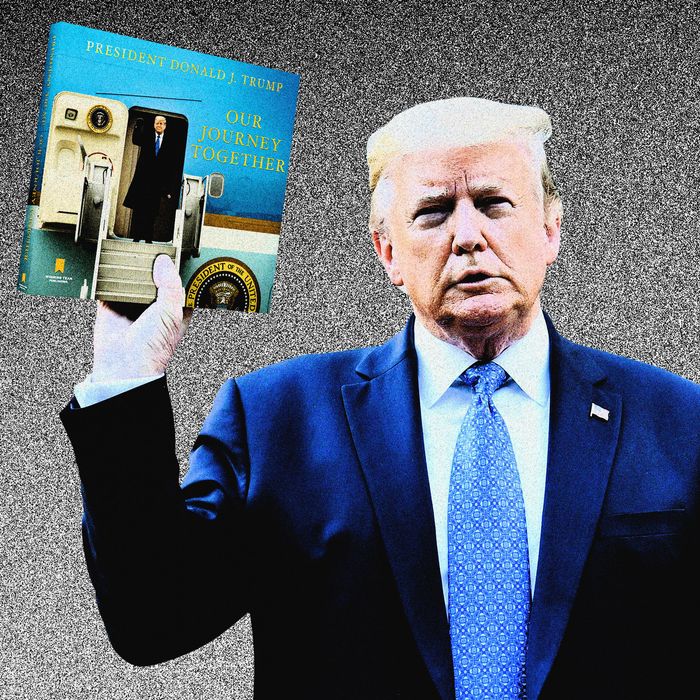 A different kind of presidential memoir.
Photo-Illustration: Intelligencer; Photos: Brendan Smialowski/AFP via Getty Images; Winning Team Publishing
Six months after leaving office in a calamitous fashion, Donald Trump announced in a cryptic statement that he was writing a book. Well, not just a book. The former president claimed that despite turning down offers from two publishers, "I'm writing like crazy anyway, however, and when the time comes, you'll see the book of all books."
Many presumed that Trump meant he was working on his memoirs, so he was widely mocked when Our Journey Together dropped in November and the "book of all books" turned out to be a collection of 300 pictures from his presidency with some Sharpie-scrawled captions and an absurd price tag ($74.99 or $229.99 for a signed edition). Copies of the book were soon scarce, which Team Trump claimed was evidence of its popularity. (Trump also blamed supply-chain issues, complaining, "We can't get leather for the covers." The original book is not leather-bound, but the version in the new $999 "special edition" bundle might be.) On further inspection, however, the book's initial print run of 200,000 copies was far less than the typical post-presidential book sells in its first 24 hours.
After finally getting my hands on this cash-grab coffee-table book, I think Trump's only real misstep was letting Winning Team Publishing, a new venture co-founded by his son Donald Trump Jr., release it. The publicity tour mainly consisted of Don Jr. telling Axios, "My father picked every single photo in this book, wrote all the captions, including some by hand." This fails to capture the absurd majesty of Our Journey Together. Indeed, Trump was writing "like crazy"; some of his captions are so nasty and immature that the book feels like the former president just published his personal burn book. Perhaps if Don Jr. made this clear, Our Journey Together would be racking up some Obama-esque book sales. Here are some of Trump's most unpresidential musings.
"Barack and Michelle Obama get ready to depart Washington. Goodbye!"
It's clear from page one that Our Journey Together is not the kind of staid coffee-table book you might pick up at the White House gift shop. Trump's handwritten dedication includes a shoutout to "the deplorables" and the first caption alludes obliquely to his stolen-election conspiracy theory. "Inauguration Day, 2016. I ran even better in 2020," he writes. The section on Trump's inauguration also includes several jabs at Barack Obama. Trump asserts "America was ready for GREATNESS after eight years with very little results," and exclaims "Goodbye!" under a shot of the Obamas departing D.C. after Trump was sworn in.
"Attempting to listen to Crazy Nancy Pelosi in the Oval Office — such natural disagreement." "Here she makes her remarks prior to leaving, then she gave the press a totally different summation of what actually happened. Dealing with these people is far more difficult than dealing with the heads of other countries. So bad for America."
Throughout the book, Trump praises various leaders of authoritarian regimes without reservation, including Kim Jong-un (a "very tough and smart" guy who made Trump feel "very safe" while in North Korea), Xi Jinping ("a man whom I totally respect"), and Rodrigo Duterte ("A guy with a lot of flair and fight. Loves his country and sings just like Frank Sinatra").
In contrast, he has nothing but unkind words for Democratic congressional leaders, and he devotes a good amount of space to a context-free complaint about some disagreement he had with House Speaker Nancy Pelosi.
"She was screaming and shaking like a leaf. She's F…ing CRAZY — hence the name Crazy Nancy."
Later, Trump takes us through his creative process for crafting the nickname "Crazy Pelosi." He reveals that the moniker was inspired by his belief that Speaker Pelosi is "F…ing CRAZY."
"There was nothing I could have done to make the radical left ladies in white smile — but I tried!"
Democratic women in Congress wore "suffragette white" attire to several of Trump's State of the Union addresses to highlight women's issues and celebrate the 100th anniversary of women getting the right to vote.
It's unclear which year's speech is shown here, as Our Journey Together does not contain proper photo credits. Instead, 13 photographers are mentioned on the acknowledgments page, after Trump's children and "all the American patriots who made this journey possible." One of the photographers, Shealah Craighead, had a deal to publish her own book of Trump photos, but the former president's team reportedly asked for a cut of her advance, then told her to hold off so they could publish Our Journey Together first.
"Mark Zuckerberg would come to the White House and kiss my ass. His censorship is terrible for America. His 'campaign contributions' even worse!"
Donald Trump and Mark Zuckerberg were once so close that they enjoyed secret dinners at the White House, but their relationship soured when the CEO announced that he was banning Trump from Facebook and Instagram for fomenting an insurrection. Trump hit back in Our Journey Together by accusing Zuckerberg of trying to "kiss my ass." The "campaign contributions" line is probably a reference to the conspiracy theory that Zuckerberg's $400 million in contributions to local governments to cover 2020 election administration costs was part of a nefarious scheme to elect Joe Biden. There's no way to deduce this from the text alone, but there's a good chance that almost everyone reading Our Journey Together also follows Trump's ravings on Truth Social.
"Some conservative patriots and some weak RINOs joined me at the White House to advocate for our tax cut."
While the lack of detail in Trump's captions often just sows confusion, here it's deployed quite cleverly. The photo shows a gathering of various Republican elected officials, including Mike Pence, Mitch McConnell, Paul Ryan, Tim Scott, Ron DeSantis, and Kevin McCarthy. Who falls into the "conservative patriot" category and who's a "weak RINO"? There's no way to know, but I'm pretty sure the question has been keeping Kevin McCarthy up at night.
"John McCain visited me in the White House, asking for a job for his wife. I am smiling, but I didn't like him even a little bit."
Between Trump insisting that John McCain wasn't a war hero then raising the White House flag from half-staff immediately after his death, you've probably deduced that he didn't care for the Arizona senator. But Trump felt it was important to take another jab at McCain in print, devoting a two-page spread to the senator just so he could declare, "I didn't like him even a little bit."
"I used John Bolton when necessary because all he wanted to do was go to war with other countries. I didn't, but good for negotiating purposes. He was dumb as a rock."
In addition to lashing out at Democratic rivals and Republicans who've crossed him, Trump also takes a shot at former national security adviser John Bolton, whom he fired over Twitter. In 2020, Trump said he lost confidence in his adviser because he supported the Iraq War — a very famous Bolton fact that Trump ostensibly only learned after he joined his administration. But in Our Journey Together, Trump casts his hiring of Bolton as part of some kind of multidimensional chess game he was playing with fellow world leaders.
"I like Marine One better."
It's very normal for presidents to make quips about how much they enjoy flying on Air Force One. But Trump is not a normal man, he's a man who once body-shamed an aircraft carrier. It appears that Trump included a photo of this Sikorsky S76-B helicopter that he owned before becoming president — and put up for sale in November 2020 — just so he could berate it for not being as nice as the presidential chopper.