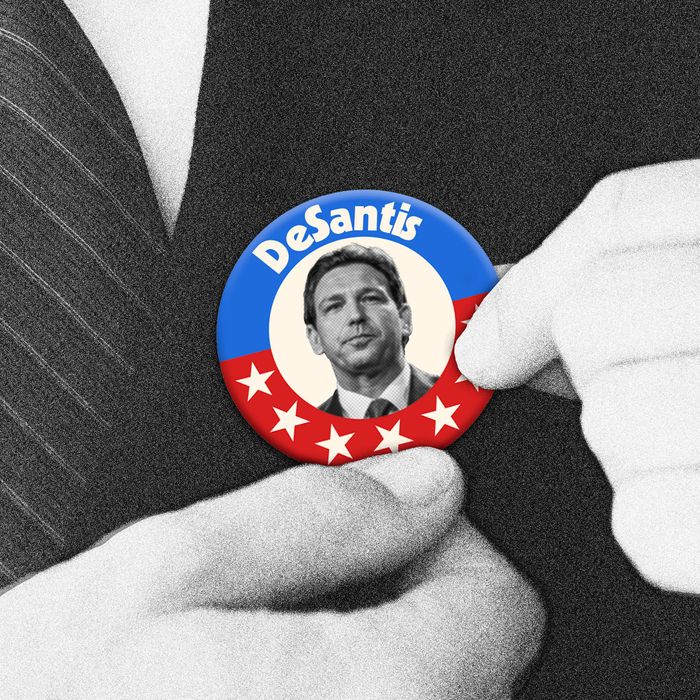 Photo-Illustration: Intelligencer; Photos: Getty Images
It's been obvious for months that Ron DeSantis is running for president in 2024. He's toured the country to tout his book and his record as Florida governor. He's visited Iowa and New Hampshire. He's laid out his foreign-policy vision. He's received endorsements from elected officials. He's directly attacked Donald Trump and claimed he could beat President Biden. Trump has already given him a variety of nasty nicknames and made a whole ad about his "pudding fingers."
On Wednesday, DeSantis is finally making it official. Here's everything we know about the timing of DeSantis's 2024 campaign announcement.
When is DeSantis expected to announce?
On Wednesday, May 24 DeSantis filed paperwork with the Federal Election Commission to run for president.
The move comes hours before the governor is set to announce his candidacy during a discussion with Twitter CEO Elon Musk, per NBC News:
Musk and DeSantis will host an event on Twitter Spaces, the site's platform for audio chats, on Wednesday at 6 p.m. ET. It will be moderated by David Sacks, a tech entrepreneur who is a Musk confidant and DeSantis supporter. 




That same evening, the campaign will release a launch video, and DeSantis will begin visiting several early states after Memorial Day. 
Twitter Spaces is a way to stream live audio conversations on the social media site. Twitter Spaces are public, so listeners should be able to join from a mobile app or Twitter.com. You do not have to be logged in to Twitter. Once the link is live at 6 p.m. it should be available from DeSantis or Musk's Twitter accounts.
Musk confirmed the news during the Wall Street Journal's 2023 CEO Summit Council on Tuesday. "I think it's quite groundbreaking that there be a major announcement of this type on social media," he said.
However, Musk, who has had issues with Donald Trump, will not formally endorse DeSantis during the event. He said he's "not going to endorse any particular candidate" just yet.
Following his announcement with Musk, DeSantis will be interviewed by Trey Gowdy Wednesday at 8 p.m. ET on Fox News Tonight, according to the network.
The governor "all but declared his candidacy" during a May 18 donor call, according to the New York Times. On the call, which was organized by the pro-DeSantis super-PAC Never Back Down, the governor said he was one of only three "credible" candidates running for president in 2024.
"You have basically three people at this point that are credible in this whole thing," DeSantis said. "Biden, Trump and me. And I think of those three, two have a chance to get elected president — Biden and me, based on all the data in the swing states, which is not great for the former president and probably insurmountable because people aren't going to change their view of him."
The governor is gathering top donors at a Four Seasons hotel in Miami from May 24 to 26 to start raising money for his presidential bid; CNN reports about 100 hotel rooms have been reserved for the event. He had to formally file with the FEC before he could legally solicit donations.
It was previously reported that DeSantis would announce his candidacy in Dunedin, Florida, his hometown, after Memorial Day. It's possible that he will still hold an event in Dunedin sometime between May 30 and June 1.
The governor's team has not confirmed any of these details, and CNN noted it would be like him to make an unexpected move:
However, another source cautioned that the planning remains a moving target, and DeSantis is known to surprise even his closest allies and advisers with last-minute changes. DeSantis, who often boasts that he runs an operation free of leaks, may be further motivated to throw out the script to vex the media outlets who have preempted his announcement, the source said.
A person invited to DeSantis's donor event this week told The Messenger that the "campaign's operatives are 'leak-testing' by intentionally giving out false dates and information to see if it goes public — and therefore determine whom they can't trust."
What has DeSantis said about his timeline?
When asked about his timeline for making a 2024 decision during a February 20 appearance on Fox & Friends, DeSantis said he had "two big things" coming up: his book tour for The Courage to Be Free and the Florida legislative session.
He noted that Republicans won supermajorities in both chambers of the legislature in the 2022 midterms and said he's eager to show what they can do.
"This is going to be the most productive legislative session we have had across the board, and I think people are going to be really excited," he said. "So those are what we're going to be doing over these next few months as we get beyond that, then we can decide from there."
The interview concluded with the fawning Fox & Friends hosts urging DeSantis to announce his candidacy right then and there, but he just laughed.
During a trip to Japan on April 24, DeSantis shrugged off a question about recent polling showing him falling behind Trump. "I'm not a candidate, so we'll see if and when that changes," DeSantis replied in a singsong voice, while wiggling weirdly like a bobblehead.
When asked on May 4 if an announcement was imminent, DeSantis said, "You're just gonna have to stay tuned on all this," adding, "You'll get there, one way or another, very soon."
What happened during Florida's legislative session?
The Florida Legislature meets for 60 consecutive days each year. This year's session started on March 7 and concluded on May 5. Miami-based Democratic strategist Sasha Tirador predicted that DeSantis would announce a short time after that.
"Once the session is over, he's going to give a great, big speech on his, quote, 'accomplishments,'" Tirador told the Washington Examiner. "The banning of books, the banning of drag queens, the banning of whatever comes to mind on that day of the week. He might just go ahead and announce within that speech. But I think he'll do it right after the legislative session. He can't afford to wait beyond that."
Indeed, the Florida Legislature passed many bills that DeSantis would classify as "wins," as the AP summarized on May 5:
DeSantis in recent weeks signed a law to ban abortion at six weeks of pregnancy and another to allow people to carry concealed guns without a permit. He expanded what critics call his "Don't Say Gay" law that now blocks classroom instruction about sexual orientation and gender identity for all grades. And in the coming days, he will sign a law banning diversity, equity and inclusion programs in state colleges, along with another bill that prevents students and teachers from being required to use pronouns that don't correspond to someone's sex.




The governor has also used the power of his office to seize partial control of Disney World, one of his state's largest employers, which spoke out against the "Don't Say Gay" law.
The governor touted these accomplishments while headlining a GOP fundraiser in Iowa on May 13, which CNN notes is "his twelfth such event since March."
How is DeSantis preparing for the launch?
DeSantis and his wife have removed references to Florida from their Twitter handles, per Fox 13 Tampa Bay:
At some point, the governor went from '@rondesantisfl' to just '@Rondesantis'




His wife, Casey, also removed "Florida" from her handle.
DeSantis's political operation has been based in the Florida GOP building in downtown Tallahassee since his reelection campaign, but in mid-May his staffers moved to a new downtown location that will likely be the home of his 2024 campaign operation. Spectrum News 13 spotted moving vans outside the old office on May 15.
The move kicked off a 15-day countdown for DeSantis's political announcement, as it will trigger federal disclosure requirements. NBC News explains:
That move will require the not-yet-filed campaign to spend more than $5,000 and, under Federal Election Commission guidelines, when someone running for federal office spends more than $5,000, they are required to register, file financial reports and designate a principal campaign committee. 




Functionally, the office move will require DeSantis to file paperwork with federal election officials within 15 days, thus acknowledging publicly for the first time that he is running for president.
What else could affect the timing of DeSantis's announcement?
While Florida's election laws could have complicated DeSantis's plans, it appears the issue will be resolved shortly. The governor was just reelected to a four-year term, and the state's "resign to run" law says anyone seeking office must resign from the elected position they already hold after qualifying as a candidate. In late April, the Florida legislators passed a bill that creates an exemption so officeholders running for U.S. president or vice-president don't have to resign. DeSantis is expected to sign it into law soon.
Trump's allies have also filed an ethics complaint against DeSantis, accusing him of violating Florida ethics and election laws with his "shadow presidential campaign." Theoretically, the complaint from Make America Great Again Inc., a Trump-supporting super-PAC, could lead to state "fines, public censure, ballot disqualification, removal from office or impeachment," according to NBC News. But it seems unlikely that the Florida Commission on Ethics will even investigate, as DeSantis appointed five of the nine members.
This post has been updated throughout.