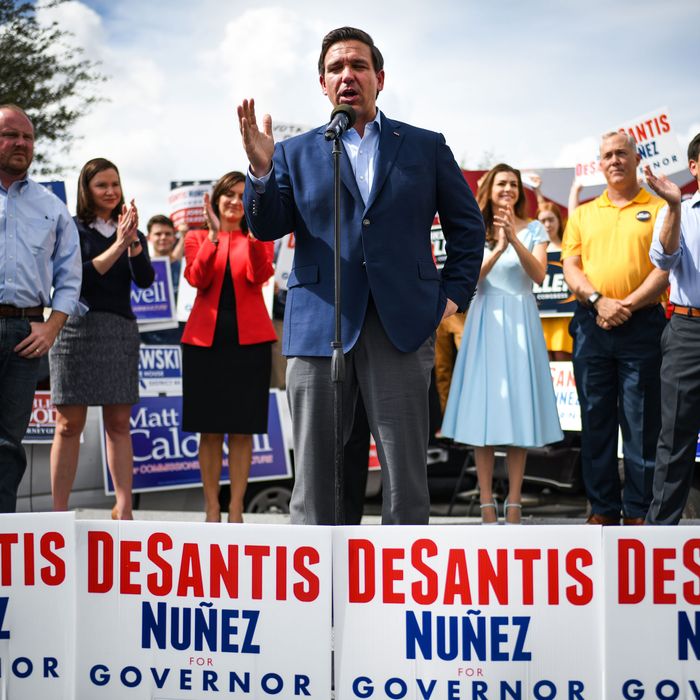 Photo: Jeff J Mitchell/Getty Images
After agonizing for months over whether he should call likely 2024 rival Ron DeSantis "Meatball Ron," "Ron DeSanctimonious," or some other nasty nickname, Donald Trump revealed on Friday that goofy monikers aren't the only name-based attack he's toying with. Trump posted a video of this tweet to Truth Social:
Trump loves to float outrageous conspiracy theories about his enemies, and since I'm fairly sure that Ted Cruz's dad was not involved in the Kennedy assassination, I always check his sources. Surely, there's no way the Florida governor has been pronouncing his own name inconsistently for years without the mainstream media taking notice.
Well, after spending some time on YouTube, it turns out that Trump (or, rather, @_johnnymaga) is right. While there isn't a ton of early footage of DeSantis online, in ads and interviews from his first congressional campaign in 2012, he consistently says "Dee-Santis":
But by 2016, he'd started mixing up his pronunciation. At the start of his March 2016 CPAC speech, he says "I'm Ron Dee-Santis":
But in a video posted by the House Oversight Committee in November 2016, he introduces himself as "Ron Deh-Santis":
When DeSantis first ran for governor of Florida in 2018, two local news outlets ran stories on how no one was clear on the pronunciation of his name. The candidate usually said Dee-Santis, but in campaign ads his wife, Casey, said Deh-Santis. On September 20, 2018, the Tampa Bay Times reported that DeSantis's nickname in high school was "Dee," and his campaign confirmed that he preferred that pronunciation — regardless of Casey's take:
"It's also been a little controversial for us on the campaign trail," [campaign communications director Stephen] Lawson confessed. "He uses Dee-Santis."




But Casey Dee-Santis, seems to use Deh-Santis, right?

Pause.




"Yes," Lawson allowed. And added, "He prefers Dee-Santis."
But the plot thickens. Days later, News4Jax ran its report on the pronunciation confusion. It's mostly consistent with the Times report: DeSantis has always gone by "DeeSantis," but Casey says it differently, and the campaign "didn't feel it was important enough to really correct anyone." Sure, makes total sense.
Then it presents this wrinkle: "News4Jax also heard a source who was at the [2009] DeSantis wedding. That day, we're told, it was pronounced Deh-Santis."
Okay, so he was consistently Dee-Santis his whole life — except on his wedding day and in one random video posted by a House committee in 2016?
Nope! When he was first sworn in as governor in January 2019, Florida Supreme Court chief justice Charles T. Canady said, "I, Ron Deh-Santis, do solemnly swear," and DeSantis repeated his name back as "Deh-Santis."
Then, as governor, he switched back to Dee-Santis. In video messages on his administration's pandemic response posted in June 2020, July 2020, December 2020, and January 2021, his "Dee" is quite clear.
But when he took the oath again in January 2023, he contradicted a Florida Supreme Court chief justice to say it the opposite way. When Chief Justice Carlos G. Muñiz said, "Please repeat after me: I, Ron Dee-Santis," the governor replied, "I, Ron Deh-Santis."
I am Italian American. I have plenty of family members who say their last names differently from their cousins and even their parents, and I know firsthand that it's often easier to shrug off other people's mispronunciations. But I have never heard of an elected official repeatedly switching the pronunciation of his own name, over the course of many years, with no clear rhyme or reason.
Although, I did come across one possible explanation. A Yale classmate recalled that in college, DeSantis would often mispronounce the word Thai — possibly on purpose. The Financial Times reported in October:
In his recent pandemic memoir, What Just Happened: Notes on a Long Year, the author and critic Charles Finch recalled two things about his former classmate, known then as "D": he did an uncanny impression of baseball star Jose Canseco and, according to a friend, would tell dates he liked Thai food, but pronounced it "thigh". If they corrected him, Finch wrote, he would find an excuse to leave. "He didn't want a girlfriend who corrected him."
Is DeSantis really conflicted about how to say his own name, or is this some kind of sadistic test?