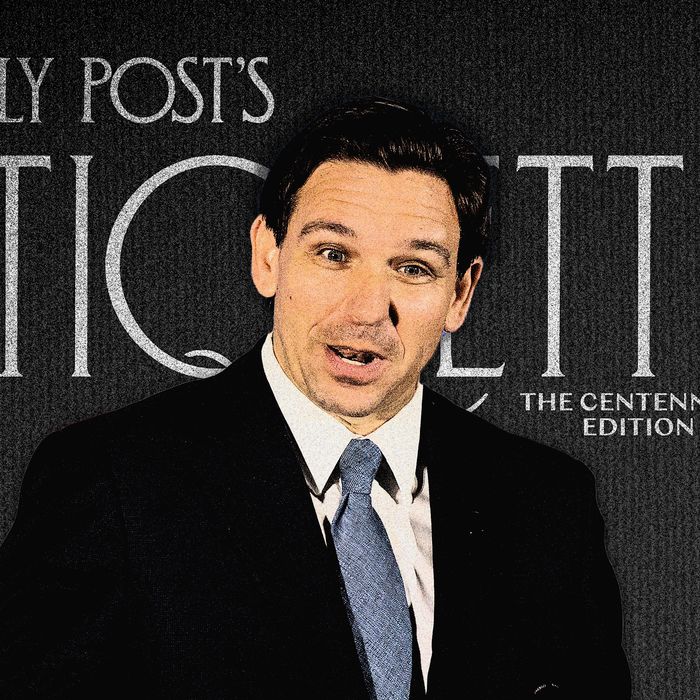 Photo-Illustration: Intelligencer; Photos: Getty Images/Ten Speed Press
Donald Trump is a man so notoriously self-centered that during his presidency we had a public debate about whether it was ethical to diagnose him with narcissistic personality disorder from afar. Yet somehow, he's handily winning the 2024 charm contest over Ron DeSantis. As the Florida governor gears up for a likely presidential run, people have been coming out of the woodwork to make a shocking allegation: The guy who made a name for himself by bullying mask-wearing children, teachers, LGBTQ+ people, and Mickey Mouse isn't a very nice person. "I think he's an asshole," said former congressman David Trott. "I don't think he cares about people."
Obviously, plenty of assholes who don't actually care about people have made their way to the White House. But DeSantis's lack of social grace seems to be irking some figures he needs on his side to defeat Trump in a GOP primary. Here's a running list of the alleged personal slights and etiquette violations that may be hampering DeSantis's political ambitions.
.

He ate pudding with his hands.
The legend of Pudding Paws DeSantis is so gross that Team Trump has already made a whole ad about it. Per the Daily Beast:
Enshrined in DeSantis lore is an episode from four years ago: During a private plane trip from Tallahassee to Washington, D.C., in March of 2019, DeSantis enjoyed a chocolate pudding dessert—by eating it with three of his fingers, according to two sources familiar with the incident.
.

He's a disgusting eater in general.
While extreme, it seems the pudding incident wasn't totally out of character for DeSantis. A former staffer said he was known for devouring food during meetings.
"He would sit in meetings and eat in front of people," the former DeSantis staffer told the Daily Beast, "always like a starving animal who has never eaten before … getting shit everywhere."
.

He didn't say "hi" to a colleague.
Trott, a Michigan Republican, reached out to Politico to go off on his former colleague's rudeness.
"I go to my first [House Foreign Affairs Committee] hearing early, and DeSantis showed up right at the gavel time and didn't say hello or introduce himself," Trott said. "And then the next hearing, the same thing happened. I think the third time it happened, I thought, 'Oh, this guy's not ever going to say hello to me.'"
.

He ignored the same colleague for two whole years.
Trott claimed that even after he took the initiative and introduced himself to DeSantis, he never acknowledged his existence. "I sat right next to DeSantis for two years on the Foreign Affairs Committee, and he never said a single word to me," Trott told Politico.
Trott said he doesn't think the snub was personal. DeSantis appeared to be an "arrogant guy," and he never saw him palling around with other members. "He wasn't really liked when he was in Congress," Trott said.
.

He didn't learn the names of his staffers.
Several key Trump allies and aides used to be close to DeSantis and are now fueled by their intense hatred of the governor, according to Rolling Stone. A source who flipped from Team DeSantis to Team Trump told the magazine:
"The nature of the conversations among the people who used to work for Ron is just so frequently: 'OK, how can we destroy this guy?' It is not at all at a level that is normal for people who hold the usual grudges against horrible bosses. It's a pure hatred that is much, much purer than that … People who were traveling with Ron everyday, who worked with him very closely over the years, to this day joke about how it was always an open question whether or not Ron knew their names … And that's just the start of it."
.

He can't take a joke.
A Trump adviser who also knows DeSantis told Rolling Stone that the governor is incredibly thin-skinned:
"Ron is not someone who can just 'walk it off.' I know because I made a lighthearted joke to him once, and he got mad and held it against me," the Trump adviser adds. "Team Trump does not want to just beat him. Team Trump wants to humiliate him maybe more than they've ever wanted to humiliate anybody on a national stage … [and] that is what is driving a lot of this."
.

He ignored a staffer during a long car ride.
In May 2021, Politico reported that DeSantis is such a terrible boss that his former staffers formed a "support group" that meets regularly to trade war stories about their time working for him.
A former congressional staffer told Vanity Fair, "I once had to drive him to the airport. We got stuck in traffic for an hour, and he didn't say a word." They added, "I describe him as having the personality of a piece of paper."
.

He snubbed a fellow Florida Republican.
Representative Greg Steube told Politico that the governor has ignored his friendly overtures for five years:
Just ask Steube, who told Playbook in a brief interview last night that DeSantis has never once reached out to him during his five years in Congress nor replied to his multiple attempts to connect. He recalled a recent news conference dealing with damage from Hurricane Ian where the governor's aides initially invited him to stand alongside DeSantis, only to tell him that he wouldn't be part of the event when he showed up.
.

He failed to send "get-well" wishes.
Steube also told Politico that while Trump was the first person to call him after a January tree-trimming accident landed him in the ICU, "to this day I have not heard from Governor DeSantis."
.

He failed to sign a sympathy letter.
Florida congresswoman Anna Paulina Luna was endorsed by both Trump and DeSantis. But the New York Times reports that when her father died in a car accident in 2022, Trump sent her a condolence letter signed "Donald," while the letter from the DeSantis camp was only signed by the governor's wife, Casey.
Luna has endorsed Trump for president in 2024.
"Trump's operation is personal," Luna said, ahead of a dinner with Trump and members of the Florida congressional delegation who have endorsed him. "You take the time to actually get to know the people you're going to be working with, and that does make a difference."
.

He had a recent cancer survivor fired.
This one isn't really an etiquette breach, it's just monstrous. Five former staffers told Politico that at the beginning of his administration, "DeSantis directed the Florida Republican Party leader to fire a party official who had cancer — on that person's first week back from surgery."
.

He punished staffers for his mistake.
During his first gubernatorial campaign, DeSantis took flak for going on Fox News and urging voters not to "monkey this up" by supporting his Black opponent. Following the gaffe, DeSantis and his wife Casey "chewed out his campaign staff for not cleaning up the mess, according to three former staffers," per Poltiico. "Shortly after, DeSantis brought in a whole new group of advisers."
.

He sent a pollster to ask for an endorsement.
A person close to Representative Vern Buchanan, another Trump-backing member of Florida's congressional delegation, told the Washington Post that Trump personally called to ask for an endorsement and invited him to dinner at Mar-a-Lago. "DeSantis's outreach came through a pollster who advises him, Ryan Tyson," according to the Post.
.

He doesn't call donors back.
New York billionaire and major Trump donor John Catsimatidis ruled out backing DeSantis in 2024, telling the Washington Examiner, "Why would I support somebody to become president of the United States that doesn't return phone calls?"
.

He generally doesn't like speaking to other people.
Even people who like DeSantis aren't defending his social skills. Per the Post:
One person in DeSantis's orbit said a dearth of warm interactions — even with staff and traditional allies — has hurt him with endorsements, lawmakers and donors. "He doesn't like talking to people, and it's showing," said this person, who is a vocal supporter of DeSantis.
.

He skimped on the schmoozing during his book tour.
Some Michigan Republicans noticed that DeSantis didn't seem that eager to spend time with them, and they told the New York Times about it:
Mr. DeSantis has also had difficulty at times connecting with potential supporters as he has traveled the country on a book tour. At an event this month in Michigan, he irritated some Republicans who said privately that he had spent little time with the crowd at a morning event and left another in the afternoon shortly after posing for pictures.
.

He looked bored during a meeting with business leaders.
DeSantis reportedly "looked bored" and "stared at his feet" during an April meeting with more than 50 British business chiefs in London. A business figure who was in the room told Politico that it was a "low-wattage" performance and "nobody in the room was left thinking, 'this man's going places'."
.

He never says "thank you."
A veteran GOP strategist told Vanity Fair that DeSantis is even rude to major donors. "The biggest complaint you hear about DeSantis is that he never says thank you," the strategist said. "People host events where donors give him enormous sums of money, and he never says thank you."
.

He was really late one time.
This hardly seems rare for a politician, but one "prominent Republican" complained about DeSantis being extremely late to a fundraising event.
"He's missing the sociability gene," the Republican told Vanity Fair. "He doesn't do the warm and fuzzies well. I was at a fundraiser in D.C. where he was like two hours late. Everyone was like, What the fuck?" recalled a GOP strategist.
.

He's neglecting Senator Marco Rubio.
Though Trump famously dubbed Senator Rubio "Liddle Marco," and they sparred over penis size at a 2016 debate, it appears they now have a great relationship. The Florida senator told Semafor that they hung out at a recent UFC event, but he hasn't heard from DeSantis for "a number of months."
"I'm not saying that Marco and DeSantis have an awkward relationship," one former Rubio aide told Semafor. "I think they just don't have a relationship."
.

He has a weird laugh.
Even when he engages with the public, the guy just can't win.
This post has been updated throughout.