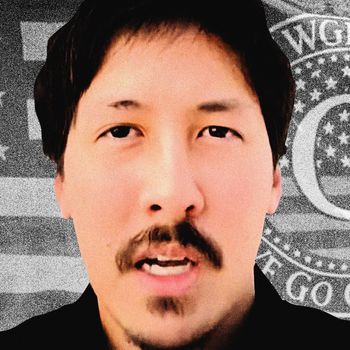 Photo-Illustration: Intelligencer. Photos: Screenshot via Telegram; Getty Images
Ron Watkins is not the only peddler of conspiracy theories seeking office in 2022, but he may be the most influential. The former 8chan administrator is known as one of the most popular answers to the question "Who is Q?," but now he's hoping to move beyond his alleged role in seeding the false far-right QAnon theory, which was embraced by some January 6 rioters. Watkins has filed papers to run for Congress, hoping to unseat Democrat Tom O'Halleran in Arizona's First Congressional District. It is clear from his announcement video that he hasn't fully put his past behind him. Watkins says he's running to "fix elections from inside the machine," referring to the debunked idea that the 2020 election was stolen from Trump in swing states like Arizona. As his outsider campaign unfurls, here is a primer on Watkins, his role in QAnon, and some of the more absurd and troubling details of his long-shot bid.
So is Ron Watkins actually Q?
Before the QAnon conspiracy theory spilled onto mainstream social-media sites like Facebook and Twitter, it was hosted on an image board called 8chan, which was owned and operated by Ron Watkins and his father. Between pages dedicated to child pornography and white supremacy, a poster claiming to be a government figure with "Q-level" clearance would issue new information drops unspooling the supposed conspiracy. While the user's identity was never confirmed publicly, the father and son were some of the only people able to say authoritatively which posts were actually from Q. And the original founder of 8chan, Fredrick Brennan, said in June 2020 that he "definitely, 100 percent" believed that "Q either knows Jim or Ron Watkins or was hired by Jim or Ron Watkins." By September, his hypothesis was a little sharper, suggesting that the Q account was initially run by someone else, with the Watkins family taking over in late 2017. Both Jim and Ron Watkins have denied being Q.
How did Watkins announce his congressional run?
Watkins posted a video to Telegram on October 15 announcing that he was running for the Republican nomination in Arizona's First Congressional District. Reading from a script in a stilted voice, Watkins said he was looking to unseat the "dirtiest Democrat in the D.C. swamp," as if incumbent Democrat Tom O'Halleran were a household name or a notorious symbol of political corruption.
Some of Watkins's rhetoric in the video echoed that of other GOP primary candidates in 2022. "We must stay vigilant and keep up the pressure both here in Arizona and throughout the country to indict any and all criminals who have facilitated election fraud," Watkins said. "President Trump had his election stolen not just in Arizona, but in other states too. We must now take this fight to Washington, D.C., and vote out all the dirty Democrats who have stolen our republic."
But at other points Watkins made it clear that he's far more extreme than the average GOP candidate hyping Trump's stolen-election lies. In the video, he said he was inspired to run by his pastor, Jeff Durbin of the Apologia Church in Mesa, Arizona, who once said that it was a "bit of an insult to Hitler to compare what he did in Nazi Germany" to what the pro-choice movement has done in the United States.
What is Watkins's connection to QAnon now?
Watkins has repeatedly denied knowing or being Q, and on Inauguration Day, he told followers that the QAnon community should "go back to our lives as best we are able." But he has had difficulty separating himself from the conspiracy that made him famous. In the comments for the video announcing his run, Telegram users rattled off QAnon terms and ideological shorthands. Watkins also had some trouble explaining to the Daily Beast why he was a keynote speaker at the QAnon conference Patriot Double Down on the weekend of October 22:
In an interview Monday with The Daily Beast, Watkins and science fiction author Tony Teora, his "volunteer campaign coordinator," struggled to explain why, if Watkins is not involved in QAnon, he's among the keynote speakers at a QAnon conference called the "Patriot Double Down" in Las Vegas this coming weekend.




"When you say that's a QAnon convention, I never saw anything posted that it's a QAnon convention," Teora said, until a reporter for The Daily Beast pointed out that the conference's organizers use the aliases "QAnon John" and "Q Queen Amy."




Further cementing the conference's QAnon ties, a poster for the event features both "Q" and "17," an important number for QAnon believers since "Q" is the 17th letter of the alphabet.




"The number 17 is just an auspicious number," Watkins said.

"Ron, Ron, oh God, oh God!" Teora said.
Does he actually live in Arizona?
It may not be a coincidence that Watkins filed to run in Arizona, a state that does not require candidates to be full-time residents; they must only live there at the time of the election itself. Watkins, a 30-something who went to high school in Seattle, has told the Arizona Republic that he has an "address in Sedona."
How have local Republicans responded to his bid?
Since announcing his run, Watkins has endorsed two Republican candidates in Arizona, posting pictures of himself with former state attorney general Tom Horne, who is running for state superintendant, and gubernatorial candidate Kari Lake, an anti-mask former news host who has been endorsed by Donald Trump.
But some state-level political operators are skeptical of Watkins's prospects. "This new guy getting in the race who's allegedly related to the QAnon phenomenon has no chance of winning," Republican consultant Stan Barnes told the Daily Beast. "No chance. Let me say that again: No chance."
Does anyone think Watkins has a shot?
Arizona's First Congressional District, which is geographically larger than Georgia, is expected to be one of the most competitive general elections in the 2022 midterms. Tom O'Halleran, a former Republican who switched parties before entering office in 2017, won the district last year by just three points, and the state's independent redistricting committee has redrawn the First in a way that would make it slightly more advantageous for Republicans.
Whatever Republican candidate emerges from the primary should have a strong chance in the race, which is being targeted by the National Republican Congressional Committee. However, Watkins already has serious primary competition, including State Representative Walter Blackman, an Army veteran who earned a Bronze Star while serving in Iraq, and Eli Crane, a former Navy Seal who makes "badass bottle openers" shaped like a .50 caliber bullet. Both these candidates had more than $100,000 cash on hand at the end of September, per FEC records. Watkins, meanwhile, spent his September attempting to sell screenshots of the five times Trump retweeted him (before they were both banned from the platform) as NFTs.