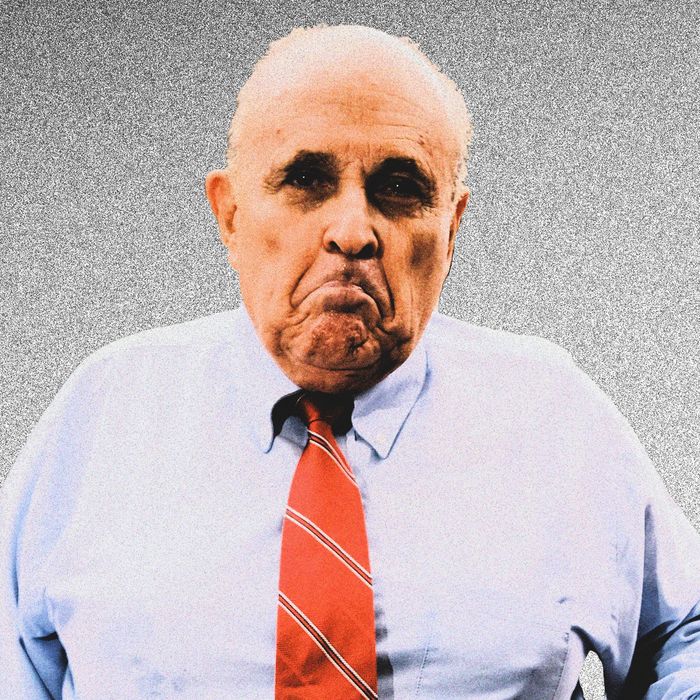 Photo: Intelligencer; Photo: Getty Images
In July 2019, Rudy Giuliani called me to dispute an Intelligencer piece that said he'd cursed during an appearance on Fox & Friends. The president's personal lawyer insisted that he'd caught himself, merely uttering "bullsh–." Giuliani shrugged off the piece's generally disparaging tone as "mostly opinion," but remarked: "You guys seem to think I'm doing a terrible job, but given the fact that I got the president cleared of all the charges, I don't think I made that many mistakes."
At the time, Giuliani was flying high: He was on Fox News to mock (and impersonate!) Robert Mueller as the special counsel's congressional hearings fizzled. Given the fact that Donald Trump was impeached five months later, and then impeached again after losing an election he tried his damnedest to steal, recent reviews of Giuliani's performance haven't been kind. But, say what you will, America's Mayor never stops delivering his distinct brand of conspiratorial quackery. Any Trump surrogate can spread election lies that threaten the very foundations of our democracy. But only Rudy can do it with hair dye streaming down the side of his face.
Let's take a look at what Giuliani has been doing with his time now that he's no longer representing Trump.
Impersonating Queen Elizabeth and denying he ever hung out with Prince Andrew
At his annual 9/11 dinner on the 20th anniversary of the attacks, Giuliani gave a rambling speech in Manhattan during which he claimed he had turned down an offer of knighthood from Queen Elizabeth. He also attempted to impersonate her and went off on a tangent where he vehemently denied hanging with Prince Andrew (or joining him for any alleged sex trafficking):
Blaming Bill Clinton for 9/11
Somewhat surprisingly, there haven's been many headlines about Giuliani's controversial opinions on 9/11 in the lead up to the 20th anniversary of the attack. But that's not because he hasn't been airing them. In an interview with TV station WTTG last week, he suggested that 9/11 happened because Bill Clinton is a "sucker." Per Raw Story:
"To break our spirit, to demoralize us, you take our financial center, our military center, our political center all in one shot," the former mayor explained. "And those weak Americans – remember, [Al Qaeda] had attacked us a couple of times and declared war against us, and basically Bill Clinton kind of did what Biden just did."




"You know, a little strike here, a little strike there, a couple of fields that had no people in it," he continued. "All that said to [Osama bin Laden] is, 'I've got a sucker on my hands. I can hit this guy and who knows. I might not get anything.'"
Over the years, Giuliani has repeatedly criticized Bill Clinton in particular for failing to stop Al Qaeda, rather than focusing his ire on, say, the guy who was president during the eight months leading up to the attack, or the entire U.S. intelligence community. This seems a tad unfair, but don't take my word for it. As a former New York City mayor said in 2006: "The idea of trying to cast blame on President Clinton is just wrong for many, many reasons, not the least of which is I don't think he deserves it." (Yup, it was Giuliani.)
Getting sued for allegedly inciting an insurrection
Who would've guessed that calling on a crowd of angry protesters to settle their grievances via "trial by combat" would have serious consequences? Not Rudy Giuliani!
"If they ran such a clean election, they'd have you come in and look at the paper ballots," Giuliani proclaimed during the rally that preceded the Capitol riot. "Who hides evidence? Criminals hide evidence. Not honest people. Over the next 10 days, we get to see the machines that are crooked, the ballots that are fraudulent, and if we're wrong, we will be made fools of. But if we're right, a lot of them will go to jail. Let's have trial by combat."
Giuliani's remarks were cited as evidence during Trump's second impeachment trial, and in March, Representative Eric Swalwell named him in a civil suit accusing Trump and his cronies of being "wholly responsible for the injury and destruction" caused by the rioters.
In May, Giuliani's attorney asked a federal judge to throw out the suit, claiming that the "trial by combat remark" was "clearly hyperbolic" and "no reasonable reader or listener would have perceived Giuliani's speech as an instruction to march to the Capitol, violently breach the perimeter and enter the Capitol building, and then violently terrorize Congress into not engaging in the electoral certification."
This makes far more sense than the defense initially offered by Giuliani. In January, he claimed that his Game of Thrones reference was merely a call for a "trial between machines." Perhaps Giuliani — who, as shown below, has a surprisingly thorough knowledge of "that very famous documentary about fictitious medieval England" — doesn't realize this, but the average viewer probably associates the phrase with a beloved character getting his eyes gouged out.
Getting sued over false election-fraud claims
Another lesson Giuliani is learning the hard way: Sometimes when you say a company was engaged in election-fraud conspiracy theories seemingly ripped from the TV show Scandal, the company hits back. In January, Dominion Voting System filed a $1.3 billion lawsuit against the president's former lawyer, alleging that his claims — that Dominion was "created in Venezuela at the direction of Hugo Chávez" and "flipped votes from Trump to Biden by running an algorithm that automatically flips all the votes" — amount to defamation. In its lawsuit, Dominion accused Giuliani of perpetuating a "viral disinformation campaign" that did "unprecedented and irreparable harm" to its reputation and led to harassment and death threats against its employees.
Following an unsuccessful effort to have the suit dismissed, Giuliani doubled down on his wild claims. In a court filing last month, Giuliani's attorneys asserted that "some and/or all of Giuliani's statements complained of are substantially true" — though he also "lacks knowledge or information sufficient" on the company's voting systems to know whether his claims were defamatory or not.
Waiting to see if he'll face criminal charges
Being sued for inciting an insurrection would probably be the low point of any normal person's year, but Giuliani has far bigger legal concerns. He's been under investigation by the Southern District of New York since early 2019, and in April federal agents carried out a pre-dawn raid of his home and office. The case grew out of an investigation into two former Giuliani associates, Igor Fruman and Lev Parnas; Fruman pleaded guilty Friday to soliciting campaign contributions from a foreign national, and Parnas, who pleaded not guilty to similar charges, will stand trial next month.
To fully understand Giuliani's current predicament, you'd need to remember things about the whole Trump–Ukraine–"do us a favor"–Hunter Biden laptop debacle, but thankfully CNN has a concise summary:
Prosecutors are looking into whether Giuliani violated foreign lobbying laws by operating on behalf of Ukrainian officials when he sought the ouster of the then-US ambassador to Ukraine, Marie Yovanovitch, while urging Ukraine to investigate Trump's 2020 political rival, then-Democratic presidential candidate Joe Biden, and his son Hunter.

US law requires anyone lobbying on behalf of a foreign government or official to register, and failing to do so is a violation.




In April, federal agents executed search warrants at Giuliani's Manhattan apartment and Park Avenue office, seizing 18 electronic devices, according to prior court filings. Prosecutors also disclosed that they had covertly searched Giuliani's iCloud account in 2019. An independent review of the documents taken during the searches is now underway to determine whether any are subject to attorney-client privilege.
Giuliani blamed the investigation on "Trump Derangement Syndrome," and a day after the raid, he told Fox News host Tucker Carlson that he "never, ever represented a foreign national." But as New York's Justin Miller noted at the time, Giuliani appears to be in serious trouble:
Giuliani is not formally accused of wrongdoing, but the move by federal prosecutors in Manhattan indicates a new degree of legal peril for him. Prosecutors have a high bar for going after an attorney. In 2018, the same office raided the apartment of Michael Cohen, Trump's former attorney, later convicting him of a variety of charges.
If the Giuliani case follows the same path, will Robert Mueller drop by Fox & Friends and do a terrible Rudy impersonation? Probably not, but a lady can dream.
Losing his law licenses
This summer Giuliani's law license was temporarily suspended in New York and then D.C. over lies he told as part of his effort to steal the 2020 election for Trump, conduct that an appellate court said represented an "immediate threat" to the public. The New York State appellate court concluded that Giuliani "communicated demonstrably false and misleading statements to courts, lawmakers and the public at large" in his capacity as President Trump's personal lawyer, and "these false statements were made to improperly bolster respondent's narrative that due to widespread voter fraud, victory in the 2020 United States presidential election was stolen from his client."
Giuliani now faces a formal disciplinary hearing, a process that could take months. While the court warned that "permanent sanctions" are likely, his attorneys said, "We believe that once the issues are fully explored at a hearing Mr. Giuliani will be reinstated as a valued member of the legal profession that he has served so well in his many capacities for so many years."
The former mayor was characteristically less tactful in his response, telling radio station WABC-AM, "The bar association should give me an award … I defended an unpopular client. I've been threatened with death. I've had a good deal of my income taken away. I've lost friends over it."
"This is happening to shut me up," he added. "They want Giuliani quiet."
Getting stiffed by Donald Trump
When faced with serious legal trouble, it helps to have friends in high places. Unfortunately for Giuliani, his richest and most powerful friend is Donald Trump. Shortly after the raid on Giuliani's home and office, the New York Times reported that his advisers were pressing the Trump team to help with his mounting legal fees. Giuliani was never paid for leading the legal prong of Trump's attempt to overturn the 2020 election, though the former president raised $250 million since Election Day by telling supporters he needed money for his "Election Defense Fund." Bernard Kerik, the former NYPD commissioner, openly complained that the GOP was abandoning his pal Rudy in his hour of need:
But according to the Times, the order to bilk Giuliani came right from the top:
Mr. Trump later told his advisers he did not want Mr. Giuliani to receive any payment, according to people close to the former president with direct knowledge of the discussions. Before Mr. Trump left the White House in January, he agreed to reimburse Mr. Giuliani for more than $200,000 in expenses but not to pay a fee.




Some of Mr. Giuliani's supporters have blamed Mr. Trump's aides — and not the former president — for the standoff. However, people close to Mr. Trump said he has stridently refused to pay Mr. Giuliani.
Trump's former fixer Michael Cohen, who was sentenced to three years in federal prison in 2018 for crimes related to his work with the former president, noted that he habitually stiffs attorneys. "Donald Trump wouldn't pay [Giuliani] two cents," Cohen told MSNBC. "His feeling is, it is an honor and a privilege to go to prison for him, to do his dirty work."
Thus, Giuliani has been forced to fend for himself — and it seems his efforts have been largely unsuccessful. A "Rudy Giuliani Legal Defense Fund" launched in June with the goal of raising $5 million in two months, but the online fundraising effort shuttered in July after bringing in just $9,798. And Giuliani's foray into Cameo, the service that allows people to commission personalized videos from celebrities, quickly generated new controversy when he recorded a video that appeared to endorse the case against his own legal client.
Insisting that he doesn't have a drinking problem
It seems Giuliani gave NBC New York far more than they could have hoped for when they asked to interview him last month at the World Trade Center Memorial. The resulting piece is exquisite; I wish I could send it to my past self as I was cranking out blog posts analyzing the viability of a Giuliani presidential bid.
Highlights include:
Giuliani saying he's aware that people think he's gone off the rails in recent years, but in reality, "what's happened is, our country has gone off the rails!"

Giuliani declaring that the Feds "can torture me all they want. They can put me in prison." Could he be resigning himself to the "privilege" of being incarcerated for Trump, as Michael Cohen put it?

Giuiliani denying reports that a drinking problem is to blame for the shift away from his "America's Mayor" persona, and that he's talked to reporters while inebriated. "I don't think I've ever done an interview drunk. I mean, I drink normally. I like Scotch, I drink Scotch," he said. "I'm not an alcoholic. I'm a functioning — I probably function more effectively than 90 percent of the population."
Shaving in an airport restaurant
Rudy Giuliani's personal grooming habits are already the stuff of legend, but he topped himself on Sunday, August 22, when he was spotted shaving his face in the Delta One lounge at JFK airport. Traveler Nick Weiss shared footage on Instagram of the former mayor eating a bowl of lobster bisque, being served a plate of brownies, then pulling out an electric razor and shaving at the table using his tablet camera as a mirror. Weiss said what made the incident even more bizarre was that the lounge had "a really nice bathroom."
"I was delighted and horrified," Weiss told CNN, summing up the both the shaving incident and the entire Rudy Giuliani experience.
This post has been updated.