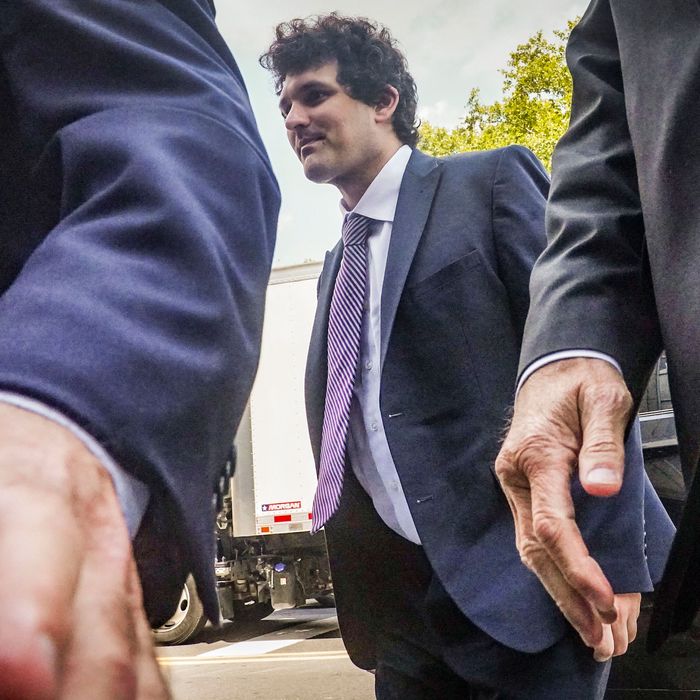 Photo: Bebeto Matthews/AP
Thanks to his refusal to adhere to the cushy conditions of his bond agreement, Sam Bankman-Fried relocated earlier this month from his parents' multimillion-dollar home in Palo Alto, California, to a cell in the Metropolitan Detention Center in Brooklyn. Judging from his last stint in jail — ten days in a cush private room in an infirmary in the Bahamas — he is not having a great time at one of the most notorious jails in the nation. Below is everything we know about the FTX founder and alleged fraudster's time in jail ahead of his trial October 3 — which he hopes to can delay until March 2024.
Why is Sam Bankman-Fried in jail?
Bankman-Fried, who is facing eight counts, including wire fraud and conspiracy to commit money laundering, was originally allowed to spend his time before the trial on house arrest at his parent's home in Palo Alto. But he kept bumping up against the generous terms of his $250 million bond — contacting one potential witness via encrypted message about the vetting "things with each other" and leaking the contents of his ex-girlfriend Caroline Ellison's diary to the New York Times. On August 11, Lewis Kaplan, the federal judge overseeing the case, determined that the leak was an act of witness tampering. SBF's bail was revoked, and he was sent to MDC.
And he's going to remain in MDC until his trial. On September 6, Bankman-Fried lost his appeal to get out of jail in order to better prepare his case.
He is complaining about his 'flesh' meals
On August 22, Bankman-Fried appeared in a jumpsuit in court in Manhattan to formally plead not guilty to a superseding indictment accusing him of running a massive fraud at his cryptocurrency exchange. At the hearing, his attorney Mark Cohen also lobbied for special meals to accommodate his client's vegan diet. "He's literally now subsisting on bread and water and sometimes peanut butter," Cohen said, adding that his client is being served a "flesh diet."
Magistrate Judge Sarah Netburn told the defendant that she would look into the matter. "I'm reasonably confident they provide vegetarian options," she said of MDC's cafeteria.
He claims he's not getting his Adderall
After Bankman-Fried was ordered to pre-trial detention, his attorneys confirmed with the judge overseeing the case that he would be able to keep taking three to four 10-mg Adderall pills each day to treat his attention deficit disorder and an Emsam patch to treat depression. But on August 22, his attorney claimed that he hadn't received Adderall in 11 days and that he was close to running out of the antidepressant patch. Judge Netburn said she would also look into the matter.
He will be meeting with his lawyers every day — laptop access included
The week after Bankman-Fried was ordered to jail, his attorneys made an ambitious proposal: Owing to the tremendous amount of material to prepare ahead of the trial, their client should be allowed to be released from jail Monday through Friday to prepare his case. While that sweetheart deal was denied, Judge Kaplan determined on August 21 that Bankman-Fried could meet with his attorneys in the U.S. Marshall's cell-block attorney room two days a week from 8:00 a.m. to 3:30 p.m. His attorneys are allowed to bring "one internet-enabled laptop and one Wi-Fi device." Bankman-Fried is also allowed to use an air-gapped laptop unable to connect to any other devices until 7 p.m. on weekdays and from 8 a.m. to 3:30 p.m. on weekends.
After Bankman-Fried complained in court that the prisoner count cut his precious computer time short, the judge allowed him on September 5 to hang onto the laptop through the prisoner count.
How does it compare to his time in jail in the Bahamas?
When Bankman-Fried was first arrested in the Bahamas in December 2022, he said he would fight extradition to the U.S. and would wait it out until his extradition hearing for close to two months at the Fox Hill jail in the Bahamas.
Bankman-Fried was not subject to the inhumane conditions made famous at the island nation's only jail. He reportedly had his own room in the medical wing, where he was watching movies and going on the internet in an air-conditioned room. Unlike in Brooklyn, he was served vegan meals.